March 30th: The Biggest Music Headlines
Scroll down the page to see all the music headlines, stories, and events for March 30 throughout music history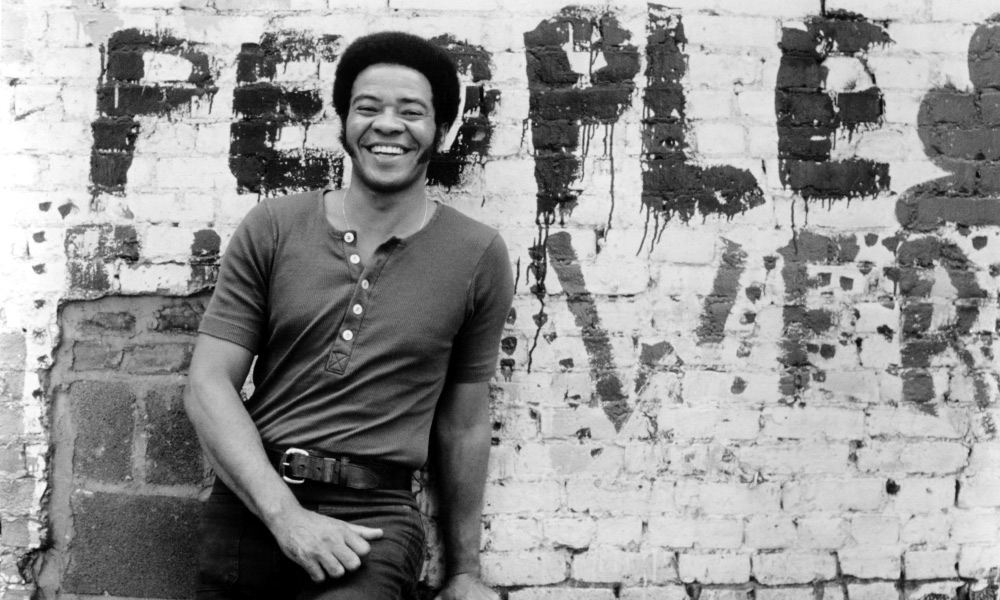 'Ain't No Sunshine' Singer Bill Withers Dies
On this day in music, March 30, 2020, 81-year-old soul troubadour Bill Withers died from heart complications. A coal miner's son from West Virginia, Withers began singing and writing songs while in the US Navy and released his first album Just As I Am in 1971 at the age of 33. His debut single "Ain't No Sunshine" went gold in the US but was surpassed by "Lean On Me," an anthem of togetherness that became his only No.1 record. Withers also scored hits with "Use Me," "Lovely Day," and "Just The Two Of Us."
In 1987, Prince released his broadly acclaimed ninth studio album, Sign o' the Times, which marked his first LP without his band, The Revolution. The double album, which was originally scheduled as a triple LP set called Crystal Ball, spawned three hit singles: the title song, "If I Was Your Girlfriend," and "U Got The Look."
In 1963, 16-year-old Lesley Gore wrote herself into pop's history books when she hit No.1 with her debut single, "It's My Party." The track was produced by Quincy Jones, who decided to record Gore after being impressed by a demo sent to him by her vocal coach.
In 1996, The Prodigy secured their first and only No.1 hit in the UK with "Firestarter," which spent three weeks in the top spot. Taken from their third album The Fat Of The Land, the rave anthem sampled snippets from records by The Breeders, Art Of Noise, and Ten City and also marked Keith Flint's debut as the band's frontman.
In 1974, John Denver (real name Henry John Deutschendorf Jr.) topped the Billboard Hot 100 for the first time with "Sunshine On My Shoulders." It was the New Mexico-born singer's first of four US No.1s.
In 2013, celebrated recording engineer, music producer, and multiple Grammy winner Phil Ramone died at the age of 79. Born Phil Rabinowitz in South Africa, Ramone was raised in Brooklyn and studied violin at the Juilliard School before moving into the world of recording. Those he worked with included Barbara Streisand, Frank Sinatra, Aretha Franklin, and Elton John.
In 1957, Buddy Knox topped the Billboard Hot 100 with "Party Doll," a song whose lyrics he had composed behind a haystack on his family's farm in Texas. Knox had the distinction of being the first artist of the rock'n'roll era to score a No.1 with a self-written song.
Looking for more things that happened on this day in music?
Keep scrolling for all of the headlines for March 30.
BORN ON MARCH 30:
1913: Frankie Laine
1945: Eric Clapton
1950: Dave Ball (Procol Harum)
1955: Randy VanWarmer (Singer-songwriter and guitarist)
1962: MC Hammer
1964: Tracy Chapman
1968: Celine Dion
1979: Norah Jones
1990: Thomas Rhett
Looking for more artists born on this day?
Keep scrolling for all of our March 30 birthdays.
---
What to find another day?
---
March 30th
30 Mar 2020
American soul singer Bill Withers died from heart complications aged 81. His hits include 'Just The Two Of Us', 'Lovely Day' and 'Use Me'. On 'Lovely Day', he set the record for the longest sustained note on a US chart hit, holding a high E for 18 seconds. His ballad 'Ain't No Sunshine', earned him his first Grammy award.
30 Mar 2019
American singer songwriter Billy Adams died age 79. He wrote and recorded the mid-1950s rockabilly staple 'Rock, Pretty Mama,' Other songs he recorded in the late '50s include 'You Heard Me Knocking,' 'True Love Will Come Your Way' and 'You Gotta Have a Duck Tail.'
30 Mar 2017
Ed Sheeran
was at No.1 on the US and UK album chart with his third studio album ÷ (pronounced 'divide'). The album also topped the charts in 14 other countries. The album won the Grammy Award for Best Pop Vocal Album at the 60th Annual Grammy Awards.
30 Mar 2013
Music mogul Simon Fuller settled a copyright battle with TV network Fox over the US version of The
X Factor
. The British creator of Pop Idol and US version American Idol sued Fox and producers FremantleMedia, seeking a credit and fees from the US
X Factor
. The case followed a dispute between Fuller and
Simon Cowell
in 2004 over similarities between Fuller's American Idol and Cowell's UK show, The
X Factor
.
30 Mar 2013
US music producer and pioneer of digital recording, Phil Ramone, died aged 79. Ramone was regarded as one of the most successful producers in history, winning 14 Grammy awards and working with stars such as Ray Charles,
Bob Dylan
,
Elton John
and
Paul McCartney
. He produced the first major commercial release on CD,
Billy Joel
's 1982 album 52nd Street. Ramone had been in hospital for several weeks, where he was being treated for an aortic aneurysm.
30 Mar 2007
A man was arrested by police and detained under the Mental Health Act after trying to force his way into
Paul McCartney
's mansion, screaming: 'I must get to him.' The middle-aged man burst through security patrols into McCartney's isolated Sussex estate; guards who feared an assassination attempt were scrambled to intercept him as he sped towards the front door. He was finally halted by trees and a fence just yards from Sir Paul's six-bedroom home at Peasmarsh.
30 Mar 2004
Timi Yuro, died from throat cancer aged 62. Was just 18 years old when she reached No.4 on the US charts in 1961 with 'Hurt'.
30 Mar 2001
LeAnn Rimes reached an out of court settlement with her father and her former manager. The country star filed a lawsuit claiming the pair had stolen £7 million ($12 million) from her.
30 Mar 2000
Rolling Stone
Mick Jagger
made a nostalgic visit to his old school. He opened the new arts centre that had been named after him at Dartford Grammar. The singer said he had spent the worst years of his life at the school.
30 Mar 2000
Mungo Jerry singer Ray Dorset was ordered to pay a former employee £620 ($1,054) in back wages after a tribunal heard he had harassed her after she left his company. Dorset told the court he had paid her double pay by mistake for ten months.
30 Mar 1996
The Prodigy started a three-week run at No.1 on the UK singles chart with 'Firestarter', the first single from the album The Fat of the Land. The wah-wah guitar riff in 'Firestarter' was sampled from The Breeders' track 'S.O.S.'
30 Mar 1991
Chesney Hawks started a five-week run at the UK No.1 position with his debut single 'The One And Only. The song was featured in the film 'Buddy's Song' in which he appeared with Roger Daltrey. The song was written by 80s singer Nik Kershaw.
30 Mar 1987
Prince
released his ninth studio album Sign o' the Times which produced three top-ten hit singles, 'If I Was Your Girlfriend', 'U Got the Look', (with Sheena Easton) and the title track 'Sign o' the Times. In 1989, Time Out magazine ranked it as the greatest album of all time.
30 Mar 1985
Phil Collins
started a two week run at No.1 on the US singles chart with 'One More Night', his second US No.1, it made No.4 in the UK. The track was taken from his third album, No Jacket Required.
30 Mar 1978
Paul Simonon and Nicky Headon from The
Clash
were arrested in Camden Town, London after shooting down racing pigeons with air guns from the roof of Chalk Farm Studios. Four police cars and a helicopter were required to make the arrest. Their fines totalled £800 ($1,360).
30 Mar 1976
The
Sex Pistols
played their first show at The 100 club, London, they begin a weekly residency at the club in June.
30 Mar 1974
John Denver went to No.1 on the US singles chart with 'Sunshine On My Shoulders', the singers first of four US No.1's. Denver was killed in a plane crash on 12th October 1997.
30 Mar 1967
During an appearance by
Jimi Hendrix
on
Top Of The Pops
a technician put on the backing track of Alan Price's 'Simon Smith and His Amazing Dancing Bear', to which Hendrix responded 'I don't know the words to this one man.'
30 Mar 1967
The photo session took place at Chelsea Manor studios in London with Michael Cooper for the cover of
The Beatles
Sgt. Pepper
album. After the shoot The Beatles resumed work at Abbey Road studios on 'With a Little Help From My Friends' adding guitars, bass, tambourine, and backing vocals. The session began at 11:00 pm and ends at 7:30 am.
30 Mar 1963
The Chiffons started a four week run at No.1 on the US singles chart with 'He's So Fine', which was a No.16 UK hit. In 1971
George Harrison
was taken to court accused of copying the song on his 1970 '
My Sweet Lord
' and ordered to pay $587,000 (£345,000) to the writers.
30 Mar 1963
16 year-old Lesley Gore recorded her breakthrough hit, 'It's My Party'. The song produced by Quincy Jones went on to be a US No.1.
30 Mar 1957
Buddy Knox became the first artist in the Rock 'n' Roll era to write his own number one hit when 'Party Doll' topped the US singles chart. Knox would go on to score four more US Top 40 hits between 1957 and 1961.
Born on this day in music
30 Mar 1990
Thomas Rhett, American country music singer, the son of singer-songwriter Rhett Akins. His third single, 'It Goes Like This' topped the Country Airplay chart and also peaked at No.2 on the Hot Country Songs. His 2015 single 'Die a Happy Man' topped the country charts for 16 weeks.
30 Mar 1979
American singer, songwriter, pianist Norah Jones who had the 2002 US & UK Grammy award winning No.1 album 'Come Away With Me' which has sold over 27 million copies. Jones is the daughter of Indian sitar player and composer Ravi Shankar.
30 Mar 1979
Simon Webbe, singer with English boyband, Blue who had the 2002 UK No.1 single 'If You Come Back'. The group also worked alongside artists such as
Stevie Wonder
,
Elton John
and Lil' Kim.
30 Mar 1973
American disc jockey Adam Goldstein, (DJ AM). Worked with Crazy Town, Blink 182,
Madonna
and Will Smith. He was found dead in his New York City apartment on 28th Aug 2009 of an accidental drug overdose.
30 Mar 1968
Celine Dion
, French, Canadian singer who had the 1994 US No.1 single 'The Power Of Love' and the 1998 UK No.1 single 'My Heart Will Go On', plus over 10 other UK Top 40 singles. Her 1995 album D'eux became the best-selling French-language album of all time. She won the Eurovision Song Contest for Switzerland, in 1988.
30 Mar 1967
Martin 'Ace', Kent, guitarist with British rock band Skunk Anansie who had the 1996 UK No.20 single 'Weak'. The band have spent a total of 141 weeks on both the singles and album charts.
30 Mar 1966
Joey Castillo, American drummer best known for his ten-year tenure in Queens of the Stone Age, from 2002 to 2012.
30 Mar 1965
Tim Dorney from English alternative rock band Republica who had the 1997 UK No.7 single 'Drop Dead Gorgeous' and the single 'Ready to Go'.
30 Mar 1964
American singer-songwriter Tracy Chapman who had the 1988 UK No.5 & US No.6 single 'Fast Car'. Her 1988 debut album Tracy Chapman, garnered Chapman six Grammy Award nominations, including Album of the Year.
30 Mar 1962
American hip hop artist MC Hammer, (Stanley Kirk Burrell) who had the 1990 US No.1 album Please Hammer Don't Hurt Em, which spent a record-breaking 21 weeks at the Top of the chart. Also known for his 1990 hit single 'U Can't Touch This'. Burrell became a preacher during the late 1990s with a Christian ministry program on TBN called M.C. Hammer and Friends.
30 Mar 1955
American singer-songwriter and guitarist Randy VanWarmer, who had the 1979 US No.4 & UK No.8 single 'Just When I Needed You Most'). He died of leukemia on January 12th 2004.
30 Mar 1954
English-American singer, songwriter Lena Lovich, who had the 1979 UK No.3 single 'Lucky Number'.
30 Mar 1950
Dave Ball, Procol Harum, 1967 UK No.1 & US No.5 single
'A Whiter Shade Of Pale'
(one of the few singles to have sold over 10 million copies) and scored the hits 'Homburg', 'Conquistador'.
30 Mar 1950
Re Styles, guitar, vocals, with American band
The Tube
s known for their 1977 hit single 'White Punks On Dope' and the 1983 US No.10 single 'She's A Beauty'.
30 Mar 1948
James Mangrum, better known as Jim "Dandy" Mangrum, the lead singer and frontman for the American Southern rock band Black Oak Arkansas. In 1973, they released their most successful album, High on the Hog. One of the songs from the album, Jim Dandy, (a cover of the 1955 LaVern Baker song), reached number 25 on the Billboard charts.
30 Mar 1948
Jim Dandy, from American Southern rock band Black Oak Arkansas, known for their 70s US No.1 radio hit single 'Jim Dandy To The Rescue'.
30 Mar 1945
Eric Clapton
guitarist, singer, songwriter who has been a member of The Roosters, Casey Jones and the Engineers, John Mayall's Bluesbreakers, Yardbirds and
Cream
who had the 1967 UK No.11 single 'I Feel Free'. He was a member of Blind Faith, and later formed Derek and the Dominoes who had the 1972 UK No.7 single 'Layla'. As a solo artist Clapton scored the 1974 US No.1 single 'I Shot The Sheriff' and the 1992 UK No.5 & US No.25 single 'Tears in Heaven'.
30 Mar 1943
American singer Jay Traynor. He was the third lead vocalist of the Mystics, singing falsetto on 'The White Cliffs of Dover', and lead on 'Somewhere Over The Rainbow' and 'Blue Star'. Later, he started Jay and the Americans with Kenny Vance and Sandy Yaguda, and was the original lead singer. He sang lead on the group's first 1962 hit, 'She Cried'. Traynor died on January 2 2014 age 70.
30 Mar 1943
American bassist Ken Forssi. In 1965 he met Arthur Lee, who then had a band called Grass Roots and was greatly impressed. Lee hired Forssi as bassist, and soon officially formed
Love
. Love scored the 1966 US No.33 single '7 And 7 Is', 1968 UK No.24 album Forever Changes.
30 Mar 1942
Graeme Edge, drummerwith English rock band The Moody Blues who had the 1965 UK No.1 & US No.10 single 'Go Now' and the hits singles including 'Go Now', 'Nights in White Satin' and 'Question'. He died on 11 November 2021 of metastatic cancer age 80.
30 Mar 1930
Australian entertainer Rolf Harris who had the 1963 US No.3 single 'Tie Me Kangaroo Down, Sport', 1969 UK No.1 single 'Two Little Boys' and 1993 UK No.7 '
Stairway To Heaven
'. Harris's career ended when he was convicted and imprisoned for sexual offences. In 2014, at the age of 84, he was jailed on twelve counts of indecent assault on four teenage female victims during the 1970s and 1980s. He was sentenced to 5 years and 9 months in jail.
30 Mar 1913
Italian American singer, songwriter and actor Frankie Laine who scored the 1953 UK No.1 single 'I Believe', (which spent eighteen non-consecutive weeks at the top of the UK singles chart), plus over 25 other UK Top 20 singles and the 1956 US No.3 single 'Moonlight Gambler'. He died on 6 February 2007 aged 93.