March 4th: The Biggest Music Headlines
Scroll down the page to see all the music headlines, stories, and events for March 4 throughout music history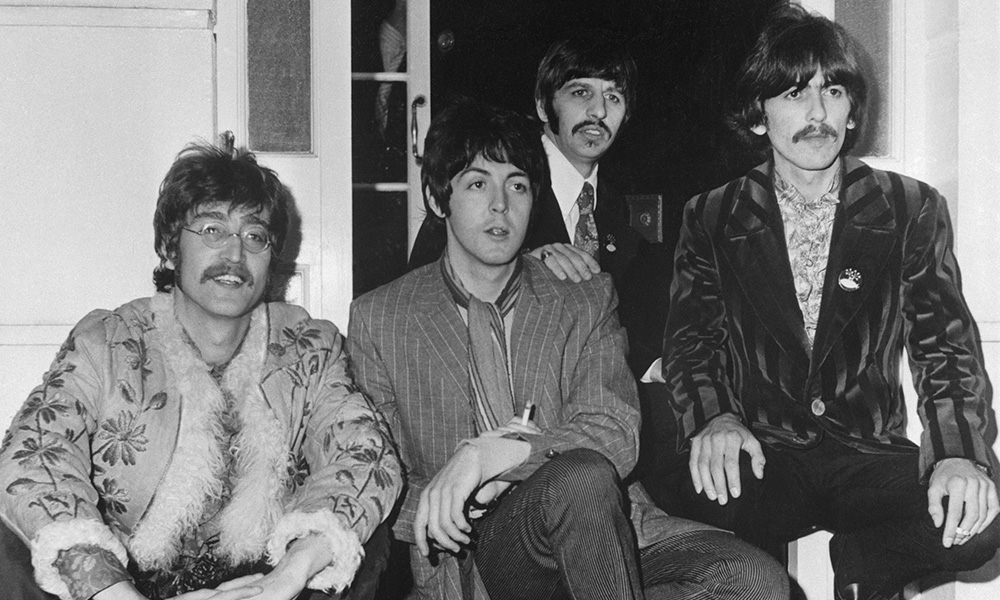 John Lennon Declares The Beatles 'More Popular Than Jesus'
On this day in music, March 4, 1966, John Lennon stated in an interview published by London's Evening Standard newspaper that The Beatles were "more popular than Jesus Christ." In the UK, his words didn't raise many eyebrows but when they were published in America later that year – just prior to The Beatles' third tour of the country – they angered Christian communities, who protested by picketing concerts and publicly burning the Fab Four's records. Lennon later apologized for his controversial comments, saying that he had been misunderstood.
In 2019, 49-year-old Keith Flint – best known as The Prodigy's flamboyant frontman – took his own life. Born in London, he began as a dancer with The Prodigy before becoming their lead vocalist on their third album, 1997's The Fat Of The Land, which featured the group's iconic hit "Firestarter." Away from The Prodigy, he led his own punk band, Flint, and also owned a motorcycle racing team called Team Traction Control, which won four Isle of Man TT races and participated in the British Superbike Championship.
In 1974, ABBA released "Waterloo," the title track and first single from their second album. When it won the Eurovision Song Contest, it made the Swedish group a household name, topping the charts in nine countries across the world, including the UK where it was also the quartet's first gold single.
In 2009, Britney Spears embarked on her first concert tour in five years. Dubbed "The Circus Tour," the artist's 97-date itinerary began in New Orleans and proved to be an extravagant spectacle that featured the singer, dressed as a ringmaster, sharing the stage with a troupe of acrobats, magicians, dancers, and jugglers.
In 1967, The Rolling Stones topped the Billboard Hot 100 for the fourth time with "Ruby Tuesday." Though it didn't appear on any of the group's UK albums – where it was released as a non-album double A-side single with the controversial "Let's Spend The Night Together" – it was featured on the band's US-only LP, Between The Buttons.
In 1963, The Beach Boys released "Surfin' U.S.A," the title track of the band's second album. Rock'n'roll icon Chuck Berry noticed that the tune, attributed to Brian Wilson, was remarkably similar to his 1958 hit, "Sweet Little Sixteen," and successfully pursued the band for a publishing credit. Although it stalled at No.2 on the Billboard Hot 100, "Surfin' USA" spent 78 weeks on the chart and became the best-selling record of the year.
Looking for more things that happened on this day in music?
Keep scrolling for all of the headlines for March 4.
BORN ON MARCH 4:
1944: Bobby Womack
1948: Shakin' Stevens
1951: Chris Rea
1953: Emilio Estefan (Miami Sound Machine)
1955: Boon Gould (Level 42)
1963: Jason Newsted (Metallica)
1967: Evan Dando (The Lemonheads)
1968: Patsy Kensit (Eighth Wonder)
Looking for more artists born on this day?
Keep scrolling for all of our March 4 birthdays.
---
What to find another day?
---
March 4th
4 Mar 2023
American bass player Michael Rhodes died of pancreatic cancer age 69. He was best known for his session work and touring in support of other artists including Steve Winwood, Larry Carlton, the Dixie Chicks, Reba McEntire, Rosanne Cash, Vince Gill, J.J. Cale, Dolly Parton, Randy Travis, Faith Hill, Toby Keith, and Kenny Chesney. He was also an active sideman in recordings and touring of Joe Bonamassa.
4 Mar 2021
Procol Harum
's former bassist Alan Cartwright died aged 75. He was part of the band's line-up between 1971 and 1976, playing on four albums including their ground-breaking 1972 release Live With The Edmonton Symphony Orchestra.
4 Mar 2020
American singer, Barbara Martin died age 76. She is best known as one of the original members of Motown group
The Supremes
. She left the group in spring 1962.
4 Mar 2019
Keith Flint, singer and dancer with English electronic dance group The Prodigy was found dead at his home in Essex, England age 49. The Prodigy scored the 1996 UK No.1 & US No. 30 single 'Firestarter' and the 1997 UK & US No.1 album 'The Fat Of The Land'. He owned a motorcycle race team, Team Traction Control, which won three Isle of Man TT races in 2015 and competed in the British Supersport Championship running Yamaha YZF-R6 motorcycles.
4 Mar 2015
Daryl Hall and John Oates were suing cereal maker Early Bird Foods & Co. over the company's use of the name Haulin' Oates for their maple syrup granola bars. The two musicians accused the Brooklyn-based firm of infringing on their trademark with the packet of cereal deliberately creating a phonetic play on the band's well-known name.
4 Mar 2012
According to Nielsen SoundScan in the US, vinyl sales increased 36 percent in 2011 compared to the previous year, concluding that vinyl records were making a big comeback for music fans.
4 Mar 2009
Britney Spears
kicked off a world tour in New Orleans, her first concert tour for five years. The 27-year-old who dressed as a ringmaster in the show, featured jugglers, acrobats and martial arts dancers.
4 Mar 2007
Take That
went to No.1 on the UK singles chart with 'Shine', their 10th UK No.1 single. The song was featured in several commercials for the re-launched Morrisons supermarkets in the UK, and went on to win the British single of the year award at the 2008 Brit Awards.
4 Mar 2003
A noisy neighbour was banned from playing her music and had her stereo system impounded, after she had played Cliff Richard music too loudly. 23 year-old Sian Davies was fined £1,000 ($1,700) plus court costs after environmental protection officers raided her flat in Porth, Rhondda, Wales and seized 15 amplifiers and speakers, plus 135 CDs and cassette tapes. The disc found in her CD player was the Cliff Richard single, 'Peace in Our Time'. A spokesman for the Cliff Richard Organization said he was delighted to hear of somebody in their early 20s owning one of his many recordings. He added, Cliff would not want anyone to play his music so that it caused a nuisance.
4 Mar 2002
Doreen Waddell, singer with Soul II Soul was killed after attempting to run across the A27 in Brighton, England after being caught shoplifting.
4 Mar 2001
Village People singer Glenn Hughes died of lung cancer aged 50 in his Manhattan apartment in New York. He was the original "Biker" character in the disco group who scored the 1978 UK No.1 & US No.2 single Y.M.C.A.
4 Mar 1997
Raymond Edwards American bassist with The Silhouettes died. The doo wop/R&B groups single 'Get A Job' was a No.1 hit on the Billboard R&B singles chart and pop singles chart in 1958. The doo-wop revival group Sha Na Na derived their name from the song's lyrics. 'Get A Job' is included in the soundtracks of the film American Graffiti, Trading Places and Stand By Me. The Silhouettes performed in the 1986 movie Joey.
4 Mar 1994
Kurt Cobain
was rushed to hospital after overdosing on alcohol and drugs in a Rome hotel during a
Nirvana
European tour. Cobain had taken 50-60 pills of Rohypnol mixed with champagne; rumours on the internet claimed that Kurt was dead.
4 Mar 1993
Whitney Houston
and Bobby Brown became parents when Whitney gave birth to a baby girl, Bobbi Kristina Houston Brown. Bobbi went on to become an reality television and media personality, singer, and actress. Brown died in hospice care on July 26, 2015, at the age of 22 after being found face down in a bathtub in her Georgia home. She was later placed into a medically induced coma.
4 Mar 1986
American songwriter Howard Greenfield died of a brain tumour aged 50. Working out of the famous Brill Building with Neil Sedaka he co-wrote many hits including 'Calendar Girl', 'Breaking Up Is Hard To Do', and 'Crying In The Rain' with
Carole King
. Also wrote TV theme songs including the theme to 'Bewitched.'
4 Mar 1986
After just completing a two set show with The Band in Winter Park, Florida, 41 year old Richard Manuel of The Band took his own life. His bandmate, Robbie Robertson honoured his friend with the song, 'Fallen Angel' in 1987.
4 Mar 1982
Frank Zappa
's son Dweezil and his daughter Moon Unit formed a band called Fred Zeppelin. Their first single was 'My Mother is a Space Cadet'.
4 Mar 1979
Randy Jackson of The Jackson Five was seriously injured in a car crash breaking both legs and almost died in the emergency room when a nurse inadvertently injects him with methadone.
4 Mar 1978
The US internal Revenue Service carried out a dawn raid at the home of Jerry Lee Lewis and removed cars worth over £100,000 ($170,000) to pay off his tax debts.
4 Mar 1974
ABBA
released 'Waterloo' the first single from their second album and the first single to be credited to the group performing under the name ABBA. It later became the winning entry for Sweden in the 1974 Eurovision Song Contest and a No.1 hit in several countries. It reached the US Top 10 and went on to sell nearly six million copies, making it one of the best-selling singles in history.
4 Mar 1967
The
Rolling Stones
went to No.1 on the US singles chart with 'Ruby Tuesday', the group's fourth US No.1 single. 'Lets Spend The Night Together' was the original A side but after radio stations banned the song 'Tuesday' became the A side.
4 Mar 1966
John Lennon
's statement that
The Beatles
were 'more popular than Jesus Christ' was published in The London Evening Standard. His opinions drew no controversy when published in the UK, but when republished in the US a few months later, angry reactions flared up in Christian communities. Extensive protests broke out with some radio stations banning Beatles songs and their records were publicly burned.
4 Mar 1963
The Beach Boys
released 'Surfin' U.S.A.' a song with lyrics by Brian Wilson set to the music of 'Sweet Little Sixteen', written by
Chuck Berry
. Billboard ranked 'Surfin' U.S.A.' the No. 1 song of 1963.
Born on this day in music
4 Mar 1994
British rapper, singer, songwriter AJ Tracey. His 2019 self-titled debut album peaked at No.3 on the UK Albums Chart. It featured his highest-charting single as a solo artist, 'Ladbroke Grove', which peaked at No.3 on the UK Singles Chart
4 Mar 1977
American indie rock drummer Jeremiah Green. He is best known as a founding member and drummer of the indie rock band Modest Mouse. The band achieved mainstream success with their fourth album, Good News for People Who Love Bad News (2004), and it's singles 'Float On' and 'Ocean Breathes Salty'. He died from cancer on December 31, 2022, at the age of 45.
4 Mar 1974
American record producer, songwriter, and multi-instrumentalist Jeff Bhasker. His accolades include Grammy Awards for the songs 'Run This Town' by Jay-Z and 'Uptown Funk' by Mark Ronson plus he was the music director of Lady Gaga's The Monster Ball Tour.
4 Mar 1971
Feargal Lawlor, drummer, with Irish rock band The Cranberries who had the 1994 UK No.14 single 'Linger'. The bands 1993 album Everybody Else Is Doing It So Why Can't We spent 86 weeks on the UK chart.
4 Mar 1968
Patsy Kensit, actress, who appeared in the 1986 film Absolute Beginners and was the singer in Eighth Wonder who had the 1988 UK No.7 single 'I'm Not Scared'. Once married to
Simple Minds
singer Jim Kerr and married
Oasis
singer
Liam Gallagher
in 1997. The couple split in 2000.
4 Mar 1967
American musician Evan Dando from alternative rock band The Lemonheads. A cover of
Simon And Garfunkel
's 'Mrs. Robinson', became one of the band's most successful single in the early 90s. It's a Shame About Ray the groups fifth album released in 1992 was a critics favourite.
4 Mar 1966
Patrick Hannan drummer with English alternative rock band The Sundays. Their first album, Reading, Writing and Arithmetic, was released in 1990 and was a UK Top 5 hit along with the single 'Here's Where the Story Ends'.
4 Mar 1965
Richard March, bassist from English alternative rock band, Pop Will Eat Itself who scored the 1991 UK No.15 single 'X Y & Zee' and the 1993 top ten hit, 'Get The Girl! Kill The Baddies!' He formed Bentley Rhythm Ace in mid 90s.
4 Mar 1963
Jason Newsted, American bassist with
Metallica
. He joined
Metallica
in 1986 after
Cliff Burton
's death, Newsted remained a member until 2001. Before Metallica he was a member of Flotsam and Jetsam. After Metallica he has been involved with Echobrain,
Ozzy Osbourne
, Voivod, and led the band Newsted from 2012 to 2014.
4 Mar 1955
English musician Boon Gould guitarist with Level 42, who had the 1986 UK No.3 & US No.12 single 'Lessons In Love' & 19 other UK Top 40 hits. He died on 30 April 2019 age 64.
4 Mar 1954
St Clair I. Palmer, from British soul group Sweet Sensation who scored the 1974 UK No.1 and US No.14 single 'Sad Sweet Dreamer'.
4 Mar 1953
Cuban-American musician and producer Emilio Estefan who with Miami Sound Machine had the 1984 UK No.6 single 'Dr Beat', 1989 US No.1 single 'Don't Wanna Loose You'.
4 Mar 1952
Pete Haycock, from British blues rock group Climax Blues Band, who had the 1977 US No.3 & 1976 UK No.10 single 'Couldn't Get It Right'.
4 Mar 1951
British rock and blues singer-songwriter and guitarist, Chris Rea, who had the 1989 UK No.10 single 'The Road To Hell'. His 1989 UK No.1 album Road To Hell spent 76 weeks on the chart. In America he is best known for the 1978 hit song 'Fool (If You Think It's Over)'. His band The Beautiful Losers received the Melody Maker Best Newcomers award in 1975.
4 Mar 1948
Chris Squire, bassist and founding member of Yes and solo, (1983 UK No.28 & 1984 US No.1 single 'Owner Of A Lonely Heart'). He was the only member to appear on each of their 21 studio albums, released from 1969 to 2014. Squire died on 27th June 2015 from acute erythroid leukemia.
4 Mar 1948
Shakin' Stevens, (Michael Barratt), Welsh singer. In the UK Stevens has charted 33 Top 40 hit singles including four chart-topping hits; 'This Ole House', 'Green Door', 'Oh Julie', and 'Merry Christmas Everyone'. The former milkman became the UK's biggest-selling singles artist of the 1980s.
4 Mar 1946
Red Stripe, singer from British a cappella vocal group The Flying Pickets who had the 1983 UK No.1 single with their version of Yazoo's track 'Only You', the UK Christmas No.1 of 83. The name "Flying Pickets" refers to mobile strikers who travel in order to join a picket, reflecting the group's radical socialist political views.
4 Mar 1944
Bobby Womack, American singer-songwriter and musician who started his career as the lead singer of the Valentinos and as
Sam Cooke
's backing guitarist. Womack was a prolific songwriter who wrote and originally recorded the
Rolling Stones
' first UK No. 1 hit, 'It's All Over Now'. Womack died at his home in Tarzana, California at age 70 on June 27, 2014.
4 Mar 1944
Michael Wilson, from British pop/rock group, Dave Dee, Dozy, Beaky, Mick and Tich, who scored the 1968 UK No.1 single 'Legend Of Xanadu'.
4 Mar 1942
American guitarist Bob Wootton. He joined
Johnny Cash
's backing band, the Tennessee Three, after original lead guitarist Luther Perkins died in a house fire. He remained Cash's guitarist for nearly thirty years. He died on 9 April 2017.
4 Mar 1936
Eric Allandale, from British soul band The Foundations who scored the 1967 UK No.1 single 'Baby Now That I've Found You' and the 1969 US No.3 single 'Build Me Up A Buttercup'. The group was the first multi-racial group to have a No.1 hit in the UK in the 1960s.
4 Mar 1925
Paul Mauriat, French, conductor, arranger, (1968 US No.1 single chart 'Love Is Blue', a No.12 hit in the UK).