You've Turned A Whiter Shade Of Pale!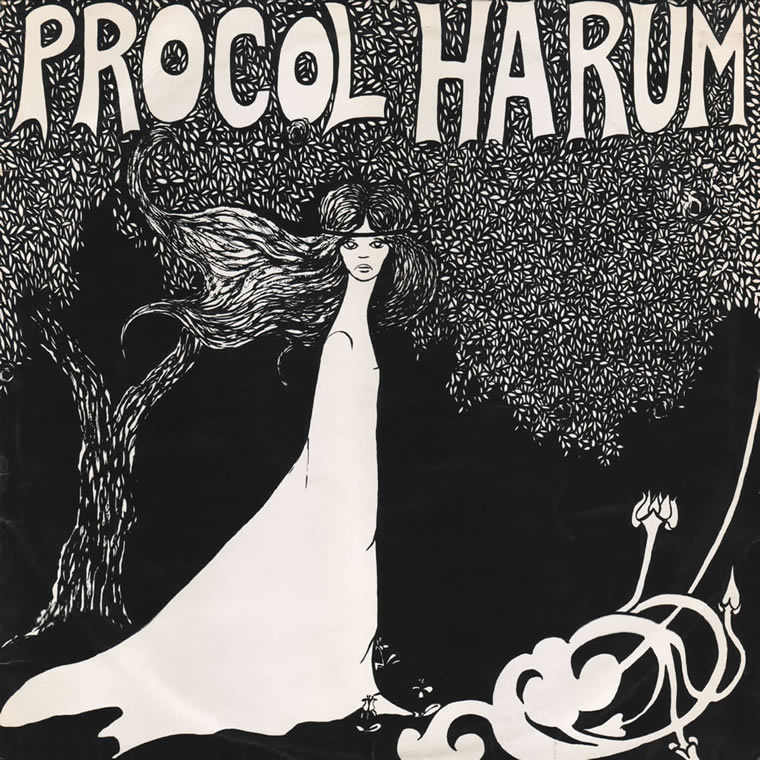 In June 1967, Procol Harum went to number 1 on the UK singles chart with a song that over 40 years later would be named the most-played record of the past 70 years (with more than 900 known recorded versions by other artists).
The song, "A Whiter Shade Of Pale".
John Lennon was said to be a great fan of the song and was known to have played it repeatedly on the record player fitted in his psychedelic Rolls Royce. "A Whiter Shade Of Pale" became a huge hit around the world, reached number 5 on the US charts, and is now one of fewer than 30 singles to have sold over 10 million copies worldwide.
With its haunting Bach-inspired instrumental organ motif, soulful vocals and unusual lyrics, the song is said to have been inspired by a conversation lyricist Keith Reid heard at a party, when a man said to a woman "You've turned a whiter shade of pale," and the phrase stuck in his mind.
The Hammond organ line of "A Whiter Shade of Pale" was inspired by Johann Sebastian Bach's "Sleepers, Wake!" and "Air on the G String" but contrary to popular belief, the song is not a direct copy or paraphrase of any music by Bach although it makes clear references to both pieces. The music also borrows ideas from "When a Man Loves a Woman" by Percy Sledge.
The song was recorded at Olympic Studios in London, England, with Gary Brooker providing the vocals and piano, Matthew Fisher on a Hammond M-102 organ, David Knights on bass and Ray Royer on guitar. Drums were by session drummer Bill Eyden. A few days later, the song was re-recorded with the band's then newly recruited drummer Bobby Harrison, but that version was discarded and one of the original mono recordings was chosen for release.
For session drummer Bill Eyden, "A Whiter Shade of Pale" became his most famous recording, for which he was paid the princely sum of 15 guineas, (which was around £15.50 or $25). Sadly, Bill died on 15th Oct 2004.
Later, the Illinois Crime Commission included the song in a list of 'drug-oriented records' (along with "White Rabbit" by Jefferson Airplane, and The Beatles "Lucy In The Sky With Diamonds"), which is always good for a few extra sales.
Unfortunately, the song has dragged its authors through the courts over the past few years. Now, try and keep up, this gets complicated:
Although for almost 40 years the song had been credited to lead singer Gary Brooker and lyricist Keith Reid, Matthew Fisher, a founding member of Procol Harum, recently won a High Court battle over who wrote the song. Fisher, who played organ on the hit, argued he wrote the distinctive organ motif. A judge ruled he was entitled to 40% of the copyright; Fisher had wanted half but the court decided lead singer Gary Brooker's input was more substantial. Fisher's claim for back royalties – of up to £1m – was also rejected.
Back in court, singer Gary Brooker then regained full royalty rights to the song at London's Court of Appeal, the court ruling there was an "excessive delay" in the claim being made. However, Fisher then took the case to the UK House of Lords, who unanimously ruled in Fisher's favour on 30 July 2009. They noted that the delay in bringing the case had not caused any harm to the other party (Gary Brooker), and the right to future royalties was therefore returned to Fisher.
I hope they're all still friends.
And now, for a lighter shade of tale, an interesting fact. "A Whiter Shade Of Pale" was named joint winner of the Best British Pop Single 1952–1977 at the first BRIT Awards, along with Queen's "Bohemian Rhapsody".
Both songs contain the word 'fandango'.