May 16th: The Biggest Music Headlines
Scroll down the page to see all the music headlines, stories and events for May 16 throughout music history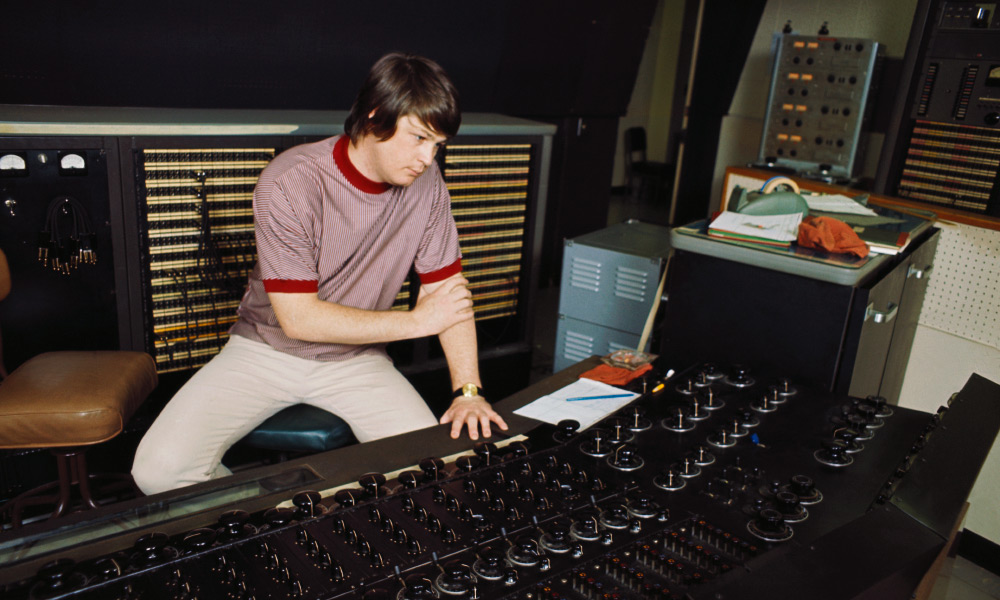 The Beach Boys Release Their Influential Classic, 'Pet Sounds'
On this day in music, May 16, 1966, The Beach Boys released their 11th studio album, Pet Sounds. Written, produced, and arranged primarily by Brian Wilson, the album was revolutionary for a variety of reasons – including its broad use of instrumentation (including a synthesizer, theremin, bike bells, and even soda cans), as well as Wilson's ambitious production techniques, which found him turning the studio into an instrument itself. Featuring hits like "Wouldn't It Be Nice" and "God Only Knows," the album was transformative within the music industry and within popular culture, influencing countless producers, engineers, songwriters, and musicians. Today, it is considered to be among one of the greatest albums of all time, while it was added to the National Recording Registry in 2004.
In 1987, U2 scored their first chart-topping single in the US with their now-classic tune, "With or Without You." The song, which also hit No.1 in Canada and Ireland, served as the lead single for the Dublin band's fifth studio album, The Joshua Tree.
In 1970, Crosby, Stills, Nash & Young scored their first No.1 album on the Billboard chart with Déjà Vu. The band's second studio album and first with Neil Young features many of their biggest hits (including "Woodstock," "Our House," and "Teach Your Children") and remains their highest-selling title.
In 1964, 21-year-old Mary Wells topped the Billboard Hot 100 with "My Guy." The singer, who rose to fame in the early 60s, was Motown's first major female star and has often been credited with helping to desegregate American airwaves.
In 1981, Kim Carnes scored her sole chart-topping hit on the Billboard Hot 100 with "Bette Davis Eyes." Written by Jackie DeShannon and Donna Weiss, the single held the top spot for nine weeks and later earned two Grammys for Song of the Year and Record of the Year.
In 2009, Bob Dylan's 33rd studio album, Together Through Life, became his first to debut at the top of both the US and UK charts. A global best-seller, the title later received two Grammy nods.
Looking for more things that happened on this day in music?
Keep scrolling for all of the headlines for May 16.
BORN ON MAY 16:
1919: Liberace
1946: Robert Fripp (King Crimson)
1947: Barbara Lee (The Chiffons)
1947: Darrell Sweet (Nazareth)
1948: Alto Reed (Bob Seger and the Silver Bullet Band)
1951: Jonathan Richman
1964: Boyd Tinsley (Dave Matthews Band)
1965: Krist Novoselic (Nirvana)
1966: Janet Jackson
1992: Kristin Maldonado (Pentatonix)
Looking for more artists born on this day?
Keep scrolling for all of our May 16 birthdays.
---
What to find another day?
---
May 16th
16 May 2019
Pink
was at No.1 on the US album chart with Hurts 2B Human. The album which reached No.1 in eight countries including Australia, Canada, New Zealand, and Switzerland became Pink's third consecutive album to debut at No.1 on the Billboard 200 chart.
16 May 2013
It was reported that
George Michael
had been injured after the car in which he was travelling in crashed on the M1 during the evening rush-hour. Ambulance crews confirmed that the singer had to be airlifted from the scene, near the junction with the M25. Three days later Katherine Fox told The Sun newspaper that she was driving behind a silver Range Rover when the singer tumbled from out the passenger door on to the third lane of the northbound carriageway. She said Michael had "a nasty cut on his forehead and the back of his head. There was blood all down his face and on his teeth. He was breathing and conscious but in shock."
16 May 2010
Ronnie James Dio, singer with Elf, Rainbow,
Black Sabbath
and his own band Dio died after a six-month battle with stomach cancer. He was 67 years old. Dio's career began in 1957 with The Vegas Kings, which later changed to Ronnie and the Rumblers, then Ronnie and the Redcaps, then in 1961, Ronnie Dio and the Prophets. In 1967, Dio and Prophets guitarist Nick Pantas formed the Electric Elves, which shortened its name to Elf. The band's success eventually landed them an opening slot for
Deep Purple
which exposed Dio's voice to
Deep Purple
's guitarist, Ritchie Blackmore, who later recruited Dio and other members of Elf for his new band Rainbow.
16 May 2009
Bob Dylan
went to No.1 on the US album chart with 'Together Through Life', his 33rd studio album. The album received two Grammy Award nominations in Best Americana Album category and Best Solo Rock Vocal Performance category for 'Beyond Here Lies Nothin'. The album also is significant as the only album by Dylan to top the US and UK charts consecutively.
16 May 2004
Frankee started a three week run at No.1 on the UK singles chart with 'F.U.R.B. (F U Right Back)'. The song was a "reply" to the No.1 by Eamon that it replaced, (Fuck It, I Don't Want You Back). This is the first time that a record and its reply have both made No 1.
16 May 1998
Rolling Stones
guitarist
Keith Richards
fell while reaching for a book of nude art in his Connecticut home. The fall broke his ribs, causing the Stones to postpone many dates on their Bridges To Babylon tour.
16 May 1993
US soul singer Marv Johnson died of a stroke. He had the US Top 10 single 'I Love The Way You Love' and the 1969 UK No.10 single 'I'll Pick A Rose For My Rose'. Johnson's recording of
Berry Gordy
's song 'Come To Me' became
Motown
Records first ever-single release in May 1959.
16 May 1992
Carter The Unstoppable Sex Machine scored their first and only UK No.1 album with '1992 The Love album.' The English indie rock band formed in 1988 with singer Jim "Jim Bob" Morrison and guitarist Les "Fruitbat" Carter.
16 May 1987
U2
started a three week run at No.1 on the US singles chart 'With Or Without You', the group's first US No.1. The third track from their 1987 albumThe
Joshua Tree
the song was the group's most successful single at the time.
16 May 1984
Ozzy Osbourne
was arrested in Memphis, Tennessee for 'staggering drunk' down Beale Street. Osbourne was released from the Memphis jail five hours later, after drying out, and was not required to return for a court appearance. He continued on with a tour in support of 1983's Bark at the Moon.
16 May 1981
Former New Christy Minstrels member (with Kenny Rogers), Kim Carnes started a nine week run at No.1 on the US singles chart with 'Bette Davis Eyes', the singers only US No.1 and a No.10 hit in the UK.
16 May 1977
The London Evening Standard reported that
Led Zeppelin
singer Robert Plant had been arrested at Atlanta Airport for being drunk and pulling a knife. Since Plant was at his home in Wales at the time of the incident, the person arrested was a man impersonating Plant and the British paper ran an apology the following night.
16 May 1976
Patti Smith made her UK debut at The Roundhouse, London. The American singer-songwriter, poet and visual artist, became a highly influential component of the New York City punk rock movement with her 1975 debut album Horses.
16 May 1974
Guitarist Brian May collapsed in New York while
Queen
were on a US tour and was flown back to England suffering from hepatitis.
16 May 1970
Crosby Stills Nash & Young
went to No.1 on the US album chart with 'Deja Vu'. The album featured three Top 40 singles: 'Teach Your Children,' 'Our House,' and '
Woodstock
'. In 2003, the album was ranked number 148 on Rolling Stone magazine's list of the 500 greatest albums of all time.
16 May 1970
The England World Cup Squad were at No.1 on the UK singles chart with 'Back Home.' The track spent three weeks at the top of the charts.
16 May 1969
Pete Townshend spent the night in a US jail for assaulting a man during a Who gig at The Fillmore East. What Townshend didn't know was the man who jumped onto the stage was a plainclothes policeman trying to warn the audience that a fire had broken out.
The Who
guitarist was later fined $30 for the offence.
16 May 1966
The Beach Boys
released the classic album
Pet Sounds
widely ranked as one of the most influential records ever released and has been ranked at No.1 in several music magazines lists of greatest albums of all time, including New Musical Express, The Times and Mojo Magazine. In 2003, it was ranked No.2 in Rolling Stone 500 Greatest Albums of All Time list, (The Beatles
Sgt. Pepper
's came first).
16 May 1965
Driving away from a gig at the Civic Hall, Long Beach, California, the limo taking The
Rolling Stones
back to their hotel was besieged by fans who caved in the roof by standing on it. The band attempted to hold the roof up while their chauffeur drove off with bodies falling onto the road.
16 May 1964
Mary Wells started a two week run at No.1 on the US singles chart with 'My Guy'. Written and produced by
Smokey Robinson
and The Miracles, it made No.5 in the UK.
16 May 1963
The Beatles
appeared live on the national BBC TV children's program 'Pops and Lenny', at Television Theatre, Shepherd's Bush Green, London, in front of an live audience.
The Beatles
performed 'From Me to You' and a shortened version of 'Please Please Me.'
16 May 1962
B Bumble and the Stingers were at No.1 on the UK singles chart with 'Nut Rocker.' The instrumental was based on Tchaikovsky's 'Nutcracker Suite.'
Born on this day in music
16 May 1992
American singer and songwriter Kirstin Maldonado a member of the a cappella group Pentatonix. Together with Pentatonix, Maldonado has released seven studio albums, won three Grammy Awards, and sold over six million albums. They scored the 2017 US No.1 album 'A Pentatonix Christmas'.
16 May 1977
Emilíana Torrini, Icelandic singer and songwriter. She is best known for her 2009 single 'Jungle Drum', her 1999 album Love in the Time of Science, and her performance of 'Gollum's Song' for the 2002 film The Lord of the Rings: The Two Towers.
16 May 1973
Will White, from English electronic duo Propellerheads who scored the scored the 1997 UK No.7 single 'On Her Majesty's Secret Service'.
16 May 1971
English songwriter and multi-instrumentalist Simon Katz from Jamiroquai who had the 1993 UK No.1 album Emergency on Planet Earth and the 1998 UK No.1 single 'Deeper Underground'. Jamiroquai have sold more than 26 million albums worldwide and won a Grammy Award in 1998.
16 May 1968
American contemporary R&B singer Ralph Tresvant who with New Edition had the 1983 UK No.1 single 'Candy Girl'.
16 May 1966
American singer, songwriter, dancer, and actress
Janet Jackson
. The youngest child of the Jackson family, she has amassed an extensive catalogue of hits, with singles such as 'Nasty', 'Rhythm Nation', 'That's the Way Love Goes', 'When I Think Of You', 'Together Again' and 'All for You', selling over 100 million records worldwide.
16 May 1965
Krist Novoselic, bassist with
Nirvana
, who had the 1991 UK No.7 and 1992 US No.6 single '
Smells Like Teen Spirit
', which was taken from the 1991 album
Nevermind
. After
Nirvana
ended, Novoselic formed Sweet 75 and then Eyes Adrift, releasing one album with each band. From 2006 to 2009 he played in punk band Flipper.
16 May 1964
American violinist and mandolinist Boyd Tinsley with the Dave Matthews Band who had the 1998 US No.1 album 'Before These Crowded Streets' and the 2001 US No.1 album 'Everyday'. Dave Matthews Band are the first group to have six consecutive studio albums debut at the top of the US charts.
16 May 1962
Andrew Innes from Scottish rock band Primal Scream who had the 1994 UK No.7 single 'Rocks' and the 1991 UK No.8 album Screamadelica.
16 May 1958
Glenn Gregory, Heaven 17, (1983 UK No.2 single 'Temptation').
16 May 1955
British singer-songwriter and actress Hazel O'Conner, who had the 1980 UK No.5 single 'Eighth Day' as well as starring in the film Breaking Glass.
16 May 1953
Richard Page, lead singer and bassist from American pop rock band Mr Mister who scored the 1985 US No.1 & 1986 UK No.4 single 'Broken Wings'.
16 May 1951
Jonathan Richman, guitar, vocals, from American rock band The Modern Lovers who scored the 1977 UK No.5 single 'Egyptian Reggae' and the 1977 UK No.11 'Roadrunner'. Richman appeared in the films Dumb & Dumber and There's Something About Mary.
16 May 1948
American saxophonist Alto Reed. He is best known as a long-time member of Bob Seger and the Silver Bullet Band and also worked with many artists including Grand Funk Railroad, Little Feat, Otis Rush, Spencer Davis, The Blues Brothers, The Ventures and George Thorogood. He died of colon cancer on 30 Dec 2020 age 72.
16 May 1947
Barbara Lee, singer, from American all-girl group The Chiffons who had the 1963 US No.1 single 'He's So Fine', and the 1972 UK No.4 single 'Sweet Talking Guy', (first released in 1966). Lee died on 15th May 1992.
16 May 1947
Darrell Sweet, from Scottish hard rock band Nazareth, who had the 1973 UK No.9 single 'Broken Down Angel', and the 1976 US No.8 single, 'Love Hurts'. Died on 30th April 1999 after suffering a fatal heart attack before a show in New Albany, Indiana.
16 May 1946
English guitarist, composer and record producer Robert Fripp, who with King Crimson had the 1969 UK No.5 album, In The Court Of The Crimson King. He has also worked extensively as a studio musician, notably with
David Bowie
on the albums Heroes and Scary Monsters (And Super Creeps), Brian Eno, Porcupine Tree, Andy Summers, Slow Music, Theo Travis, The Humans, Jakko Jakszyk and many others.
16 May 1944
Panamanian-American jazz drummer Billy Cobham, who worked with Miles Davis, Mahavishnu Orchestra,
James Brown
,
Santana
and the Soundtrack to the film 'Shaft'.
16 May 1939
Pervis Jackson, vocals, from American rhythm and blues vocal group the Detroit Spinners who had the 1980 UK No.1 & US No.2 single 'Working My Way Back To You'. Jackson died of cancer on 18th Aug 2008.
16 May 1919
American pianist, singer, and TV presenter, Liberace, (Wladziu Valentinon Liberace) who had a career spanning four decades and for a period, his TV show would pull in over 30 million viewers at any one time and he was the became the highest-paid entertainer in the world. He died on 4th February 1987. Behind the Candelabra, a film adaptation of Scott Thorson's autobiography, featured Michael Douglas stars as Liberace, with Matt Damon playing Thorson.