May 24th: The Biggest Music Headlines
Scroll down the page to see all the music headlines, stories and events for May 24 throughout music history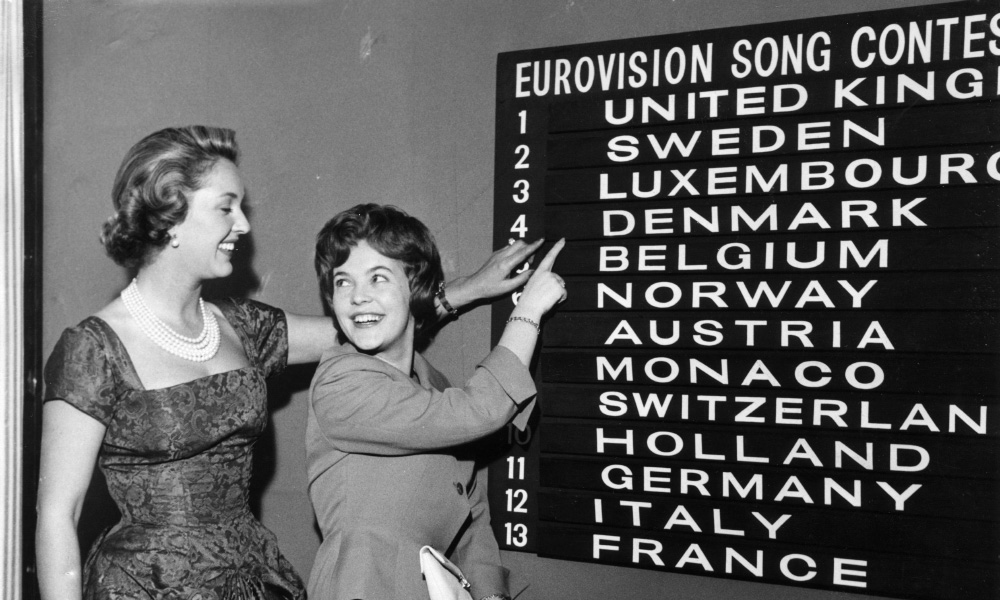 The Inaugural Eurovision Song Contest Launches in Switzerland
In 1956, the very first Eurovision Song Contest was held in Lugano, Switzerland. Local singer Lys Assia, performing the Émile Gardaz/Géo Voumard-penned song "Refrain," would take home the prize that year. Held annually since then, the songwriting competition (organized by the European Broadcasting Union) remains one of the longest-running TV events in history and holds the record of the longest-running international music competition. Over the years, a variety of major acts have competed in Eurovision, including ABBA, Celine Dion, Julio Iglesias, and Olivia Newton-John.
In 1975, Earth, Wind & Fire scored their sole No.1 hit on the Billboard Hot 100 with "Shining Star." The soulful funk song, which marked the group's first of many R&B chart-toppers, also earned EWF their first Grammy Award.
In 1997, with their debut Spice, the Spice Girls became the third all-female act in US history to top the Billboard 200. The British group followed a path paved by The Supremes and, later, The Go-Go's.
In 1974, David Bowie released his eighth album, Diamond Dogs. Featuring the hit single, "Rebel Rebel," the LP closed out Bowie's legendary glam rock era in style – topping the charts in the UK and Canada, and landing in the Top 5 in the US, Australia, France, and beyond.
In 1997, Hanson began a three-week run at the top of the Billboard Hot 100 with their infectious debut, "MMMBop." The trio of brothers, who ranged from 12-16 at the time of the single's release, also hit No.1 in more than 25 countries.
In 1970, guitarist Peter Green, who co-founded Fleetwood Mac alongside Mick Fleetwood and Jeremy Spencer, played his final show with the group at the Bath Festival in England.
In 1999, Queen's late frontman, Freddie Mercury, was honored by Britain's Royal Mail with a 19p millennium postage stamp. Mercury, who was an avid stamp collector himself, died in 1991.
Looking for more things that happened on this day in music?
Keep scrolling for all of the headlines for May 24.
BORN ON MAY 24:
1938: Prince Buster
1941: Bob Dylan
1944: Patti LaBelle
1955: Rosanne Cash
1956: Larry Blackmon (Cameo)
1960: Guy Fletcher (Dire Straits)
1967: Heavy D (Heavy D & the Boyz)
1969: Rich Robinson (The Black Crowes)
Looking for more artists born on this day?
Keep scrolling for all of our May 24 birthdays.
---
What to find another day?
---
May 24th
24 May 2023
Tina Turner, whose soul classics and pop hits like 'River Deep, Mountain High', 'What's Love Got to Do With It' and 'The Best' made her a superstar, died at the age of 83. Turner had suffered a number of health issues in recent years including cancer, a stroke and kidney failure. Dubbed the Queen of Rock 'n' Roll, she rose to fame alongside husband Ike in the 1960s with songs including 'Proud Mary' and was famed for her raunchy and energetic stage performances and husky, powerful vocals. She won eight Grammy Awards and was inducted into the Rock 'n' Roll Hall of Fame in 2021 as a solo artist, having first been inducted alongside Ike in 1991.
24 May 2020
American bassist Al Rex died age 91. He started playing for
Bill Haley
& His Comets and its predecessor Bill Haley and the Saddlemen in 1949 and became noted for 'wild antics' on stage.
24 May 2017
Sonny West, one of the original members of
Elvis Presley
's Memphis Mafia, died of lung cancer at the age of 79. Joining Elvis in 1960, he was abruptly fired, along with his cousin Red and bodyguard Dave Hebler, in 1976 without explanation. The following year he co-authored the book Elvis, What Happened?.
24 May 2010
Paul Gray, the bassist with US metal band Slipknot, was found dead in a hotel in Des Moines, Iowa. The body of the 38-year-old musician was found by an employee at the hotel in a suburb of the city. Police said foul play was not suspected, but an autopsy would be carried out. The nine members of Slipknot wore masks in public and referred to other bandmates by numbers; Gray was number two.
24 May 2009
Billy Joel
was being sued by his former drummer for hundreds of thousands of dollars in unpaid royalties. Liberty Devitto, claimed that Joel hadn't paid him proper royalties for 10 years of his work. Devitto was Joel's drummer from 1975 until 2005, when he said he was abruptly thrown out of the band. He said: "People get fired, they get severance or insurance for a certain period of time. I didn't even get a phone call. It was cold."
24 May 2007
Amy Winehouse
,
Madonna
and Arctic Monkeys were among the winners at this years Ivor Novello Awards. Winehouse won best contemporary song for her hit 'Rehab', while
Madonna
collected the international hit of the year for 'Sorry.' Sheffield-based band Arctic Monkeys collected the best album award for 'Whatever People Say I Am That's What I'm Not.'
24 May 2004
Madonna
kicked off the North American leg of her Re-invention World Tour by playing three sold out nights at The Los Angeles Forum. The tour became the top grossing of the year, with ticket sales of nearly $125 million, with over 900,000 fans attending the 60 date tour. As a follower of the Kabbalah,
Madonna
didn't play any Friday night gigs as the teaching of the religion forbids it.
24 May 2003
Paul McCartney
made his first ever live performance in Russia when he appeared in-front of 20,000 fans in Red Square.
24 May 2000
A New York Judge told Pretenders singer Chrissie Hynde that if she wanted her March arrest for protesting the sale of leather goods in a Gap store dismissed, she'd better keep her nose clean for the next six months.
24 May 2000
Andrea and Sharon Corr from The Corrs both collapsed in the mid-day sun whilst shooting their new video in the Mojave Desert in California. The pair were treated in hospital for heat exhaustion and were back on the set within 24 hours.
24 May 1999
Queen
singer
Freddie Mercury
, who died in 1991, was honoured on a new set of millennium stamps issued by the Royal Mail. Mercury, who featured on the 19p stamp, was a keen stamp collector, and his collection was bought by the Post Office in 1993. The stamp marked his contribution to the
Live Aid
charity concert in 1985, and caused controversy by featuring a small portion of
Queen
's drummer, Roger Taylor, in the background - UK stamps by tradition only carry pictures of living persons who are members of the Royal Family.
24 May 1997
Hanson started a three week run at No.1 on the US singles chart with 'MMMBop', the brothers first US No.1, also a No.1 in the UK. 'MMMBop' was phenomenally successful, especially for a debut single, reaching No.1 in 27 countries including the United States, the United Kingdom, Germany, Australia and Mexico.
24 May 1997
The
Spice Girls
went to No.1 on the US album chart with 'Spice', making them only the third all girl group to do so after The
Supremes
and The Go-Go's and the first ever UK girl group to do so.
24 May 1991
Founder member of The Byrds Gene Clark died of a heart attack aged 49. Wrote The Byrds hits 'I'll Feel a Whole Lot Better', and 'Eight Miles High', member of McGuinn, Clark and Hillman and solo.
24 May 1980
Genesis
fans turning up at the Roxy Club box office in Los Angeles to buy tickets for a forthcoming gig were surprised to find the band members
Phil Collins
, Tony Banks and Mike Rutherford selling the tickets themselves.
24 May 1975
Earth, Wind & Fire went to No.1 on the US singles chart with 'Shining Star', the group's first and only US No.1.
24 May 1974
David Bowie
released his eighth studio album Diamond Dogs. The cover art features Bowie as a striking half-man, half-dog grotesque painted by Belgian artist Guy Peellaert. It was controversial as the full painting clearly showed the hybrid's genitalia.
24 May 1970
Guitarist and founding member Peter Green played his last gig with
Fleetwood Mac
when they appeared at the Bath Festival, Somerset, England.
24 May 1969
Bob Dylan
's album Nashville Skyline peaked at No.3 in the US chart. The singer's ninth album, it also scored Dylan his fourth UK No.1. The album featured 'Lay Lady Lay', which became one of Dylan's biggest pop hits, reaching No.7 in the US, his biggest single in three years.
24 May 1969
The Beatles
with Billy Preston started a five week run at No.1 on the US singles chart with 'Get Back', the group's 17th US No.1. Credited to "
The Beatles
with Billy Preston", it was the Beatles' only single that credited another artist, 'Get Back' was also the Beatles' first single release in true stereo in the US.
24 May 1968
The
Rolling Stones
released the single 'Jumpin Jack Flash' in the UK, the track gave them their seventh UK No.1 hit.
Keith Richards
has stated that he and Jagger wrote the lyrics while staying at Richards' country house, where they were awoken one morning by the sound of gardener Jack Dyer walking past the window. When Jagger asked what the noise was, Richards responded: "Oh, that's Jack – that's jumpin' Jack."
24 May 1966
Captain Beefheart appeared at the Whisky a Go Go. West Hollywood, California. Supported by Buffalo Springfield and
The Doors
.
24 May 1963
The Beatles
recorded the first of their very own BBC radio program, "Pop Go the Beatles". The theme song for the program was a version of "Pop Goes the Weasel".
The Beatles
' guests for this first show were the Lorne Gibson Trio.
24 May 1963
24 May 1962
Elvis Presley
was at No.1 on the UK singles chart with 'Good Luck Charm' his 11th UK No.1 single. It completed his second hat-trick of chart topping singles in the UK.
24 May 1956
The first Eurovision Song Contest was held in Lugano, Switzerland. The event was the brainchild of Marcel Baisoncon of the European Broadcasting Union. Seven countries participated and they were each allowed two songs. Both Luxembourg and the winner Switzerland used the same singer for both. Switzerland won with 'Refrain' by Lys Assia.
Born on this day in music
24 May 1976
Italian musician Alessandro Cortini best known for touring and recording with the American band Nine Inch Nails from 2004 to 2008.
24 May 1969
Rich Robinson, guitarist with The Black Crowes (along with older brother Chris Robinson), who had the 1991 hit single 'Hard To Handle' and the 1992 US No.1 & UK No.2 album The Southern Harmony And Musical Companion. The band have sold more than 30 million albums.
24 May 1967
Jamaican-born American rapper Heavy D, who scored the 1991 UK No.2 single 'Now That We Found Love' and the former leader of Heavy D & the Boyz. He died on November 8, 2011, in Los Angeles, California, at the age of 44.
24 May 1962
American singer, dancer Gene Anthony Ray, 'Leroy' in TV's 'Fame'. Axed from the show in 1984, after his mother was jailed for running a drug ring. He danced with The Weather Girls in their video of 'It's Raining Men.' Leroy died on November 19th 2003.
24 May 1960
Guy Fletcher, multi-instrumentalist, who has worked with Roxy Music, (joined in 1981 for their Avalon world tour) and is best known for his position as the keyboard player in
Dire Straits
from 1984 until the group's dissolution.
24 May 1956
Larry Blackmon, lead singer with American soul-influenced funk group Cameo who scored the 1986 UK No.3 single 'Word Up'.
24 May 1955
American singer-songwriter and author, Rosanne Cash, the eldest daughter of country music icon
Johnny Cash
and his first wife, Vivian Liberto Cash Distin. She won a Grammy in 1985 for 'I Don't Know Why You Don't Want Me', and has received twelve other Grammy nominations. She has had 11 No.1 country hit singles, 21 Top 40 country singles and two gold records.
24 May 1947
Albert Bouchard, drummer, guitarist, songwriter, from American hard rock band Blue Oyster Cult who scored the 1976 US No.12 & 1978 UK No.16 single '(Don't Fear) The Reaper'. Blue Oyster Cult have sold over 24 million records worldwide.
24 May 1947
Cynthia 'Plaster' Caster, a groupie who became famous for making plaster cast's of rock star's penises and breasts. Clients included
Jimi Hendrix
and members from MC5, Television,
The Kinks
and various road managers.
24 May 1946
Steve Upton from British rock band Wishbone Ash who scored the 1972 UK No.3 album Argus and eight other Top 40 albums. Wishbone Ash are noted for their extensive use of the harmony twin lead guitar.
24 May 1945
English musician and bass guitarist Dave Peacock, who with Chas & Dave had the 1982 UK No.2 single 'Ain't No Pleasing You'. Earlier in his career, Peacock played guitar as part of Cliff Bennett and the Rebel Rousers.
24 May 1944
American singer, songwriter, Patti Labelle who scored the 1975 US No.1 & UK No.17 single 'Lady Marmalade', (with Labelle), and the 1986 US No.1 & UK No.2 single with Michael McDonald, 'On My Own'. Labelle became the the first African-American vocal group to land the cover of Rolling Stone magazine.
24 May 1942
Derek Quinn, from the 1960s pop band Freddie and the Dreamers. They scored the 1963 UK No.3 single 'You Were made For Me', and the 1965 US No.1 single 'I'm Telling You Now'.
24 May 1941
Bob Dylan
(Robert Zimmerman), American singer-songwriter, author, and painter. Dylan has released over 40 albums since 1964, and was a major influence on
The Beatles
. His biggest hits are the 1965 US No.2 single 'Like A Rolling Stone', the 1969 UK No.5 single 'Lay Lady Lay', and his 1964 UK No.1 album The Freewheelin'
Bob Dylan
. He has won many awards throughout his career including the 2016 Nobel Prize in Literature, and twelve Grammy Awards. Dylan was also a member of The
Traveling Wilburys
.
24 May 1938
Jamaican singer, songwriter and producer, Prince Buster. The records he released in the 1960s influenced and shaped the course of Jamaican contemporary music and created a legacy of work that later reggae and ska artists would draw upon. Buster died on 8 September 2016, in a hospital in Miami, Florida, after suffering heart problems.