May 7th: The Biggest Music Headlines
Scroll down the page to see all the music headlines, stories and events for May 7 throughout music history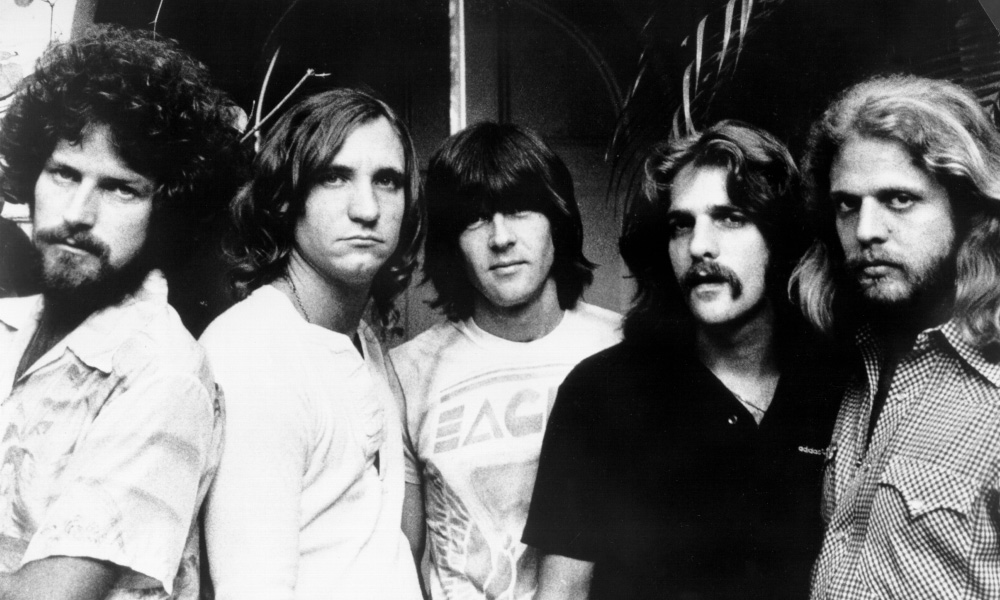 The Eagles Hit No.1 with 'Hotel California'
On this day in music, May 7, 1977, the Eagles topped the Billboard Hot 100 with "Hotel California," their fourth No.1 hit in the US. At six-and-a-half minutes long, the record company hesitated to release it, but the band refused to shorten the song to accommodate for radio airplay. Described by the band as an "interpretation of the high life in Los Angeles," it became their signature hit, receiving a Gold certification from the RIAA three months after its release. The title track of their 1976 album was awarded the 1977 Grammy for Record of the Year, while its guitar solo remains one of the greatest of all time.
In 1968, while flying back to the UK after his final show with Bluesology, Elton John (born Reginald Kenneth Dwight) devised his stage name. In the cabin, the singer-songwriter asked Bluesology's horn player, Elton Dean, and lead singer Long John Baldry if he could combine their names for his solo act. After several years of performing under the pseudonym, the artist legally changed his name to Elton Hercules John on January 7, 1972. He has since sold over 300 million records worldwide and is one of the best-selling musicians of all time.
In 1966, The Mamas & the Papas topped the Billboard Hot 100 with "Monday, Monday." The first hit with a day of the week in its title, "Monday, Monday" was also the first single by a mixed-gender group to reach No.1 in the US. Written in 20 minutes by "Papa" John Philips, the group reportedly all hated the song aside from its songwriter. But Philips had the last laugh: in addition to its chart success, "Monday, Monday" also won the 1967 Grammy Award for Best Pop Performance by a Duo or Group with Vocal.
In 1974, Led Zeppelin held a launch party at New York City's Four Seasons Hotel to celebrate their new label, Swan Song Records. Overseen by manager Peter Grant, Swan Song released several Led Zeppelin records and was home to Bad Company, Maggie Bell, Pretty Things, and Dave Edmunds, among many others.
In 1971, Arnold Corns, a band formed by David Bowie, released "Moonage Daydream." Bowie later rerecorded the single for his 1972 record, The Rise and Fall of Ziggy Stardust and the Spiders from Mars. The song shares its title with a 2022 documentary on Bowie, which was the first posthumous film about his life to be approved by his estate.
In 1998, singer-songwriter Eddie Rabbitt died at age 56 of lung cancer. During his career, he composed numerous hits, including Elvis Presley's "Kentucky Rain" and "Patch It Up," as well as Ronnie Milsap's "Pure Love." His last studio album was released in 1998.
Looking for more things that happened on this day in music?
Keep scrolling for all of the headlines for May 7.
BORN ON MAY 7:
1931: Teresa Brewer
1946: Thelma Houston
1946: Bill Kreutzmann (Grateful Dead)
1955: Steve Diggle (Buzzcocks)
1969: Eagle Eye Cherry
1974: Lynden David Hall
1986: Matt Helders (Arctic Monkeys)
Looking for more artists born on this day?
Keep scrolling for all of our May 7 birthdays.
---
What to find another day?
---
May 7th
7 May 2015
Three of B.B. King's 11 surviving children lost a bid in a Las Vegas court to take control over their father's affairs after they said they suspect the 89-year-old Blues legend's manager of stealing his money and neglecting his medical care while blocking them from seeing him in home hospice care. King died in his sleep on May 14, 2015, at the age of 89.
7 May 2011
John Walker (John Joseph Maus) best known as the founder of The Walker Brothers died of liver cancer at his Los Angeles home. He formed The Walker Brothers (originally The Walker Brothers Trio) in 1964, with himself as lead vocalist and guitarist. The Walker Brothers scored the 1966 UK No.1 & US No. 13 single 'The Sun Ain't Gonna Shine Anymore'.
7 May 2006
Snow Patrol went to No.1 on the UK album chart with 'Eyes Open' the bands fourth album. Also a No.1 in Ireland, and Australia and a No. 27 hit on the US Chart. The bands first album 'Songs For Polarbears' peaked at No.143 when released in 1998.
7 May 2004
A planning inquiry hearing
Madonna
's appeal to ban ramblers from parts of her £9m country estate heard details of the land's make-up. The pop star claimed 100 acres of land at the 1,200-acre Ashcombe House estate had been inaccurately classified as open country.
Madonna
was appealing against the classification in a hearing. Under the act, people would have the right to access any land registered on the final map as open country-mountain, moor, heath or down.
7 May 2003
A Los Angeles federal jury recommended a $1.5 million award to a British record company that sued rapper-producer Dr Dre for song plagiarism. London-based Minder Music Ltd. sued Dre in 2000, claiming his 1999 song, 'Let's Get High,' used the bass line of The Fatback's 1980 song, 'Backstroking' which was featured on Dre's successful '2001' album, which sold 9 million copies worldwide.
7 May 2003
A US surgeon sued 50 Cent over an unpaid medical bill. The doctor claimed 50 Cent and his friend turned up at a hospital with multiple gunshot wounds in 2000, but said the rapper never paid the $20,000 he owed for treatment despite being asked several times.
7 May 2000
Britney Spears
went to No.1 on the UK singles chart with 'Oops!... I Did It Again'. Written and produced by hit-makers Max Martin and Rami Yacoub, who had previously collaborated with Spears on '...Baby One More Time'.
7 May 1998
Eddie Rabbitt, US singer, songwriter died of lung cancer aged 56. During his career, he scored over 20 No.1's on Billboard's country singles chart including 1981 'I Love A Rainy Night'.
Elvis Presley
, Dr Hook, Tom Jones, Kenny Rogers, Crystal Gayle and Lynn Anderson all recorded his songs.
7 May 1992
A leather Jacket worn by
John Lennon
during 1960-1963, was sold at Christies, London, England for £24,200.
7 May 1992
Nigel Preston drummer with The Cult died in London, England aged 32. Was a founding member of The Death Cult, he also played and recorded with Sex Gang Children, Theatre of Hate and The Gun Club.
7 May 1991
Wilson Pickett was arrested after running into an 86 year old man and yelling death threats whilst driving his car over the mayor's front lawn in Englewood, New Jersey. Pickett was charged with driving with open bottles of alcohol in his car.
7 May 1988
Terence Trent D'arby went to No.1 on the US singles chart with 'Wishing Well', a No.4 hit in the UK.
7 May 1983
Former Jam leader Paul Weller unveiled his new group The Style Council at an anti nuclear benefit gig in London. The Style Council scored seven UK Top 10 hits and the band was also very successful in Australia and New Zealand during the 1980s, with multiple hit singles and albums.
7 May 1978
90,000 tickets were sold in eight hours for
Bob Dylan
's forthcoming London dates at Earls Court.
7 May 1977
The
Eagles
went to No.1 on the US singles chart with 'Hotel California', the group's fourth US No.1, a No.8 hit in the UK. The Eagles also won the 1977 Grammy Award for Record of the Year for 'Hotel California' at the 20th Annual Grammy Awards in 1978. The song's guitar solo is ranked 8th on Guitar Magazine's Top 100 Guitar Solos and was voted the best solo of all time by readers of Guitarist magazine.
7 May 1974
Led Zeppelin
held a party at the Four Seasons Hotel in New York City for the launch of their new label Swan Song. Other label signings including, Scottish singer Maggie Bell (whose album Suicide Sal was the labels fourth release), and British supergroup, Bad Company also attended.
7 May 1971
'Moonage Daydream' was released as a single by Arnold Corns, a band, formed by
David Bowie
the name of which was inspired by the
Pink Floyd
song 'Arnold Layne'. This was one of Bowie's side projects and something of a dry run for
Ziggy Stardust
. The song later reappeared on Ziggy Stardust in a new version with updated lyrics.
7 May 1968
Flying back to the UK after a US tour after his last gig with the band Bluesology, keyboard player Reginald Dwight gave some thought for a stage name he could use for his burgeoning solo career. In the cabin, he came across the band's horn player Elton Dean and lead singer Long John Baldry, and asked them if he can appropriate their names to concoct a new one for himself. They agree, and
Elton John
is born.
7 May 1967
7 May 1967
Pearls Before Swine begin recording an album called 'One Nation Underground'. The LP included a song called 'Miss Morse', which would be banned in New York when it was discovered that lead singer Tom Rapp was singing F-U-C-K in Morse code. After disc jockey Murray The K played the record on the air, local Boy Scouts correctly interpreted the chorus and phoned in a complaint.
7 May 1966
The Mamas & the Papas started a three week run at No.1 on the US singles chart with 'Monday Monday' becoming the first song with a day of the week in the title to top the chart. The group was reported, as saying they all hated the song except for its writer John Phillips. The Mamas & the Papas won a Grammy Award for Best Pop Performance by a Duo or Group with Vocal for this song.
Born on this day in music
7 May 1986
Matt Helders, drummer, with English rock band Arctic Monkeys who had the 2005, UK No.1 single 'I Bet You Look Good On The Dancefloor', and the 2006 UK No.1 album Whatever People Say I Am That's What I'm Not. The band has won six Brit Awards – winning both Best British Group and Best British Album three times, and have been nominated for three Grammy Awards.
7 May 1974
English singer, songwriter, arranger, and record producer Lynden David Hall. In 1999, he was the first UK performer ever voted "Best Male Artist" by the readers of Britain's Blues & Soul magazine. In October 2003, Hall was diagnosed with Hodgkin's lymphoma; he died on 14 February 2006, at the age of 31, from complications resulting from the stem cell transplant he received in January 2005.
7 May 1969
Swedish musician Eagle Eye Cherry, who scored the 1998 UK No.6 single 'Save Tonight'. Cherry co-wrote and sang on 'Wishing It Was' on
Santana
's 1999 album Supernatural. He is the son of jazz artist Don Cherry.
7 May 1961
Phil Campbell, lead guitar, Persian Risk,
Motorhead
, who had the 1980 UK No.15 single 'Ace Of Spades'.
7 May 1960
Anne Dudley, from English avant-garde synth-pop group Art of Noise who had the 1988 UK No.5 single 'Kiss' with Tom Jones.
7 May 1955
Steve Diggle, guitarist from punk rock band
Buzzcocks
, who had the 1978 UK No.12 single 'Ever Fallen In Love, With Someone You Shouldn't've'.
7 May 1951
American brass player Mic Gillette famous for being a member of Tower of Power. He died on 17 Jan 2016 of a heart attack.
7 May 1950
Prairie Prince, drummer with American band The Tubes known for their 1977 hit single 'White Punks On Dope' and the 1983 US No.10 single 'She's A Beauty'.
7 May 1949
Keith, (James Keefer), American singer, who had the 1967 US No.7 and UK No.24 single '98.6' which sold over one million copies worldwide. He legally changed his name to Bazza Keefer in 1988, in memory of his mother.
7 May 1948
Pete Wingfield, singer, Pianist and producer, who had the 1975 UK No.7 and US No.15 single 'Eighteen With A Bullet', (which was later featured on the soundtrack to the 1998 film, Lock, Stock and Two Smoking Barrels). Produced the first album by Dexys Midnight Runners, Searching for the Young Soul Rebels and The Proclaimers hit, 'I'm Gonna Be (500 Miles)'.
7 May 1946
Bill Kreutzmann, drummer with
Grateful Dead
. He played with the Grateful Dead for its entire thirty-year career, usually alongside fellow drummer Mickey Hart. The group released more than 140 albums, the majority of them recorded live in concert.
7 May 1946
Bill Danoff, from American pop group Starland Vocal Band, who had the 1976 US No.1 & UK No.18 single 'Afternoon Delight' one of the biggest-selling singles of 1976.
7 May 1946
Jerry Nolan, drums, The New York Dolls, 1973 album New York Dolls. Nolan joined the New York Dolls in the autumn of 1972 to replace Billy Murcia. He left the Dolls together with Johnny Thunders in the spring of 1975. The two then placed a call to bassist Richard Hell, formerly of the Neon Boys and Television, to form The Heartbreakers. Nolan died on 14th January 1992 from a fatal stroke.
7 May 1946
American singer and actress Thelma Houston who had the 1977 US No.1 & UK No.13 single 'Don't Leave Me This Way' which won the Grammy for Best Female R&B Vocal Performance.
7 May 1945
American woodwind, keyboard player and vocalist Cornelius Bumpus who toured with The Doobie Brothers and Steely Dan. Bumpus died of a heart attack at age 58 on February 3, 2004 while on an airline flight from New York to California, where he was scheduled to perform at the Columbia College Jazz Concert Series. The plane made an emergency landing in Sioux City, Iowa but Bumpus died by the time the plane reached the ground.
7 May 1945
Irish folk singer, songwriter and guitarist Christy Moore. He is one of the founding members of Planxty and Moving Hearts. In 2007, he was named as Ireland's greatest living musician in RTÉ's People of the Year Awards.
7 May 1943
Rick Westwood, guitarist, who with Brian Poole and the Tremeloes had the the UK 1963 No.1 hit 'Do You Love Me' and with The Tremeloes the 1967 UK No.1 & US No.11 single 'Silence Is Golden'.
7 May 1942
Derek Taylor press officer for
The Beatles
also worked with
The Beach Boys
and The Byrds. Taylor died of cancer on 10th September 1997.
7 May 1939
American soul singer Jimmy Ruffin, who had the 1974 UK No.4 single 'What Becomes Of The Broken Hearted'. Ruffin who was the elder brother of David Ruffin of the
Temptations
died on Nov 17, 2014 aged 78.
7 May 1931
American singer Teresa Brewer who had the 1952 US No.1 hit 'Till I Waltz Again with You', (one of
Elvis Presley
's first public singing experiences in 12th grade was performing 'Till I Waltz Again with You'). She was one of the most prolific and popular female singers of the 1950s, recording nearly 600 songs. Brewer died on 17 October 2007 age 76.