November 10th: The Biggest Music Headlines
Scroll down the page to see all the music headlines, stories and events for November 10 throughout music history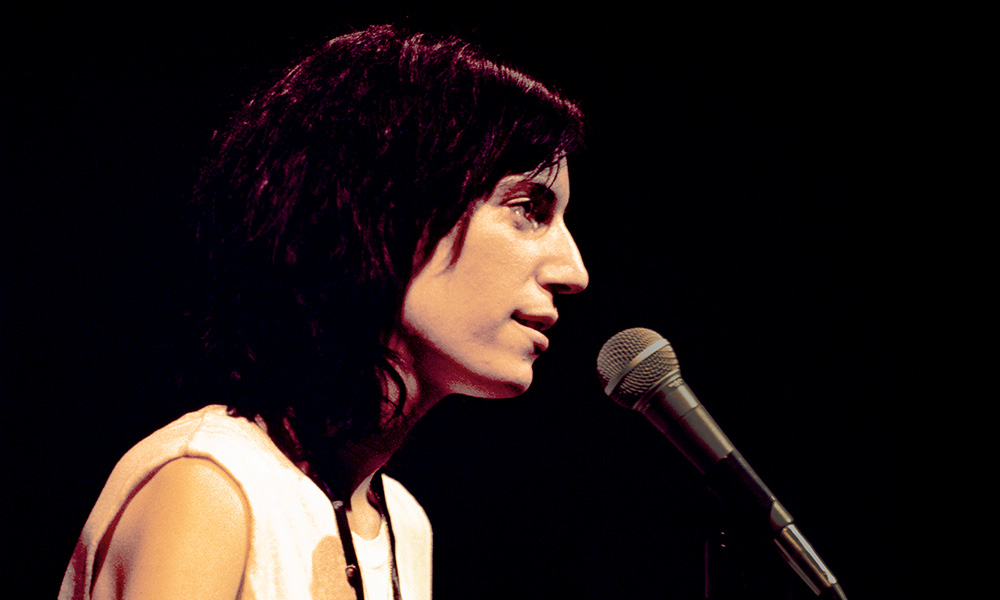 Patti Smith Releases 'Horses'
On November 10, 1975, Patti Smith released her debut album, Horses. Considered to be a seminal title in punk rock – as well as the genre's first major label release – the album blended elements of the emerging genre with avant-garde and art rock. Broadly acclaimed upon its release, Horses would become highly influential, informing new wave, alt-rock, and grunge acts over the coming decades, including Morrissey, R.E.M.'s Michael Stipe, and PJ Harvey. Hailed by many outlets as one of the greatest albums of all time, Horses was added to the Library of Congress' National Recording Registry in 2009.
In 2015, singer, songwriter, producer, arranger, and New Orleans icon, Allen Toussaint, died at the age of 77. In addition to enjoying a prolific career as a producer and solo act, the Rock and Roll Hall of Famer found great success as a songwriter, with scores of artists (including Bonnie Raitt, the Pointer Sisters, Vince Gill, and Elvis Costello) performing his songs. Two years before his death, Toussaint was awarded the National Medal of Arts by President Obama – the highest honor that can be given to artists by the US government.
In 1984, the Queen of Funk, Chaka Khan, scored her first No.1 single in the UK with a cover of Prince's "I Feel for You." Boasting a guest appearance from Melle Mel (Grandmaster Flash and the Furious Five), the trendsetting, global hit made Khan the first R&B artist to score a crossover hit that featured a rapper.
In 1973, Elton John topped the Billboard 200 with his seventh studio album, Goodbye Yellow Brick Road. Widely regarded as his greatest masterpiece (and one of the greatest albums of all time), the 17-track LP includes such hits as "Candle in the Wind," "Saturday Night's Alright for Fighting," "Bennie and the Jets," and the title track. Goodbye Yellow Brick Road remains the singer-songwriter's highest-selling studio album.
In 1984, after setting a new record for album pre-orders, Frankie Goes to Hollywood secured their debut at the top of the UK chart with Welcome to the Pleasure Dome. Their highly-anticipated first LP included such hits as "Relax," "Two Tribes," and "The Power of Love."
In 1997, one of the most recorded guitarists in history, Tommy Tedesco, died at the age of 67. Tedesco appeared on sessions by The Supremes, Frank Sinatra, Elvis Presley, The Beach Boys, Sam Cooke, and Frank Zappa, among many others. He also played on such well-known TV themes as M*A*S*H, The Twilight Zone, and Batman.
Looking for more things that happened on this day in music?
Keep scrolling for all of the headlines for November 10.
BORN ON NOVEMBER 10:
1947: Glenn Buxton (Alice Cooper Band)
1948: Greg Lake (Emerson, Lake & Palmer, King Crimson)
1966: Steve Mackey (Pulp)
1970: Warren G
1975: Jim Adkins (Jimmy Eat World)
1978: Eve
1983: Miranda Lambert
Looking for more artists born on this day?
Keep scrolling for all of our November 10 birthdays.
---
What to find another day?
---
November 10th
10 Nov 2015
Allen Toussaint the American musician, songwriter, composer, record producer, and influential figure in New Orleans R&B died aged 77 while on tour in Madrid, Spain. Many artists recorded his songs including; 'Mother-in-Law', 'Fortune Teller', 'Ride Your Pony', 'Working in the Coal Mine', 'Here Come the Girls', 'Yes We Can Can' and 'Southern Nights'. Alison Krauss and Robert Plant covered 'Fortune Teller' on their 2007 album Raising Sand.
10 Nov 2014
Cranberries singer Dolores O'Riordan was arrested following an alleged air rage incident on a flight from the United States.Ms O'Riordan was detained after a stewardess was reportedly attacked in the business section on an Aer Lingus flight from New York to Shannon, County Clare.
10 Nov 2014
The
Rolling Stones
faced a battle to win a $12.7m (£7.9m) insurance claim for concerts they postponed when
Mick Jagger
's girlfriend died. L'Wren Scott took her own life in March, prompting the Stones to postpone a tour of Australia and New Zealand. The group had taken out a policy to be paid in the event shows were cancelled due to the death of family members or others, including Scott. But underwriters said Scott's death may not be covered by the policy.
10 Nov 2008
Coldplay
were declared the biggest-selling act of 2008 at the World Music Awards held in Monaco. The band picked up the prize ' along with the Rock Act Of The Year award ' after their current album 'Viva La Vida Or Death And All His Friends' topped charts around the globe. Other winners at the awards included Leona Lewis for Best Pop Female ' and Best New Artist,
Amy Winehouse
was the winner in the Female Pop/Rock award, while Alicia Keys was named best in the R&B category. Lil' Wayne bagged the Hip-Hop/Rap Artist award, while Akon was declared the Biggest Internet Artist Of The Year.
10 Nov 2006
Grammy-nominated R&B star Gerald Levert died of a heart attack aged 40. The singer who was the son of O'Jays vocalist Eddie Levert, first found fame with the R&B trio LeVert, and scored a UK top 10 single with Casanova in 1987.
10 Nov 2002
American Keyboard player Johnny Griffith died of a heart attack aged 66. He had been a member of the
Motown
records in-house Funk Brothers studio band and played on
Marvin Gaye
's 'Heard It Through The Grapevine', 'I Can't Help Myself (Sugar Pie, Honey Bunch)' by
Four Tops
, and 'Stop! In the Name of Love' by The
Supremes
.
10 Nov 1999
Eighties hit making team Stock, Aitken and Waterman went to court fighting over song rights. Stock and Aitken claimed Waterman owed them hundreds of thousands of pounds as musicians and songwriters.
10 Nov 1997
American session guitarist Tommy Tedesco died of lung cancer aged 67. Described by "Guitar Player" magazine as the most recorded guitarist in history recording with
The Beach Boys
, Everly Brothers,
Supremes
, The
Monkees
, The Association, Barbra Streisand,
Elvis Presley
, Ella Fitzgerald,
Frank Zappa
,
Sam Cooke
, Cher, and Nancy and
Frank Sinatra
. And played on many TV themes including Bonanza, The Twilight Zone, M*A*S*H and Batman.
10 Nov 1990
Vanilla Ice started a 16-week run at No.1 on the US album chart with 'To The Extreme.'
10 Nov 1984
After setting a new record for advanced orders, 1,099,500 copies, Frankie Goes To Hollywood went to No.1 on the UK album chart with their debut LP 'Welcome To The Pleasure Dome.' Also on this day Frankie Goes To Hollywood made their debut TV appearance on Saturday Night Live performing 'Two Tribes' and '
Born To Run
'.
10 Nov 1984
Former Rufus singer Chaka Khan was at No.1 on the UK singles chart with 'I Feel For You.' Written by
Prince
, the song featured
Stevie Wonder
on harmonica and the Rap was by Grandmaster Melle Mel. The repetition of Khan's name by rapper Melle Mel at the beginning of the song was originally a mistake made by producer Arif Mardin, who then decided to keep it.
10 Nov 1979
Fleetwood Mac
scored their second UK No.1 album with the double set 'Tusk', the 12th album by the British/American rock band.
10 Nov 1979
The
Eagles
went to No.1 on the US singles chart with 'Heartache Tonight', the group's 5th and final US No.1. It made No.40 in the UK.
10 Nov 1975
David Bowie
was at No.1 on the UK singles chart with '
Space Oddity
' the track was first released in 1969 to tie in with the Apollo 11 moon landing. Rick Wakeman (former keyboard player with Yes) provided synthesizer backing. Bowie would later revisit his Major Tom character in the songs 'Ashes to Ashes', 'Hallo Spaceboy' and 'Blackstar'.
10 Nov 1975
Patti Smith released her debut studio album Horses. Produced by John Cale, Horses has since been viewed by critics as one of the greatest and most influential albums in the history of the American punk rock movement, as well as one of the greatest albums of all time. Horses has also been cited as a key influence on a number of acts, including Siouxsie and the Banshees,
The Smiths
,
R.E.M.
and PJ Harvey.
10 Nov 1973
Elton John
started a eight week run at No.1 on the US album chart with 'Goodbye Yellow Brick Road', the singers third US No.1. The album which had the working titles of Vodka and Tonics and Silent Movies, Talking Pictures, is his best selling studio album with worldwide sales of over 15 million copies. Recorded at the Château d'Hérouville, the album contains the Marilyn Monroe tribute, 'Candle in the Wind', as well as three successful singles: 'Bennie and the Jets', 'Saturday Night's Alright for Fighting' and the title track.
10 Nov 1967
The Beatles
filmed three promotional films for their new single
'Hello Goodbye'
at the Saville Theatre in London. Each of the three film clips featured different costumes and Beatle antics. In the first film they wear their
Sgt. Pepper
uniforms, for the second
The Beatles
are wearing everyday clothes, the third film clip features shots from the first two films, plus additional shots of (especially John) doing the twist. A Musician's Union ban on lip-sync broadcasts prevented the films being used on British television.
10 Nov 1955
Elvis Presley
attended the fourth Country Music Disc Jockey Convention in Nashville Tennessee. Back at his hotel Mae Boren Axton played him a demo of a new song she had written with Tommy Durden called '
Heartbreak Hotel
'. Presley released the track as a single on January 27, 1956, his first on his new record label RCA Victor. The song gave him his his first No.1 one pop record.
Born on this day in music
10 Nov 1983
Miranda Lambert, American country music artist who gained fame as a finalist on the 2003 season of Nashville Star. Her fifth album Platinum peaked at No.1 in 2014 on the US album chart.
10 Nov 1979
Chris Joannou, bassist from Australian rock band Silverchair who had the 1997 Australian No.1 single 'Freak' and the 1995 Australian No.1 album Frogstomp plus three other Australian No.1 albums. During their career, Silverchair won more ARIA Music Awards than any other artist in history with 21 wins.
10 Nov 1978
Drew McConnell, bassist who was a member of Babyshambles, fronted the musical collective Mongrel with Jon McClure and members of Arctic Monkeys and played bass in
Liam Gallagher
's band.
10 Nov 1978
Eve, US female rapper, (2001 UK No.4 single, featuring Gwen Stefani, 'Let Me Blow Ya Mind').
10 Nov 1975
Jim Adkins, lead singer and guitarist with Jimmy Eat World.
10 Nov 1973
British singer Jacqui Abbott, with The Beautiful South. Amongst their most successful hits during her stint with the group were: 'Rotterdam', 'Perfect 10', 'Don't Marry Her' and 'Dream a Little Dream of Me'.
10 Nov 1970
Derry Brownson, keyboards from British dance music/rock band EMF who had the 1990 UK No.3 & US No.1 single 'Unbelievable'. Their debut album, Schubert Dip, went to No.3 on the UK albums chart.
10 Nov 1970
Warren G, US rapper, (1994 UK No.5 single, 'Regulate', 1996 UK No.2 single with Adina Howard, 'What's Love Got To Do With It').
10 Nov 1969
Paul 'Kermit' Leveridge, Black Grape, (1995 UK No.8 single 'In The Name Of The Father')
10 Nov 1968
Steve Brookstein, singer, winner of the first ever
X Factor
UK TV show in 2004. (2005 UK No.1 single Against All Odds').
10 Nov 1967
Andrew Vowles, Mushroom, Massive Attack, (1991 UK No.13 single 'Unfinished Sympathy').
10 Nov 1966
Steve Mackey, from English rock band Pulp, who had the 1995 UK No.2 single 'Common People'. He quit the band in January 1997. Pulp were regarded among the Britpop "big four", along with
Oasis
, Blur and Suede. Mackey died on 2 March 2023 age 56.
10 Nov 1961
Junior Giscombe, (1997 UK No.6 single with Kim Wilde, 'Another Step Closer To You').
10 Nov 1958
Frank Maudsley, A Flock Of Seagulls, (1982 UK No.10 & US No.26 single 'Wishing, If I Had A Photograph Of You').
10 Nov 1957
Chris Joyce, drummer from Simply Red, who had the 1986 US No.1 & UK No.2 single 'Holding Back The Years'. They have had five No.1 albums in the UK, with their 1991 album, Stars, one of the best-selling albums in UK chart history.
10 Nov 1954
Mario Cipollina, bassist from Huey Lewis and the News who had the 1985 UK No.11 & US No.1 single 'The Power Of Love'. Their third, and best-selling, album was the 1983 Sports, and they contributed to the soundtrack of the 1985 feature film Back to the Future.
10 Nov 1949
Peter Bramall, singer, with British pub rock band The Motors who had the 1978 UK No.4 single 'Airport'.
10 Nov 1948
English bassist, guitarist, singer, songwriter, Greg Lake, who worked with King Crimson and Emerson Lake and Palmer who had the 1977 UK No.2 single 'Fanfare For The Common Man'. He scored the 1975 solo 1975 UK No.2 hit single 'I Believe In Father Christmas'. Lake died on 7th Dec 2016 age 69 after a battle with cancer.
10 Nov 1947
Glenn Buxton, guitarist with the Alice Cooper Band, who had the 1972 UK No.1 & US No.7 single 'School's Out', the 1972 hit 'Elected' and the 1973 US & UK No.1 album Billion Dollar Babies. He died on 19 October 1997.
10 Nov 1947
American songwriter Allee Willis. She co-wrote many hit songs including 'September' and 'Boogie Wonderland' by Earth, Wind & Fire and 'I'll Be There for You' by the Rembrandts, the theme from the TV sitcom Friends. Her compositions sold over 60 million records. She was inducted into the Songwriters Hall of Fame in 2018. She died on 24 December 2019 age 72.
10 Nov 1946
American singer Jim Gilstrap best known for his work as a session musician and his 1975 solo hit single 'Swing Your Daddy. Gilstrap appeared on
Stevie Wonder
's albums, Talking Book and Innervisions and sang the opening two lines of the Wonder song, 'You Are the Sunshine of My Life.' He also appeared on
Michael Jackson
's album Off
The Wall
and worked with
Keith Moon
, Joe Cocker, Willy DeVille and Starship.
10 Nov 1941
Kyu Sakamoto, (1963 US No.1 & UK No.6 single 'Sukiyaki', the first ever Japanese US No.1). Killed in a plane crash on 12th August 1985.
10 Nov 1923
English vocalist Anne Shelton who is remembered for providing inspirational songs for soldiers both on radio broadcasts, and in person, at British military bases during the Second World War. She had the 1956 UK No. 1 'Lay Down Your Arms'. Shelton died of a heart attack on 31 July 1994 age 70.