November 16th: The Biggest Music Headlines
Scroll down the page to see all the music headlines, stories and events for November 16 throughout music history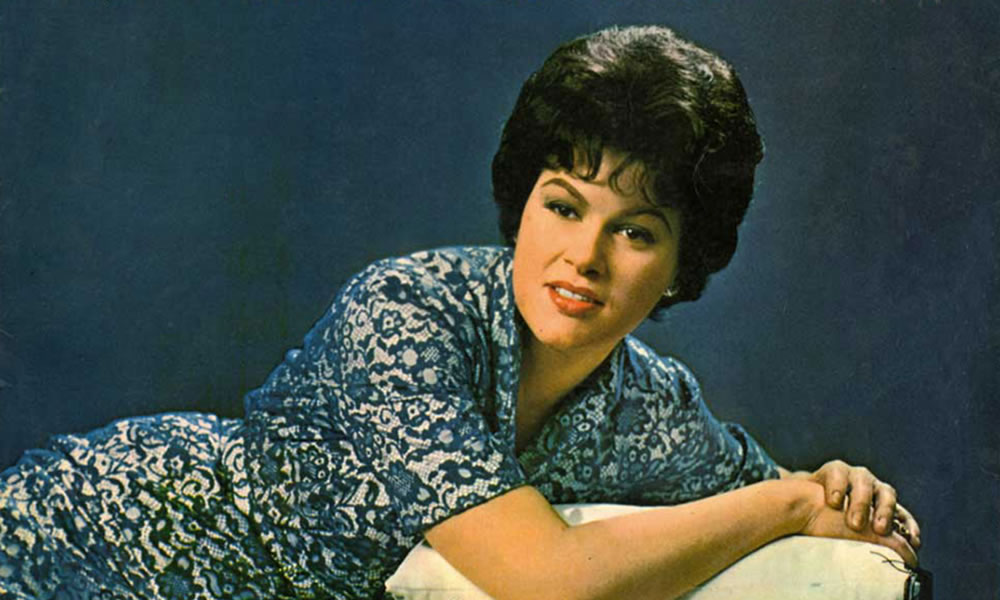 Patsy Cline Records A Crossover Hit While Creating A Country Standard
On November 16, 1960, Patsy Cline recorded her breakthrough crossover hit, "I Fall to Pieces." Written by Hank Cochran and Harlan Howard, the ballad was initially offered to Brenda Lee (who thought it was too country for her style) and country artist Roy Drusky (who felt it was better suited for a female singer). Cline, however, requested to record it and made it her own. Initially, the song was slow to catch on with radio DJs. But, over several months, it gained traction on Billboard's pop and country charts, eventually peaking at No. 12 and No.1, respectively. In addition to catapulting Cline to broader stardom, "I Fall to Pieces" became a country standard.
In 1968, The Jimi Hendrix Experience topped the US album chart with Electric Ladyland. The double LP, which marked their third and final title, featured the group's iconic cover of Bob Dylan's "All Along the Watchtower," as well as songs like "Voodoo Child (Slight Return)," "Gypsy Eyes" and "Crosstown Traffic." While the release was initially met with mixed reviews, it has since been hailed as one of the greatest rock albums of all time.
In 1974, John Lennon topped the Billboard Hot 100 with "Whatever Gets You Through the Night," which featured a guest appearance by Elton John. At the time of recording, Elton had made a deal with Lennon, in which the former Beatle would have to join him on stage if the song made it to No.1. Keeping his side of the deal, Lennon made a surprise appearance alongside his friend at Madison Square Garden. The November 28th show would mark one of Lennon's final live performances.
In 1968, Led Zeppelin made their live debut with a gig at Manchester UK's College of Science & Technology.
Looking for more things that happened on this day in music?
Keep scrolling for all of the headlines for November 16.
BORN ON NOVEMBER 16:
1916: Herb Abramson (co-founder of Atlantic Records)
1921: Ethel Garbiel (producer)
1962: Gary "Mani" Mournfield (Stone Roses, Primal Scream)
1964: Diana Krall
1969: Bryan Adams (Color Me Badd)
Looking for more artists born on this day?
Keep scrolling for all of our November 16 birthdays.
---
What to find another day?
---
November 16th
16 Nov 2018
American songwriter Scott English died age 81, due to complications of hip surgery. He is best known as the co-writer of 'Brandy' which he wrote with Richard Kerr. This song became a No. 1 hit for Barry Manilow (renamed as 'Mandy') in 1974.
16 Nov 2014
U2
singer Bono was involved in what doctors called a "high energy bicycle accident." The singer was rushed to New York-Presbyterian/Weill Cornell Medical Center's emergency department and underwent five hours of surgery. The injury forced the group to postpone a planned weeklong residency on The Tonight Show starring Jimmy Fallon.
16 Nov 2010
The Beatles
back catalogue was finally made available on iTunes, after years of negotiations. For the first time consumers would now be able to purchase some of the Fab Four's most popular songs via the store. Apple and record label EMI had been in talks for years about getting the catalogue online. Apple chief executive and Beatles fan Steve Jobs said it had "been a long and winding road to get here. We love the Beatles and are honoured and thrilled to welcome them to iTunes."
16 Nov 2006
Queen
's 'Greatest Hits' album was declared the Best Selling UK album of all time by The Official UK Charts Company. The chart which was made up of sales figures from the last fifty years showed their Greatest Hits compilation had sold 5,407,587 copies.
The Beatles
occupied second place with
Sgt Pepper
's Lonely Heart's Club Band.
16 Nov 2002
Texan multi-billionaire David Bonderman hired The
Rolling Stones
to play at his 60th birthday party held at the Hard Rock Hotel in Las Vegas. The bands fee was £4.4m.
16 Nov 2000
Elton John
told a London High Court that his former lover and manager John Reid betrayed him over touring costs. The singer said Reid, had been "caught with his hands in the till". Elton was suing Andrew Haydon, former managing director of John Reid Enterprises, his management company alleging Haydon was negligent in allowing JREL to charge him "several millions" in overseas tour expenses.
16 Nov 2000
American rapper Joseph Calleja died of chronic intestinal disorder. Calleja had celiac disease, an autoimmune disorder that can cause stunted growth, as a result, he reached a maximum height of 3 feet, 9 inches (114 centimeters) by adulthood. He was a member of Kid Rock's band.
16 Nov 1999
Grady Owen guitarist with Gene Vincent and His Blue Caps died. Scored the 1956 US No.7 & UK No.16 single with 'Be Bop A Lula'. During his time with the band, Grady can also be seen playing rhythm guitar with the band in the cult classic film Hot Rod Gang.
16 Nov 1996
The Beatles
'Anthology 3' went to No.1 on the UK album chart. The album included rarities and alternative tracks from the final two years of the band's career, ranging from the initial sessions for
The Beatles
(also known as The
White Album
) to the last sessions for Let It Be and
Abbey Road
in later 1969 and early 1970.
16 Nov 1988
Former
Beach Boys
manager Stephen Love was sentenced to five years probation for embezzling almost $1m from the group's accounts.
16 Nov 1987
Former Clash drummer Topper Headon was jailed for 15 months at Maidstone Crown Court, England for supplying heroin to a man who later died.
16 Nov 1985
Former Undertones singer Feargal Sharkey had his only UK No.1 single with the Maria McKee song 'A Good Heart' written about her relationship with
Tom Petty
and the Heartbreakers keyboard player Benmont Tench. Sharkey followed up the single with Tench written 'You Little Thief', this time about Tench's relationship with McKee.
16 Nov 1985
Starship started a two week run at No.1 on the US singles chart with 'We Built This City', it made No.12 in the UK.
16 Nov 1985
U2
launched their own record label 'Mother Records.' The intent was 'to unearth fresh musical talent in Ireland' and the label released several one-off single releases for The Hothouse Flowers, In Tua Nua and Cactus World News amongst others.
16 Nov 1976
Beach Boy
Brian Wilson
gave his first formal interview for eight years on the UK BBC 2, TV show 'Old Grey Whistle Test.'
16 Nov 1974
John Lennon
was at No.1 in the US singles chart with 'Whatever Gets You Through The Night.'
Elton John
played on the session and made a deal with Lennon that if the song reached No.1, Lennon would have to appear on stage live with Elton. Lennon kept his side of the deal and appeared live with Elton. They played three songs together: 'I Saw Her Standing There,' 'Lucy in the Sky With Diamonds' and 'Whatever Gets You Through the Night.' Backstage after the concert, Lennon got back with Yoko Ono after a temporary split.
16 Nov 1971
Frank Zappa
appeared on this week's UK TV music show the 'Old Grey Whistle Test', playing live and showing clips from his '200 Motels' film.
16 Nov 1968
Led Zeppelin
played their first ever show in the North of England when they appeared at Manchester College of Science & Technology. Zeppelin were paid £225 for the gig.
16 Nov 1968
The
Jimi Hendrix Experience
went to No.1 on the US album chart with their third and final studio album Electric Ladyland. The double album included 'Crosstown Traffic,' 'Voodoo Chile' and a version of
Bob Dylan
's 'All Along the Watchtower'. Hendrix expressed displeasure and embarrassment with this "naked lady" cover which was banned by several record dealers as "pornographic", while others sold it with the gatefold cover turned inside out.
16 Nov 1963
Nino Tempo and April Stevens went to No.1 on the US singles chart with '
Deep Purple
', it made No.17 in the UK.
16 Nov 1962
The Beatles
recorded their second appearance on Radio Luxembourg, for the program The Friday Spectacular.
The Beatles
were interviewed and then they played in front of a live audience both sides of their latest single, '
Love Me Do
' and 'P.S. I Love You'.
16 Nov 1960
Patsy Cline
recorded 'I Fall to Pieces' which the following year became Cline's first No.1 hit on the Country charts, and her second hit single to cross over onto the Pop charts. It was the first of a string of songs that would be written by Hank Cochran and Harlan Howard. The song was ranked at No.7 on CMT's television special of the 100 Greatest Songs in Country Music.
Born on this day in music
16 Nov 1970
Logan Mader, guitarist in melodic death metal band Once Human, as well as former lead guitarist in Machine Head.
16 Nov 1969
Bryan Abrams, from American R&B group Color Me Badd who had the 1991 UK No.1 single 'I Wanna Sex You Up', and the 1991 US No.1 single 'I Adore Mi Amor'.
16 Nov 1966
Dave Kushner, American musician best known as the rhythm guitarist for Velvet
Revolver
. Kushner has also been a member of Wasted Youth, Electric Love Hogs, Loaded, Danzig, Jane's Addiction guitarist Dave Navarro's solo band Sugartooth.
16 Nov 1964
Diana Krall, Canadian singer, songwriter. Krall has become one of the best selling jazz artists of all-time. Nominated for Album of the Year at the 2000 Grammy. Won three Juno awards in 2002, Artist of the Year, Album of the Year and Best Vocal Jazz Album of the Year.
16 Nov 1962
Gary 'Mani' Mounfield, English rock bassist, best known for being a member of the Stone Roses (playing on both of the band's albums) and Primal Scream. Mounfield has a guest role in the movie 24 Hour Party People (2002).
16 Nov 1945
English keyboardist and guitarist Paul Raymond. He joined Plastic Penny in the early 60s as their keyboardist, vocalist, and replaced Christine McVie in British blues band Chicken Shack. He first joined UFO in 1976 and played with the band during four different stints, he was a regular in the UFO lineup since 2003. Raymond had also worked with Michael Schenker in MSG. He died on 13 April 2019 age 73.
16 Nov 1943
Winfred Lovett, vocals, The Manhattans, (1976 US No.1 & UK No.4 single 'Kiss And Say Goodbye').
16 Nov 1938
Troy Seals,
James Brown
Band, (1966 US No.8 and UK No.13 single 'It's A Man's World', 1986 UK No.5 single 'Living In America', 1963 album 'Live At The Apollo').
16 Nov 1921
Grammy-winning record producer Ethel Gabriel. A trailblazer for women in the music industry, she was one of the first women to work as a record producer. "We had a son-of-a-gun president at RCA who was not favourable to women in the industry," she said in 1992. "He put me in charge of the Camden label, the economy line subsidiary, because it was supposed to fold. I'm sure he thought it was a way to get rid of me. Well, I made a multimillion dollar line out of it, conceived, programed and produced everything." Gabriel died in New York on 23 March 2021 aged 99.
16 Nov 1916
Herb Abramson, producer, songwriter and co-founder of Atlantic records. He produced Tommy Tucker's 1964 hit 'High Heeled Sneakers.' Abramson died on 9th November 1999.