November 17th: The Biggest Music Headlines
Scroll down the page to see all the music headlines, stories and events for November 17 throughout music history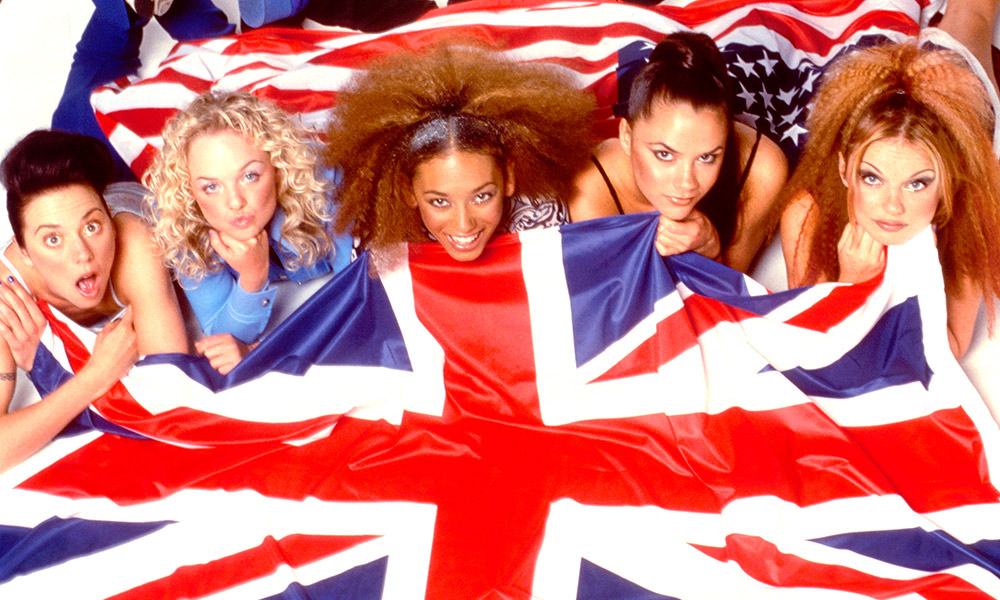 Baby, Ginger, Scary, Posh, And Sporty Spice Up The Charts
On November 17, 1996, the Spice Girls topped the UK album chart with their debut, Spice. Within weeks of the album's release, the British five-piece established global dominance, topping the charts in more than 17 countries and eventually selling more than 23 million copies of the record. Along the way, it spawned four hugely popular singles, including "Say You'll Be There," "2 Become 1" (both of which hit No.1 in 53 countries), and "Wannabe," which became one of the best-selling singles of all time. Spice, meanwhile, also remains one of the best-selling albums ever.
In 1984, Wham! simultaneously topped the UK's album and pop charts with Make It Big and "Wake Me Up Before You Go-Go," respectively. The album, which marked George Michael and Andrew Ridgeley's second and final LP together, spawned four Top 5 singles on both sides of the Atlantic, including "Careless Whisper" and "Everything She Wants."
In 1957, Harry Belafonte broke sales records in the UK with "Mary's Boy Child." The Christmas song, which remained at the top of the pop charts for seven weeks, was the first single to move over a million copies. 21 years later, when Boney M. covered the song, it became the first Christmas track to hit No.1 in two different versions.
In 2003, Britney Spears became the youngest recording artist to get a star on the Hollywood Walk of Fame.
In 2019, singer-songwriter Patti Smith won the National Book Award for her memoir, Just Kids.
In 1962, The Four Seasons began a five-week run at the top of the Billboard Hot 100 with "Big Girls Don't Cry."
Looking for more things that happened on this day in music?
Keep scrolling for all of the headlines for November 17.
BORN ON NOVEMBER 17:
1938: Gordon Lightfoot
1942: Bob Gaudio (The Four Seasons)
1960: RuPaul
1966: Jeff Buckley
1967: Ronald Devoe (New Edition, Bel Biv DeVoe)
1980: Isaac Hanson (Hanson)
1981: Sarah Harding (Girls Aloud)
Looking for more artists born on this day?
Keep scrolling for all of our November 17 birthdays.
---
What to find another day?
---
November 17th
17 Nov 2021
Keith Allison, American singer and bassist from Paul Revere & the Raiders died age 79. They had the Top Ten US hits 'Kicks' and 'Hungry', establishing the band as national stars and later in 1971 the hugely successful cover of the song 'Indian Reservation'.
17 Nov 2016
Peter Gabriel launched The Voice Project - the "Imprisoned For Art" campaign, an effort to free prisoners around the world that had been sent to jail for opposing their governments.
17 Nov 2014
American soul singer Jimmy Ruffin died aged 78. Ruffin who was the elder brother of David Ruffin of the
Temptations
had the 1974 UK No.4 single 'What Becomes Of The Broken Hearted'. In 1980,
Robin Gibb
of the
Bee Gees
produced his album Sunrise and the hit single 'Hold On To My Love', reached No.10 in the US and No.7 in the UK.
17 Nov 2011
Sheriff's deputies in South Los Angeles charged 61-year-old Bonnie Pointer of The Pointer Sisters for possessing rock cocaine after the car she was driving in was pulled over for a mechanical malfunction.
17 Nov 2010
Patti Smith won the National Book Award for her memoir 'Just Kids'.
17 Nov 2007
The
Eagles
were at No.1 on the US album chart with 'Long Road Out Of Eden' the bands seventh studio album and first since 1979.
17 Nov 2003
American soul singer Arthur Conley died of intestinal cancer in Ruurlo, The Netherlands at the age of 57. Had the 1967 US No.2 & UK No.7 single 'Sweet Soul Music'. He first recorded in 1959 as the lead singer of Arthur & the Corvets.
17 Nov 2003
American country music legend Don Gibson died of natural causes aged 75. Scored the 1958 US No.7 single 'Oh Lonesome Me', (covered by
Neil Young
on his After The Gold Rush album), 1961 UK No.14 single 'Sea Of Heartbreak'. His song 'I Can't Stop Loving You', has been recorded by over 700 artists, most notably by Ray Charles in 1962.
17 Nov 2003
21 year-old
Britney Spears
became the youngest singer to get a star on the Hollywood Walk of Fame. The only other performer to get a Hollywood star at her age was Little House on the Prairie actress Melissa Gilbert.
17 Nov 2003
George Michael
signed a new contract with the record company he took to court in 1993. The singer re-signed to Sony in a deal that included his extensive back catalogue. Michael had failed in his court wrangle with Sony after accusing it of "professional slavery"; his contract was bought out by Virgin Records.
17 Nov 2000
It was reported that Andy White who played drums on
The Beatles
track '
Love Me Do
' which was featured on the new Beatles Greatest Hits album would not earn enough from it to buy his own copy. White would get no more than his original session fee of £7.
17 Nov 1996
The
Spice Girls
were at No.1 on the UK album chart with their debut release '
Spice Girls
.' Five singles were released from the album: 'Wannabe', 'Say You'll Be There', '2 Become 1', 'Who Do You Think You Are' and 'Mama'. The first single, 'Wannabe', went to No.1 in 31 countries, and the next two singles, 'Say You'll Be There' and '2 Become 1', the top of the charts in 53 countries.
17 Nov 1995
English singer-songwriter and founding member of folk rock band, Lindisfarne Alan Hull died of a heart attack aged 50 whilst working on a new album, Statues & Liberties. After his death, Hull's ashes were scattered at the mouth of the River Tyne. Lindisfarne scored the 1972 UK No.3 single 'Lady Eleanor', 'Fog on the Tyne' and 'Run for Home'. On 19 July 2012, following a public campaign an Alan Hull memorial plaque was unveiled on the front of Newcastle City Hall, at a ceremony attended by hundreds of fans.
17 Nov 1992
At the end of a long battle to claim royalties Jimmy Merchant and Herman Santiago ex of Frankie Lymon and the Teenagers, received an estimated $4 million in back payments from the song 'Why Do Fools Fall In Love'.
17 Nov 1990
David Crosby from
Crosby Stills Nash & Young
was admitted to hospital after breaking a leg, shoulder and ankle after crashing his Harley Davidson motorbike.
17 Nov 1984
Wham! Were at No.1 on the UK album chart with 'Make It Big' and No.1 on the US singles chart with 'Wake Me Up Before You Go Go'. Michael's inspiration for the song was a scribbled note left by his Wham! partner Andrew Ridgeley for Andrew's parents, originally intended to read "wake me up before you go" but with "up" accidentally written twice, so Ridgeley wrote "go" twice on purpose.
17 Nov 1979
Jethro Tull bass player John Glascock died at the age of 28, as a result of a congenital heart defect. Had also been a member of Chicken Shack.
17 Nov 1973
The Who
's double album Quadrophenia entered the UK album chart peaking at No.2. One of two two full-scale rock operas from
The Who
(the other being the 1969 'Tommy'). The 1979 film based on the story stars Phil Daniels, Toyah Willcox, Ray Winstone, Michael Elphick and Sting.
17 Nov 1971
Slade were at No.1 on the UK singles chart with 'Coz I Luv You', the group's first of six No.1's. The misspelt song titles became a trademark for Slade, causing a great furore among teachers up and down the country.
17 Nov 1967
A 16 date UK
package tour
with
Jimi Hendrix
,
Pink Floyd
, The Move, The Nice and Amen Corner played at the City Hall, Sheffield. A review in the Sheffield Star noted: 'Like an electrified golliwog, Jimi Hendrix threw himself into a live-wire act that featured his intricate guitar interpretation. Quite an Experience'.
Pink Floyd
also released their third single Apples And Oranges today in the UK.
17 Nov 1966
The Beach Boys were at No.1 on the UK singles chart with 'Good Vibrations.' As a child,
Brian Wilson
s mother told him that dogs could pick up "vibrations" from people, so that the dog would bark at "bad vibrations" Wilson turned this into the general idea for the song.
17 Nov 1963
John Weightman the Headmaster of a Surrey Grammar School, banned all pupils from having Beatle haircuts saying, "this ridiculous style brings out the worst in boys physically. It makes them look like morons."
17 Nov 1962
The Four Seasons started a five week run at No.1 on the US singles chart with 'Big Girls Don't Cry', the group's second No.1 of the year. It made No.13 in the UK.
17 Nov 1957
Harry Belafonte was at No.1 on the UK singles chart with 'Mary's Boy Child,' the first single to sell over 1 million copies in the UK. It stayed at No.1 for seven weeks making it this years Christmas No.1. The first Christmas song to hit No.1 in two different versions - the other was Boney M's version in 1978.
Born on this day in music
17 Nov 1981
Sarah Harding, from English-Irish pop girl group Girls Aloud, which was created through the ITV talent show Popstars: The Rivals in 2002. They scored the 2002 UK No.1 single 'Sound Of The Underground' and over 20 UK Top 20 singles. They hold the record for 'Most Consecutive Top Ten Entries' in the UK by a Female Group. Harding died from cancer on 5 September 2021, at the age of 39.
17 Nov 1980
American musician Isaac Hanson, guitar, keyboards and vocals with Hanson who had the 1997 UK & US No.1 single 'MMMbop'. Hanson has sold over 16 million records worldwide and have had 8 top 40 albums and 6 top 40 singles in the US.
17 Nov 1967
Ronald Devoe, singer from American R&B group New Edition who had the 1983 UK No.1 single 'Candy Girl', and with Bell Biv De Voe had the 1990 US No.3 single 'Do Me!'.
17 Nov 1966
Richard Fortus American guitarist. He is best known as a member of Guns N' Roses with whom he has been a member since 2002. Fortus has also collaborated extensively with The Psychedelic Furs frontman Richard Butler.
17 Nov 1966
American singer, songwriter and guitarist
Jeff Buckley
, his only studio album was the 1995
Grace
. Buckley drowned on 29th May 1997 in Wolf River Harbor on the Mississippi River - during a spontaneous evening swim. Since his death, there have been many posthumous releases of his material including his cover of the Leonard Cohen's song 'Hallelujah' which became No.1 on Billboard's Hot Digital Songs in March 2008 and reached No.2 in the UK Singles Chart. His singer songwriter father Tim Buckley, died on 29th June 1975 of a heroin and morphine overdose.
17 Nov 1960
RuPaul, US male drag queen, (1994 UK No.7 single with
Elton John
, 'Don't Go Breaking My Heart', 1998 UK No.21 single, 'It's Raining Men').
17 Nov 1957
Jim Babjak, US group, The Smithereens, (1988 US No.41 album 'Smithereens 11).
17 Nov 1956
Peter Cox singer with Go West who had the 1985 UK No.5 single 'We Close Our Eyes' and hits with 'Call Me' and King of Wishful Thinking. They were named Best British Newcomer at the 1986 Brit Awards
17 Nov 1948
Scottish singer songwriter Iain Sutherland from Sutherland Brothers and Quiver, who had the 1976 UK No.5 single 'Arms Of Mary'. The Sutherland Brothers song 'Sailing', gave a major UK hit to Rod Stewart in 1975. Sutherland died on 25 November 2019, aged 71.
17 Nov 1947
Rod Clements from English group Lindisfarne who had the 1970s hit singles 'Meet Me on the Corner', 'Lady Eleanor and 'Run For Home'. Their album Fog on the Tyne became the biggest selling UK album in 1972.
17 Nov 1947
American musician Robert Antoni, who was a member of Nazz, and Utopia with Todd Rundgren.
17 Nov 1946
English rock musician Martin Barre best known for his work with progressive rock band Jethro Tull from their second album in 1969 to the band's initial dissolution in 2012.
17 Nov 1944
Gene Clark, singer, songwriter, The New Christy Minstrels, The Byrds, (1965 UK & US No.1 single 'Mr Tambourine Man'). Solo, (1974 album, 'No Other'). Died of a heart attack on 24th May 1991 aged 49.
17 Nov 1942
Bob Gaudio, The Royal Teens, (1958 US No.3 single 'Short Shorts). The Four Seasons, who had the 1960s hits 'Sherry', 'Big Girls Don't Cry', 'Walk Like a Man', and the 1976 UK & US No.1 single 'December 1963, (Oh What A Night').
17 Nov 1938
Gordon Lightfoot, Canadian singer, (1971 UK No.30 single 'If You Could Read My Mind', 1974 US No.1 single 'Sundown').
17 Nov 1937
Peter Cook, British comedian who was the compere on the UK TV music show Revolver. With Dudley Moore he had the 1965 UK No.18 single 'Goodbye-ee'. With Moore he released a series of albums as Derek and Clive which were considered highly offensive by many at the time. Cook died on 9th January 1995.
17 Nov 1937
Geoff Goddard, songwriter, wrote 'Johnny Remember Me', played keyboards on The Tornadoes 1962 No.1 hit 'Telstar'. He died on 15th May 2000 aged 62.