November 19th: The Biggest Music Headlines
Scroll down the page to see all the music headlines, stories and events for November 19 throughout music history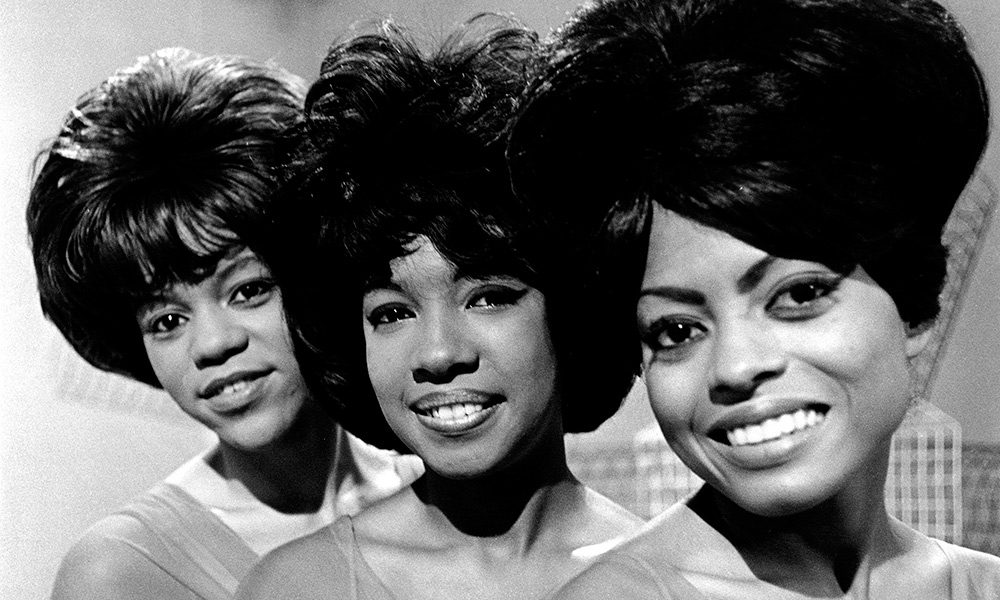 The Supremes Break A Glass Ceiling
In 1964, The Supremes became the first all-female group to score a No.1 hit in the UK with "Baby Love." Across the Atlantic, the irresistible single also topped the charts, making The Supremes the first Motown act to have more than one No.1 US hit. They would continue to build on that record, eventually scoring more No.1 hits than any other Motown act, with a total of 12. "Baby Love" would later earn the group a Grammy nod for Best R&B Recording, and the Holland-Dozier-Holland-penned song eventually landed on Rolling Stones' 500 Greatest Songs of All Time list.
In 1984, 36-year-old Tom Evans, a longtime member of Badfinger, who served as a guitarist, vocalist, bassist, and songwriter, took his own life. Evans co-wrote one of the band's biggest hits, 1970's Ivor Novello-winning power ballad, "Without You." The song has since been covered by hundreds of artists, including Harry Nilsson and Mariah Carey.
In 2000, LeAnn Rimes scored her first No.1 hit in the UK with "Can't Fight the Moonlight." The song was written by Diane Warren for the Coyote Ugly soundtrack.
In 1988, American singer Robin Beck scored a No.1 UK hit with "First Time," a power ballad that was originally recorded for a Coca-Cola commercial. In addition to spending three weeks at the top of the UK chart, the single also hit No.1 in multiple countries across Europe.
In 1965, for less than £5.00, music fans in London caught a legendary line-up of artists at Empire Pool's "Glad Rag Ball." On the bill were The Who, Wilson Pickett, The Kinks, The Hollies, and more.
Looking for more things that happened on this day in music?
Keep scrolling for all of the headlines for November 19.
BORN ON NOVEMBER 19:
1927: Joe Hunter (the Funk Brothers)
1942: Fred Lipsius (Blood, Sweat & Tears)
1960: Matt Sorum (The Cult, Guns N' Roses)
1965: Jason Pierce (Spiritualized)
1971: Justin Chancellor (Tool)
Looking for more artists born on this day?
Keep scrolling for all of our November 19 birthdays.
---
What to find another day?
---
November 19th
19 Nov 2016
A furious letter from
John Lennon
to
Paul McCartney
and his wife, Linda, written after
The Beatles
' break-up sold for nearly $30,000 (£24,200), to an anonymous collector in Dallas. In the two-page typed draft with handwritten notes, Lennon criticises the couple for their treatment of him and his wife, Yoko Ono. The attack is said to be in response to Linda's criticism of him not publicly announcing his departure from the band.
19 Nov 2012
Two farmers were found not guilty of health and safety offences after a giant hay bale crushed former ELO cellist Mike Edwards to death. He was killed instantly when the 600kg bale rolled down a field and landed on his van near Totnes in Devon in September 2010. In March 2011 in Plymouth an inquest jury returned a verdict of accidental death on Mr Edwards.
19 Nov 2006
A guitar played by
George Harrison
was set to fetch more than £100,000 at a London auction. The Maton MS500 guitar was used on
The Beatles
first album.
19 Nov 2004
Rapper Young Buck was arrested over a stabbing at the Vibe hip-hop awards. Young Buck, (real name David Darnell Brown), was arrested on suspicion of stabbing a man who allegedly punched rap star Dr Dre in the face. He was released on $500,000 (£270,000) bail after surrendering to police in Los Angeles.
19 Nov 2004
Record producer Terry Melcher, who was behind hits by the Byrds, Ry Cooder and
The Beach Boys
, died aged 62 after a long battle with skin cancer. The son of actress Doris Day, he co-wrote 'Kokomo' for The Beach Boys, produced 'Mr Tambourine Man' for the Byrds, as well as hits for The Mamas & the Papas.
19 Nov 2003
English bassist player Greg Ridley died from pneumonia. He was a member of the VIP's with Keith Emerson, Spooky Tooth, and Humble Pie who had the 1969 UK No.4 single 'Natural Born Bugie'. He formed Strange Brew with Clem Clempson and Cozy Powell.
19 Nov 2003
American actor, dancer, Gene Anthony Ray died from a stroke aged 41. Best known for his portrayal of the street smart dancer Leroy in the 1980 film Fame and the television spin-off which aired from 1982 until 1987.
19 Nov 2003
Police issued an arrest warrant for
Michael Jackson
following allegations of sexual abuse of a 12-year old boy. Jackson who was in Las Vegas filming a video, negotiated with police to arrange a time and place to hand himself in.
19 Nov 2002
Safety experts blasted
Michael Jackson
after dangling his baby from a third-floor hotel balcony. Jacko was in Berlin for an awards ceremony and was showing his nine-month old baby to his fans outside the hotel.
19 Nov 2001
Scott Weiland lead singer with The Stone Temple Pilots was arrested after allegedly fighting with his wife at the Hard Rock hotel in Las Vegas. Weiland was booked on one count of domestic battery and was released 12 hours later. The band had performed at the club that night.
19 Nov 2000
LeAnn Rimes started a two-week run at No.1 on the UK singles chart with 'Can't Fight The Moonlight', the singer's first UK chart topper. Written by Diane Warren and featured on the soundtrack of the film Coyote Ugly.
19 Nov 2000
The Beatles
started an eleven-week run at No.1 on the UK album chart with
The Beatles
1. The album features virtually every number-one single released from 1962 to 1970. Issued on the 30th anniversary of the band's break-up, it was their first compilation available on one CD. The world's best-selling album of the 21st century, 1 has sold over 31 million copies.
19 Nov 1994
Crosby Stills & Nash
member David Crosby had a successful liver transplant operation at Dumont-UCLA in Los Angeles. Crosby's liver was deteriorated from extensive alcohol and drug abuse, as well as hepatitis-C.
19 Nov 1992
R.E.M.
played a Greenpeace Benefit show at the 40 watt Club, Athens, Georgia, for 500 people. The show was recorded on a solar powered mobile recording studio.
19 Nov 1988
Bon Jovi
started a two week run at No.1 on the US singles chart with lead single from the band's album New Jersey, 'Bad Medicine', which became the group's third US No.1, and a No.17 hit in the UK.
19 Nov 1988
Robin Beck was at No.1 on the UK singles chart with 'First Time.' The song was from a TV advertisement for Coca-Cola which session singer Beck had recorded. It made the American a One Hit Wonder.
19 Nov 1983
English musician and songwriter
Tom Evans
from
Badfinger
, took his own life after a bitter argument with
Badfinger
guitarist Joey Molland about the royalties for 'Without You'. (Evans co-wrote 'Without You' a hit for both Harry Nilsson and
Mariah Carey
). Family members said the singer, songwriter was never able to get over his former bandmate's Pete Ham's suicide.
19 Nov 1979
Chuck Berry
was released from prison after serving a four-month sentence for tax evasion.
19 Nov 1976
UK music weekly Sounds made the
Sex Pistols
debut 45, 'Anarchy In The UK' its single of the week.
19 Nov 1965
19 Nov 1965
The Kinks
,
The Who
, Georgie Fame & The Blue Fames, The Hollies, Wilson Pickett and The Golden Apples Of The Sun all appeared at the Glad Rag Ball, Empire Pool, London, tickets 30 shillings, ($4.20).
19 Nov 1964
The
Supremes
became the first all girl group to have a UK No.1 single when 'Baby Love' went to the top of the charts. Written and produced by
Motown
's main production team Holland–Dozier–Holland, it was also the second of five
Supremes
songs in a row to go to No.1 in the United States.
19 Nov 1962
The Beatles
played gigs at three different venues. First they performed a lunchtime show at The
Cavern Club
, Liverpool, followed by an 85-mile drive to the Midlands, where they performed at Smethwick Baths Ballroom and then at the Adelphi Ballroom, West Bromwich in Staffordshire.
Born on this day in music
19 Nov 1971
Tony Rich, R&B singer-songwriter best known for his 1996 US No.2 hit single 'Nobody Knows' under the moniker "The Tony Rich Project". Rich won a Grammy Award in 1996 for the Best R&B Album.
19 Nov 1971
English musician Justin Chancellor from American rock band Tool who had the 2001 US No.1 album Lateralus. He was formerly in the band Peach.
19 Nov 1965
Jason Pierce from English space rock band Spiritualized. They released the critically acclaimed 1997 Ladies and Gentlemen We Are Floating in Space, which NME magazine named as their Album of the Year.
19 Nov 1965
Pete Kember, (Sonic Boom), Spacemen 3, 1990 album 'Taking Drugs To Make Music To Take Drugs To'.
19 Nov 1960
American drummer and percussionist Matt Sorum, who was a member of The Cult before joining
Guns N' Roses
(as Steven Adler's replacement) and then Slash's Snakepit and Velvet Revolver.
19 Nov 1954
Annette Guest from American girl group First Choice. They had the 1973 UK No.9 single 'Smarty Pants' and the US hit 'Armed and Extremely Dangerous'.
19 Nov 1952
British musician Bill Sharpe from Shakatak. They had the 1982 UK No.9 single 'Night Birds' and the 1984 top 10 hit 'Down on the Street'.
19 Nov 1946
Joe Correro, Paul Revere and the Raiders, (1971 US No.1 single 'Indian Reservation', plus 14 other US Top 30 hit singles).
19 Nov 1943
Fred Lipsius, piano, sax, from jazz-rock American music group Blood Sweat & Tears. They scored the 1969 US No.2 single 'Spinning Wheel', and the 1969 US No.12 single 'You've Made Me So Very Happy'. They had a US No.1 with their second album Blood, Sweat & Tears in 1968.
19 Nov 1941
Eddie Rayner, keyboards, from New Zealand group Split Enz who had the 1980 UK No.12 single 'I Got You'. Split Enz had ten albums (including seven studio albums) reach the top ten of the Official New Zealand Music Chart.
19 Nov 1939
Pete Moore, The Miracles, (1970 UK & US No.1 single with
Smokey Robinson
, 'The Tears Of A Clown').
19 Nov 1938
Hank Medress, from American male doo-wop-style vocal group The Tokens who had the 1961 US No.1 & UK No.11 single with its cover of Solomon Linda's 'The Lion Sleeps Tonight'. He died from lung cancer on 25th June 2007 aged 68.
19 Nov 1937
Ray Collins, vocals,
Frank Zappa
band. Collins was the lead singer on the band's first two albums: Freak Out! (1966), and Absolutely Free (1967). Collins died on 24th Dec 2012.
19 Nov 1934
American folk singer, songwriter Dave Guard one of the founding members of The Kingston Trio, (1958 US No.1 & UK No.5 single 'Tom Dooley' plus nine other US Top 40 hits). He died of cancer on 22 March 1991 aged 56.
19 Nov 1932
Scottish musician, bandleader Harry Robertson. He was responsible for writing and producing 'Hoots Mon' by Lord Rockingham's XI, which stayed at No.1 on the UK Singles Chart for three weeks in 1958. Lord Rockingham's XI was a group of British session musicians put together to play as the resident band on the pop TV programme Oh Boy! shown nationally on ITV in the UK in 1958/59.
19 Nov 1927
Musician and keyboardist Joe Hunter who was a veteran session musician as one of the Funk Brothers who helped craft the distinctive
Motown
sound. He performed with such legendary
Motown
acts as
Marvin Gaye
Smokey Robinson
and Martha and the Vandellas. Hunter died on 2 February 2007 in Detroit, Michigan, at the age of 79.