October 24th: The Biggest Music Headlines
Scroll down the page to see all the music headlines, stories and events for October 24 throughout music history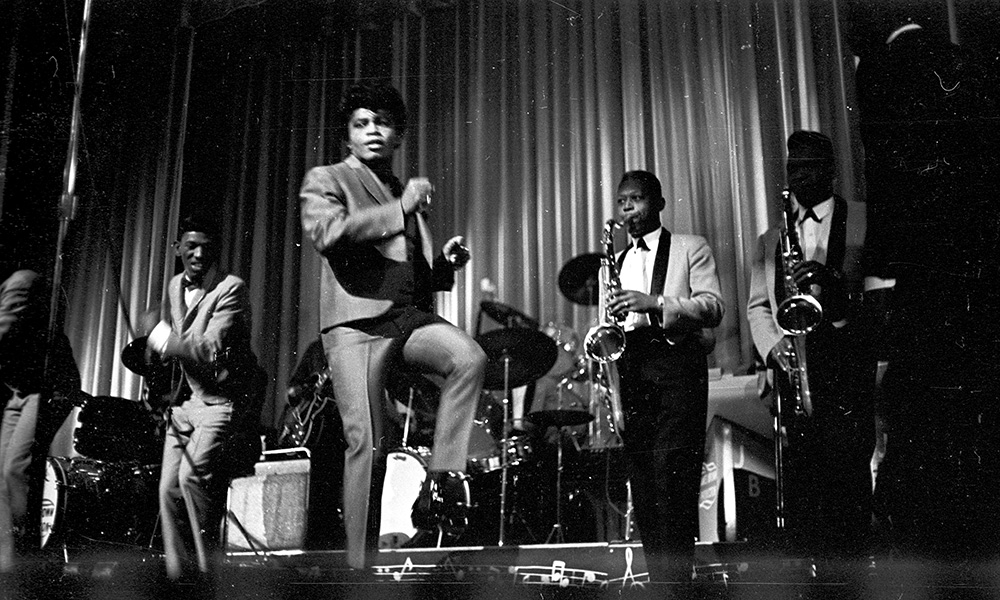 James Brown Records His Iconic Live Album At The Apollo
In 1962, James Brown recorded his legendary Live At The Apollo album at the hallowed Harlem venue. The Godfather of Soul's first live release was a massive success – peaking at No.2 on the Billboard 200 and cementing Brown's superstar status. In 1998, the album was inducted into the Grammy Hall of Fame and six years later it was selected by the Library of Congress to be added to the National Recording Registry.
On October 24, 2006, Taylor Swift released her self-titled debut studio album. Swift had moved from Pennsylvania to Tennessee in 2004 as a fourteen-year-old to pursue her dream of becoming a country music star. A record deal was inked in 2005, and Swift began working on a full-length debut album during her first year of high school. Setting the scene for her future success, Taylor Swift debuted at No.19 on the Billboard 200, and eventually peaked at No.5.
In 1987, Michael Jackson began a two-week run at the top of the Billboard Hot 100 with "Bad." The track was a No.3 hit in the UK and a No.1 hit in Belgium, Italy, Norway, Spain, and more. The accompanying music video, meanwhile, was an 18-minute short film directed by Martin Scorsese.
In 1970, Pink Floyd scored their first No.1 album in the UK with Atom Heart Mother. Though it peaked at No.55 in the United States, the LP was eventually certified Gold.
In 2017, pianist, songwriter, and rock'n'roll pioneer, Fats Domino died at the age of 89. He was best-known for such Top Ten hits as "Ain't That a Shame," "Blueberry Hill," and "I'm Walkin'."
In 1963, The Beatles began their first European tour with a number of dates in Sweden.
In 2016, singer Bobby Vee, who was one of the first teen idols, died at the age of 73.
Looking for more things that happened on this day in music?
Keep scrolling for all of the headlines for October 24.
BORN ON OCTOBER 24:
1936: Bill Wyman (Rolling Stones)
1946: Jerry Edmonton (Steppenwolf)
1948: Dale Griffin (Mott The Hoople)
1962: Debbie Googe (My Bloody Valentine)
1980: Monica
1986: Drake
Looking for more artists born on this day?
Keep scrolling for all of our October 24 birthdays.
---
What to find another day?
---
October 24th
24 Oct 2018
US singer, songwriter Tony Joe White died of a heart attack on, at the age of 75. He is best known for his 1969 US No.8 single, 'Polk Salad Annie' (also recorded by
Elvis Presley
and Tom Jones) and 'Rainy Night in Georgia' which he wrote but was first made popular by Brook Benton in 1970. He also wrote 'Steamy Windows' a UK No.13 single for Tina Turner.
24 Oct 2018
24 Oct 2017
American pianist and singer-songwriter Fats Domino died aged 89 at his home in Harvey, Louisiana after a long-term illness. Domino attracted national attention with his first recording, 'The Fat Man', made in late 1949 for Imperial Records, an early rock-and-roll record. 'The Fat Man' sold one million copies by 1953 and it is widely considered the first rock-and-roll record to achieve this feat. Domino had 35 records in the US Billboard Top 40. Domino's 1956 version of 'Blueberry Hill' was selected for the Library of Congress's National Recording Registry of historic sound recordings worthy of preservation.
24 Oct 2016
American singer Bobby Vee died age 73. Vee had 38 chart hits, ten of which reached the Top 20. Vee's recording of 'Take Good Care of My Baby' in the summer of 1961 went to No.1 in the US and No.3 in the UK. Vee's career began in the midst of tragedy. On February 3, 1959, "The Day the Music Died," when
Buddy Holly
, Ritchie Valens, and the Big Bopper, were killed in an airplane. Vee then 15 years old, and a hastily assembled band of Fargo schoolboys calling themselves the Shadows volunteered for and were given the unenviable job of filling in for Holly and his band at their next gig. Their performance was a success, setting in motion a chain of events that led to Vee's career as a popular singer.
24 Oct 2013
NME published their latest '500 Greatest Albums of All Time' list. The top 5 read: 1.
The Smiths
- 'The Queen Is Dead', 2.
The Beatles
- '
Revolver
' 3.
David Bowie
- 'Hunky Dory', 4. The Strokes - 'Is This It' and at 5. The Velvet Underground & Nico - 'The Velvet Underground'.
24 Oct 2013
Simon Webbe, singer with boy band Blue, was declared bankrupt despite releasing an album with the group earlier this year. Bandmate Duncan James also filed for bankruptcy in the same year and a third group member, Antony Costa, had also spoken about his financial problems after the band originally broke up in 2005.
24 Oct 2007
A judge removed a drug treatment order for Babyshambles singer Pete Doherty when he appeared at Thames Magistrates' Court for a review of the order. District Judge Jane McIvor told the singer she was going to revoke the six months left to serve on the order after advice from experts.
24 Oct 2006
Taylor Swift
released her self-titled debut studio album. Swift was 16 years old at the time of the album's release and the album went on the top the Country Albums Chart for 24 non-consecutive weeks selling over seven million copies. The album also became the longest-charting album on the Billboard 200 of the 2000s decade, remaining on the chart for 277 weeks in total.
24 Oct 2006
Forbes.com revealed that
Kurt Cobain
had overtaken
Elvis Presley
as the highest earning dead celebrity. Cobain's work earned $50m (£27m) in the 12 months to October 2006, compared with Presley's $42m (£22m). Former Beatle
John Lennon
earned $35m (£19m).
24 Oct 2006
Rapper Foxy Brown was sentenced to three years probation for assaulting two New York nail salon workers in 2004. Brown had kicked and punched employees during a dispute over payment for a pedicure and manicure in August 2004. She had been threatened with jail after failing to turn up to court.
24 Oct 2005
Madonna
gave a surprise lecture at a New York university, discussing her career and new film after she arrived unannounced at City University's Hunter College as part of the
MTV
series Stand In. Students expected a screening of her new documentary, "I'm Going To Tell You a Secret" but they were also given the chance to question the singer.
24 Oct 2004
Queen
became the first rock act to receive an official seal of approval in Iran. Western music was still strictly censored in the Islamic republic, where homosexuality is considered a crime, but an album of
Queen
's greatest hits was released this week in Iran.
Freddie Mercury
, was proud of his Iranian ancestry, and illegal bootleg albums and singles had made
Queen
one of the most popular bands in Iran.
24 Oct 2001
Kim Gardner former bassist with Ashton Gardner & Dyke died of Cancer. Had the 1971 UK No.3 single 'The Resurrection Shuffle' and Gardner formed 60s band The Birds with guitarist
Ronnie Wood
.
24 Oct 1999
Westlife went to No.1 on the UK singles chart with 'Flying Without Wings'. It made the Irish boy band only the third act to debut at No.1 with their first three singles, B*Witched and Robson and Jerome being the other two.
24 Oct 1998
Former Stone Roses lead singer Ian Brown was jailed for 4 months after being found guilty of disorderly behaviour during a flight from Paris to Manchester. Brown had threatened to chop the hands off an air stewardess during a heated exchange.
24 Oct 1998
Spacedust went to No.1 on the UK singles chart with Gym and Tonic. Spacedust were the production duo of Paul Glancey and Duncan Glasson. The track was a cover of Bob Sinclar's single 'Gym and Tonic'.
24 Oct 1987
Michael Jackson
started a two week run at No.1 on the US singles chart with 'Bad', a No.3 hit in the UK. A music video for 'Bad', directed by Martin Scorsese and co-starring one of the first appearances of yet-undiscovered Wesley Snipes, was released in late 1987.
24 Oct 1987
Sting went to No.1 on the UK album chart with his third solo release 'Nothing Like The Sun.' The title comes from Shakespeare's Sonnet No.130 ("My mistress' eyes are nothing like the sun"), which Sting used in the song "Sister Moon". The album won Best British Album at the 1988 Brit Awards.
24 Oct 1979
Paul McCartney
received a medallion cast in rhodium after being declared the most successful composer of all time. From 1962 to 1978, McCartney had written or co-written 43 songs that had sold over a million copies each.
24 Oct 1977
Rolling Stone
Keith Richards
was fined £205 after admitting having cannabis, Chinese heroin, mandrax tablets and a revolver at his Chelsea home in the UK. Later in the evening, Keith and Anita Pallenberg accidentally set fire to their London hotel bedroom.
24 Oct 1973
John Lennon
began litigation against the US government, accusing them of tapping his telephone.
24 Oct 1970
Pink Floyd
were at No.1 on the UK album chart with the 'Atom Heart Mother', the group's first No.1. The album cover shows a cow standing in a pasture with no text nor any other clue as to what might be on the record.
24 Oct 1966
Newsweek interviewed The
Monkees
. They are asked how the music is created. Singer Davy Jones tells them, "This isn't a rock 'n' roll group. This is an act."
24 Oct 1963
On the first day of their first foreign tour,
The Beatles
spent the day in Stockholm, Sweden, recording a performance for a radio program entitled "
The Beatles
popgrupp fran Liverpool pa besok i Stockholm", (
The Beatles
pop group from Liverpool visiting Stockholm).
The Beatles
, enthused by the chance to play before an audience that wasn't screaming, played seven songs, 'I Saw Her Standing There', 'From Me to You' 'Money', 'You Really Got a Hold On Me', 'She Loves You', 'Roll Over Beethoven' and 'Twist and Shout.'
24 Oct 1962
US Soul singer
James Brown
recorded his legendary 'Live At The Apollo' album. The album was listed at No.24 in Rolling Stone magazine's 2003 list of the 500 greatest albums of all time.
Born on this day in music
24 Oct 1986
Canadian rapper, songwriter, and actor Aubrey
Drake
Graham who records under the mononym
Drake
. Scored US No.1 albums with ' Thank Me Later', (2010), 'Take Care', (2011), and 'Nothing Was the Same', (2013).
24 Oct 1980
Monica, (1998 US No.1 & UK No.2 single with Brandy 'The Boy Is Mine').
24 Oct 1979
Ben Gillies, from Australian rock band Silverchair who had the 1997 Australian No.1 single 'Freak' and the 1995 Australian No.1 album Frogstomp plus three other Australian No.1 albums. During their career, Silverchair won more ARIA Music Awards than any other artist in history with 21 wins.
24 Oct 1978
Sabrina Washington, from British girl group Mis-Teeq who had the 2001 UK No.2 single 'All I Want' and seven consecutive top-ten singles.
24 Oct 1971
Ed Chester, The Bluetones, (1996 UK No.2 single 'Slight Return').
24 Oct 1970
Alonza Bevan, from English psychedelic rock band Kula Shaker, who had the 1996 UK No.2 single 'Hey Dude'.
24 Oct 1969
Rob Green from British alternative rock band, Toploader who had the 2000 UK No.7 single with of 'Dancing In The Moonlight' a cover of the French-American rock group King Harvest.
24 Oct 1962
Debbie Googe, My Bloody Valentine, (1991 UK No.29 single 'To Here Knows When').
24 Oct 1950
American musician Steven Greenberg best known as a member of the band Lipps Inc. that had the 1980 worldwide smash hit 'Funkytown'.
24 Oct 1948
English drummer Dale Griffin,
Mott The Hoople
, best known for classic tracks 'Roll Away The Stone' and 'All The Young Dudes'. The band who made eight albums during their five-and-a-half year existence, reformed to mark their 40th anniversary in 2009 - but Griffin was too ill to take part. Griffin also produced numerous BBC
Radio 1
John Peel
sessions from 1981 to 1994 including the first professional recording session for Pulp in 1981. Griffin died on 17 January 2016.
24 Oct 1948
Paul and Barry Ryan, identical twins (1965 UK No.13 single with 'Don't Bring Me Your Heartaches'). Barry also had a solo 1968 UK No.2 single (No.1 on the NME chart), with 'Eloise' written by his brother Paul. Paul died of cancer on 29th November 1992 aged 44. Barry Ryan died after complications from a lung disorder on 28 September 2021 age 72.
24 Oct 1947
Edgar Broughton, from English psychedelic rock group Edgar Broughton Band who had the 1970 UK hit single 'Out Demons Out'.
24 Oct 1946
John Bettis, American lyricist. He was originally part of the band Spectrum, which also featured Richard and Karen Carpenter. He wrote the lyrics for 'Top of the World', a hit for both Lynn Anderson and The
Carpenters
. He wrote several more hits for The Carpenters, including 'Only Yesterday', 'Goodbye to Love' and 'Yesterday Once More'. He later wrote hits for other artists including
Madonna
's ('Crazy for You') and
Michael Jackson
's ('Human Nature').
24 Oct 1946
Jerry Edmonton, from Steppenwolf who had the 1969 US No.2 hit single 'Born To Be Wild'. Steppenwolf sold over 25 million records worldwide, released eight gold albums and scored 12 Billboard Hot 100 singles. He was killed in a car crash on 28th November 1993.
24 Oct 1945
Swedish songwriter and guitarist Janne Schaffer best known for his work as a session guitarist for
ABBA
appearing on many of the groups hits. Schaffer is a member of the Electric Banana Band where he plays guitar as the character 'Zebra'.
24 Oct 1944
Ted Templeman, Harper's Bizarre, (1967 US No. 13 & UK No.34 single 'The 59th Street Bridge Song, Feelin' Groovy'). As a record producer he worked with The Doobie Brothers, Montrose, Carly Simon, Van Morrison, Captain Beefheart, Little Feat, Michael McDonald,
Aerosmith
and
Eric Clapton
.
24 Oct 1936
Bill Wyman, bass, The
Rolling Stones
(1969 UK & US No.1 single 'Honky Tonk Women', and over 30 Top 40 UK & US singles and albums. Quit The Stones in 1993, 1981 UK solo No.14 'Je Suis Un Rock Star'). Now tours with his backing band, The Rhythm Kings, which has featured Albert Lee and Georgie Fame.