October 9th: The Biggest Music Headlines
Scroll down the page to see all the music headlines, stories and events for October 9 throughout music history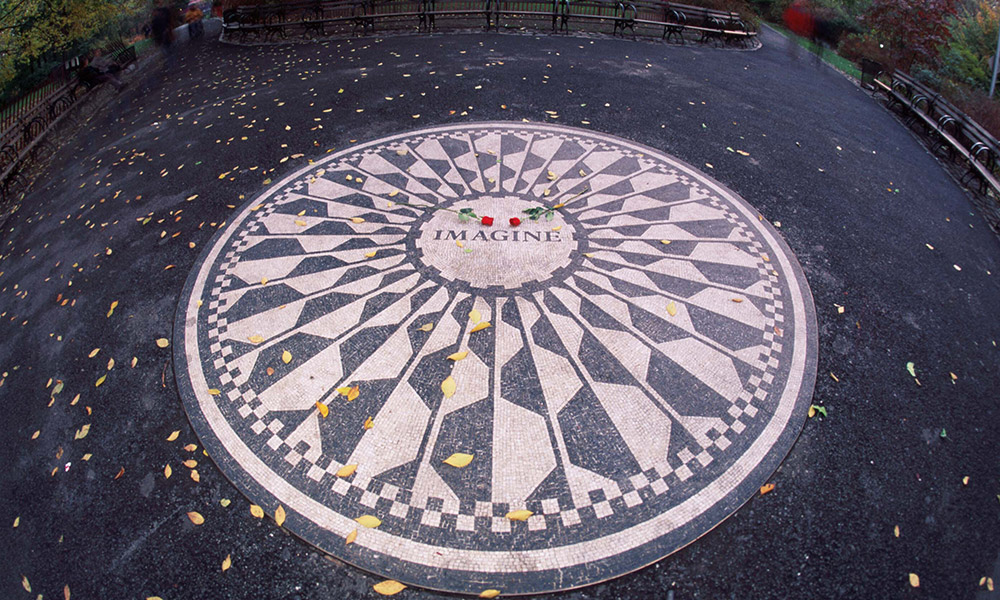 John Lennon Is Memorialized In Central Park's 'Strawberry Fields'

On October 9, 1985, Beatles fans gathered at New York's Central Park for the dedication of the Strawberry Fields John Lennon memorial. The ceremony, which took place on what would have been the late artist's 45th birthday, was presided over by Lennon's widow, Yoko Ono. In the years following Lennon's 1980 murder, Ono worked with the Central Park Conservancy and landscape architect Bruce Kelly, to design the site, with the aim of making it a peaceful space. Located across from the Dakota building, where Lennon and Ono lived, the five-acre site is named for the Beatles song and includes a mosaic, which reads "Imagine," after Lennon's iconic hit.
In 1993, Nirvana's third and final album, In Utero, debuted at the top of the Billboard 200. The broadly-acclaimed album, which also topped the charts in Australia and the UK, featured such enduring tracks as "Heart-Shaped Box," "Pennyroyal Tea," "Rape Me," and "All Apologies."
In 1971, Rod Stewart celebrated his first No.1 hit in the UK with "Maggie May." The song, which was initially released as the B-side to "Reason to Believe," held the top spot for five weeks.
In 1969, for the first time in the history of the show, producers at the UK's Top of the Pops refused to play the country's No.1 hit song. The tune in question was "Je T'aime…Moi Non Plus," a sultry duet between real-life couple Serge Gainsbourg and Jane Birkin. The steamy track also marked the first French-language single to top the UK pop charts.
In 1961, Ray Charles topped the US pop chart with "Hit the Road Jack." The song, which also features the vocal talents of The Raelettes' Margie Hendrix, won a Grammy for Best R&B Recording and became one of the artist's signature songs. Decades later, Rolling Stone included the track in their "500 Greatest Songs of All Time" poll.
In 1978, influential Belgian singer, actor, and songwriter Jacques Brel died at 78. While the majority of his songs were in French, Brel's work was frequently translated and covered by English-speaking artists, including David Bowie, Ray Charles, Frank Sinatra, Nina Simone, and Judy Collins.
Looking for more things that happened on this day in music?
Keep scrolling for all of the headlines for October 9.
BORN ON OCTOBER 9:
1940: John Lennon
1944: John Entwistle (The Who)
1948: Jackson Browne
1949: Rod Temperton (songwriter, musician, producer)
1967: Mat Osman (Suede)
1970: PJ Harvey
1973: Terry Balsamo (Evanescence)
1976: Sean Lennon
Looking for more artists born on this day?
Keep scrolling for all of our October 9 birthdays.
---
What to find another day?
---
October 9th
9 Oct 2017
Foo Fighters
were at No.1 on the US album chart with their ninth studio album Concrete and Gold and their second album to debut at number one on the Billboard 200. Dave Grohl had ended a self-imposed six-month hiatus from music to record the album while recovering from an injury sustained on the Sonic Highways World Tour.
9 Oct 2008
Paul McCartney
, (a vegetarian for 30 years), was said to be furious when he heard that a Liverpool branch of McDonald's restaurant displayed his picture, accusing them of using it to attract customers. Sir Paul was quoted as saying "What sort of morons do McDonald's think Beatles fans are?"
9 Oct 2007
The Imagine Peace Tower was officially unveiled in Kollafjorour Bay near Reykjav'k, Iceland. The memorial to
John Lennon
from his widow, Yoko Ono, consists of a tall "tower of light", projected from a white stone monument that has the words "Imagine Peace" carved into it in 24 languages.
9 Oct 2003
Ambrose Kappos, 37, of New York, was charged with three counts of stalking and harassing singer Sheryl Crow. He was arrested after being accused of sneaking into New York's Hammerstein Ballroom then trying to get into Crow's limousine when she left the venue. Mr Kappos' brother said he was harmless but "infatuated" with the singer.
9 Oct 2001
A man wrecked a $300,000 sports car owned by hip-hop star Missy Elliott after losing control of the 550-horsepower vehicle and crashed into a traffic sign and a tree. Joseph Johnson had taken the Lamborghini Diablo away from the garage where it was stored without permission for a late night spin. He was later sentenced to three years in jail and ordered to pay $170,000 for the car and $1,975 for curb repairs at the site of the accident.
9 Oct 1999
Eurythmics,
George Michael
,
David Bowie
, Robbie Williams and
Bono
all appeared at 'Netaid' an event to raise money for global poverty. The concerts in London, New York and Geneva were all broadcast live on the internet.
9 Oct 1993
Nirvana
entered the US album chart at No.1 with 'In Utero', their third and final studio album.
Kurt Cobain
had originally wanted to name the album 'I Hate Myself and I Want to Die.'
9 Oct 1993
Take That
had their second UK No.1 single with 'Relight My Fire'. The song which was written and released by Dan Hartman in 1979, where it topped the US dance charts for six weeks. The
Take That
version featured Scottish singer Lulu and gave her a No.1 hit nearly 30 years after her first hit in 1964.
9 Oct 1990
All four members of The Stone Roses were each fined £3,000 after being found guilty of criminal damage at their former record companies offices.
9 Oct 1988
Cliff Gallup guitarist with Gene Vincent and His Blue Caps died of a heart attack. (1956 US No. 7 & UK No. 16 single 'Be Bop A Lula').
9 Oct 1985
Marking what would have been
John Lennon
's 45th birthday, Yoko Ono formally opened the three and a half acre garden at the Strawberry Fields site in New York's Central Park. The area was planted with trees, shrubs and flowers gathered from across the world and with a $1m donation from Yoko.
9 Oct 1981
During a North American tour The
Rolling Stones
played the first of two nights at the Los Angeles Memorial Coliseum in Los Angeles, California. Support act was
Prince
, who dressed in his controversial bikini briefs and trench coat ran off stage after 15 minutes due to the crowd booing and throwing beer cans at him.
9 Oct 1978
Belgian singer songwriter Jacques Brel died of cancer aged 49. Artists who recorded his songs include, Ray Charles, Scott Walker, Alex Harvey,
Frank Sinatra
, Dusty Springfield,
David Bowie
, Nina Simone and Terry Jacks.
9 Oct 1976
The
Sex Pistols
signed to EMI records for £40,000 ($68,000). The contract was terminated three months later with the label stopping production of the 'Anarchy In The UK' single and deleting it from its catalogue. EMI later issued a statement saying it felt unable to promote The
Sex Pistols
records in view of the adverse publicity generated over the last few months.
9 Oct 1976
Dr Feelgood scored their only No.1 UK album when 'Stupidity' went to the top of the charts. It was the first ever live album to go to No.1 in the UK chart in its first week of release. Some of the album was recorded at The Kursaal in Southend-on-Sea.
9 Oct 1976
One hit wonders Walter Murphy and the Big Apple Band went to No.1 on the US singles chart with 'A Fifth Of Beethoven', it made No.28 in the UK.
9 Oct 1973
Elvis Presley
and Priscilla divorced after six years of marriage. Priscilla was awarded property, $725,000 cash and $4,200 a month support.
9 Oct 1971
The Who
played a small, low-key show at the University of Surrey, Guildford, with guest John Sebastian joining in on harmonica on 'Magic Bus' ' the only outside musician ever to jam with
The Who
on stage. Backstage, the group celebrated John Entwistle's 27th birthday.
9 Oct 1971
Rod Stewart
was at No.1 on the UK singles chart with 'Maggie May', (first released as a B side to 'Reason To Believe'). The first of six UK No.1's for Stewart, spent five weeks at the top of the chart.
9 Oct 1969
For the first time in the history of the show, the BBC's
Top Of The Pops
producers refused to air the No. 1 song, 'Je T'aime... Moi Non Plus', the erotic French language love song by Serge Gainsbourg and actress Jane Birkin. The song, an instrumental with the voices of Gainsbourg and Birkin apparently recorded in the act of love and superimposed over the top, caused such a stir in Britain that the original label, Fontana, dropped the record despite it being No. 2 on the charts. A small record company, Major Minor, bought the rights and saw the song climb to the top of the charts, the first French language song to ever do so.
9 Oct 1965
The Beatles
started a four week run at No.1 on the US singles chart with the
Paul McCartney
ballad '
Yesterday
' giving the group their tenth US No.1. The track was not released as a single in the UK until 1976.
9 Oct 1964
The Beach Boys
recorded 'Dance Dance Dance', with
Glen Campbell
playing the lead guitar intro. It would go on to become their twelfth US Top 40 hit.
9 Oct 1961
Ray Charles started a two week run at No.1 on the US singles chart with 'Hit The Road Jack', it reached No.6 on the UK chart.
9 Oct 1958
Eddie Cochran recorded the classic song, 'C'mon Everybody', which became a 1959 UK No.6 single for Cochran and a 1979 hit for the
Sex Pistols
.
Born on this day in music
9 Oct 1978
Nicholas Byrne from Irish pop vocal group Westlife who scored 14 UK No.1 singles, and have sold over 50 million records worldwide. Despite their success worldwide, Westlife never managed to break into the US market, achieving only one hit single in 2000, 'Swear It Again'.
9 Oct 1975
Sean Taro Ono Lennon was born, the only child of
John Lennon
by Yoko Ono.
John Lennon
retired from music for five years to become a house-husband. Sean went on to become a singer, songwriter, musician and actor.
9 Oct 1973
Terry Balsamo, guitarist, with American rock band Evanescence who had the 2003 UK No.1 & US No.5 single 'Bring Me To Life', and the 2003 UK No.1 & US No.3 album Fallen.
9 Oct 1970
English musician, singer-songwriter Polly Harvey, guitar, vocals, who had the 1993 UK hit single '50ft
Queen
ie'. Rolling Stone awarded her 1992's Best New Artist and Best Singer Songwriter and 1995's Artist of the Year. In June 2013, she was awarded an MBE for services to music.
9 Oct 1968
Vickie Perks, from English alternative rock group We've Got A Fuzzbox And We're Gonna Use It who had the 1989 UK No.11 single 'International Rescue'.
9 Oct 1967
Mat Osman, from English alternative rock band Suede, who had the 1994 UK No.3 single 'Stay Together'.
9 Oct 1959
Thomas Wydler, from Australian rock band Nick Cave And The Bad Seeds who have released over 15 studio albums.
9 Oct 1957
Ini Kamoze, born Cecil Campbell, (1995 US No.1 & UK No.4 single 'Here Comes The Hotstepper').
9 Oct 1954
James Fearnley, accordion, from Irish-British Celtic punk band The Pogues who scored the 1987 UK No.8 single 'The Irish Rover'.
9 Oct 1949
English songwriter, record producer, and musician Rod Temperton who initially made his mark as the keyboardist and main songwriter for the R&B funk/disco band Heatwave. Temperton was recruited by Quincy Jones to write songs for
Michael Jackson
, including '
Thriller
', 'Off the Wall', and 'Rock with You'. Temperton died from cancer in 2016.
9 Oct 1948
Jackson Browne, singer, songwriter, (1978 UK No.12 single 'Stay', 1978 album 'Running On Empty', 1982 US No. 7 single 'Somebody's Baby').
9 Oct 1944
English bass guitarist, singer, songwriter John Entwistle from
The Who
, (nicknamed The Ox).
The Who
scored the 1965 UK No.2 single '
My Generation
' plus over 20 other UK Top 40 hits, as well as 16 US Top 40 singles. In the early days of
The Who
, once the lineup had stabilised and it was settled that Roger Daltrey was to be the front man, Entwistle started to dye his fair hair black, and continued to so do until the 1980s. Entwistle died in Las Vegas on 27th June 2002, one day before the scheduled first show of
The Who
's US tour.
9 Oct 1944
Nona Hendryx, Labelle, (1975 US No.1 & UK No.17, single 'Lady Marmalade').
9 Oct 1940
John Lennon
singer, songwriter, guitarist,
The Beatles
who have sold over 20m singles in the UK (1962-1970), and scored more UK & US No.1 albums than any other group. Their 1967
Sgt. Pepper
is the UK's biggest selling album ever. In 1990 Lennon's song '
Imagine
' was played simultaneously in 130 countries to commemorate what would've been Lennon's 50th birthday. He was shot dead in New York by Mark Chapman on 8th December 1980.
9 Oct 1937
Pat Burke, from British soul band The Foundations who scored the 1967 UK No.1 single 'Baby Now That I've Found You' and the 1969 US No.3 single 'Build Me Up A Buttercup'. The group was the first multi-racial group to have a No.1 hit in the UK in the 1960s.