September 1st: The Biggest Music Headlines
Scroll down the page to see all the music headlines, stories and events for September 1 throughout music history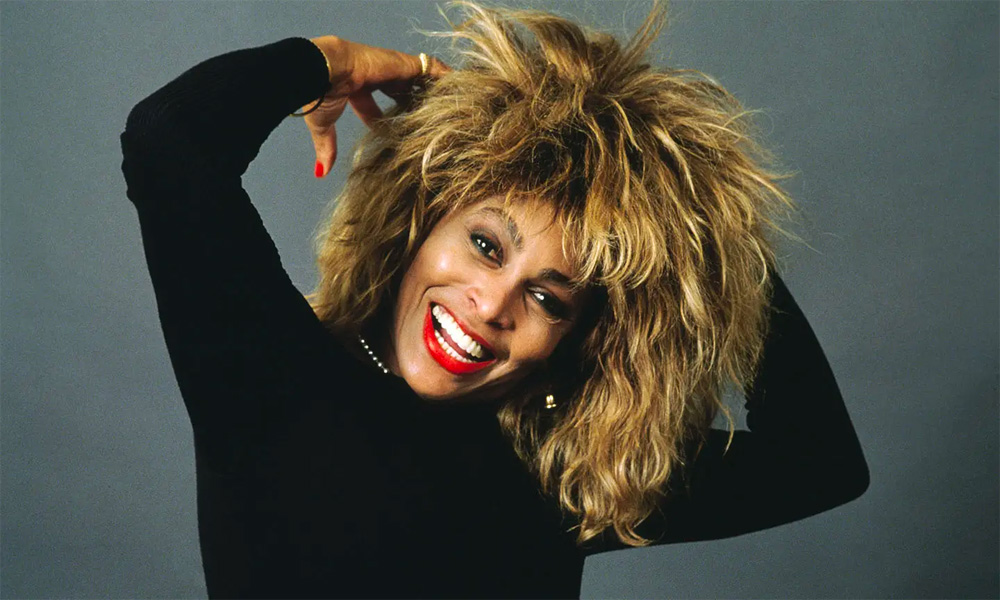 Tina Turner Scores First No.1 With 'What's Love Got To Do With It'
On September 1, 1984, after 25 years in the industry, Tina Turner scored her first US No.1 as a solo artist for "What's Love Got to Do with It," and became the oldest female artist (at 44) to top the chart. The song would become one of her signature hits and, later, inspired the title of a 1993 biopic about the singer. In addition to being named the second-biggest single of the year, "What's Love Got to Do with It" earned Turner multiple Grammys, including Record of the Year and Best Female Pop Performance. It has since been inducted into the Grammy Hall of Fame.
In 1977, New York rockers Blondie signed their first big label contract with Chrysalis Records. The following month, the band re-released their self-titled debut (issued in 1976, without fanfare) on the new label.
In 2012, legendary songwriter Hal David died. Known best for his collaborations with Burt Bacharach, David wrote a string of hits for Dionne Warwick, including "Walk On By" and "I Say a Little Prayer." The legendary pair also penned chart-toppers for the likes of Tom Jones and Dusty Springfield.
In 2002, Coldplay scored their second UK No.1 album with A Rush Of Blood To The Head. Across the pond, the LP won the band the 2003 Grammy for Best Alternative Album for the second time in a row, successive to their previous win in the same category for Parachutes, and the 2004 Grammy for Record of the Year for the song "Clocks."
In 1980, Fleetwood Mac finished a tour with a performance at the Hollywood Bowl, after which they announced an unexpected hiatus. From the stage, lead singer Lindsay Buckingham told a shocked crowd, "This is our last show for a long time."
Looking for more things that happened on this day in music?
Keep scrolling for all of the headlines for September 1.
BORN ON SEPTEMBER 1:
1927: Tommy Evans (The Drifters)
1933: Conway Twitty
1946: Barry Gibb (Bee Gees)
1955: Bruce Foxton (The Jam)
1957: Gloria Estefan
1997: Jungkook (BTS)
Looking for more artists born on this day?
Keep scrolling for all of our September 1 birthdays.
---
What to find another day?
---
September 1st
1 Sep 2022
The
Metallica
classic 'Enter Sandman' topped a list of songs with misheard lyrics, while
Mick Jagger
was named as the singer people struggle most to understand. A survey of 1,000 Americans by WordFinder also suggested that 65% of people, on discovering they've been wrong for years about a favorite song, decide they prefer the incorrect version. "Enter Sandman" came on top overall, with 70% of listeners believing the line "Exit light, enter night" was actually "Eggs and light end all nights." 52% heard
The Beatles
sing "I get high, I get high, I get high" on 'I Want to Hold Your Hand' rather than the real words "I can't hide, I can't hide, I can't hide."
Nirvana
's 'Smells Like Teen Spirit' came next: "With the lights out, it's less dangerous / Here we are now, entertain us" heard as "With the lights out, it's Las Vegas / Hear me all now, entertainers".
1 Sep 2016
A Blue Plaque marking the first home
Freddie Mercury
lived in when he arrived in England was unveiled. The
Queen
frontman moved to the semi-detached home in Feltham, west London, after his family left Zanzibar in 1964 when Mercury was 17.
1 Sep 2013
Classic
Beatles
albums finally went platinum after the British Phonographic Industry (BPI) changed its sales award rules. Gold or platinum status has become synonymous with record success but the system has only been in place since 1973. This made
Sgt. Pepper
's a triple-platinum album, having sold more than 900,000 copies since 1994. In total, the album is estimated to have sold 5.1 million units in the UK since its 1967 release. The albums
Revolver
,
Help!
,
Rubber Soul
, and The
White Album
also now had platinum status.
1 Sep 2012
US songwriter Hal David, who wrote dozens of hits with collaborator Burt Bacharach, died in Los Angeles at the age of 91 from complications from a stroke. With Bacharach he wrote a string of hits for Dionne Warwick, including 'Walk On By' and 'I Say a Little Prayer', as well as other artists including Tom Jones and Dusty Springfield.
1 Sep 2011
Billy Joe Armstrong was thrown off a Southwest flight because the singer was wearing his pants too low. A flight attendant had approached Armstrong and told him, "Pull your pants up or you get off the plane." Later, Southwest spokesman Brad Hawkins released a statement saying that the airline and the
Green Day
pop star had settled their differences over the incident.
1 Sep 2009
Jake Brockman, former keyboard player with Echo and the Bunnymen was killed when his motorbike was in collision with a converted ambulance on the Isle of Man. In 1989 the band's first drummer Pete De Freitas died in a similar crash.
1 Sep 2007
Supergrass were forced to put all plans on hold after band member Mick Quinn broke his back. The bass player and vocalist sleepwalked out of a first floor window of a villa where he was staying in the South of France; he was rushed to a specialist spinal unit in Toulouse where surgeons operated to repair two broken vertebrae as well as a smashed heel.
1 Sep 2005
Barry Cowsill, bass guitarist for The Cowsills, died from injuries caused by Hurricane Katrina. His body was not recovered until December 28th, 2005, from the Chartres Street Wharf, New Orleans. He was 51.
1 Sep 2004
Former Libertines frontman Pete Doherty was given a suspended four month jail sentence after admitting possession of a flick knife. The singer was found with the weapon by police as he drove to his home in London on 18 June.
1 Sep 2002
Coldplay
scored their second UK No.1 album with A Rush Of Blood To The Head. The album won the band the 2003 Grammy for Best Alternative Album for the second time in a row, successive to their previous win in the same category, and the 2004 Grammy for Record of the Year for the song 'Clocks'.
1 Sep 2000
The
Spice Girls
had five places in a list of the UK Top 20 earning celebrity directors. Monsta Productions (Emma), Moody Productions, (Posh), Red Girl Productions, (Mel C), Moneyspider Productions, (Mel B) and Geri Productions with £6m each.
1 Sep 1984
After a 25-year career, Tina Turner had her first solo No.1 single in the US with 'What's Love Got To Do With It'. This song was originally written for Cliff Richard, however the song was rejected. It was then offered to Donna Summer, who has stated she sat with it for a couple of years but never recorded it.
1 Sep 1983
Mick Jones, lead guitarist with
The Clash
was fired by the other three members who claimed he'd 'drifted apart' from the original idea of the group.
1 Sep 1980
Fleetwood Mac
ended a nine-month world tour with a performance at the Hollywood Bowl. Lindsay Buckingham announced on stage, "This is our last show for a long time."
1 Sep 1977
Blondie
featuring former Playboy Bunny Debra Harry, signed their first major record company contract with Chrysalis Records.
1 Sep 1976
Wish You Were Here was close to spending one year on the UK chart.
Pink Floyd
's ninth studio had been premiered at Knebworth in July 1975, and was released in September that year. It was an instant success, with record company EMI unable to press enough copies to satisfy demand. The artwork for the album package was once again created by the Hipgnosis team, who created a series of tableaux based on 'absence', including the empty gesture of a handshake between two US business men (one of whom is on fire), a diver that causes no ripples, and a piece of gauze floating in the wind, photographed somewhere in Norfolk, UK.
1 Sep 1974
The
Osmonds
were at No.1 on the UK singles chart with the Johnny Bristol song 'Love Me For A Reason', the group's only UK No.1. Also a UK No.2 hit for Boyzone in 1994.
1 Sep 1967
The four Beatles held a meeting at
Paul McCartney
's house in London to decide upon their next course of action following the death of manager Brian Epstein. They decide to postpone their planned trip to India and to begin the already-delayed production of the Magical Mystery Tour movie. They have two songs already recorded for the movie, 'Magical Mystery Tour' and 'Your Mother Should Know'.
1 Sep 1966
The Who
single 'I'm A Boy' entered the UK chart peaking at No.2 giving the band their second No.2 hit. The song was originally intended to be a part of a rock opera called 'Quads' which was to be set in the future where parents can choose the sex of their children.
1 Sep 1966
The Byrds played the first of an 11-night run at the Whisky-a-go-go, Hollywood, California. The Whisky a Go-Go opened in 1964 with a live band led by Johnny Rivers and a short-skirted female DJ spinning records between sets from a suspended cage. When the girl began to dance during River's sets the audience thought it was part of the act – and the concept of Go-Go dancers in cages was born.
1 Sep 1962
Tommy Roe went to No.1 on the US singles chart with 'Sheila', a No.3 hit in the UK. The record was a re-recorded version of a song that was first released in 1960 when Roe was part of a group called The Satins.
Born on this day in music
1 Sep 1997
Jungkook (Jeon Jung-kook), South Korean singer, songwriter, with the boy band BTS. They became the first Korean act to top the US Billboard chart with their studio album Love Yourself: Tear (2018). BTS also became the fastest group since
The Beatles
to earn four US No.1 albums, doing so in less than two years. They became the first Asian act to chart a No.1 song in the US since Kyu Sakamoto with 'Sukiyaki' (1963).
1 Sep 1993
British rapper and DJ Dennis Junior Odunwo known as Tion Wayne. He appeared on three top-10 singles on UK Singles Chart as a guest and had his his first UK No.1 in 2021 with 'Body' alongside Russ Millions.
1 Sep 1984
Joseph Mark Trohman, guitarist, with American rock band Fall Out Boy, who had the 2007 US No.1 album Infinity on High. The group's sixth studio album, American Beauty/American Psycho (2015) peaked at No.1, making it the band's third No.1 album and the group's fifth consecutive top 10 album.
1 Sep 1976
Peter Brown, drummer, from American rock band Wheatus who had the 2001 UK No 2 single 'Teenage Dirtbag' which appeared in the movie Loser.
1 Sep 1976
Babydaddy, (Scot Hofman), bass, Scissor Sisters, (2004 UK No.1 self-titled album, 2004 UK No. 12 single 'Laura').
1 Sep 1975
Natalie Bassingthwaighte, Australian singer, actress, and television personality with Rogue Traders. Their most successful single, 'Voodoo Child', peaked at No.3 on the UK Singles Chart.
1 Sep 1973
J.D. Fortune, (Jason Bennison) Canadian singer, INXS, winner of the 2005 CBS reality television series Rock Star: INXS.
1 Sep 1965
Craig McLachlan, singer, actor, (1990 UK No.2 single 'Mona').
1 Sep 1960
Cass Lewis, bassist with British rock band Skunk Anansie who had the 1996 UK No.20 single 'Weak'. The band have spent a total of 141 weeks on both the singles and album charts.
1 Sep 1957
Gloria Estefan, singer, (1984 UK No.6 single 'Dr Beat', plus over 20 other UK top 40 hits, 1988 US No.1 single 'Anything For You').
1 Sep 1955
Bruce Foxton, bass, vocals,
The Jam
(1980 UK No.1 single 'Going Underground' plus 14 other UK Top 40 singles).
1 Sep 1950
Peter Hewson, Chicory Tip, 1972 UK No.1 single 'Son Of My Father'. Claimed to be the first UK No.1 single to feature a synthesiser.
1 Sep 1949
Russ Field, from English revival group Showaddywaddy who had the 1976 UK No.1 single with their version of 'Under The Moon Of Love'. Showaddywaddy spent 209 weeks on the UK Singles Chart, and had 10 Top Ten singles.
1 Sep 1946
Barry Gibb, singer, songwriter, producer, The
Bee Gees
, (1967 UK No.1 single 'Massachusetts', 1978 UK & US No.1 single 'Night Fever', plus over 30 other UK Top 40 singles & 9 US No.1's over 4 decades). In 1994, he was inducted into the Songwriters Hall of Fame with his brothers. In 1997, as a member of the
Bee Gees
, he was inducted into the Rock and Roll Hall of Fame and received the Brit Award for Outstanding Contribution to Music.
1 Sep 1946
American musician and record producer Greg Errico. He was the drummer in Sly and The Family Stone who had the 1971 US No.1 & 1972 UK No.15 single 'Family Affair'. He has also worked with the
Jerry Garcia
Band, Bill Wyman, David Soul and others.
1 Sep 1944
Archie Bell, The Drells, (1968 US No.1 single with the Drells, 'Tighten Up', 1972 UK No.11 single, 'Here I Go Again').
1 Sep 1933
American rock and roll bassist Marshall Lytle, best known for his work with the groups
Bill Haley
& His Comets and The Jodimars in the 1950s. He played upright slap bass on the iconic 1950s rock and roll records 'Crazy Man, Crazy', 'Shake, Rattle and Roll', and 'Rock Around the Clock'. Lytle died on 25th May 2013.
1 Sep 1933
Conway Twitty (born Harold Lloyd Jenkins). Twitty held the record for the most No.1 singles of any act with 55 No.1 Billboard country hits until George Strait broke the record in 2006. Twitty who scored his first No.1 in 1958 with 'It's Only Make Believe' died on June 5, 1993.
1 Sep 1927
Tommy Evans from American doo-wop and R&B vocal group The Drifters who had the 1960 US No.1 & UK No.2 single 'Save The Last Dance For Me' and over 12 other chart hits.