September 17th: The Biggest Music Headlines
Scroll down the page to see all the music headlines, stories and events for September 17 throughout music history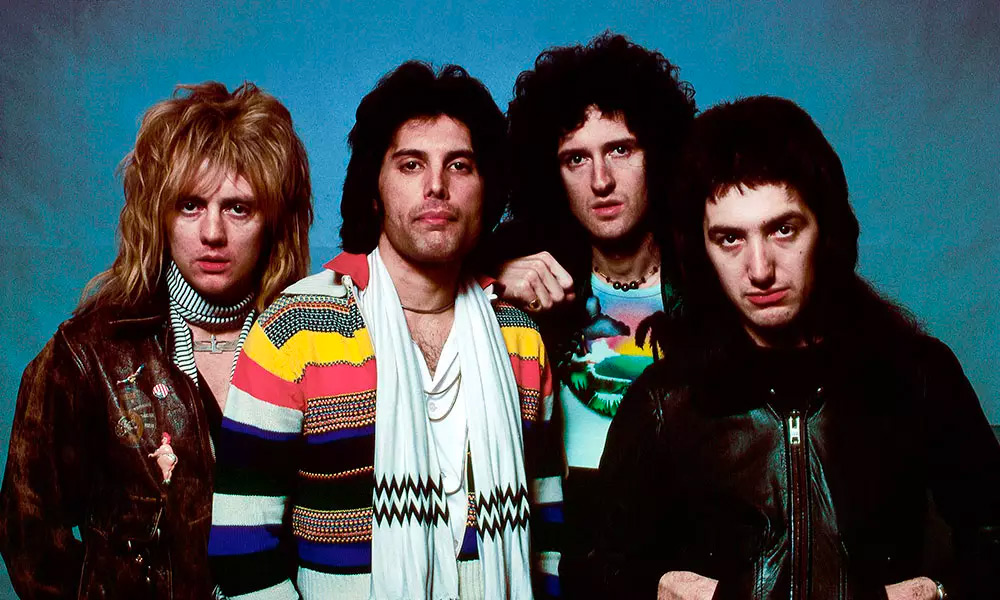 Queen Film Their 'Bicycle Race' Video
On September 17, 1978, Queen took over Wimbledon Greyhound Stadium to film the video for their hit single "Bicycle Race." Directed by Denis de Vallance (who also directed visuals for The Pointer Sisters, The Clash, Kool & The Gang, and more) the video famously featured 65 naked women, all of whom happened to be professional models. The concept involved them racing at the Wimbledon greyhound racing track (not to be confused with the home of the famous tennis tournament). While the band rented a number of bikes for the models to use, the company leasing the bikes insisted that Queen purchase each of the bicycle seats used during the shoot, once they learned of the concept.
In 2011, Adele went to No.1 on the US singles chart with "Someone Like You." The song, which has since gone five times Platinum, was a hit across the world, reaching No.1 in Australia, Belgium, Brazil, Italy, and more. It also did monumental numbers in Adele's home country of England. Later, during the Official Charts Company's 60th anniversary, UK citizens chose "Someone like You" as one of the top three most beloved singles of the past 60 years. The song trailed only Michael Jackson's "Billie Jean" and Queen's "Bohemian Rhapsody."
In 1983, Paul Young scored his first UK No.1 album with No Parlez. Young's debut was initially thought to be a dud, as early singles "Iron Out the Rough Spots" and "Love of the Common People" didn't register commercially, but a cover of the Marvin Gaye hit "Wherever I Lay My Hat (That's My Home)" propelled the album to dominance.
In 1976, The Sex Pistols played a concert for the inmates at Chelmsford Prison in Essex. Controversially, the performance was released as an album in 1990, featuring a significant amount of overdubs from the band's soundman, Dave Goodman.
In 1931, the first long-playing record, a 33 1/3 rpm recording, was demonstrated at the Savoy Plaza Hotel in New York by RCA-Victor.
In 1964, The Beatles appeared at the Municipal Stadium in Kansas City. The band was paid $150,000 for the show, which was more than any act had ever been paid for a concert.
Looking for more things that happened on this day in music?
Keep scrolling for all of the headlines for September 17.
BORN ON SEPTEMBER 17:
1923: Hank Williams
1939: Lamonte McLemore (The 5th Dimension)
1962: Baz Lurhmann
1969: Keith Flint (The Prodigy)
1985: Jonathan Jacob Walker (Panic! At The Disco)
Looking for more artists born on this day?
Keep scrolling for all of our September 17 birthdays.
---
What to find another day?
---
September 17th
17 Sep 2019
Nick Carter filed a restraining order against brother Aaron, after the Backstreet Boys star alleged he threatened to kill his pregnant wife and unborn child. The order stated that the troubled singer must stay 100 feet away from Nick, his wife, children and other family members. Confirming the order against him on Twitter, Aaron Carter wrote: "So my brother just got a a restraining order against me. And I was just served lol."
17 Sep 2017
Brazilian musician and producer Laudir de Oliveira died of a heart attack at the age of 77 while performing onstage in his native Rio de Janeiro. He is mostly renowned for his time as percussionist with the band Chicago from 1973 until 1982. As a session musician he worked for other musicians like Chick Corea,
Carlos Santana
The Jacksons, Wayne Shorter and Nina Simone.
17 Sep 2014
Country music star George Hamilton IV died in Nashville, Tennessee at the age of 77. The singer and guitarist, who began performing as a teenager in the 1950s, had suffered a major heart attack a few days earlier. At the start of his career in 1956, Hamilton had a top five hit in the US with A Rose and A Baby Ruth, which led to tours with pop idols
Buddy Holly
and the Everly Brothers.
17 Sep 2011
The estate of
Jimi Hendrix
gave the go-ahead for another round of archival releases nearly 41 years to the day after the singer's death. The four new products included an expanded version of his landmark Winterland concerts in 1968, a revamp of a 1972 live compilation, an upgraded DVD of his final U.K. festival gig, and a DVD reissue of some old talk-show appearances.
17 Sep 2011
Adele
went to No.1 on the US singles chart with 'Someone Like You'. The track was also No.1 in Australia, Ireland, New Zealand, Finland, France, Italy, Poland, Switzerland, the United Kingdom.
17 Sep 2007
Barry Manilow cancelled his plans to appear on the TV talk show The View because he did not want to be interviewed by its conservative co-host Elisabeth Hasselbeck, an abortion opponent and supporter of the Iraq war. Manilow had requested to speak only with co-hosts Joy Behar, Barbara Walters or Whoopi Goldberg, but the show's producers refused to comply with what they called Manilow's "completely disrespectful" demands.
17 Sep 2006
Justin Timberlake went to No.1 on the UK album chart with 'Futuresex / Lovesounds' the singers second solo album and second No.1.
17 Sep 2006
American guitarist Al Casey died aged 69. Casey is noted for his work as a session musician and as a member of the Wrecking Crew and worked with
The Beach Boys
, Phil Spector,
Elvis Presley
,
Glen Campbell
, The Association, The
Monkees
,
Johnny Cash
,
Simon And Garfunkel
, 5th Dimension, Harry Nilsson, The Partridge Family,
Frank Sinatra
, and Nancy Sinatra.
17 Sep 2004
Israeli police arrested two of
Madonna
's bodyguards after they assaulted photographers waiting for the singer outside her hotel.
Madonna
was in Israel with 2,000 other students of Kabbalah, the Jewish mystical offshoot.
17 Sep 2003
Moore and Bode Cigars were suing P Diddy after film footage of their "secret" production process turned up in his latest video. The company claimed an unidentified cameraman filmed their "unique method of rolling cigars" which was then used in the rappers 'Shake Ya Tailfeather' video without permission.
17 Sep 2000
Paula Yates was found dead in bed from a suspected drug overdose. Yates had presented the UK music TV show
The Tube
during the 80s, married
Bob Geldof
and was the girlfriend of INXS singer
Michael Hutchence
.
17 Sep 1999
English singer Frankie Vaughan died of heart failure aged 71. During the 1950s he scored twenty UK Top 30 singles including the UK No.2 'Green Door.' He was awarded an OBE in 1965, and a CBE in 1996
17 Sep 1996
A bomb was found at a South London sorting office addressed to Icelandic singer Bjork. Police in Miami had alerted the post office after finding the body of Ricardo Lopez who had made a video of himself making the bomb and then killing himself.
17 Sep 1991
Over 4 million copies of Guns N' Roses album, 'Use Your Illusion I' and 'Use Your Illusion II' were simultaneously released for retail sale, making it the largest ship-out in pop history in the US.
17 Sep 1983
Paul Young scored his first UK No.1 album with his debut release 'No Parlez.' The album returned to the top of the charts on four other occasion's spending a total of 119 weeks on the chart.
17 Sep 1978
The video for
Queen
's single 'Bicycle Race' was filmed at Wimbledon Stadium, Wimbledon, UK. It featured 65 naked female professional models racing around the stadium's track on bicycles, which had been hired for the day. The rental company was reported to have requested payment for all the saddles when they found out how their bikes had been used.
17 Sep 1976
The
Sex Pistols
played a gig for the inmates at Chelmsford Prison, Essex in England.
17 Sep 1969
Media on both sides of the Atlantic were running stories that said
Paul McCartney
was dead. He was supposedly killed in a car accident in Scotland on November 9th, 1966 and that a double had been taking his place for public appearances. In fact, Paul and his girlfriend Jane Asher were on vacation in Kenya at the time.
17 Sep 1967
The Doors
were banned from The Ed Sullivan Show after
Jim Morrison
broke his agreement with the show's producers. Morrison said before the performance that he wouldn't sing the words, 'Girl, we couldn't get much higher,' from 'Light My Fire' but did anyway. The Doors also performed their new single 'People Are Strange.'
17 Sep 1964
During a US tour
The Beatles
appeared at the Municipal Stadium in Kansas City.
The Beatles
were paid $150,000 for the show, which was more than any other act had ever been paid for a live show. Tickets cost $4.50.
17 Sep 1964
Police arrived at a
Rolling Stones
gig at the ABC Theatre in Carlisle, England, after a trouble broke out with the 4,000 fans at the concert.
17 Sep 1962
The Beatles
played the last of three Monday night gigs at The Queen's Hall, Widnes, Cheshire. Also on the bill, Billy Kramer and the Coasters, Rory Storm and the Hurricanes and Sonny Kaye and the Reds. Tickets cost 3/6.
17 Sep 1956
The BBC announced the removal of
Bill Haley
and His Comets' 'Rockin' Through The Rye' from its playlist because they felt the song went against traditional British standards, (and included the lyrics "All the lassies rock with me when rockin' through the rye"). The record, based on an 18th century Scottish Folk tune, was at No.5 on the UK charts.
17 Sep 1931
The first long-playing record, a 33 1/3 rpm recording, was demonstrated at the Savoy Plaza Hotel in New York by RCA-Victor. The venture was doomed to fail however due to the high price of the record players, which started around $95 (about $1140 in today's dollars) and wasn't revived until 1948.
Born on this day in music
17 Sep 1985
Jonathan Jacob Walker, bassist, with American rock band Panic! at the Disco who scored the 2008 Australian No.1 and US & UK No.2 album Pretty.Odd.
17 Sep 1976
Maile Misajon, singer from Eden's Crush, the American girl group who were created on the American television series Popstars who scored the 2001 Canadian No.1 and US No. 8 single 'Get Over Yourself'.
17 Sep 1969
Adam Devlin, The Bluetones, (1996 UK No.2 single 'Slight Return').
17 Sep 1969
Keith Flint, vocals, with English electronic dance music group The Prodigy who scored the 1996 UK No.1 & US No. 30 single 'Firestarter' and the 1997 UK & US No.1 album 'The Fat Of The Land'. Flint died at his Essex home in England on 4 March 2019 age 49.
17 Sep 1968
John Penney, vocals, Neds Atomic Dustbin, (1991 UK No.16 single 'Happy').
17 Sep 1968
Anastacia, US singer, (2000 UK No. 6 single 'I'm Outta Love', her 2000 album 'Not That Kind' spent 65 weeks on the UK album chart) .
17 Sep 1962
Baz Luhrmann, Australian filmmaker, 1999 UK No.1 single 'Everybody's Free To Wear Sunscreen').
17 Sep 1959
William Owen Gregory, keyboards and synthesizer, Goldfrapp, (2008 UK No.2 album 'Seventh Tree').
17 Sep 1953
Steve Williams, drummer from Welsh hard rock Budgie. They were one of the earliest heavy metal bands and a seminal influence to many acts. Their 1971 debut album was with
Black Sabbath
producer Rodger Bain.
17 Sep 1950
Fee Waybill, vocals, with American band
The Tube
s known for their 1977 hit single 'White Punks On Dope' and the 1983 US No.10 single 'She's A Beauty'.
17 Sep 1940
Roger Nichols, American composer and songwriter, multi-instrumentalist. He co-wrote many songs including 'We've Only Just Begun' (The Carpenters), which was originally written for a Crocker Bank commercial and 'Out in the Country' (Three Dog Night).
17 Sep 1939
Lamonte McLemore, The 5th Dimension, (1969 US No.1 & UK No.11 single 'Aquarius').
17 Sep 1933
Jeanine Deckers, The Singing Nun, (1963 US No.1 & UK No.7 single 'Dominique'). Deckers died on 29th March 1985 of an overdose of sleeping pills in a suicide pact with a friend.
17 Sep 1926
Bill Black, bass player,
Elvis Presley
from 1954-1957, Bill Black Combo, (1959 US No.17 single 'Smokie Part 2'). Black died on 21st October 1965.
17 Sep 1923
Hank Williams
(born Hiram King Williams). The American singer-songwriter and musician is regarded as one of the most important country music artists of all time. Williams recorded 35 singles (five released posthumously) that would place in the Top 10 of the Billboard Country & Western Best Sellers chart, including 11 that ranked No.1. During his last years Williams's consumption of alcohol, morphine and painkillers severely compromised his professional life. Williams died aged 29 on January 1, 1953.