September 23rd: The Biggest Music Headlines
Scroll down the page to see all the music headlines, stories and events for September 23 throughout music history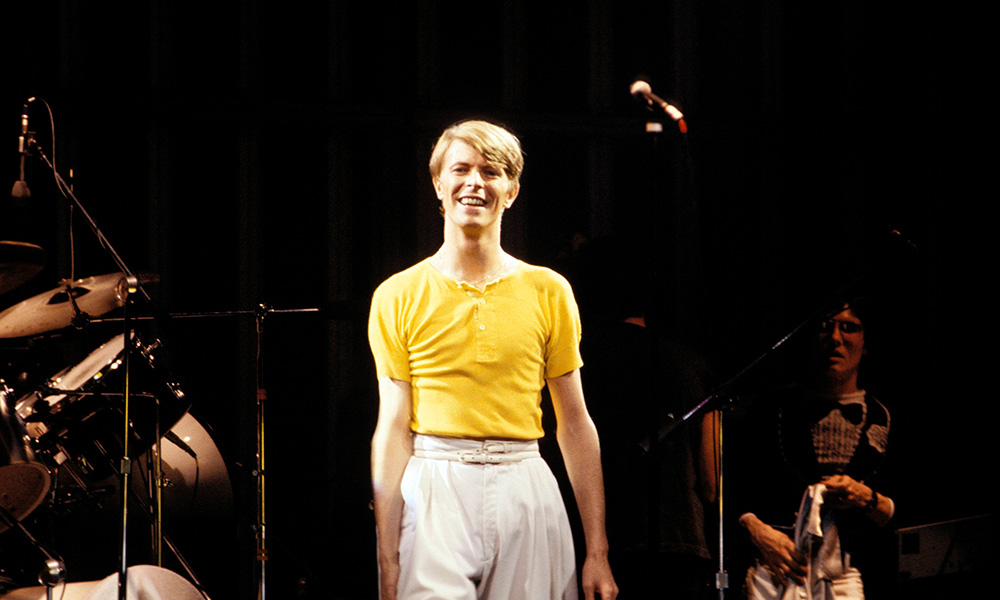 David Bowie Releases 'Heroes'
On September 23, 1977, David Bowie released "Heroes," which would become one of the most celebrated singles in his expansive discography. Co-written by Bowie and Brian Eno and co-produced by Bowie and Tony Visconti, the song was recorded in the middle of 1977 at Hansa Studio 2 in West Berlin. Bowie and Eno built the song around synthesizer overdubs, which was an inventive quirk at the time, while Eno's frequent collaborator, Robert Fripp, contributed guitar parts. Bowie's singular vocals, meanwhile, were captured by microphones placed throughout the room, in an innovative "multi-latch" system created by Visconti.
In 1980, Bob Marley performed his final show at the Stanley Theater in Pittsburgh. Two days ahead of the concert, Marley had collapsed in New York's Central Park while jogging. He was told to immediately cancel the rest of his US tour dates, but flew to Pittsburgh for one final appearance. Marley collapsed during the set and, just one year later, succumbed to an aggressive form of cancer
In 1969, Northern Illinois University's Northern Star newspaper ran a story claiming that Paul McCartney had been killed in a car crash in 1966 and replaced by a look-a-like. The conspiracy theory was picked up by WKNR-FM in Detroit and, soon, the story spread worldwide. The rumor became so prevalent that McCartney eventually came out of seclusion at his Scottish farm to deny the story.
In 1967, The Box Tops began a four-week run at the top of the Billboard Hot 100 with "The Letter," which was also a No.5 hit in the UK. The single went on to sell over four million copies and receive two GRAMMY nominations.
In 2001, Kylie Minogue topped the UK singles chart with her smash hit, "Can't Get You Out Of My Head." The song would later be named the country's 75th best-selling single of all time, while, globally, the track marks the Australian pop star's highest-selling single.
In 1989, Milli Vanilli scored their second No.1 hit with "Girl I'm Gonna Miss You," while also taking the top spot on the album chart with Girl You Know It's True.
Looking for more things that happened on this day in music?
Keep scrolling for all of the headlines for September 23.
BORN ON SEPTEMBER 23:
1930: Ray Charles
1939: Roy Buchanan (guitarist)
1943: Julio Iglesias
1947: Neal Smith (Alice Cooper Band)
1949: Bruce Springsteen
Looking for more artists born on this day?
Keep scrolling for all of our September 23 birthdays.
---
What to find another day?
---
September 23rd
23 Sep 2019
Robert Hunter,
Grateful Dead
lyricist died age 78. He provided the Grateful Dead with many of their vivid and enduring lyrics for some of the band's signature songs, including 'Uncle John's Band', 'Scarlet Begonias' and 'Dark Star.'
23 Sep 2016
According to the Music Business Association, playlists were now a more popular way to listen to music than albums. The report said playlists accounted for 31% of listening time across all demographics, while albums lagged behind on 22%. But single tracks remained the dominant format, according to the study, accounting for 46% of music played.
23 Sep 2013
Hollywood Boulevard in Hollywood, California was shut down for a 15-song set by
Paul McCartney
on the roof of the El Capitan Theatre. An estimated crowd of 10,000 listened from the street. The show followed his appearance on TV's Jimmy Kimmel Live show.
23 Sep 2009
A Blue Plaque was unveiled on the building where Cargo Studios used to be on Kenion Street in Rochdale, England. The plaque was to recognise the part the building played in the British music scene between 1978 and 2000. In the early years as a home to Cargo Studios and Tractor Music then later Suite 16 Studios. Factory producer Martin Hannett spent a great deal of time in Cargo recording
Joy Division
,
Orchestral Manoeuvres in the Dark
, Durutti Column, Section 25 and Nico amongst others.
23 Sep 2006
Neil Young
was named artist of the year at the Americana Honors and Awards at the fifth annual event in Nashville, Tennessee. The 60-year-old singer-songwriter released the protest album Living With War this year.
23 Sep 2004
A bodyguard for rapper Lil' Kim was sentenced to 12 years in prison after admitting firing at least 20 times in a shoot-out with a rival gang. The judge sentencing Suif Jackson, said society needed protection from a gun-toting man with five convictions. The shooting took place when the entourages of Lil' Kim and Capone-N-Noreaga crossed at a New York radio station.
23 Sep 2004
Slipknot's Corey Taylor issued a statement denying he was dead. Rumours started after a shock jock in Des Moines broadcast the announcement that the singer had died of a drug overdose, which then became a fatal car crash.
23 Sep 2002
Musical winners at this years Oscars included, Sting who won Best Musical Performance for 'Sting In Tuscany...All This Time' and the Best Reality TV Show went to The Osbournes.
23 Sep 2001
Kylie Minogue
started a five-week run at No.1 on the UK singles chart with 'Can't Get You Out Of My Head.' The Australian singers 6th No.1 was written and produced by Cathy Dennis and former Mud guitarist Rob Davis, for which the pair won an Ivor Novello Award for the most performed song of the year. 'Can't Get You Out Of My Head' also charted at No.1 in 40 countries.
23 Sep 1995
Jamaican Ragga singer Shaggy scored his second No.1 UK single when 'Boombastic' went to the top of the charts for one week. Also a US No.1.
23 Sep 1989
Milli Vanilli started a two week run at No.1 on the US singles chart with 'Girl I'm Gonna Miss You', the duo's second US No.1 a No.2 hit in the UK. Also today the duo went to No.1 on the US album chart with 'Girl You Know It's True'.
23 Sep 1980
Bob Marley
collapsed on stage during a concert at the Stanley Theater in Pittsburgh, Pennsylvania. Marley had collapsed in New York's Central Park while jogging, two days before and was told to immediately cancel the US leg, but flew to Pittsburgh to perform one final performance. This was the last time Marley ever appeared on stage performing, Marley died of cancer on in May 1981.
23 Sep 1978
10cc had their third and final UK No.1 single with 'Dreadlock Holiday.' The lyrics, about a white man lost in Jamaica, were based on a true event that happened to Moody Blues vocalist Justin Hayward and Eric Stewart from 10cc in Barbados.
23 Sep 1977
David Bowie
released 'Heroes' as a single. Co-written by Bowie and Brian Eno, the track features King Crimson guitarist Robert Fripp and has gone on to become one of Bowie's signature songs.
23 Sep 1974
Robbie McIntosh founder member of the Average White Band died of a heroin overdose at a Hollywood party, (after he inhaled a white powder thought to be cocaine but was actually pure heroin). AWB scored the No.1 single 'Pick up the Pieces' which was nominated for a Grammy Award in 1975.
23 Sep 1969
The Northern Star newspaper of Northern Illinois University ran a story claiming that
Paul McCartney
had been killed in a car crash in 1966 and had been replaced by a look-a-like. Russell Gibb of WKNR-FM in Detroit picked up on the claim and the story went worldwide. By late October 1969 the hoax was so well entrenched, that McCartney came out of seclusion at his Scottish farm to deny the story. When McCartney was asked to comment by a reporter visiting Macca's farm, he replied, "Do I look dead, I'm as fit as a fiddle."
23 Sep 1968
Working on new songs for their forthcoming 'White Album'
The Doors
came to visit
The Beatles
in the studio and watched them recording.
23 Sep 1967
The Box Tops started a four week run at No.1 on the US singles chart with 'The Letter', a No.5 hit in the UK. The record went on to sell over four million copies and receive two Grammy nominations. It was also a Top Ten hit for Joe Cocker in 1970.
23 Sep 1966
The '
Rolling Stones
66' 12 date UK tour kicked off at the Royal Albert Hall London. Supported by Long John Baldry, Ike & Tina Turner and The Yardbirds, (
Jimmy Page
was playing bass, with
Jeff Beck
on guitar). Michelangelo Antonioni attended this concert and asked The Yardbirds to appear in his forthcoming film Blow Up. Also both
Keith Moon
and John Entwistle from
The Who
were in the audience.
23 Sep 1965
The Walker Brothers were at No.1 on the UK singles chart with the Burt Bacharach song, 'Make It Easy On Yourself', the trio's first of two UK No.1's.
23 Sep 1957
The Crickets
went to No.1 on the US singles chart with 'That'll Be The Day.' The title being taken from a phrase used by John Wayne in the film 'The Searchers.'
Born on this day in music
23 Sep 1985
Diana Oritz, Dream, (2001 US No.3 & UK No.17 single.
23 Sep 1979
Erik-Michael Estrada, from American boy band O-Town, who were the winners of US TV show 'Making The Band' They scored the 2001 US No. 3 single 'All Or Nothing'.
23 Sep 1949
US singer, songwriter,
Bruce Springsteen
, 'The Boss', who had the 1985 US No.2 & UK No.4 single 'Dancing In The Dark', 1994 UK No.2 single 'Streets of Philadelphia'. His most successful studio albums, Born in the U.S.A. and
Born To Run
showcase a talent for finding grandeur in the struggles of daily American life; he has sold more than 65 million albums in the United States and more than 120 million worldwide.
23 Sep 1948
American guitarist Dan Toler who was a member of Dickey Betts & Great Southern. He went on to become a member of
The Allman Brothers Band
with Betts from 1979–1982 appearing on Enlightened Rogues (1979), Reach for the Sky (1980) and Brothers of the Road (1981). He died in Florida on 25 February 2013 aged 64.
23 Sep 1947
Neal Smith, drummer with the Alice Cooper Band, who had the 1972 UK No.1 & US No.7 single 'School's Out', the 1972 hit 'Elected' and the 1973 US & UK No.1 album Billion Dollar Babies.
23 Sep 1943
John Banks, The Merseybeats, (1964 UK No.5 single 'I Think Of You').
23 Sep 1943
Julio Iglesias, Spanish singer, (1981 UK No.1 single 'Begin The Beguine'. Iglesias has sold over 100m albums).
23 Sep 1943
Steve Boone, The Lovin Spoonful, (1966 US No.1 & UK No.8 single 'Summer In The City').
23 Sep 1943
Walter and Wallace Scott, singers with American group The Whispers who had the 1980 UK No.2 & US No.19 single 'And The Beat Goes On'.
23 Sep 1940
American singer-songwriter Tim Rose, who spent much of his life in London, England and had more success in Europe than in his native country. Rose had a minor hit with 'Hey Joe' in 1966 and later
Keith Richards
' girlfriend at the time, played Rose's recording of the song to Chas Chandler (Hendrix's manager) resulting in
Jimi Hendrix
recording the song. Rose died on September 24, 2002.
23 Sep 1939
American guitarist Jerry Cole. He first entered the pop music scene as one of The Champs along with
Glen Campbell
.. Cole and Campbell later formed the Gee Cee's and released one single called 'Buzzsaw Twist'. He backed up
Elvis Presley
in 1974 and also worked with Jerry Lee Lewis,
Roy Orbison
,
Aretha Franklin
, The
Righteous Brothers
,
Little Richard
, Ray Charles, Tony Orlando & Dawn, Lou Rawls,
Gregg Allman
, Lee Hazlewood, Blood Sweat & Tears, Kenny Rogers,
Neil Diamond
, Steely Dan and Isaac Hayes. He died on May 28 2008 aged 68.
23 Sep 1939
Roy Buchanan, US guitarist, first worked with Dale Hawkins, released over 15 solo albums. Died after hanging himself by his own shirt on 14th Aug 1988 in Fairfax County Adult Detention Center, Virginia after being arrested for drunkenness.
23 Sep 1930
American singer, songwriter and pianist Ray Charles. He is regarded as one of the most iconic and influential singers in history, and was often referred to by contemporaries as "The Genius". Charles had the 1962 UK & US No.1 single 'I Can't Stop Loving You' plus over 30 US Top 40 singles, and the 2005 US No.1 album 'Genius Loves Company'. Charles was blinded during childhood, possibly due to glaucoma. He died on 10th June 2004 aged 73.
23 Sep 1926
American jazz saxophonist, bandleader and composer, John Coltrane. He is among the most influential and acclaimed figures in the history of jazz and 20th-century music. Over the course of his career, Coltrane's music took on an increasingly spiritual dimension, as exemplified on his most acclaimed album A Love Supreme (1965). Coltrane died of liver cancer at the age of 40 on 17 July 1967.