September 27th: The Biggest Music Headlines
Scroll down the page to see all the music headlines, stories and events for September 27 throughout music history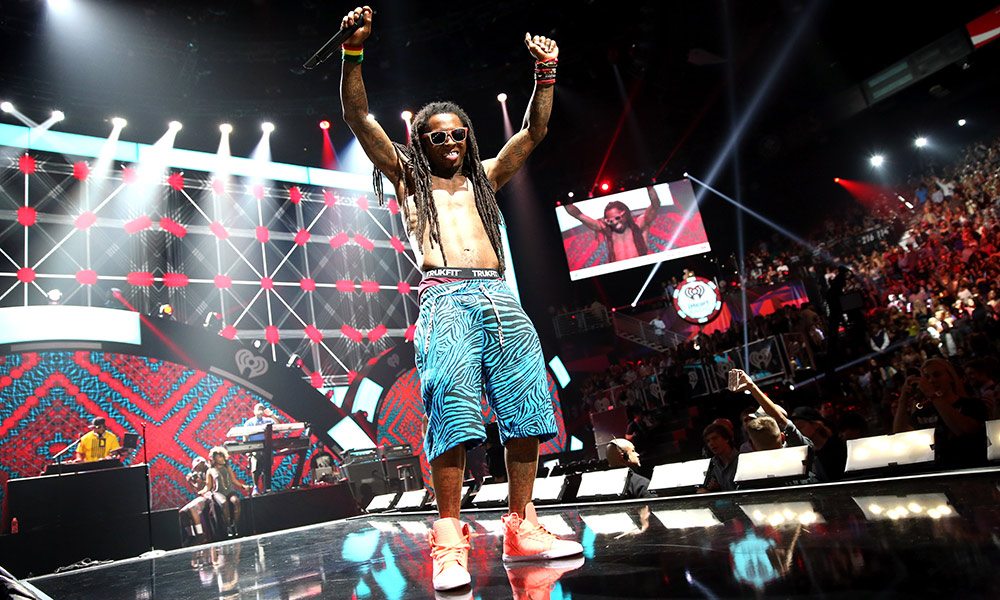 Lil Wayne Becomes The New Chart King
On September 27, 2012, birthday boy Lil Wayne became the new champion of the Billboard Hot 100 by placing his 109th song on the chart as an artist. Though Wayne remains one of the most prolific solo rap artists in the history of the genre, it was thanks to Weezy's feature on The Game's "Celebration"– which also featured Chris Brown, Tyga, and Wiz Khalifa – that earned the MC his record-holding status. The Louisiana legend broke the record established by Elvis Presley, who tallied 108 turns on the Hot 100. Wayne is, according to that run, more commercially successful with other artists than he is on his own. As a solo artist, he churned out 42 charting records, while as a featured artist, he assisted on 67.
In 1964, The Beach Boys made their TV debut on The Ed Sullivan Show during the legendary late-night show's season premiere. According to a write-up on the Ed Sullivan website, the band took "the stage with hot rods, bright lights, and a slew of screaming girls…. The boys set out to prove that America still had a rock and roll heartbeat that not even The Beatles could take away." That evening, fans across the country tuned in to catch the band performing their No.1 hit "I Get Around" and 'Wendy.'"
In 1986, The Beatles' 1963 hit, "Twist and Shout," re-entered the US singles chart after its first appearance, 23 years earlier. The rock'n'roll classic gained renewed interest after it was featured in the John Hughes blockbuster film, Ferris Bueller's Day Off.
In 2004, producer Phil Spector was charged with the murder of actress Lana Clarkson.
In 1998, Manic Street Preachers scored their first UK No.1 album with This Is My Truth Tell Me Yours. The title of the album is a quote from a speech by Aneurin Bevan, a Labor Party politician from the band's home country of Wales.
In 2011, 85-year-old Tony Bennett became the oldest living person to top the Billboard 200 when he released Duets II. Remarkably, it was also the crooner's first No.1 album.
In 1986, Metallica bass player Cliff Burton died at the age of 24, succumbing to injuries after the band's tour bus crashed in Sweden.
Looking for more things that happened on this day in music?
Keep scrolling for all of the headlines for September 27.
BORN ON SEPTEMBER 27:
1943: Randy Bachman (The Guess Who)
1947: Meat Loaf
1953: Robbie Shakespeare (Sly & Robby)
1953: Greg Ham (Men At Work)
1966: Stephan Jenkins (Third Eye Blind)
1982: Lil Wayne
1984: Avril Lavigne
Looking for more artists born on this day?
Keep scrolling for all of our September 27 birthdays.
---
What to find another day?
---
September 27th
27 Sep 2018
American singer, songwriter Marty Balin died at the age of 76. He was best known as the founder and one of the lead singers of Jefferson Airplane and Jefferson Starship who had the 1967 US No.18 single 'White Rabbit'. Balin played with Jefferson Airplane at the
Monterey Pop Festival
in 1967 and at the
Woodstock
Festival in 1969.
27 Sep 2012
Lil Wayne became the new king of the Billboard Hot 100 by placing his 109th song on the chart as an artist. The rapper featured on Game's latest track 'Celebration.'
Elvis Presley
, with 108 entries, had held the title for 45 years.
27 Sep 2011
Tony Bennett became the oldest living person to top the US album chart when the 85-year-old's 'Duets II' album went to No.1. The record, which featured collaborations with
Amy Winehouse
and Lady Gaga, was also his first US No.1 in his 60 year career. The previous oldest performer to top the chart was
Bob Dylan
in 2009 with 'Together Through Life'. At the time he was 67-years old.
27 Sep 2008
Metallica
started a three-week run at No.1 on the US album chart with 'Death Magnetic', the bands ninth studio album.
27 Sep 2008
Pink Floyd
's manager Bryan Morrison died after spending over two years in a coma. Morrison suffered severe brain injuries in a polo accident at the Royal Berkshire Polo Club, England in 2006, and never recovered. He also managed The Pretty Things and was a music publisher for
Syd Barrett
, The
Bee Gees
,
Elton John
,
The Jam
T-Rex and Wham!
27 Sep 2006
Jamie Lyons, lead singer of Music Explosion, died of a heart attack at the age of 57. The band scored the garage-band classic 'Little Bit o' Soul', which spent 16 weeks on the Billboard Pop chart in 1967, peaking at #2.
27 Sep 2004
Legendary record producer Phil Spector was formally charged with murder in the February 3rd, 2003 shooting of actress Lana Clarkson. He was convicted in April, 2009 and sentenced to 19 years to life in the California State prison system.
27 Sep 2003
Kylie Minogue
called in police to investigate a series of threatening letters. The singer became concerned after receiving 700 letters at her home and office. The letters started as ordinary fan mail but became increasingly aggressive.
27 Sep 2000
Thieves broke into Jerry Hall's Richmond home and stole jewellery worth £7000 and a laptop computer. Two of Jerry's children were asleep at the time while the ex Mrs Jagger was on stage appearing in the West End Show, The Graduate.
27 Sep 1998
The Manic Street Preachers scored their first UK No.1 album with their fifth album 'This Is My Truth Tell Me Yours'.
27 Sep 1990
Dee Dee Ramone of the
Ramones
was arrested for possessing marijuana during a drug bust in New York's Greenwich Village.
27 Sep 1986
The Beatles
track 'Twist and Shout' re-entered the US singles chart over twenty-five years after it first appeared, after the song was featured in the film Ferris Bueller's Day Off.
27 Sep 1986
Metallica
bass player
Cliff Burton
was crushed to death after the bands tour bus crashed between Stockholm and Copenhagen. During a European tour members from the band drew cards for the most comfortable bunk on the tour bus, Burton had won the game with an Ace of Spades and was asleep when the tour bus ran over a patch of black ice and skidded off of the road. He was thrown through the window of the bus, which fell on top of him.
27 Sep 1980
David Bowie
scored his fourth UK No.1 album with his fourteenth studio album Scary Monsters (And Supercreeps). The album's lead single, 'Ashes to Ashes', revisited the character of Major Tom from 'Space Oddity' and was promoted with an inventive music video, at the time the most expensive music video ever made.
27 Sep 1979
Scottish guitarist Jimmy McCullough died from a heroin overdose in his flat in Maida Vale, London, aged 26. Member of Stone The Crows, Thunderclap Newman and Wings (1974 to 1977). When 'Something in the Air' by Thunderclap Newman went to No.1 in 1969, it made McCulloch the youngest guitarist to ever play on a UK No.1 single, as he was was just sixteen years old at the time.
27 Sep 1978
Eric Clapton
sponsored a West Bromwich Albion UEFA cup-tie against Galatasarey of Turkey. After the game, Eric presented each player with a gold copy of his latest album 'Slowhand''
27 Sep 1972
Rory Storm singer from UK 60s group Rory Storm and the Hurricanes died aged 32 after taking an overdose of sleeping pills in a suicide pact with his mother.
Ringo Starr
played drums with Storm before joining
The Beatles
.
27 Sep 1968
Pink Floyd
appeared at the Queen's Hall in Dunoon, Scotland. Due to bad weather, all the ferries to Dunoon were cancelled, so Pink Floyd hired their own boat from Gourock and risked the rough seas to make the crossing, eventually appearing in front of 400 fans.
27 Sep 1967
Working on new songs
The Beatles
recorded various parts for the new
John Lennon
song
'I Am The Walrus'
and the new
Paul McCartney
song 'Fool On The Hill.' Lennon received a letter from a pupil at Quarry Bank High School, that mentioned an English teacher was making his class analyse Beatles' lyrics. Lennon, amused that a teacher was putting so much effort into understanding the Beatles' lyrics, decided to write in his next song the most confusing lyrics that he could.
27 Sep 1964
The Beach Boys
made their TV debut on 'The Ed Sullivan Show' on US TV where they performed their first US No.1 single 'I Get Around' and 'Wendy'.
Born on this day in music
27 Sep 1984
Avril Lavigne, Canadian singer, (2002 US & UK No.3 single 'Complicated', 2002 US No.2 & UK No.1 album 'Let Go', 2007 worldwide No.1 single 'Girlfriend'). Lavigne is the youngest female to top the charts aged 17 years and 3 months.
27 Sep 1982
Lil Wayne, (Dwayne Michael Carter, Jr.), US rapper, member of the Hot Boys, 2004 US No.5 solo album Tha Carter.
27 Sep 1978
Bradley Kirk Arnold, singer, 3 Doors Down. (2003 US No.4 single 'When I'm Gone', 2005 US No.1 album 'Seventeen Days').
27 Sep 1975
Lee Brennan, vocals, 911, (1998 UK No.2 single 'More Than A Woman').
27 Sep 1970
Mark Calderon, from American R&B group Color Me Badd who had the 1991 UK No.1 single 'I Wanna Sex You Up', and the 1991 US No.1 single 'I Adore Mi Amor'.
27 Sep 1966
Stephan Jenkins, Third Eye Blind, (1997 US No.4 & UK No. 33 single 'Semi-Charmed Life').
27 Sep 1958
Shaun Cassidy, singer, actor, (1977 US No.1 single 'Da Doo Ron Ron', Shaun is the half brother of David Cassidy).
27 Sep 1953
Greg Ham, Men At Work, (1983 UK and US No.1 single 'Down Under').
27 Sep 1953
American bass guitarist and record producer Robbie Shakespeare. He is best known as one half of the reggae rhythm section and production duo Sly and Robbie, with drummer Sly Dunbar. Regarded as one of the most influential reggae bassists, Shakespeare's work extended beyond the reggae genre, covering various pop and rock artists such as
Mick Jagger
,
Bob Dylan
, Jackson Browne, Cyndi Lauper, Joe Cocker, Yoko Ono, Serge Gainsbourg, and Grace Jones. He died on 8 December 2021 age 68.
27 Sep 1950
English singer, songwriter and musician Linda Lewis. As well as a solo career Lewis also provided backing vocals for other artists, including David Bowie, Al Kooper, Cat Stevens, Rick Wakeman, Rod Stewart, Joan Armatrading and Jamiroquai. She died on 3 May 2023 age 72.
27 Sep 1948
Russ Kunkel, American drummer and producer who has worked as a session musician with many popular artists, including Jackson Browne, Joni Mitchell, Jimmy Buffett,
Neil Dimond
,
Bob Dylan
,
Carol King
,
Stevie Nicks
, Linda Ronstadt, Bob Seger, Carly Simon and
Stephen Stills
.
27 Sep 1947
Barbara Dickson, singer, actress, 1985 UK No.1 single with Elaine Paige, 'I Know Him So Well').
27 Sep 1947
American musician, singer, songwriter, record producer, and actor Meat Loaf (Marvin Lee Aday). His record breaking 1978 album
Bat Out Of Hell
spent 457 weeks on the UK album chart. His Bat Out of Hell trilogy of albums (consisting of Bat Out of Hell, Bat Out of Hell II: Back into Hell, and Bat Out of Hell III: The Monster Is Loose) has sold more than 50 million copies worldwide. Meat Loaf has also appeared in over 50 movies and television shows. He died on 20 January 2022 aged 74.
27 Sep 1944
Shane Fenton, (Alvin Stardust), UK singer, 1974 UK No.1 single 'Jealous Mind', plus 10 other UK Top 40 singles). Stardust died on 23 October 2014
27 Sep 1943
Randy Bachman, lead guitarist, songwriter from Canadian rock band Guess Who who had the 1970 US No.1 & UK No.19 single 'American Woman'. He later formed Bachman Turner Overdrive who had the 1974 US No.1 & UK No.2 single 'You Ain't Seen Nothing Yet'.