September 28th: The Biggest Music Headlines
Scroll down the page to see all the music headlines, stories and events for September 28 throughout music history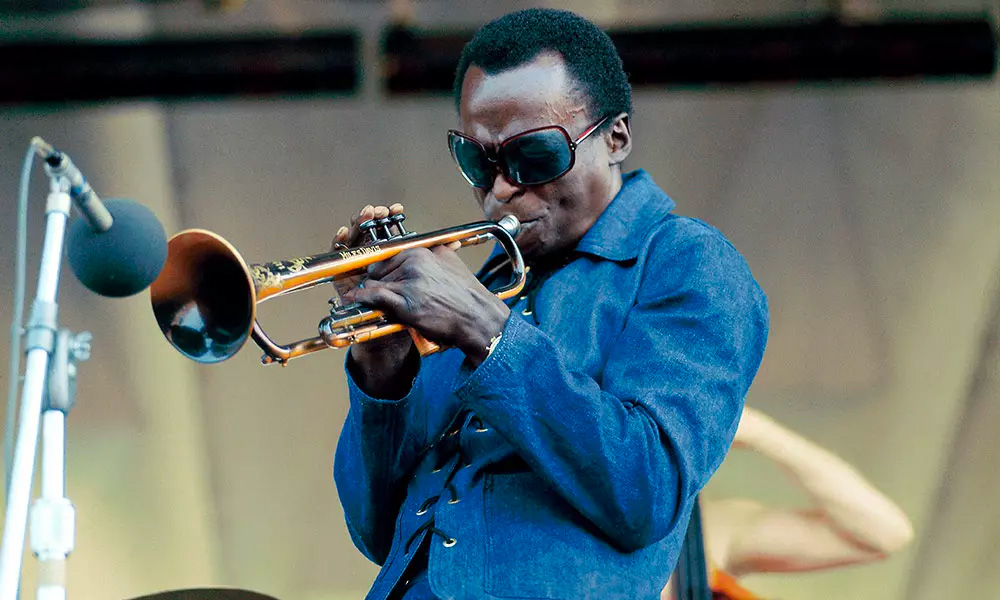 Jazz Fans Mourn The Loss Of Pioneering Artist, Miles Davis
On September 28, 1991, jazz icon Miles Davis died at the age of 65. Throughout his wildly prolific, five-decade-long career, the revolutionary jazz composer, trumpeter, and bandleader pioneered a number of jazz subgenres, including hard bop, jazz-fusion, free jazz, and more. In addition to releasing the most popular jazz album of all time (1959's Kind of Blue), Davis' lengthy discography includes such groundbreaking titles as Birth of the Cool (1957), Sketches of Spain (1960), and Bitches Brew (1970). After launching his career in Charlie Parker's band, Davis played in a variety of settings, including his famous quintets, and worked alongside the likes of John Coltrane, Herbie Hancock, and Wayne Shorter. Revered by Rolling Stone as "one of the most important musicians of the 20th century," Davis won eight Grammy Awards and received thirty-two nominations during his career, while in 2006, he was posthumously inducted into the Rock and Roll Hall of Fame.
In 1976, Stevie Wonder released his eighteenth studio album, Songs in the Key of Life. Considered to be one of his greatest masterpieces, the double LP featured such hits as "Isn't She Lovely," "I Wish," and "Sir Duke." The album debuted at No.1, where it spent 13 consecutive weeks, and won a Grammy for Album of the Year. It has since been added to the Library of Congress's National Recording Registry.
In 1991, Guns N' Roses released two albums: Use Your Illusion I and Use Your Illusion II which debuted at No.2 and No.1, respectively, on both the US and UK album charts. The ambitious rollout included such singles as "November Rain," a cover of Wings' "Live and Let Die" (both Use Your Illusion I), plus "You Could Be Mine," and a cover of Bob Dylan's "Knockin' on Heaven's Door" (Use Your Illusion II).
In 1972, Motown Records released The Temptations' version of "Papa Was a Rollin' Stone" (originally recorded months earlier by labelmates the Undisputed Truth). The track was a massive hit for the group, landing at the top of the Billboard Hot 100 and earning three Grammy Awards the following year.
In 1991, Ontario-born singer-songwriter Bryan Adams was awarded the Order of Canada and the Order of British Columbia, which represent the second-highest merit and the highest merit, respectively, that can be earned by a civilian.
Looking for more things that happened on this day in music?
Keep scrolling for all of the headlines for September 28.
BORN ON SEPTEMBER 28:
1902: Ed Sullivan (TV host)
1938: Ben E. King
1943: Nick Nicholas (Steppenwolf)
1950: Paul Burgess (10cc)
1977: Young Jeezy
1982: Annie Clark (St. Vincent)
1987: Hilary Duff
Looking for more artists born on this day?
Keep scrolling for all of our September 28 birthdays.
---
What to find another day?
---
September 28th
28 Sep 2022
A Barcelona court ordered Shakira to stand trial for six alleged tax crimes, for allegations of tax fraud amounting to €14.5m (£12.9m). Spanish prosecutors said they wanted to jail the superstar for eight years and fine her €23.8m if she was found guilty. At the centre of this row was Shakira's residency status between 2012 and 2014, when prosecutors alleged that she was living in Spain but listing her official residence elsewhere.
28 Sep 2021
British pop singer Barry Ryan died after complications from a lung disorder age 72. As half of Paul & Barry Ryan he scored eight Top 50 singles in the UK and later had the solo hit, 'Eloise', which reached No.2 on the UK Singles Chart in 1968.
28 Sep 2019
Metallica
cancelled their forthcoming tour to allow frontman James Hetfield to enter rehab. In a statement band members Lars Ulrich, Kirk Hammett and Robert Trujillo said: "As most of you probably know, our brother James has been struggling with addiction on and off for many years. He has now, unfortunately, had to re-enter a treatment program to work on his recovery again". In a separate statement, Metallica pledged to refund all tickets sold for their WorldWired tour, which was scheduled to begin 17 October in Perth, Australia.
28 Sep 2015
American rock and roll and rhythm and blues singer Frankie Ford, whose 1959 hit 'Sea Cruise' reached No.14 on the Billboard Hot 100, died of natural causes at the age of 76.
28 Sep 2010
Souvenir hunters were being condemned for "wanton vandalism" after sections of masonry were hacked off the house of
Ringo Starr
's birthplace. Fans who were campaigning to halt town hall plans to demolish 9 Madryn Street, found that chunks of brickwork had been removed from the house.
28 Sep 2009
Lucy Vodden, the childhood pal of
John Lennon
's son Julian, passed away at the age of 46 after losing her battle with auto-immune disease lupus. She was the inspiration for
The Beatles
track 'Lucy in the Sky With Diamonds', written mostly by John after Julian showed his father a nursery school drawing he called Lucy - in the sky with diamonds, depicting his classmate.
28 Sep 2009
Adam Goldstein (DJ AM.), American club DJ and musician died of an accidental drug overdose at home in New York City aged 36. Had worked with Blink 182, Crazy Town and
Madonna
Goldstein had survived a plane crash along with Blink 182 drummer Travis Barker in September 2008.
28 Sep 2007
Michael Jackson
's spokeswoman, Raymone Bain, denied that the Pop star had married his children's nanny, Grace Rwaramba. A statement issued to the press read: "Wide-spreading reports regarding Michael Jackson being married are not true. Documents stating otherwise are a hoax." Jackson had already been married twice and had three children, Prince Michael I, Paris and Prince Michael II.
28 Sep 2007
The
John Lennon
Northern Lights Festival was held in Durness, Scotland, the most northwesterly and remote village on mainland Britain. Lennon spent his childhood holidays between the ages of nine and 13 in the village and returned with his son Julian, Yoko Ono and her daughter Kyoko in 1969.
28 Sep 2007
An ad for P Diddy's Unforgivable Woman perfume range, featuring a lingerie-clad model cavorting with the rapper in a New York hotel stairwell, was shown on Channel 4 in the UK. The ad had been banned in the US by the Federal Communications Commission, for being too sexually explicit for US audiences.
28 Sep 2002
Madonna
was voted the greatest female singer of all-time by 75,0000 music fans in a VH1 poll. But critics and music fans were unhappy with the position of
Kylie Minogue
who was voted into second place beating Diana Ross, (12th) and Annie Lennox, (14th). The highest placed UK act was
Kate Bush
who was voted No. 10.
28 Sep 2002
Tina Turner's hometown, made famous in her song 'Nutbush City Limits,' named a stretch of State Highway 19 the 'Tina Turner Highway.' Turner lived in Nutbush, a small town about 50 miles northeast of Memphis, until she was 17.
28 Sep 1995
American singer Allen Johnson died of cancer age 55. He was a member of The Marcels who scored the 1961 US and UK No.1 with a doo-wop cover of the ballad 'Blue Moon' that began with the bass singer singing, "bomp-baba-bomp-ba-bomp-ba-bomp-bomp... vedanga-dang-dang-vadinga-dong-ding...". The record sold over one million copies and was awarded a gold disc.
28 Sep 1991
American jazz trumpeter, bandleader, and composer Miles Davis died of a stroke and pneumonia. His 1959 album 'Kind of Blue', is a major influence on jazz music. Davis is considered one of the most influential musicians of the 20th century.
28 Sep 1991
Bryan Adams
was awarded the Order of Canada and the Order of British Columbia. Other Canadian musicians who have been given the award include
Bryan Adams
, Leonard Cohen and the members of Rush.
28 Sep 1991
Garth Brooks went to No.1 on the US album chart with 'Ropin' The Wind'. The album spent a total of eighteen weeks at the No.1 position and 70 weeks on the chart selling over 11m copies.
28 Sep 1991
Guns N' Roses released two albums 'Use Your Illusion I' and 'Use Your Illusion II' which debut at number 1 and number 2 on the UK album chart. Both albums make No.1 & No.2 in the US.
28 Sep 1991
On the week of their album
Nevermind
being released,
Nirvana
made an appearance at the Tower Records store in New York City and then played a show at The Marquee Club in New York. Their single '
Smells Like Teen Spirit
' had also entered the US Top 20 this week.
28 Sep 1985
Kate Bush
scored her second UK No.1 album with 'Hounds Of Love'. The singers second No.1 album featured the tracks 'Running Up That Hill', 'Cloudbusting', 'Hounds of Love' and 'The Big Sky'.
28 Sep 1980
The Police
were at No.1 on the UK singles chart with 'Don't Stand So Close To Me' the group's third No.1. Taken from their album 'Zenyatta Mondatta' and the best selling single of 1980.
28 Sep 1976
Stevie Wonder
released his eighteenth studio album Songs in the Key of Life, an ambitious double LP with a four-song bonus EP. It debuted at No.1 on the Billboard Chart on October 8, 1976, becoming only the third album in history to achieve that feat and the first by an American artist.
28 Sep 1976
A&M Records sued
George Harrison
for $6 million over non-delivery of a new album after he missed the deadline by two months.
28 Sep 1974
Bad Company went to No.1 on the US album chart with their self-titled debut album. Paul Rodgers and Simon Kirke had come out of
Free
while Mick Ralphs had played guitar with
Mott The Hoople
and Boz Burrell was bass player for King Crimson before the group formed in 1973. They produced six albums together before disbanding in 1983.
28 Sep 1974
Canadian singer Andy Kim went to No.1 on the US singles chart with 'Rock Me Gently', it made No.2 in the UK. Kim was the co-writer of The Archies
Sugar Sugar
.
28 Sep 1972
Motown
Records released The Temptations version of 'Papa Was a Rollin' Stone'. Written by Norman Whitfield and Barrett Strong in 1971, The Temptations version was a No.1 hit on the Billboard Hot 100 and won three Grammy Awards in 1973. The song had originally been recorded by Motown recording act The Undisputed Truth.
28 Sep 1968
American radio DJ Dewey Phillips died of heart failure aged 42. He was one of rock 'n' roll's pioneering disk jockeys. In July 1954, he was the first DJ to play the young
Elvis Presley
's debut record, 'That's All Right/Blue Moon Of Kentucky.'
28 Sep 1968
Bruce Springsteen
and a local folk rock group The Founders appeared at the Off Broad Street Coffee House in Red Bank, New Jersey.
28 Sep 1968
The Beatles
started a nine week run at No.1 on the US singles chart with
'Hey Jude'
. The
Paul McCartney
song written about
John Lennon
's son Julian gave the group their 16th US No.1 and the biggest selling single of 1968. In 1996, Julian paid £25,000 for the recording notes to the song at an auction.
28 Sep 1965
The
Rolling Stones
played the first of two nights at the Capitol Theatre, Cardiff, Wales. During the 1960s The Capitol Theatre saw all the major acts of the era performing here including
The Beatles
and
The Kinks
.
Born on this day in music
28 Sep 1987
US singer, actress, Hilary Duff, star of Lizzie McGuire TV show. She had the 2003 US No.1 album 'Metamorphosis' and 2005 US No.1 album 'Most Wanted'.
28 Sep 1984
Melody Thornton, singer, The Pussycat Dolls, (2005, US No.2 & UK No.1 with their debut single 'Don't Cha' featuring Busta Rhymes). The Pussycat Dolls became only the fourth ever girl band to enter the UK charts at No.1 with their debut single. (The other's being the
Spice Girls
, B*Witched and Girls Aloud).
28 Sep 1982
American musician, singer, songwriter, Annie Clark, known as St. Vincent. She began her music career as a member of the Polyphonic Spree. In 2012, she released Love This Giant, an album made in collaboration with David Byrne. She won a Grammy Award for Best Alternative Music Album with Daddy's Home in 2022.
28 Sep 1977
US rapper, Young Jeezy, (Jay Jenkins) who had the 2006 US No.1 album 'The Inspiration'. Jeezy is credited, along with fellow Atlanta-based rappers T.I. and Gucci Mane, for helping to pioneer and popularize trap music with a mainstream audience.
28 Sep 1966
Kenny Wilson, (Ginger Fish), drummer with American rock band Marilyn Manson who had the 1998 US No.1 album, Mechanical Animals.
28 Sep 1962
Peter Hooton, vocalist of Liverpool-based group The Farm who had the 1990 UK No.4 single 'All Together Now'.
28 Sep 1960
Jennifer Rush, singer, (1985 UK No.1 single 'The Power Of Love').
28 Sep 1953
Jim Diamond, singer, songwriter, (solo UK No.1 single 'I Should Have Know Better'), PHD, (1982 UK No.3 single 'I Won't Let You Down'). He died on 8 October 2015.
28 Sep 1952
Andy Ward from British rock band Marillion who had the 1985 UK No.2 single 'Kayleigh'. The band achieved eight Top Ten UK albums between 1983 and 1994, including a No.1 album in 1985 with Misplaced Childhood.
28 Sep 1950
Paul Burgess, drums, 10cc, (1975 UK No.1 & US No.2 single 'I'm Not In Love', plus 10 other UK Top 30 hits including two No.1's).
28 Sep 1948
Danny Weis, American guitarist, best known as a founding member of both
Iron Butterfly
and Rhinoceros, as well as co-writer of Rhinoceros's only charting single, Apricot Brandy. He was also a member of The Rascals and played lead guitar on Lou Reed's Sally Can't Dance album.
28 Sep 1947
Peter Hope Evans, Medicine Head, (1973 UK No.3 single 'One And One Is One').
28 Sep 1946
Helen Shapiro, UK Singer, (1961 UK No.1 single 'Walking Back To Happiness').
28 Sep 1943
Nick Nicholas, from Canadian-American rock band Steppenwolf who had the 1969 US No.2 hit single 'Born To Be Wild' which is sometimes described as the first heavy metal song.
28 Sep 1938
Ben E King, (Benjmin Earl Nelson), soul and R&B singer with The Drifters who had the 1960 US No.1 & UK No.2 single 'Save The Last Dance For Me', and the 1987 UK No.1 solo single 'Stand By Me', (first released in 1961). King died at the Hackensack University Medical Center on April 30, 2015, at the age of 76.
28 Sep 1902
Ed Sullivan, TV host, The Ed Sullivan Singers and Orchestra. Introduced
The Beatles
and other UK acts to America via his Ed Sullivan TV show.
The Beatles
appearance on February 9th 1964 is considered a milestone in American pop culture; the broadcast drew an estimated 73 million viewers. Sullivan died on 13th October 1974.