September 29th: The Biggest Music Headlines
Scroll down the page to see all the music headlines, stories and events for September 29 throughout music history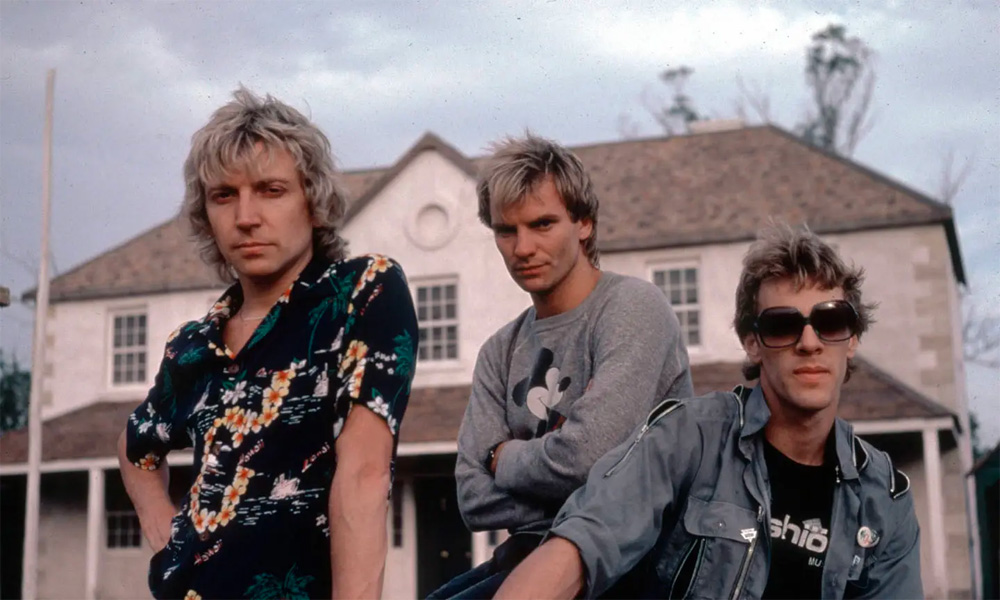 The Police Score Their First No.1
On September 291979, The Police scored their first No.1 hit in the UK with "Message In A Bottle." The song also topped the charts in Ireland and reached No. 5 in Australia, but despite its popularity in England and Ireland, "Message In A Bottle" puzzlingly stalled in the US, topping out at No.74. Later, however, it would go on to become one of the most celebrated songs in the band's sterling discography.
In 2018, Blues Hall of Famer Otis Rush died at 84. The legendary guitarist, singer, songwriter, and famous lefty was known for his distinctive guitar playing, as heard in such hits as "I Can't Quit You Baby," "Double Trouble," and "All Your Love (I Miss Loving)."
In 1956, early rock'n'roll star Bill Haley celebrated five hit singles in the UK Top 30, including "Rock Around the Clock," "See You Later Alligator," and "Hot Dog Buddy Buddy," which led at No.4.
In 1984, Prince and the Revolution began a two-week run at the top of the US Pop chart with "Let's Go Crazy." The track became Prince's second No.1 hit on the Billboard Hot 100, while also topping the Hot R&B/Hip-Hop Songs and Hot Dance Club Play charts, proving the song's versatility.
In 1973, Grand Funk Railroad soared to No.1 on the Billboard Hot 100 with "We're An American Band." The song marked the group's first of two US chart toppers – the other being "The Loco-Motion."
Looking for more things that happened on this day in music?
Keep scrolling for all of the headlines for September 29.
BORN ON SEPTEMBER 29:
1907: Gene Autry
1930: Billy Strange (Wrecking Crew)
1935: Jerry Lee Lewis
1948: Mark Farner (Grand Funk Railroad)
1958: Mick Harvey (Nick Cave & The Bad Seeds)
1967: Brett Anderson (Suede)
1987: Joshua Farro (Paramore)
1994: Halsey
Looking for more artists born on this day?
Keep scrolling for all of our September 29 birthdays.
---
What to find another day?
---
September 29th
29 Sep 2020
American country music singer, songwriter, and actor Mac Davis died age 78. During his early career he wrote for
Elvis Presley
, providing him with the hits 'Memories", "In the Ghetto', 'Don't Cry Daddy', and 'A Little Less Conversation'. A subsequent solo career in the 1970s produced hits such as 'Baby, Don't Get Hooked on Me'. Davis also starred in his own variety show, a Broadway musical, and various films and TV shows.
29 Sep 2020
Australian-American singer, songwriter Helen Reddy died age 78. During the 1970s she placed 15 singles on the top 40 of the Billboard Hot 100. Six made the top 10 and three reached number one, including her signature hit 'I Am Woman'.
29 Sep 2019
American songwriter, record producer, publisher, record label executive, Michael James Ryan Busbee (known professionally as busbee), died from a form of brain cancer age 43. Busbee has written for and co-written with a broad range of artists including Gwen Stefani,
Pink
, Shakira, Keith Urban, Florida Georgia Line and Lady Antebellum.
29 Sep 2018
American blues guitarist and singer-songwriter Otis Rush died from complications of a stroke aged 84. His distinctive guitar style featured a slow-burning sound and long bent notes. His first single, 'I Can't Quit You Baby', in 1956 reached No.6 on the Billboard R&B chart. Two of his other best-known songs, are 'Double Trouble' and 'All Your Love (I Miss Loving).'
29 Sep 2015
The original contract signed by
The Beatles
and manager Brian Epstein sold at Sotheby's for £365,000, ($548.000). The 1962 document was said to be one of the most important contracts in popular music, marking the beginning of the band's journey to international fame.
29 Sep 2012
The UK press reported that there really was a girl who works down the chip shop and swears she's Elvis' daughter, after Lisa Marie Presley was spotted serving up deep-fried treats on a mobile motor called Mr Chippy. The 44-year-old, offspring of Elvis and actress Priscilla, donned an apron and cooked battered cod for the locals. Kim Scales, who owned the business, said: "Lisa Marie likes to see how we live and experience British life. We were laughing because the customers didn't know who she was. She really enjoyed it." The singer, had moved to the quaint village of Rotherfield, East Sussex, two years ago from Los Angeles.
29 Sep 2004
Keith Moon
's five-piece drum kit, custom-made for
The Who
drummer in 1968, sold for £120,000 pounds ($215,772) in London to an American collector, setting a world auction record for a set of drums.
29 Sep 2004
The Sun reported that
Michael Jackson
had a secret fourth child who was now 19. The story claimed that Norwegian Omar Bhatti was born after a one night stand and had stayed with Jackson at his Neverland home in California.
29 Sep 1999
The Manic Street Preachers were given a bill for £28.000 after smashing up equipment during their show at Scotland's T In The Park festival.
29 Sep 1992
American singer, songwriter Paul Jabara died from lymphoma related to AIDS at the age of 44. He wrote Donna Summer's Oscar and Grammy Award-winning hit 'Last Dance' and Barbra Streisand's 'The Main Event/Fight' and co-wrote the Weather Girls hit, 'It's Raining Men' with Paul Shaffer.
29 Sep 1990
Maria McKee was at No.1 on the UK singles chart with 'Show Me Heaven' the song featured in the Tom Cruise film 'Days Of Thunder'.
29 Sep 1989
While travelling on his motorbike from Los Angeles,
Bruce Springsteen
called in at Matt's Saloon in Prescott, Arizona and jammed with the house band. Bruce played a bunch of rock and roll classics, including
Elvis Presley
's 'Don't Be Cruel,' and
Chuck Berry
's 'Sweet Little Sixteen' and 'Route 66.' Bruce also donated $100,000 to a barmaid's hospital bill.
29 Sep 1987
Pink Floyd
's thirteenth studio album A Momentary Lapse Of Reason was on the UK chart. The shoot for the album cover involved dragging 800 hospital beds onto Saunton Sands in Devon, but rain interrupted the session and they had to repeat the exercise two weeks later. A hang glider can be seen in the sky, a possible reference to the track 'Learning to Fly'. Photographer Robert Dowling won a gold award at the Association of Photographers' Awards for the image, which took about two weeks to create.
29 Sep 1984
Prince
and the Revolution started a two week run at No.1 on the US singles chart with 'Let's Go Crazy', his second US No.1, and a No.7 hit in the UK. It was the opening track on both the album and the film Purple Rain.
29 Sep 1979
The Police
had their first UK No.1 single with 'Message In A Bottle' the group's third Top 20 hit. The song was released as the first single from Reggatta de Blanc and also topped the charts in Ireland and reached No.5 in Australia. Despite its popularity in the UK, the single only reached No.74 in the United States.
29 Sep 1976
Enjoying his own birthday celebrations singer Jerry Lee Lewis accidentally shot his bass player Norman Owens in the chest. Lewis had been blasting holes in an office door. Owens survived but sued his boss.
29 Sep 1973
Grand Funk Railroad went to No.1 on the US singles chart with 'We're An American Band', the group's first of two US chart toppers.
29 Sep 1971
On the last night of their first ever Japanese tour
Led Zeppelin
appeared at Osaka Festival Hall. Near the end of the set the group played a medley of songs during an extended version of 'Whole Lotta Love', including 'Let That Boy Boogie', 'I Gotta Know', 'Twist and Shout', 'Fortune Teller', 'Good Times Bad Times' and 'You Shook Me'.
29 Sep 1967
Working at Abbey Road in London,
The Beatles
mixed the new
John Lennon
song
'I Am The Walrus'
, which included the sound of a radio being tuned through numerous stations, coming to rest on a BBC production of William Shakespeare's "King Lear". Lennon composed the song by combining three songs he had been working on. When he learned that a teacher at his old primary school was having his students analyse Beatles' lyrics, he added a verse of nonsense words.
29 Sep 1961
Robert Shelton, wrote a glowing review of
Bob Dylan
's support slot at Gerde's Folk City in the New York Times, calling him 'One of the most distinctive stylists to play Manhattan in months'. On the same day Dylan played harmonica at a recording session produced by John Hammond.
29 Sep 1960
Ricky Valance was at No.1 on the UK singles chart with 'Tell Laura I Love Her', making him the first Welsh singer to top the charts, and a One-hit Wonder.
29 Sep 1959
Berry Gordy
's third release on the newly established
Motown
Records, 'Bad Girl' by The Miracles, entered the Billboard Pop chart.
29 Sep 1956
Bill Haley
had five songs in the UK Top 30; 'Rockin Through The Rye', 'Saints Rock n' Roll', 'Rock Around the Clock', 'Razzle Dazzle', and 'See You Later Alligator'.
Born on this day in music
29 Sep 1994
American singer and songwriter Ashley Nicolette Frangipane known professionally as Halsey. Halsey achieved success with the release of 'Closer' (2016), a collaboration with The Chainsmokers. The song topped the charts in over 10 countries including the US and UK.
29 Sep 1987
Joshua Farro, guitarist, from American rock band Paramore, who had the 2009 UK No.1 album Brand New Eyes and their 2013 self-titled fourth studio album hit No.1 on the US chart.
29 Sep 1981
English actress, singer and television personality Suzanne Shaw who with Hear'Say had the 2001 UK No.1 single, 'Pure and Simple'.
29 Sep 1968
Twin brothers Matt and Luke Goss from English pop band Bros who had the 1988 UK No.1 single 'I Owe You Nothing' plus 10 other UK Top 40 singles.
29 Sep 1967
Brett Anderson, singer, songwriter from English alternative rock band Suede, who had the 1994 UK No.3 single 'Stay Together'. After Suede disbanded in 2003, he briefly fronted The Tears, and has released four solo albums.
29 Sep 1966
Tony Foster, English guitarist who worked with Julian Cope and Olive who scored the 1997 UK No.1 single 'You're Not Alone'.
29 Sep 1965
Ian Baker Keyboards with English group Jesus Jones who had the 1990 US No.2 hit with 'Right Here Right Now' and the 1991 UK No.7 single 'International Bright Young Thing'.
29 Sep 1958
Mick Harvey, from Australian rock band Nick Cave And The Bad Seeds who have released over 15 studio albums including the 2013 Australian No.1 Push the Sky Away.
29 Sep 1957
Mari Wilson, UK singer, (1982 UK No.8 single 'Just What I Always Wanted').
29 Sep 1948
Mark Farner, American singer, guitarist and songwriter, best known as the lead singer and lead guitarist for Grand Funk Railroad who had the US No.1 single with their version of 'The Loco-Motion' which was produced by Todd Rundgren. They were the most successful US Heavy Metal band of the 70s selling over 20m albums.
29 Sep 1948
Mike Pinera, Blues Image, (1970 US No.4 single, 'Ride Captain Ride').
29 Sep 1943
Manuel Fernandez, from Spanish beat group Los Bravos who had the 1966 UK No.2 & US No.4 single 'Black Is Black'. They were the first Spanish rock band to have a UK & US hit single.
29 Sep 1939
Tommy Boyce, singer, songwriter. 1968 US No 8 single with Bobby Hart, 'I Wonder What She's Doing Tonite'. Wrote 'Last Train To Clarksville', 'I'm Not Your Stepping Stone' and 'Scooby-Doo Where Are You.' Sold over 40m records. Boyce committed suicide on 23rd November 1994.
29 Sep 1937
Joe 'Guitar' Hughes, US blues guitarist, died May 20th 2003 aged 65. Worked with T-Bone Walker, B.B. King, Big Joe Turner.
29 Sep 1935
American singer and pianist, Jerry Lee Lewis, (often known by his nickname, The Killer). He had the 1958 UK No.1 & US No.1 single 'Great Balls Of Fire', and the 1957 multi million seller 'Whole Lotta Shakin' Goin' On'. Lewis made his first recordings in 1956 at Sun Records in Memphis. Lewis died on 28 October 2022 age 87.
29 Sep 1930
American singer, songwriter, guitarist Billy Strange who was a session musician with the famed Wrecking Crew. He appeared on hit songs for
Elvis Presley
, including 'A Little Less Conversation', Nancy and
Frank Sinatra
's 'Somethin' Stupid' and worked with The Ventures, Willie Nelson, The Everly Brothers, Wanda Jackson,
The Beach Boys
, Randy Newman, and Nat King Cole, among others. He died on February 22, 2012, aged 81.
29 Sep 1921
Franny Beecher who was the lead guitarist for
Bill Haley
& His Comets from 1954 to 1962. He died on February 24, 2014.
29 Sep 1907
Gene Autry, America's singing cowboy. During his career Autry scored 25 successive Top 10 Country hits. He died on 2nd October 1998 aged 91.