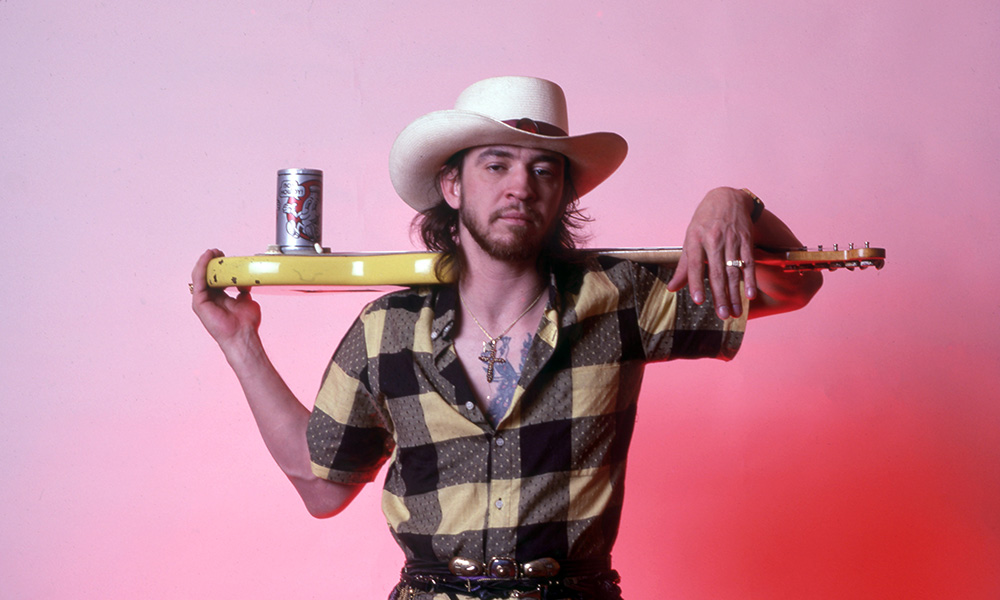 Before his untimely death in 1990, guitarist Stevie Ray Vaughan had become the leading figure in the blues-rock-revival he spearheaded in the mid-'80s. Vaughan drew equally from bluesmen like Albert King, Buddy Guy and Albert Collins as well as rock guitarists like Jimi Hendrix and Lonnie Mack, whose 1985 comeback, Strike Like Lightning, Vaughan would co-produce. In spite of a short-lived mainstream career spanning just seven years, he is widely considered one of the most influential electric guitarists in the history of blues music.
Born and raised in Dallas, Vaughan began playing guitar when he was just 7 years old, inspired by older brother Jimmie, (who later helped form the Fabulous Thunderbirds). By 12 he was playing in garage bands, and within a few years joined semi-professional bands that occasionally landed gigs in local nightclubs. At 17 he dropped out of high school to concentrate on playing music full time. By 1970 Stevie was playing in a nine-piece horn band and then formed his first blues band, Blackbird, a year later. Blackbird moved to Austin and after a few more stints in various bands, Vaughan joined Paul Ray and the Cobras in 1975, (who won Austin's Band of the Year in 1976).
Stevie then formed Triple Threat in 1977 which also featured bassist W.C. Clark and vocalist Lou Ann Barton. Barton left the band in 1979 and the group became Double Trouble, the name inspired by the Otis Rush song. Double Trouble featured Jack Newhouse on bass, Chris Layton on drums and Vaughan became the band's lead singer. In 1981 Tommy Shannon (a bassist who had played with Johnny Winter in the late '60s joined on bass and the blues-based power trio was set.
By 1982 the band's reputation was spreading and reached the Rolling Stones, who hired Double Trouble to perform at a private party in New York. That same year, veteran producer Jerry Wexler arranged for Vaughan's band to play the Montreux Jazz Festival, the first time an unsigned group had done so. David Bowie happened to see their performance and invited Vaughan to play on his next album. Vaughan's gritty guitar work became one of the unexpected highlights of Bowie's No.1 hit 'Let's Dance'.
Inspired musically by American and British blues-rock, he favored clean amplifiers with high volume and contributed to the popularity of vintage musical equipment. He often combined several different amplifiers together and used minimal effects pedals.
Vaughan received several music awards during his lifetime and posthumously. In 1983, readers of Guitar Player voted him as Best New Talent and Best Electric Blues Guitar Player. In 1984, the Blues Foundation named him Entertainer of the Year and Blues Instrumentalist of the Year, and in 1987, Performance Magazine honored him with Rhythm and Blues Act of the Year. Earning six Grammy Awards and ten Austin Music Awards, he was inducted into the Blues Hall of Fame in 2000, and the Musicians Hall of Fame in 2014. Rolling Stone ranked Vaughan as the twelfth greatest guitarist of all time.
Before the last song of the last show of a two-night stand at Alpine Valley Music Theatre, guitar legend Eric Clapton stepped up to the microphone. "I'd like to bring out to join me, in truth, the best guitar players in the entire world: Buddy Guy, Stevie Ray Vaughan, Robert Cray… Jimmie Vaughan." The band played an extended jam of the classic "Sweet Home Chicago," with 40,000 people soaking up blistering guitar licks as the performers traded vocals.
After the show, four helicopters were on site to take people to Chicago. According to interviews in Hopkins' book, Vaughan took the last remaining seat, eager to get to his hotel so he could call his girlfriend.
About 6:30 a.m. Aug. 27, the wreckage of the Bell JetRanger was found about three-fourths of the way up the northeast side of the ski hill, a half-mile from the lodge, with the debris scattered across 150 feet. The helicopter had lifted only about 100 feet off the ground and traveled about 3,000 feet before the crash.
Pilot Jeff Brown was experienced, with more than 5,000 hours of flight time, including 4,327 in a helicopter. But the National Transportation Safety Board report that followed in 1992 indicated the pilot didn't gain altitude quickly enough to clear the 150-foot ski hill.
After the crash, Vaughan's music quickly sold out in local record stores, according to the Sentinel, and two subsequent posthumous albums — "Family Style" with his older brother Jimmie in 1990, and studio outtakes collection "The Sky is Falling" in 1991 — debuted in the top 10 on the Billboard charts.
Important Dates In The Life Of Stevie Ray Vaughan:
2 Mar 2008
Canadian guitarist, singer, Jeff Healey, died of cancer. Healey lost his sight to retinoblastoma, a rare cancer of the eyes when he was 8 months old, resulting in his eyes being surgically removed. After living cancer-free for 38 years, he developed sarcoma in his legs. Despite surgery for this, the sarcoma spread to his lungs and ultimately was the cause of his death. Healey released over 12 albums, presented a long running radio show and worked with many artists incuding;
Stevie Ray Vaughan
, Buddy Guy, B.B. King, ZZ Top &
Eric Clapton
.
2 Mar 2007
Jimi Hendrix
was crowned the 'wildest guitar hero' of all-time in a poll of music fans for Classic Rock magazine. Hendrix beat
Keith Richards
into second place, with
Stevie Ray Vaughan
in third.
Led Zeppelin
's
Jimmy Page
made it to number four, followed by Dimebag Darrell, who played for several heavy metal bands including Pantera and Damageplan.
26 Aug 2003
3 Oct 1991
Texas governor Ann Richards proclaimed October 3,
Stevie Ray Vaughan
, (Stevie Ray Vaughan's birthday), to be "Stevie Ray Vaughan Day". An annual motorcycle ride and concert in Central Texas benefits the Stevie Ray Vaughan Memorial Scholarship Fund.
31 Aug 1990
Jackson Browne, Bonnie Raitt and
Stevie Wonder
sang 'Amazing Grace' at a memorial service held for guitarist
Stevie Ray Vaughan
who had been killed in a helicopter crash 4 days earlier.
27 Aug 1990
Stevie Ray Vaughan
was killed when the helicopter he was flying in, hit a man-made ski slope while trying to navigate through dense fog. Vaughan had played a show at Alpine Valley Music Theatre, East Troy, Wisconsin with Robert Cray & His Memphis Horns, and
Eric Clapton
. Vaughan was informed by a member of Clapton's crew that three seats were open on a helicopter returning to Chicago with Clapton's crew, it turned out there was only one seat left; Vaughan requested it from his brother, who obliged. Three members of
Eric Clapton
's entourage were also killed.
4 May 1989
Stevie Ray Vaughan
set out on what would be his last ever tour at the Orpheum Theatre, Vancouver, British Columbia. The guitarist was killed in a helicopter crash on 27th Aug 1990 after a concert at Alpine Valley Music Theater in Wisconsin, after playing 107 of the 110 dates.
10 Jul 1987
22 Nov 1986
Stevie Ray Vaughan
and Double Trouble kicked off a 149-date North American and European tour at the Towson Center in Towson, Maryland.
21 May 1983
David Bowie
went to No.1 on the US singles chart with 'Let's Dance', featuring blues guitarist
Stevie Ray Vaughan
. It was Bowie's first single to reach number one on both sides of the Atlantic. The music video was made by David Mallet on location in Australia including a bar in Carinda in New South Wales, featured Bowie playing with his band while impassively watching an Aboriginal couple's struggles against metaphors of Western cultural imperialism.
9 Apr 1983
David Bowie
was at No.1 on the UK singles chart with the title track from his latest album 'Let's Dance', his fourth UK No.1 and featuring blues guitarist
Stevie Ray Vaughan
. The song introduced Bowie to a new, younger audience oblivious to his former career in the 1970s and was a US No.1 hit, Bowie's first single to reach number one on both sides of the Atlantic.
30 Jan 1982
Blues singer, songwriter, guitarist Sam Lightnin' Hopkins died of cancer aged 70. In 1968, Hopkins recorded the album Free Form Patterns, backed by the rhythm section of the psychedelic rock band 13th Floor Elevators. Hopkins influenced
Bob Dylan
,
Stevie Ray Vaughan
and
Jimi Hendrix
.
R.E.M.
recorded a song named after him on their Document album.
24 May 1963