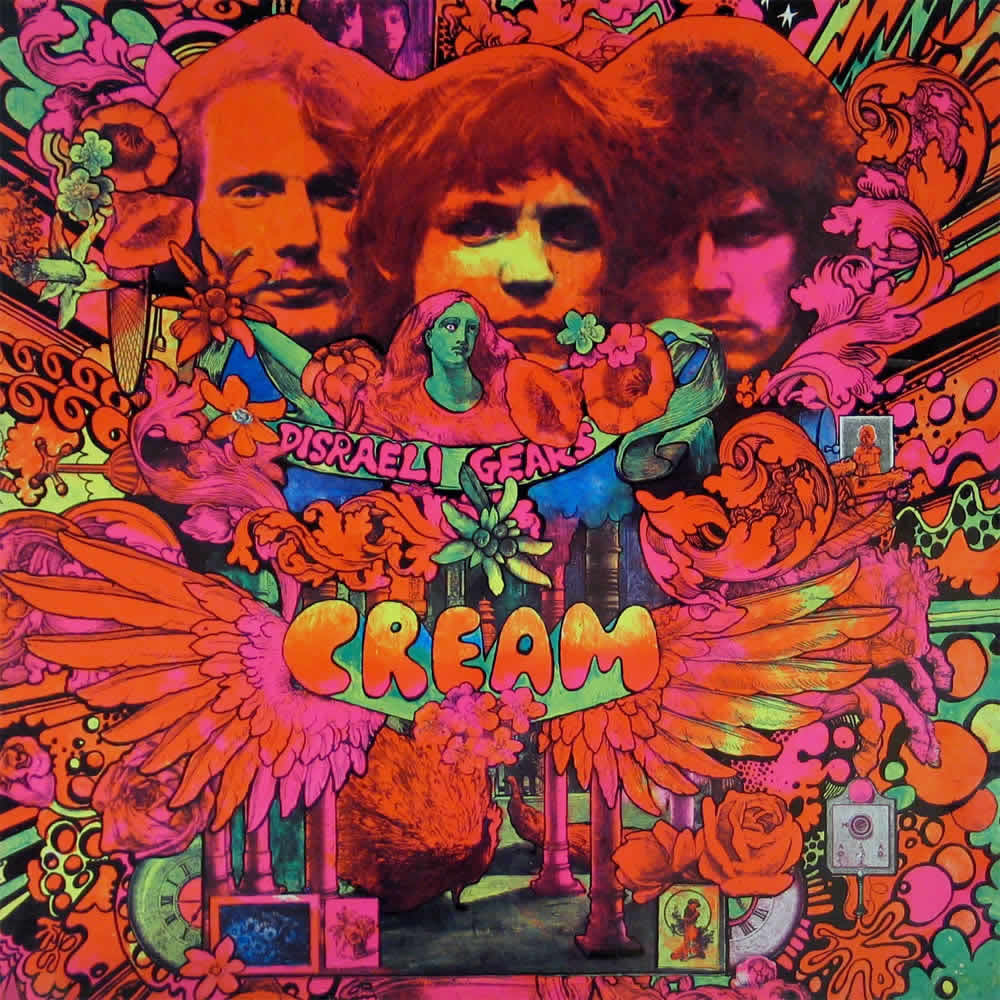 When the dust had settled, it became clear that Cream's debut album, Fresh Cream, released in December 1966, had been a solid Top 10 UK success rather than a phenomenon. Had that album had anyone else's name on it, it would have been deemed a massive achievement, but, given the pedigrees of Eric Clapton (guitar/vocals), Jack Bruce (bass/vocals) and Ginger Baker (drums), it seemed that nothing less than a masterpiece would do. Fresh Cream, some observers said, had too many covers on it and too little punch.
It was an opinion shared by Cream's US label, Atco (a subsidiary of Atlantic Records), who pushed the group to record their second album at Atlantic's New York studios, then situated at 1841 Broadway, on the corner of 60th Street. The album was recorded very quickly, in between the heavy commitment to tour dates which was Cream's constant story, and one which probably contributed to the band's early demise.
1967 had kicked off with Cream undertaking a gruelling UK tour plus an appearance on BBC TV's Top Of The Pops programme. After three months of virtually non-stop dates, Cream flew on March 22nd to New York, where between March 25th & April 2nd they guested on the Murray The K show, alongside a stellar line-up, with, amongst others, The Who, Wilson Pickett and Simon & Garfunkel, but playing only one to two songs a day. Its importance for Cream was that it introduced them to the New York music cognoscenti, who spread the word, especially after many late night jams in the city.
Cream had expected to do some recording in New York, and Atlantic boss Ahmet Ertegun did agree to a couple of days in the studio to record a single. Ertegun wanted a blues track, so they duly laid down a version of the traditional Lawdy Mama – a traditional 12-bar number, which was in their live set – with Eric Clapton singing lead. Ertegun was producing, but the session was visited by a young producer, Felix Pappalardi, who offered to do some work on the track. The next day he returned with a new melody, plus lyrics created by his wife, Gail Collins, over the top of the basic track. 'Felix turned it into a McCartney-esque pop song,' recalled Clapton, who reluctantly agreed to play on the track when it was decided that he could add a blues guitar solo. 'That was like an unspoken deal. If I gave in and played on this pop song, I could play an Albert King guitar solo.' Clapton completed the track, now titled Strange Brew, but the former bass part remained, much to Jack Bruce's continuing annoyance, since there are places where it doesn't quite fit the new guitar parts.
Having used up their allotted time, the band then returned to Britain where they began to work up the material for their next album, often in the small hours after gigs.
Cream returned to New York on 8th May and entered the studios on the 11th. The engineer was Tom Dowd, a seasoned veteran, the first person to record in stereo and a pioneer of multi-track recording, who went on to work with Clapton again on his solo recordings and the Layla album by Derek & the Dominos. Producer from then on was Felix Pappalardi, whose vision would prove central to Disraeli Gears. 'He was like an A&R man,' Clapton recalled of Pappalardi, 'who would take what we had and make it more evolved.'
The recording of Disraeli Gears was characterised by an underlying tension, with Cream's management and Atlantic keen to push Clapton into the spotlight as the front man, and resistance being voiced towards some of Bruce's songs (many co-written with lyricist Pete Brown, who listed his lyrical obsessions of the time as 'sex and dancing'). 'I was kinda gutted', Bruce recalls, 'because I'd done a lot of work, and I'd mostly been the lead singer, and it was working pretty well.' In support of this notion, Pete Brown wrote in his autobiography that Cream had recorded a number of song demos, (at Spot Productions in Mayfair), in March 1967, intended for the second album, but that the tape 'mysteriously disappeared'. The songs included two that were subsequently cut for Jack Bruce's debut solo album Songs For A Tailor (Weird Of Hermiston and The Clearout), plus SWLABR, Take It Back, We're Going Wrong and an early version of Blue Condition, all of which eventually made it on to Disraeli Gears. The tape was found in 1986, leading to the rediscovery of Hey Now Princess, which was revamped and included on Jack Bruce's 1989 Question Of Time album.
Despite all this, it was clear that Cream had found another level, both in their own compositions and their interpretation skills. SWLABR was an angular stomper that dealt with, as Pete Brown put it, 'the war between the sexes'. The title was an acronym for 'She Walked Like A Bearded Rainbow', which came from an incident when flowers were delivered one day to Brown's flat. Jack Bruce had ordered them for his then-girlfriend, but hadn't specified the type of flower; Brown was particularly taken by the way the long stems of the flowers swayed around, and told Bruce that the flowers reminded him of the way girls walk. The flowers turned out to be Irises – a variety supposedly known as 'Bearded Rainbow'. Pete Brown's floral understanding may not be 100% accurate, but the Iris does take its name from the Greek word for rainbow, and there is a subgenus called 'Bearded', so it's a plausible connection.
Dance The Night Away was a hypnotic wig-out featuring a rare use by Clapton of the electric 12-string guitar, apparently Jack Bruce's suggestion. We're Going Wrong was an atmospheric cri de coeur that had its origins in an argument between Bruce and his partner, while Blue Condition was a feature for its writer, Ginger Baker.
Tales Of Brave Ulysses, with lyrics by a friend of Eric Clapton, illustrator Martin Sharp, was released as the B side of Strange Brew in June 1967, and featured imaginative use of the new wah-wah pedal. Clapton had acquired it only that morning, from Manny's instrument shop on 48th Street, and it predated Jimi Hendrix's similar wah-wah usage on The Burning Of The Midnight Lamp single, released in August 1967. The lyrics are inspired by Homer's Odyssey, an account of the adventures undertaken by Ulysses, lyricist Sharp later explaining that he had recently returned from Ibiza, the source of many of the images in the song. Clapton meanwhile had been writing a tune based on a descending chord sequence, when, in a chance encounter, Sharp gave him the words, written on the back of a beer mat.
One track stood out above the others. The descending riff of Sunshine Of Your Love had been created by Bruce and Brown as they sat up into the early hours writing, and Clapton provided the bridge part and the title. Ginger Baker pounded across the beat in a style suggested by Tom Dowd, the whole creating a track that sounded like nothing else around at the time. Only label boss Ahmet Ertegun failed to recognise the song's potential. 'I remember playing it to Ahmet and he called it 'psychedelic hogwash' ', Bruce later remembered. History, of course, has proved Ertegun wrong. Sunshine Of Your Love went to #5 in the US singles charts in Spring 1968, and was the springboard that broke Cream in mainstream America: the flash of true genius that alerted people to its parent album and brought them in droves to the band's exhausting tours of the States.
After only five days in the studio, Cream took a flight back to Europe and continued their punishing schedule, leaving the production team to finish the mixes. Their labels didn't seem to be in a rush to release the album, because July 8th found the band doing a photo session for the album on Ben Nevis in Scotland, after which Baker and Clapton raced each other down the mountain.
It was to be a further four months before the album came out. The album title was a corruption by Cream's roadie, Mick Turner, of a description of racing bicycle gears known as 'derailleur gears'. Benjamin Disraeli was a 19th Century British Prime Minister, hence Disraeli Gears. The psychedelic cover was designed by Australian artist Martin Sharp, Clapton's friend who had contributed the lyrics to Tales Of Brave Ulysses.
Disraeli Gears was released in November 1967 and was hugely successful, peaking at #5 in the UK and charting for 42 weeks, while in the US it hit #4 and stayed in the chart for two weeks short of a whole year.
Cream were, in many ways, the perfect band, and Disraeli Gears was their finest hour. It's a record that spills over with talent, while addressing the everyman issues of passion, self-doubt, hatred and – most important – volume. Turn it up loud and remember Cream this way.
Jack Bruce died of liver disease on 25 October 2014, in Suffolk, England, aged 71. In March 2011 Rolling Stone readers selected him as the eighth greatest bass guitarist of all time. "Most musicians would have a very hard time distinguishing themselves if they wound up in a band with Eric Clapton and Ginger Baker," the magazine said at the time, "but Jack Bruce was so gifted on the bass that he did it with ease."
Ginger Baker died on 6 October 2019 age 80.