Pink Floyd – Wish You Were Here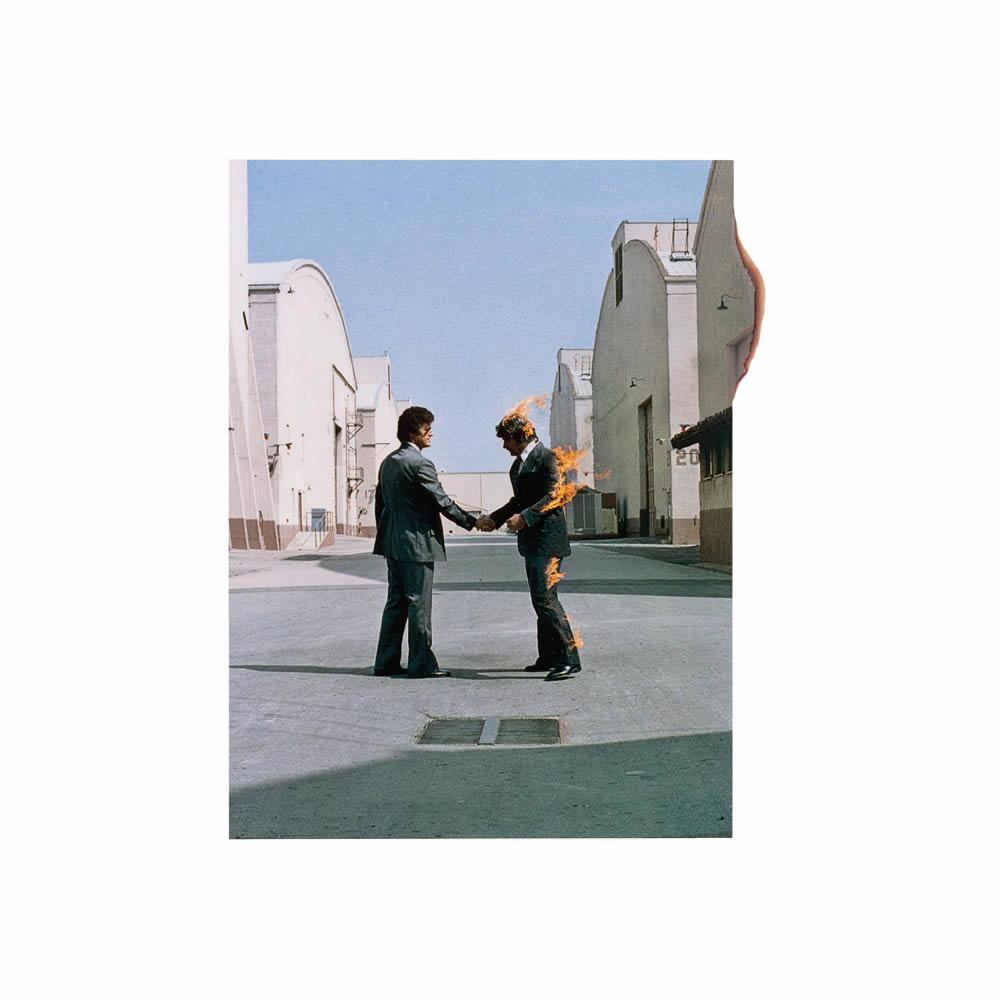 In 1975, Pink Floyd started sessions at Abbey Road Studios in London for their next album, Wish You Were Here. How do you follow one of the best regarded and biggest selling albums of all time? With another one.
After the swift and monumental success of The Dark Side Of The Moon, Pink Floyd were finally able to take a break from the relentless touring and recording they had had to undertake since 1968. David Gilmour discovered Kate Bush and produced Unicorn, while Nick Mason also entered the production world, supervising recordings by Principal Edwards' Magic Theatre and Robert Wyatt.
Still, from October to December 1973, Pink Floyd found themselves back in Abbey Road Studios and spent quite a period of time in various bursts, working on their new conceptual piece "Household Objects," the idea being to create musical parts by recording objects like stiff brushes on a wooden floor, model aeroplane propulsion elastic stretched over matchboxes, and wine glasses, the basis for a 'glass harmonica'.
The band now returned to the jamming/idea swapping process that had characterised the creation of "Echoes," and in short order at rehearsals produced one of their most evocative and enduring creations — "Shine On You Crazy Diamond," based on a four-note David Gilmour riff.
Roger Waters created "Raving and Drooling" which in turn became "Sheep" on the Animals album, followed by some lyrics that he had worked on at home, to which David Gilmour added a chord sequence — "You've Got to Be Crazy," which was later to turn into "Dogs."
Recording for the album proper started in January 1975, but the early sessions were "very laborious and tortured," according to Waters, who often felt that they all wanted to be somewhere else. This feeling led to the revelation that the album's theme could be 'absence', after which the creative process got back on track.
"Shine On You Crazy Diamond" was split into two parts, the other two songs were shelved, and a further three created: "Welcome To The Machine," "Have A Cigar," and "Wish You Were Here." Roger Waters later said that he wanted the tracks to "have some kind of relevance to the state we were in at the time," which by all accounts was a state of extreme exhaustion. Still, by providing a focus for the album and very quickly creating the new songs, Waters deserves much credit for keeping the recording on track.
The album has the distinction of featuring a guest lead vocalist, fellow EMI artist Roy Harper, who was in the next studio and lent a hand when asked to contribute vocals to "Have a Cigar." Another guest was famed jazz violinist Stephane Grappelli, who added some textures to Wish You Were Here, although hardly any part of his playing is audible on the final release. His full contribution is available on a mix of the track on the expanded editions of Wish You Were Here, available from November 2011.
The lavish artwork for the album package was once again created by the Hipgnosis team, who created a series of tableaux based on absence and, as
Storm Thorgerson said, "of not being present in a relationship or conversation."
The final images included the empty gesture of a handshake between two businessmen (one on fire), a diver that causes no ripples, and a piece of gauze floating in the wind, shot somewhere in Norfolk, UK. A postcard (which might be sent from someone "wishing you were here") was included in the LP sleeve, and a final twist was that the sleeve was encased in black shrink-wrap plastic, so that the art was absent from the eye, and could only be seen after the fan had bought the record.
It didn't affect the sales, because when Wish You Were Here was released in September it went straight to No. 1 in the UK and the US as well as Belgium, France, Italy, New Zealand, and Spain, and has been one of Pink Floyd's best-selling and most revered albums ever since.
We have a book! Pink Floyd – I Was There which contains over 400 eyewitness accounts from fans who saw Pink Floyd live in concert. Available in print and all digital formats.