U2 were once known as Feedback and later as The Hype.
U2 drummer Larry Mullen Jr. co-wrote and produced a song for the Republic of Ireland national football team in time for the 1990 FIFA World Cup, called "Put 'Em Under Pressure", which topped the Irish charts.
In 2005 Bono and his wife, Ali, launch the EDUN clothing line.
The Joshua Tree became the fastest-selling album in British chart history, and topped the Billboard 200 in the United States for nine consecutive weeks.
In 1987, U2 became only the fourth rock band to be featured on the cover of Time magazine, (following The Beatles, The Band and The Who).
The Edge has also recorded with such artists as Johnny Cash, B. B. King, Tina Turner, Ronnie Wood, Jah Wobble, Jay-Z, and Rihanna.
Adam Clayton made international headlines in August 1989 when he was arrested in Dublin for carrying a small amount of marijuana.
Bono and the Edge wrote the song "She's a Mystery to Me" for Roy Orbison, which was featured on his 1989 album Mystery Girl.
U2 appeared on the 200th episode of the animated sitcom The Simpsons, "Trash of the Titans", in which Homer Simpson disrupted the band on stage during a PopMart concert.
In 1999 when Bono met with Pope John Paul II to discuss Third World debt. The Pope put on Bono's trademark wrap-around sunglasses during their meeting.
During the early 1990s, Adam Clayton dated British supermodel Naomi Campbell.
"Vertigo", was featured in an internationally aired television commercial for the Apple iPod.
Bono acquired a 1.5 percent stake in Facebook in 2010. Now, that small percentage is estimated to be worth nearly $1 billion.
The original working title of The Joshua Tree album was 'The Two Americas'.
In 2009 Adam Clayton's former housekeeper and PA was convicted by a jury of 181 counts of theft from the U2 bassist and sentenced to 7 years imprisonment.
Bono is almost never seen in public without sunglasses, as he suffers from glaucoma.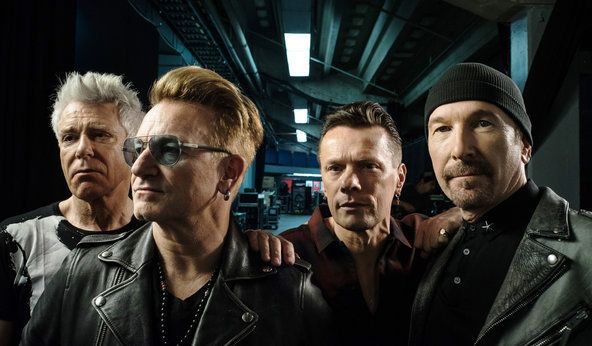 See music landmarks in our free iPhone and iPad app

Rocking All Over The World