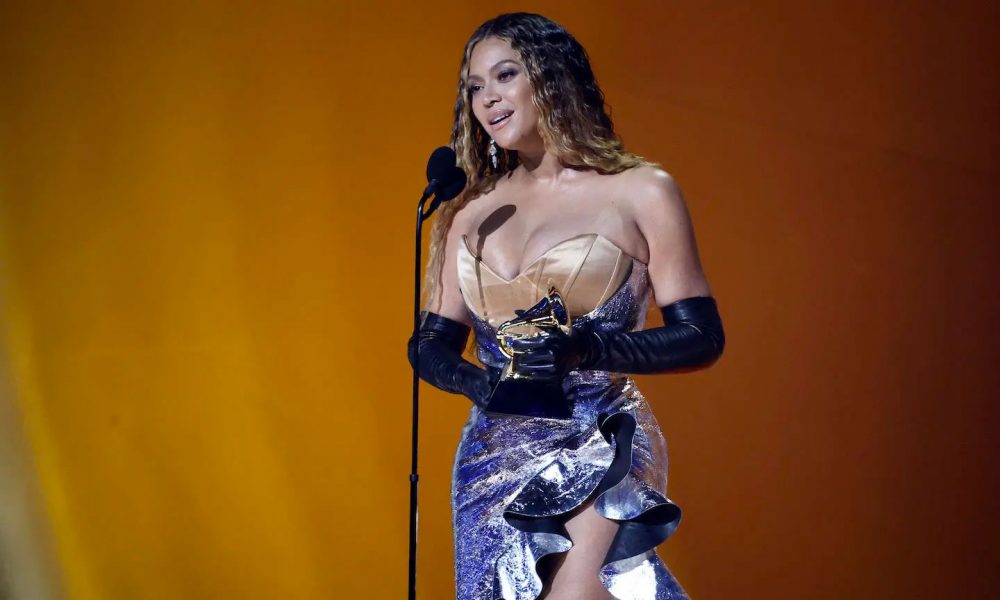 Beyonce Giselle Knowles was born on September 4, 1981, in Houston, Texas, to Celestine "Tina" Knowles (née Beyonce), a hairdresser and salon owner, and Mathew Knowles, a Xerox sales manager.
Beyoncé started performing in various singing and dancing competitions as a child. Beyoncé's interest in music and performing continued after winning a school talent show at age seven, singing John Lennon's 'Imagine'.
When Beyoncé was eight, she met LaTavia Roberson at an audition for an all-girl entertainment group. They were placed into a group called Girl's Tyme with three other girls, and rapped and danced on the talent show circuit in Houston. After seeing the group, R&B producer Arne Frager brought them to his Northern California studio and placed them in Star Search, the largest talent show on national TV at the time. Girl's Tyme failed to win.
In 1995, Beyoncé's father resigned from his job to manage Girl's Tyme. The move reduced Beyoncé's family's income by half, and her parents were forced to sell their house and cars and move into separated apartments.
Girl's Tyme changed their name to Destiny's Child in 1996, based upon a passage in the Book of Isaiah and in 1997 released their major label debut song 'Killing Time' on the soundtrack to the 1997 film Men in Black.
Destiny's Child, became one of the best-selling girl groups of all time selling more than 60 million records worldwide. Their best-selling second album, The Writing's on the Wall (1999), contained the number-one singles 'Bills, Bills, Bills' and 'Say My Name'.
In 2001, she became the first Black woman and second female lyricist to win the Pop Songwriter of the Year award at the ASCAP Pop Music Awards. Beyoncé was the third woman to have writing credits on three number-one songs ('Irreplaceable', 'Grillz' and 'Check on It') in the same year, after Carole King in 1971 and Mariah Carey in 1991
Beyoncé's first solo recording was a feature on Jay-Z's song "'03 Bonnie & Clyde" that was released in October 2002, peaking at number four on the US Billboard Hot 100 chart.
"Crazy in Love", featuring Jay-Z, from her debut solo studio album Dangerously in Love (2003) became Beyoncé's first number-one single as a solo artist in the US and the UK. The song features a sample from The Chi-Lites' 1970 hit 'Are You My Woman (Tell Me So)'.
Having sold over 200 million records worldwide, Beyoncé is one of the world's best-selling artists of all time. As of 2023 her accolades include 32 Grammy Awards, 26 MTV Video Music Awards, 24 NAACP Image Awards, 35 BET Awards, and 17 Soul Train Music Awards, all of which are more than any other artist in the music industry.
In 2006 Beyonce earned more money than any other Black actress for her performance in the film Dreamgirls. She was paid a £5m fee for her appearance in the musical based on the history of Diana Ross and The Supremes whenshe starred opposite Jennifer Hudson, Jamie Foxx, and Eddie Murphy.
In 2007 the track 'Beautiful Liar' by Beyonce & Shakira won the Most Earth-Shattering Collaboration award at the 2007 MTV Video Music Awards. The song also won an Ivor Novello Award for Best-Selling British Song.
Beyoncé further expanded her acting career, starring as blues singer Etta James in the 2008 musical biopic Cadillac Records. Beyoncé donated her entire salary from the film to Phoenix House, an organization of rehabilitation centers for heroin addicts around the country.
Beyonce married Jay-Z at his New York apartment in 2008. Coldplay frontman Chris Martin and wife Gwyneth Paltrow and Beyonces former bandmates in Destiny's Child, Kelly Rowland and Michelle Williams all attended the private ceremony.
In 2010, Beyonce and Jay-Z were named Hollywood's top-earning couple by Forbes magazine. The pair earned an estimated $122m (£75.1m) between June 2008 and June 2009 – more than any other couple married or unmarried.
In September 2010, Beyoncé made her runway modelling debut at Tom Ford's Spring/Summer 2011 fashion show. She was named the "World's Most Beautiful Woman" by People Magazine.
Beyoncé names Michael Jackson as her major musical influence. Aged five, Beyoncé attended her first ever concert where Jackson performed and she claims to have realized her purpose. When she presented him with a tribute award at the World Music Awards in 2006, Beyoncé said, "If it wasn't for Michael Jackson, I would never ever have performed."
On June 26, 2011, she became the first solo female artist to headline the main Pyramid stage at the 2011 UK Glastonbury Festival in over twenty years.
Beyonce soldiered through a concert in Montreal, Canada in 2013 after her hair got tangled in the blades of a fan. The singer was performing 'Halo' from an audience pit when the incident happened. She continued to sing her encore while security guards tried to extract her from the fan, which was mounted on the edge of the stage.
In 2013, it was reported that Beyonce had spent almost £1,500 at an Essex branch of chicken chain Nando's following her performance at the V Festival in the UK. The headliner's receipt was posted on Twitter and Nando's Chelmsford manager confirmed a member of Beyonce's entourage called in with the order. The order included 48 whole chickens, 24 tubs of coleslaw, 58 chicken wing platters and 48 portions of chips. The receipt showed the meal was apparently paid for in cash.
Her fifth studio album, the self titled Beyoncé (2013) was developed as a visual album, every song was accompanied by a non-linear short film that illustrated the musical concepts conceived during production. Beyoncé and its release is frequently credited with inventing the modern definition of the visual album, popularising the surprise album release strategy, and provoking the International Federation of the Phonographic Industry to change the day of the week when music is released worldwide from Tuesday to Friday. The album has sold over 5 million copies worldwide.
Beyonce's politically charged visual album Lemonade (2016) was the music critics' favourite album of the year. The record, which tackles themes of black empowerment and female identity, topped a "poll of polls" compiled by the BBC.
On February 1, 2017, she revealed on her Instagram account that she was expecting twins. Her announcement gained over 6.3 million likes within eight hours, breaking the world record for the most liked image on the website at the time.
Her seventh solo album Renaissance released on 29 Jul 2022 debuted at No.1 on the US chart, her seventh consecutive album to do so. Renaissance and its songs garnered nine nominations at the 65th Annual Grammy Awards (including Album of the Year) and won four awards, including Best Dance/Electronic Album, making Beyoncé the most awarded person in the Grammy Awards history.
In 2023 the couple bought 27712 Pacific Coast Highway, a house in Malibu, California designed by the architect Tadao Ando, for $200 million. It established a record for the most expensive residence sold in California. As a couple, Beyoncé and Jay-Z have a combined net worth of $1.16 billion.