April 12th: The Biggest Music Headlines
Scroll down the page to see all the music headlines, stories and events for April 12 throughout music history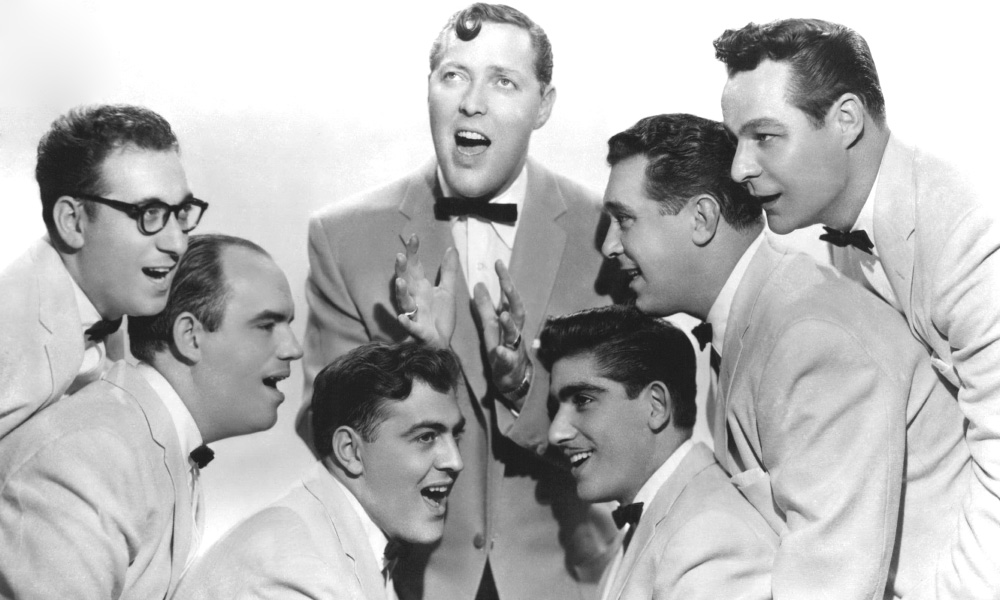 Bill Haley & His Comets Record a Rock'n'Roll Classic
On this day in music, April 12, 1954, Bill Haley & His Comets cut their signature hit, "Rock Around the Clock" – a song which helped to push rock'n'roll firmly into mainstream culture. Written by Max C. Freedman and James E. Myers (under the pseudonym "Jimmy De Knight"), the upbeat track became the first rock'n'roll single to top the charts in both the UK and the US, where it spent two months at No.1. But it wasn't an instant hit. While the song was initially released in 1954, it wasn't until it was featured in the opening credits of the 1955 film, Blackboard Jungle that it soared in popularity, eventually hitting its peak in July of that year and becoming a phenomenon with teenagers around the globe.
In 1975, 28-year-old David Bowie announced his retirement in an interview with Playboy. The declaration, which came a month after the release of his "plastic soul" album, Young Americans, wasn't the first time Bowie had called quits on his career. He had previously expressed a desire to bow out in July 1973, after he killed off his Ziggy Stardust persona. But Bowie's "retirement" didn't last long; in November of 1975, he began the sessions for what became the Station To Station album when he reinvented himself as the "Thin White Duke."
In 1966, Jan Berry – one half of the surf rock duo Jan and Dean – was involved in a near-fatal car accident near Dead Man's Curve in Beverly Hills. In a terrible twist of irony, the group had scored a Top Ten hit two years earlier with their song "Dead Man's Curve," a teenage tragedy song about a street race gone bad.
In 1969, The 5th Dimension began a six-week run at the top of the Billboard Hot 100 with the medley "Aquarius / Let The Sunshine In." Both songs were taken from the counterculture Broadway rock musical, Hair.
In 2005, Mariah Carey's 11th album The Emancipation of Mimi marked a resurgence in the singer's chart fortunes by debuting at No.1 on The Billboard 200. Although it was her fifth chart-topping album, it was her first LP to enter the US charts at No.1 since 1997's Butterfly.
In 1989, Garth Brooks released his self-titled debut. The album, which landed at No.2 on the US country chart and No.13 on Billboard 200, featured the country star's earliest hits, including his first chart-topper, "If Tomorrow Never Comes," and ACM Song of the Year, "The Dance."
Looking for more things that happened on this day in music?
Keep scrolling for all of the headlines for April 12.
BORN ON APRIL 12:
1933: Tiny Tim
1940: Herbie Hancock
1944: John Kay (Steppenwolf)
1950: David Cassidy
1957: Vince Gill
1958: Will Sergeant (Echo & the Bunnymen)
1964: Amy Ray (Indigo Girls)
1967: Sarah Cracknell (Saint Etienne)
1978: Guy Berryman (Coldplay)
1980: Bryan McFadden (Westlife)
1987: Brandon Urie (Panic! At the Disco)
Looking for more artists born on this day?
Keep scrolling for all of our April 12 birthdays.
---
What to find another day?
---
April 12th
12 Apr 2019
John Hutch drummer with the Liverpudlian group The Big Three died age 79. The Big Three rivalled
The Beatles
for popularity before the Mersey sound became a national and international phenomenon in the early Sixties. Hutch filled in on drums behind Lennon, McCartney and Harrison in both 1960 and 1962 and later claimed he was offered the opportunity to become Pete Best's successor before Ringo Starr was given the job in The Beatles.
12 Apr 2016
A report showed that British artists including Sam Smith,
Ed Sheeran
and
Adele
had helped the music industry return to meaningful growth for the first time in almost 20 years. British artists accounted for five of the top 10 selling albums during 2015, as the global music industry generated $15bn (£10.5bn).
12 Apr 2016
A US court ruled that
Led Zeppelin
founders Robert Plant and
Jimmy Page
must face trial in a copyright row over the song 'Stairway to Heaven'. The copyright infringement action had been brought by Michael Skidmore, a trustee for the late Spirit guitarist Randy Wolfe, who played on the same bill as Led Zeppelin in the 1960s, and claimed he should be given a writing credit on the track.
12 Apr 2015
Grammy Award-winning rapper Nelly was arrested on drugs charges after police stopped the bus in which he was travelling in Tennessee. Officers found 'five coloured crystal-type rocks that tested positive for methamphetamine, as well as a small amount of marijuana and other drug paraphernalia' and handguns on board the tour bus.
12 Apr 2014
The Pulp hit 'Common People' was voted the top Britpop anthem by listeners of BBC Radio 6 Music in the UK, beating
Oasis
, Blur and Suede to take the title. More than 30,000 people voted, with The Verve's 'Bittersweet Symphony' second and
Oasis
tracks 'Don't Look Back in Anger' and 'Wonderwall' in third and fourth.
12 Apr 2012
Saxophone player Andrew Love died aged 70. He was best known for being a member of The Memphis Horns with trumpet player Wayne Jackson where the two created the signature horn sound at Stax Records on hit records by
Otis Redding
, Sam & Dave and others such as
Neil Diamond
,
Elvis Presley
and Dusty Springfield.
12 Apr 2011
Foo Fighters
released their seventh studio album Wasting Light. The album was preceded by the successful single 'Rope' which became only the second song ever to debut at No. 1 on Billboard's Rock Songs chart. Wasting Light earned four Grammy Awards, including Best Rock Album.
12 Apr 2010
The Vatican's official newspaper L'Osservatore Ramano published a story praising
The Beatles
and saying that it forgave
John Lennon
for his 1966 comment that the group was 'bigger than Jesus.' Lennon told a British newspaper in 1966 - at the height of Beatlemania - that he did not know which would die out first, Christianity or rock and roll.
12 Apr 2007
The Beatles
company, Apple Corps, settled a £30 million ($59.2 million) royalties dispute with the band's label, EMI. The suit alleged unpaid royalties on Beatles albums based on an audit of sales between 1994 and 1999, a period which included the release of three Anthology compilations. Details of the settlement were not disclosed.
12 Apr 2005
Mariah Carey
released The Emancipation of Mimi, the album entered the US chart at number one, going six times platinum in less than a year, and subsequently became the most successful album of 2005.
12 Apr 2000
Metallica
filed a suit against Napster, Yale University, The University of Southern California and Indiana University for copyright infringement.
12 Apr 1997
R Kelly started a three-week run at No.1 on the UK singles chart with his Grammy award winning song 'I Believe I Can Fly.' A No.2 hit in the US, the track was featured in the film 'Space Jam'.
12 Apr 1995
Two weeks after her death, George W. Bush, (then the governor of Texas), declared 'Selena Day' in Texas. The Mexican American singer Selena was murdered aged 23 by the president of her fan club Yolanda Sald'var on 31st March 1995.
12 Apr 1990
The Astronomical Union's Minor Planet Centre announced that Asteroids 4147-4150, would be named Lennon, McCartney, Harrison and Starr after the four members of
The Beatles
.
12 Apr 1989
Garth Brooks released his self-titled debut album which was both a critical and chart success, peaking at No.13 on the Billboard 200 and No.2 on the Top Country Albums. This album contains Brooks earliest hits, including his first ever single, 'Much Too Young (To Feel This Damn Old)', and his first No.1, 'If Tomorrow Never Comes' and the Academy of Country Music's 1990 Song of the Year and Video of the Year, 'The Dance'.
12 Apr 1989
Two DJ's on Los Angeles station KLOS asked 'what ever happened to David Cassidy' The singer called the station up and the presenters invited him onto the show. David played three songs live on air and was subsequently signed by a new record label.
12 Apr 1975
During an interview with Playboy Magazine
David Bowie
announced his second career retirement, saying, 'I've rocked my roll. It's a boring dead end, there will be no more rock 'n' roll records from me. The last thing I want to be is some useless f—ing rock singer.'
12 Apr 1969
The 5th Dimension started a six week run at No.1 on the US singles chart with 'Aquarius / Let The Sunshine In', a No.11 hit in the UK.
12 Apr 1968
Pink Floyd
released their fourth UK single 'It Would Be So Nice', written by
Richard Wright
with Roger Waters' 'Julia Dream' on the B-side.
Pink Floyd
were on tour in Europe on this day, and played their second night at the Piper Club, in Rome, Italy.
12 Apr 1967
Mick Jagger
was punched in the face by an airport official during a row at Le Bourget Airport in France. Jagger lost his temper after
The Rolling Stones
were being searched for drugs resulting in them missing their flight.
12 Apr 1966
Jan Berry (Jan and Dean) was almost killed when he crashed his car into a parked truck a short distance from Dead Man's Curve in Los Angeles. Berry was partially paralysed and suffered brain damage. Berry was able to walk again after extensive therapy.
12 Apr 1963
Bob Dylan
performed his first major solo concert at the Town Hall in New York City. Dylan played a 24 song set including 'Blowin' In The Wind', 'A Hard Rain's A-Gonna Fall', 'Highway 51' and 'Last Thoughts On Woody Guthrie'.
12 Apr 1957
The 'King of Skiffle' Lonnie Donegan was at No.1 on the UK singles chart with 'Cumberland Gap.' The Scottish musician was a former member of Chris Barber's Jazz Band.
12 Apr 1954
Bill Haley
recorded 'Rock Around the Clock' at Pythian Temple studios in New York City. Considered by many to be the song that put rock and roll on the map around the world. The song was used over the opening titles for the film 'Blackboard Jungle', and went on to be a world-wide No.1 and the biggest selling pop single with sales over 25 million. Written by Max C. Freedman and James E. Myers, 'Rock Around The Clock' was first recorded by Italian-American band Sonny Dae and His Knights.
Born on this day in music
12 Apr 1987
Brendon Urie singer with American rock band Panic! at the Disco who scored the 2008 Australian No.1 and US & UK No.2 album Pretty.Odd.
12 Apr 1987
Mark Ian Hoyle commonly known by his Internet pseudonym LadBaby. With his wife, Roxanne they scored the Christmas No.1's on the UK Singles Chart in 2018, 2019 and 2020 with the novelty songs 'We Built This City', 'I Love Sausage Rolls' and 'Don't Stop Me Eatin''. This made them only the third act to secure three consecutive Christmas number ones, following
The Beatles
and the
Spice Girls
.
12 Apr 1984
British heavy metal musician Alessandro Venturella who is a member of American band Slipknot.
12 Apr 1980
Bryan McFadden, from Irish pop vocal group Westlife who scored 14 UK No.1 singles, and have sold over 50 million records worldwide. Despite their success worldwide, Westlife never managed to break into the US market, achieving only one hit single in 2000, 'Swear It Again'.
12 Apr 1978
Scottish musician, multi-instrumentalist Guy Berryman,
Coldplay
who had the 2000 UK No.4 single 'Yellow', the 2000 UK No.1 album Parachutes and the 2005 worldwide No.1 album X&Y which was the best-selling album worldwide in 2005.
12 Apr 1967
Sarah Cracknell, English singer-songwriter, best known as the lead singer of the electronic music band Saint Etienne who had the 1993 UK No.12 single 'You're In A Bad Way'.
12 Apr 1965
Sean Welch, bassist with The Beautiful South, who had the 1990 UK No.1 single 'A Little Time' plus over 15 other UK Top 40 singles.
12 Apr 1964
Amy Ray, from Grammy Award–winning folk rock music American duo Indigo Girls who have released over 15 albums.
12 Apr 1962
Art Alexakis, guitar, vocals, from American rock band Everclear. The band found success with their first three albums Sparkle and Fade, So Much for the Afterglow, and Songs from an American Movie Vol. One:
12 Apr 1962
Canadian guitarist Rob Baker, best known as the lead guitarist for the rock band The Tragically Hip.
12 Apr 1958
Will Sergeant, English guitarist, best known for being a member of Echo & the Bunnymen who had the 1983 UK No.8 single 'The Cutter' and the single 'The Killing Moon'.
12 Apr 1957
American country singer, songwriter and multi-instrumentalist Vince Gill who has won 17 Country Music Awards and 14 Grammy Awards. He has recorded more than 20 studio albums, and charted over 40 singles.
12 Apr 1956
Alexander Briley, from American disco group The Village People. They had the hit singles 'Macho Man', 'In the Navy', 'Go West and the 1978 US No.2 hit 'YMCA'. The group's name refers to New York City's Greenwich Village, at the time known for its large gay population.
12 Apr 1950
American actor, singer, songwriter, and guitarist David Cassidy, known for his role as Keith Partridge, the son of Shirley Partridge (played by his stepmother Shirley Jones), in the 1970s musical-sitcom The Partridge Family, which led to him becoming one of popular culture's teen idols and pop singers of the 1970s. The Partridge Family had the 1970 US No.1 single 'I Think I Love You', and the 1972 UK No.3 single 'Breaking Up Is Hard To Do'. As a solo artist he scored the 1972 UK No.1 single 'How Can I Be Sure'. He he died of liver failure on November 21, 2017, aged 67.
12 Apr 1949
Donald Ray Mitchell, from American group Was Not Was, who had the 1992 UK No.4 single 'Shake Your Head'.
12 Apr 1944
German-Canadian rock singer, songwriter, and guitaris John Kay, from Steppenwolf who had the 1969 US No.2 hit single 'Born To Be Wild'. Steppenwolf sold over 25 million records worldwide, released eight gold albums and scored 12 Billboard Hot 100 singles.
12 Apr 1940
American pianist, keyboardist, bandleader, composer Herbie Hancock who had the 1983 UK No.8 single 'Rockit'. His 2007 tribute album River: The Joni Letters won the 2008 Grammy Award for Album of the Year, only the second jazz album ever to win the award, after Getz/Gilberto in 1965.
12 Apr 1933
American singer Tiny Tim, who had a 1968 US No.17 single with 'Tiptoe Through The Tulips'. He died of a heart attack on November 29th 1996 on stage while playing his hit 'Tiptoe Through the Tulips' at a club in Minneapolis.