April 14th: The Biggest Music Headlines
Scroll down the page to see all the music headlines, stories and events for April 14 throughout music history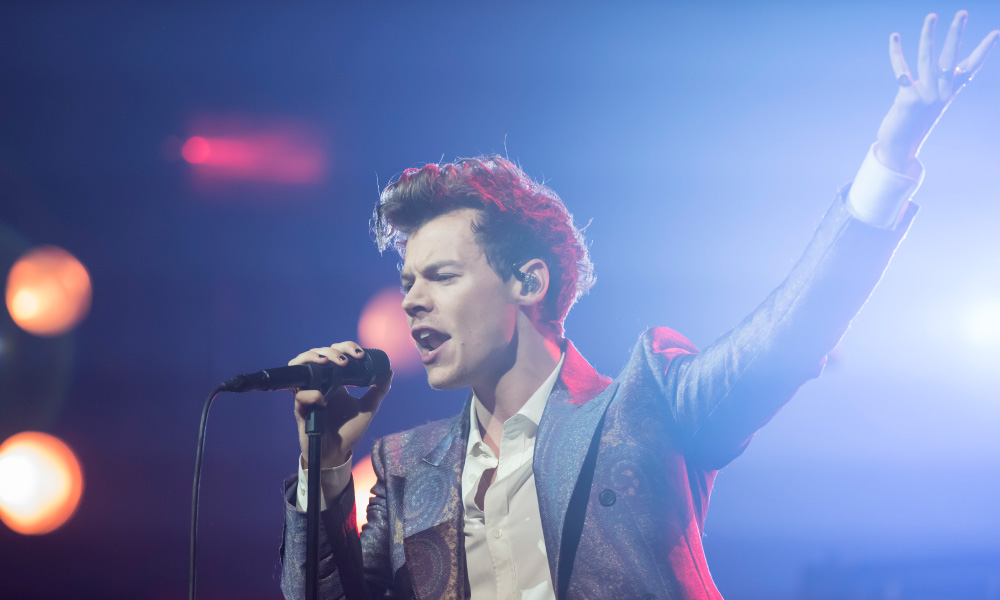 Harry Styles Debut Single Knocks Ed Sheeran Off The UK No.1 Spot
On this day in music, April 14, 2017, "Sign Of The Times," the debut single by ex-One Direction singer Harry Styles, went to No.1 in the UK. To get there, it knocked Ed Sheeran's "Shape Of You" off the top of the charts after a 13-week run. "Sign Of The Times" debuted at No.4 on Billboard's Hot 100, reaching No.1 the following week. It also reached the top spot in the US iTunes charts just 19 minutes after its release, breaking the previous record held by Adele, whose 2015 song "Hello" took the No.1 position after 50 minutes.
In 1978, Art Garfunkel scored a No.1 hit in the UK with "Bright Eyes," the theme song from Watership Down, an animated movie based on Richard Adams' book about rabbits. Written by Mike Batt, the mastermind behind The Wombles, the song spent six weeks at the top and was the best-selling UK single of 1979. It was Garfunkel's second UK No.1 but didn't chart in the US.
In 1953, Liverpool-born Lita Roza became the first British female singer to top the UK singles chart when her cover of Patti Page's novelty song, "(How Much) Is That Doggie In Window?," reached No.1. Roza, who purportedly hated the tune, never performed it live.
In 1970, Creedence Clearwater Revival made their live UK debut in style – with a two-night engagement at London's Royal Albert Hall.
In 1980, Gary Numan released The Touring Principle '79, the UK's first commercially available feature-length rock video on VHS cassette. It was recorded at London's Hammersmith Odeon venue as part of Numan's The Pleasure Principle tour and topped the UK video charts.
Looking for more things that happened on this day in music?
Keep scrolling for all of the headlines for April 14.
BORN ON APRIL 14:
1932: Loretta Lynn
1945: Ritchie Blackmore (Deep Purple)
1948: Larry Ferguson (Hot Chocolate)
1949: Sonja Kristina (Curved Air)
1949: June Millington (Fanny)
1965: Martyn LeNoble (Porno for Pyros)
1973: David Miller (Il Divo)
Looking for more artists born on this day?
Keep scrolling for all of our April 14 birthdays.
---
What to find another day?
---
April 14th
14 Apr 2021
American guitarist, vocalist and songwriter and Poco frontman Rusty Young died of a heart attack at the age of 75. Young is best known for writing the Poco songs "Rose of Cimarron" and "Crazy Love". A virtuoso on pedal steel guitar, he was celebrated for the ability to get a Hammond B3 organ sound out of the instrument by playing it through a Leslie speaker cabinet.
14 Apr 2017
Harry Styles's debut single 'Sign of the Times' broke
Ed Sheeran
's 13-week run at the top of the UK charts. The One Direction star achieved his first No.1 as a solo artist with this release - the first from his self-titled debut album.
14 Apr 2015
American R&B and soul singer Percy Sledge died of liver cancer at his home in Baton Rouge aged 73. The inspiration behind his 1966 US No.1 hit 'When a Man Loves a Woman', came when Sledge's girlfriend left him for a modelling career after he was laid off from a construction job in late 1965.
14 Apr 2014
Latin jazz percussionist Armando Peraza died of pneumonia at the age of 89. He was a member of
Santana
from 1972 until the early 90s appearing on over 15 of the groups albums. Born in Lawton Batista, Havana, Cuba, Peraza played congas, bongos, and timbales.
14 Apr 2013
Justin Bieber caused outrage after writing a message in a guestbook at the Anne Frank Museum, which stated he hoped the Holocaust victim would have been a fan. The 19-year-old wrote: 'Truly inspiring to be able to come here. Anne was a great girl. Hopefully she would have been a belieber.' It provoked fierce online criticism of the Canadian singer, who was in Amsterdam as part of a tour.
14 Apr 2009
A planned auction of nearly 1,400 items from the former home of
Michael Jackson
was cancelled. A public preview of the collection had already begun in Los Angeles and the exhibition of Jackson's possessions would stay open until the end of next week. A last-minute settlement meant Jackson's belongings would now be returned to him. In response, he had dropped a lawsuit against Juliens Auctions.
14 Apr 2009
Former Beatle
George Harrison
was honoured with a posthumous star on the Hollywood Walk of Fame in Los Angeles. Sir
Paul McCartney
attended the unveiling outside the landmark Capitol Records building, joining Harrison's widow Olivia and son Dhani. Eric Idle, Oscar-winning actor Tom Hanks and musician
Tom Petty
also attended the ceremony.
14 Apr 2003
A man was arrested accused of making up a Bjork concert then selling tickets. Alex Conate allegedly sold tickets worth $14,000 at $40 each after persuading a San Diego nightclub owner that Bjork had agreed to play there. He was accused of taking the money and moving to Hawaii, where he was arrested.
14 Apr 2001
Sean Puffy Combs, (P. Diddy), was arrested in Miami for riding a scooter in South Beach on a suspended driver's license. He was released 20 minutes later after signing a promise to appear in court.
14 Apr 1999
UK singer, songwriter and actor Anthony Newley died of cancer. Scored 12 UK Top 40 singles from 1959-1962 including the No.1 single 'Why.' He won the 1963 Grammy Award for Song of the Year for "What Kind of Fool Am I?", he was married to the actress Joan Collins from 1963 to 1971.
14 Apr 1995
American actor, writer and folk singer Burl Ives died of cancer aged 85. Had hits with 'Funny Way Of Laughing', 'The Blue Tail Fly' and 'Little Bitty Tear', won an Academy Award for Best Supporting Actor for his role in the 1958 film The Big Country.
14 Apr 1994
Kurt Cobain
was cremated at the Bleitz Funeral Home, Seattle. The death certificate listed Cobain's occupation as Poet/Musician and his type of business as Punk Rock.
14 Apr 1983
The Pretenders bass player Pete Farndon died from a drug overdose. He was sacked from the group on June 14th 1982, (two days before Pretenders guitarist James Honeyman-Scott was found dead of heart failure). Farndon was in the midst of forming a new band with former Clash drummer Topper Headon when he died.
14 Apr 1980
Gary Numan released 'The Touring Principle', the first long-form rock video to be made commercially available in the UK.
14 Apr 1978
Art Garfunkel
started a six week run at No.1 in the UK with the theme from the film 'Watership Down', 'Bright Eyes' which went on to become the biggest selling single of the year. The song was written by the man behind The Wombles, Mike Batt.
14 Apr 1978
Joy Division
played at the Stiff Test Chiswick Challenge, at Raffters in Manchester, England. Future managers Rob Gretton and then journalist Tony Wilson saw the band for the first time.
14 Apr 1976
Eric Faulkner of The Bay City Rollers reportedly came close to death after taking a drug overdose at their manager's house while in a state of exhaustion.
14 Apr 1975
After rumours that
Jimmy Page
, Steve Marriott,
Jeff Beck
or Chris Spedding variously would replace Mick Taylor as guitarist in The
Rolling Stones
, a press release confirmed that
Ronnie Wood
would be joining the band for their forthcoming American tour.
14 Apr 1973
Led Zeppelin
started a two-week run at No.1 on the UK album chart with
Houses Of The Holy
also a No.1 in the US. The young girl featured on the cover of the album climbing naked up Giants Causeway in Northern Ireland is Samantha Gates who was 6 years old at the time of the photo shoot.
14 Apr 1971
The Illinois Crime Commission issued a list of 'drug-oriented records' including 'White Rabbit' by Jefferson Airplane,
'A Whiter Shade Of Pale'
by Procol Harum and
The Beatles
'Lucy In The Sky With Diamonds.'
14 Apr 1970
14 Apr 1969
The recording of 'The Ballad Of John and Yoko' took place, with just two Beatles,
Paul McCartney
and
John Lennon
. Paul played bass, drums and piano with John on guitars and lead vocals. The song was banned from many radio stations as being blasphemous. On some stations, the word 'Christ' was edited in backwards to avoid the ban.
14 Apr 1967
David Bowie
's novelty record 'The Laughing Gnome' was released in the UK. The track consisted of the singer meeting and conversing with the creature of the title, whose sped-up voice (created by Bowie and studio engineer Gus Dudgeon) delivered several puns on the word 'gnome'. The song became a hit when reissued in 1973, despite it being radically different to his material at the time, the single made No. 6 in the UK charts.
14 Apr 1967
A riot broke out at Warsaw's Palace Of Culture as The
Rolling Stones
made their first appearance in an Iron curtain Country; police used tear gas in a battle with 2,000 fans.
14 Apr 1967
Polydor Records released The
Bee Gees
'New York mining Disaster 1941' It was released with a promotional slogan announcing 'The most significant talent since
The Beatles
. The record became a Top 20 hit in the UK and US.
14 Apr 1966
The Spencer Davis Group were at No.1 on the UK singles chart with 'Somebody Help Me', the group's second UK No.1.
14 Apr 1963
The
Rolling Stones
played at The Crawdaddy Club, Richmond. All four members of
The Beatles
were in the audience. The name of the club derived from
Bo Diddley
's 1960 song 'Doing the CrawDaddy', which The
Rolling Stones
regularly performed as part of their set. In turn the club would inspire the name of the American music magazine Crawdaddy!
14 Apr 1953
Lita Roza was at No.1 on the UK singles chart with '(How Much) Is That Doggie In Window.' The 27 year old singer was the NME readers' Top Female artist of 1953 and with this single became the first British female singer to top the UK singles Chart, (and the first Liverpudlian to do so).
Born on this day in music
14 Apr 1980
Win Butler, lead vocalist, songwriter with the Grammy Award-winning indie rock band Arcade Fire who had the 2005 album Funeral, and 2017 US No.1 album Everything Now.
14 Apr 1973
David Miller, tenor, from the multi-national classical crossover vocal group Il Divo. Their 2004 self-titled album, was No.1 in 14 countries around the world.
14 Apr 1965
Carl Hunter, of Liverpool-based group The Farm who had the 1990 UK No.4 single 'All Together Now'.
14 Apr 1965
Martyn LeNoble, Dutch bassist and a founding member of American alternative rock Porno for Pyros.
14 Apr 1952
Kenny Aaronson, American bassist. He has recorded or performed with several notable artists such as
Bob Dylan
, Billy Idol, Joan Jett and the Blackhearts, New York Dolls, and
Hall and Oates
.
14 Apr 1949
Dennis Bryon from Amen Corner who had the 1969 UK No.1 single 'If Paradise Is Half As Nice', plus five other UK Top 40 hits). He also worked with The
Bee Gees
during the 1970s and 1980s.
14 Apr 1949
June Millington from American all-female band Fanny who were active in the early 1970s. They were one of the first notable rock groups to be made up entirely of women.
14 Apr 1949
English songwriter, musician Sonja Kristina, who with Curved Air had the 1971 UK No.4 single 'Back Street Luv'. Kristina starred in the seminal 1960s musical, Hair.
14 Apr 1948
Larry Ferguson, Hot Chocolate, who had the 1975 US No.3 single 'You Sexy Thing' the 1977 UK No.1 single 'So You Win Again' and over 25 other Top 40 hits.
14 Apr 1945
English guitarist and songwriter Ritchie Blackmore from
Deep Purple
, who had the 1970 UK No.2 single 'Black Night' and the 1973 US No.4 single 'Smoke On The Water'.
Deep Purple
were listed in the 1975 Guinness Book of World Records as "the globe's loudest band" for a 1972 concert at London's Rainbow Theatre. Blackmore later formed Rainbow who had the 1981 hit single 'I Surrender'.
14 Apr 1942
British session pop singer Tony Burrows, singer, who with Edison Lighthouse had the 1970 UK No.1 single 'Love Grows Where My Rosemary Goes'. Burrows holds the record for having four records in the British Top Ten at once, all under different names. Edison Lighthouse 'Love Grows (Where My Rosemary Goes)', White Plains, 'My Baby Loves Lovin', The Pipkins 'Gimme Dat Ding,' and the Brotherhood of Man's 'United We Stand,' all of which were hits in both the US and UK.
14 Apr 1932
Loretta Lynn, country singer, the first woman to be named Country Music Artist Entertainer Of The Year. Since her first No.1 'Fist City', in 1967 she has scored another 15 chart toppers. Her best-selling 1976 autobiography was made into an Academy Award winning film, Coal Miner's Daughter, starring Sissy Spacek and Tommy Lee Jones in 1980. Lynn died in her sleep at her home in Hurricane Mills on 4 October 2022, at the age of 90.