April 22nd: The Biggest Music Headlines
Scroll down the page to see all the music headlines, stories and events for April 22 throughout music history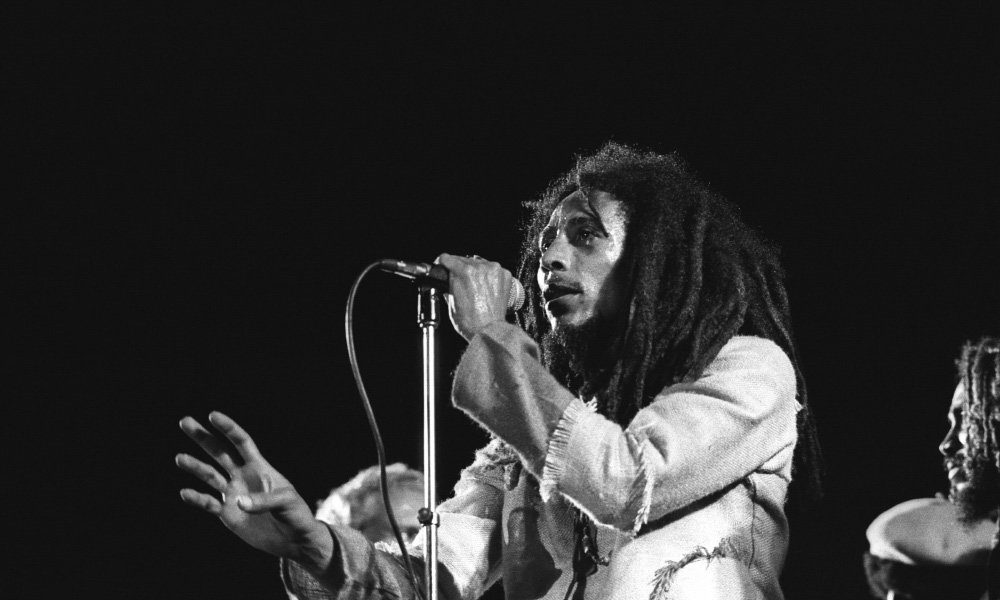 Bob Marley Makes Live Comeback After Assassination Attempt
On this day in music, April 22, 1978, reggae icon Bob Marley returned to the stage in Jamaica for the first time after he was wounded in the chest and arm by seven gunmen who broke into his house on December 3rd, 1976. Held at Kingston's National Stadium, The One Love Peace Concert also marked Marley's return from exile in the UK. Dubbed "The Third World Woodstock," the reggae extravaganza aimed to unite a country being torn apart by political violence. During his performance of the song "Jammin'," Marley famously persuaded political rivals Michael Manley and Edward Seaga to join him on stage and link hands.
In 2013, Richie Havens, the soul-folk troubadour who opened the legendary 1969 Woodstock rock festival, died at 72. Renowned for his raspy voice and highly rhythmic guitar playing, Havens recorded 21 studio albums between 1966 and 2008.
In 2003, esteemed songwriter Felice Bryant died at the age of 77. Born Matilda Genevieve Scaduto in Milwaukee, she penned many of her songs with her husband Boudleaux Bryant, including several hits for the Everly Brothers ("Bye Bye Love," "All I Have To Do Is Dream," "Wake Up Little Susie") and Buddy Holly's "Raining In My Heart." Among those who recorded the couple's songs were Simon And Garfunkel, Count Basie, and R.E.M.
In 1966, influential British garage band The Troggs released their single "Wild Thing" in the US, where it would soon reach No.1. The Chip Taylor-penned song spawned a host of cover versions, from Jimi Hendrix to The Damned and even Rolf Harris.
In 2008, it was disclosed by British showbusiness entrepreneur Bill Kenwright in a radio interview that Elvis Presley – who, it was claimed, had never set foot in England – secretly visited London in 1958, where he was given a tour of the city and its landmarks by entertainer Tommy Steele.
Looking for more things that happened on this day in music?
Keep scrolling for all of the headlines for April 22.
BORN ON APRIL 22:
1922: Charles Mingus
1936: Glen Campbell
1937: Jack Nitzsche (Producer, Songwriter)
1950: Peter Frampton
1951: Paul Carrack (Ace)
1956: Kenny Lyons (The Lemonheads)
1974: Shavo Odadjian (System of a Down)
1984: Amelle Berrabah (Sugababes)
1990: Machine Gun Kelly
Looking for more artists born on this day?
Keep scrolling for all of our April 22 birthdays.
---
What to find another day?
---
April 22nd
22 Apr 2020
At the Jersey 4 Jersey virtual benefit concert, surviving members of Fountains of Wayne reunited with Sharon Van Etten to pay tribute to Adam Schlesinger, who died of coronavirus three weeks earlier.
Bruce Springsteen
also performed with his wife Patti Scialfa and played an emotional version of 'Land Of Hope And Dreams' followed by 'Jersey Girl'.
Bon Jovi
debuted a new song called 'Do What You Can.' The event raised nearly $6 million for coronavirus relief.
22 Apr 2013
Richie Havens, the folk singer who opened the legendary 1969
Woodstock
rock festival, died of a heart attack at 72. He died at his home in Jersey City, New Jersey.
22 Apr 2008
It was revealed that 60s singer Tommy Steele took
Elvis Presley
on a secret tour of London in 1958 after Presley struck up a friendship with Steele. When the rock legend flew into London for a day, Steele apparently took him round the city, showing him famous landmarks such as the Houses of Parliament. For more than 50 years, Presley fans had believed the only time Elvis ever set foot in the UK was during a stop-over at Prestwick Airport in Scotland in March 1960.
22 Apr 2007
Beyonce & Shakira were at No.1 on the UK singles chart with 'Beautiful Liar'. The track won the Most Earth-Shattering Collaboration award at the 2007
MTV
Video Music Awards and the song won an Ivor Novello Award for Best-Selling British Song.
22 Apr 2003
Songwriter Felice Bryant died of cancer. Wrote many hits with her husband Boudleaux including; The Everly Brothers, 'Bye Bye Love', 'All I Have To Do Is Dream', 'Wake Up Little Susie' and 'Raining In My Heart' a hit for
Buddy Holly
. Other acts to record their song include
Bob Dylan
,
The Beatles
, Tony Bennett,
Simon And Garfunkel
, Sarah Vaughan,
Grateful Dead
,
Dolly Parton
,
Elvis Presley
,
The Beach Boys
,
Roy Orbison
, Elvis Costello, Count Basie, Dean Martin, Ruth Brown, Cher,
R.E.M.
and Ray Charles.
22 Apr 2001
Destiny's Child went to No.1 on the UK singles chart with 'Survivor.' Their second chart topper, they were the first US female band to have more than one UK No.1. The song won the trio a Grammy Award for Best R&B Performance by a Group.
22 Apr 1991
The Dave Matthews Band played their first ever-live show when they appeared at The Earth Day festival in Charlottesville, Virginia.
22 Apr 1989
Madonna
started a three week run at No.1 on the US singles chart with 'Like A Prayer', the singers seventh US No.1, also a No.1 in the UK.
22 Apr 1978
Bob Marley
and the Wailers performed at the 'One Love Peace Concert' in Jamaica. It was Marley's first public appearance in Jamaica since being wounded in an assassination attempt a year and a half earlier.
22 Apr 1972
Deep Purple
scored their second UK No.1 album with Machine Head. The album which features 'Smoke on the Water' and 'Highway Star', is often cited as a major influence in the early development of the heavy metal music genre and commercially, it was
Deep Purple
's most successful album.
22 Apr 1967
In the most popular Monkee poll conducted in the music paper Disc & Music Echo, Davy Jones received 63% of the votes, Mickey Dolenz 22%, Peter Tork 8% and Mike Nesmith 7%.
22 Apr 1966
Two dozen local group's appeared at a 'battle of the bands' gig in Matawan Keyport Roller Drome in New Jersey. All acts performed three songs each. The Rogues won first place, second was Sonny & The Starfires, and third place went to The Castiles, (with
Bruce Springsteen
on vocals). The three winners were given an opportunity to perform at the Roller Drome the following week as part of a major concert headlined by The Crystals.
22 Apr 1966
'Wild Thing' by The
Troggs
(who were originally called The Troglodytes) was released in the U.S. on both the Atco and Fontana labels. The song went on to reach No.1. Fronted by Reg Presley, 'Wild Thing' became a major influence on garage rock and punk rock.
22 Apr 1965
The Beatles
were at No.1 on the UK singles chart with 'Ticket To Ride.' Taken from the film
Help!
it was the group's seventh UK No.1.
22 Apr 1964
The President of The National Federation Of Hairdressers offered a free haircut to the next No.1 group in the UK pop charts. He said The
Rolling Stones
are the worst, one of them looks as if he's got a feather duster on his head.'
22 Apr 1957
Elvis Presley
had his custom built 'Music Gates' installed at Gracelands. The gates were designed by Abe Saucer and custom built by John Dillars Jr, of Memphis Doors inc.
Born on this day in music
22 Apr 1990
Colson Baker, known professionally as Machine Gun Kelly (MGK), American rapper, musician, noted for his compositional blending of contemporary and alternative hip hop with rock. He released his debut studio album, Lace Up, in 2012, which peaked at No.4 on the US Billboard chart and contained his breakout single 'Wild Boy'. His sixth studio album Mainstream Sellout peaked at No.1 on the US chart in 2022.
22 Apr 1984
Amelle Berrabah, singer with British girl group Sugababes who had the 2002 UK No.1 single, 'Round Round'. In 2006, British Hit Singles & Albums named the Sugababes as the most successful female act of the 21st century with six UK No.1 singles and eighteen UK top ten hits.
22 Apr 1979
Daniel Johns from Australian rock band Silverchair who had the 1997 Australian No.1 single 'Freak' and the 1995 Australian No.1 album Frogstomp plus three other Australian No.1 albums. During their career, Silverchair won more ARIA Music Awards than any other artist in history with 21 wins.
22 Apr 1974
Shavo Odadjian, bassist with Armenian-American heavy metal band System of a Down who had the 2001 US No.1 album Toxicity and the 2005 US No.1 & UK No.2 album Mezmerize.
22 Apr 1969
Craig Logan from English pop band Bros who had the 1988 UK No.1 single 'I Owe You Nothing' plus 10 other UK Top 40 singles.
22 Apr 1956
American singer, songwriter, Cynthia Johnson best known as the lead singer of the band Lipps Inc who had the 1980 worldwide smash hit 'Funkytown'.
22 Apr 1956
Kenny Lyons, from American alternative rock band The Lemonheads. A cover of
Simon And Garfunkel
's 'Mrs. Robinson', became one of the band's most successful single in the early 90s.
22 Apr 1951
English singer, songwriter Paul Carrack who was a member of Ace, who had the 1974 UK No.20 single 'How Long'. He replaced keyboardist Jools Holland in Squeeze in 1981 (sang on the hit single 'Tempted'). Was a member of Mike And The Mechanics, (sang lead on their 1989 US No.1 & UK No.2 single 'The Living Years'). Carrack has also worked with artists such as
Elton John
, The Pretenders, B.B. King and played keyboards on The Smiths' eponymous debut album, The Smiths. He now works as a solo artist.
22 Apr 1950
American guitarist Pete Carr. He was lead guitarist for the famed Muscle Shoals Rhythm Section and recorded extensively at FAME Recording Studio in Muscle Shoals, Alabama and Muscle Shoals Sound Studio in Sheffield, Alabama. He recorded with Joan Baez, Bob Seger, Joe Cocker, Boz Scaggs,
Paul Simon
, The Staple Singers,
Rod Stewart
, Barbra Streisand, Wilson Pickett, Hank Williams, Jr., among many others. Carr died on 27 June 2020 age 70.
22 Apr 1950
British-American rock musician Peter Frampton who with The Herd, had the 1968 UK No.5 single 'I Don't Want Our Loving To Die', with Humble Pie, the 1969 UK No.4 single 'Natural Born Bugie'. As a solo artists he scored the 1976 UK No.10 single 'Show Me The Way' taken from his live release Frampton Comes Alive!. Frampton has worked with
David Bowie
,
George Harrison
, Harry Nilsson. Frampton is known for his work as a guitar player and particularly with a Talkbox.
22 Apr 1945
British guitarist and composer Martin Quittenton. He played in the blues rock band Steamhammer, formed in 1968 and Quittenton also worked with Rod Stewart and co-wrote the international hit singles 'Maggie May' and 'You Wear It Well'. Stewart invited Quittenton to join his group The Faces, but Quittenton was not attracted by the wild off-stage antics for which the Faces were notorious. He died on 16 April 2015.
22 Apr 1944
Drummer Howard Wyeth, who has worked with
Bob Dylan
, Don McLean, Joan Baez,
Joni Mitchell
.He died of a heart attack 27 March 1996.
22 Apr 1937
Jack Nitzsche, producer, songwriter. Produced The
Rolling Stones
,
Neil Young
and The Walker Brothers. Co-wrote, 'Up Where We Belong' with Buffy Sainte-Marie. Died of a heart attack on 25th August 2000.
22 Apr 1936
Glen Campbell
, country singer, songwriter, TV presenter. Hits include 'By the Time I Get to Phoenix', 'Wichita Lineman', and 'Rhinestone Cowboy'. As a session musician in the 1960s he worked with Bobby Darin, Ricky Nelson, The
Monkees
,
Elvis Presley
, Frank Sinatra. His guitar playing can be heard on 'Strangers in the Night' by
Frank Sinatra
, 'You've Lost That Lovin' Feelin'' by The
Righteous Brothers
and 'I'm a Believer' by The
Monkees
. Campbell became a patient at an Alzheimer's long-term care and treatment facility in 2014 and died of the disease in Nashville, Tennessee on August 8, 2017 at the age of 81.
22 Apr 1935
American drummer W. S. Holland who played with Carl Perkins, and later for
Johnny Cash
in the bands The Tennessee Three, The Great Eighties Eight, and The Johnny Cash Show Band. He played drums on the 1955 Sun Records recording of 'Blue Suede Shoes' and performed on the "Million Dollar Quartet" session that featured
Elvis Presley
, Jerry Lee Lewis, Perkins, and Cash. He died on 23 September 2020 age 85.
22 Apr 1922
American jazz double bassist, pianist, composer and bandleader Charles Mingus, His final project was the collaboration with
Joni Mitchell
Mingus. He died 5th January 1979 aged 56.