August 10th: The Biggest Music Headlines
Scroll down the page to see all the music headlines, stories and events for August 10 throughout music history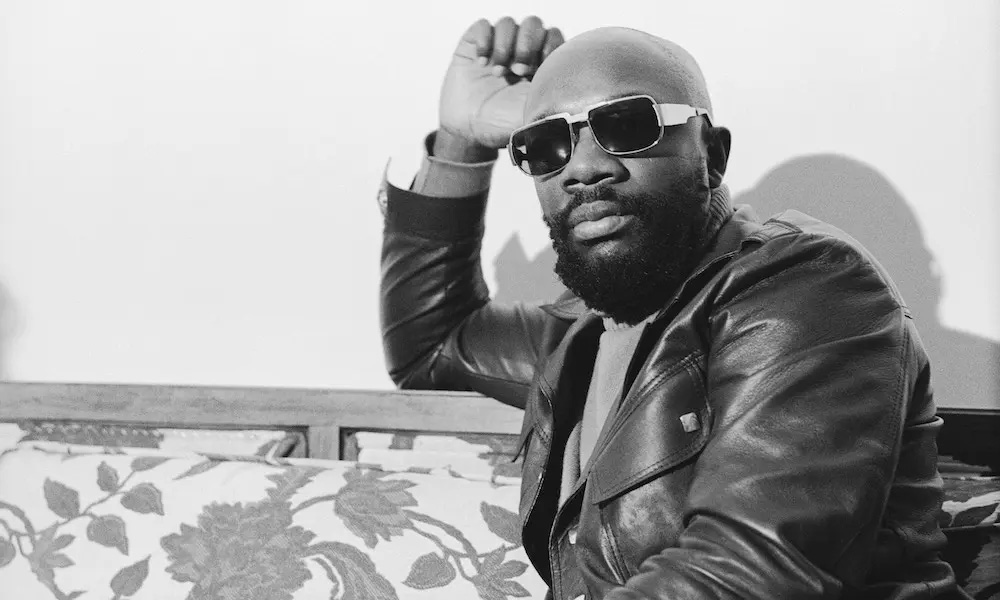 Isaac Hayes Passes Away
On August 10, 2008, soul icon Isaac Hayes died at the age of 65 in his Memphis, TN home. The pioneering singer, songwriter, and actor began his career at Stax Records in the mid-60s, where he worked alongside David Porter to pen hits for Sam & Dave (including "Soul Man" and "Hold On, I'm Comin'"), Carla Thomas, and many others. By the turn of the 70s, however, Hayes was a star in his own right, who pushed soul and R&B to new heights though landmark albums like Hot Buttered Soul and Black Moses. His chart-topping score to 1971's Shaft, meanwhile, broke barriers, as Hayes became the first Black artist to earn an Academy Award in a non-acting category (Best Original Song). In later years, the Rock and Roll Hall of Fame inductee and multiple Grammy winner earned a new generation of fans through his voice-over work in the animated series, South Park.
In 2007, UK music mogul Anthony "Tony" Wilson died at the age of 57, following a battle with kidney cancer. Wilson, who was portrayed by Steve Coogan in the 2002 film 24 Hour Party People, was instrumental in putting the Manchester music scene on the map. Among his many roles, Wilson was a TV presenter, the co-owner of Factory Records (home to Joy Division, New Order, and Happy Mondays), an artist manager, and the founder of the city's Haçienda Nightclub and Dry Bar. In 2000, Wilson was on the forefront during the rise of MP3s – launching one of the earliest digital music stores, Music33, three years ahead of Apple.
On this day in 1970, Elvis Presley kicked off his"Summer Festival" at the International Hotel in Las Vegas (soon to be rechristened as the Las Vegas Hilton). The King's rehearsals and first four days of shows were filmed for the documentary Elvis: That's The Way It Is, released that November.
In 1963 a 13-year-old "Little" Stevie Wonder became the youngest singer to top the US pop charts with "Fingertips Part II." The song would hold the No.1 spot for three weeks.
And in 1976, Elton John took the stage at Madison Square Garden for his first of ten sold-out nights at the New York City venue. Box office sales (totaling $1.25 million) would break a record previously held by the Rolling Stones.
Looking for more things that happened on this day in music?
Keep scrolling for all of the headlines for August 10.
BORN ON AUGUST 10:
1909: Clarence Leonidas "Leo" Fender (founder and namesake of the Fender Electric Instrument Manufacturing Company and inventor of the first mass-produced electric guitar)
1928: Jimmy Dean (singer and TV presenter)
1929: Eddie Fisher
1940: Eddie Hatfield (the Righteous Brothers)
1947: Ian Anderson (Jethro Tull)
1947: Ronnie Spector
1961: Jon Farriss (INXS)
1968: Michael Bivins (New Edition, Bell Biv DeVoe)
Looking for more artists born on this day?
Keep scrolling for all of our August 10 birthdays.
---
What to find another day?
---
August 10th
10 Aug 2016
Ed Sheeran
was being sued in America over claims that his track 'Thinking Out Loud' rips off a
Marvin Gaye
song. The family of the man who co-wrote 'Let's Get It On' says it copies key parts of the track. Ed Townsend's relatives were asking for a jury to decide if they're owed damages.
10 Aug 2013
American singer Eydie Gorme remembered for her 1963, No.7 Billboard hit, 'Blame It On The Bossa Nova', died at the age of 84. She also reached the Hot 100 six other times between 1956 and 1964 and earned numerous awards, including a Grammy and an Emmy.
10 Aug 2008
American singer-songwriter Katy Perry went to No.1 on the UK singles chart with 'I Kissed A Girl'. The track was a worldwide hit topping the charts in over than 20 countries.
10 Aug 2008
US singer-songwriter Isaac Hayes died at his home in Memphis, Tennessee, at the age of 65. Police were called to his home after his wife found him unconscious. He was taken to hospital where he was pronounced dead. Hayes won an Oscar for the 1971 hit Theme From Shaft as was also known as the voice of Chef from the hit cartoon show, South Park. He was married four times and had 12 children.
10 Aug 2007
Anthony Wilson the UK music mogul behind some of Manchester's most successful bands died aged 57 after suffering from kidney cancer. The TV presenter and entrepreneur founded Factory records, the label behind New Order and the Happy Mondays was also famous for setting up the Hacienda nightclub in Manchester, England.
10 Aug 2007
Spice Girl
Emma Bunton gave birth to a baby boy called Beau at London's private Portland Hospital. Bunton and her partner Jade Jones, a former member of defunct boy band Damage, had been together for eight years.
10 Aug 2005
James Blunt was at No.1 on the UK singles chart with 'You're Beautiful',
Mariah Carey
had the US No.1 with 'We Belong Together' and Axel F was at No.1 on the Australian singles chart with 'Crazy Frog.'
10 Aug 2002
Lisa Marie Presley married actor Nicolas Cage at a resort in Hawaii. The marriage was Presley's third. She was married previously to musician Danny Keough and pop star
Michael Jackson
. Cage filed for divorce four months later.
10 Aug 1999
It was announced that
Oasis
rhythm guitarist Paul 'Bonehead' Arthur's had quit the band after finishing his guitar parts on the bands new album.
10 Aug 1993
The Dave Matthews Band played at The Flood Zone in Richmond, Virginia, the gig was recorded with some of tonight's songs ending up on the bands first album 'Remember Two Things.'
10 Aug 1992
Def Leppard
kicked off the North American leg on their 248-date Seven Day Weekend world Tour at Madison Square Garden in New York City.
10 Aug 1987
Wilson Pickett was found guilty by a New Jersey court of possessing a shotgun with intent to endanger life following his involvement in a fist fight in a bar.
10 Aug 1985
Canadian singer, guitarist
Bryan Adams
scored his first US No.1 album with 'Reckless.'
10 Aug 1985
'Money for Nothing' by
Dire Straits
peaked at No.4 on the UK singles chart. Notable for its groundbreaking music video and a cameo appearance by Sting singing the song's falsetto introduction and backing chorus, "I want my
MTV
" who also co-wrote the song with Mark Knopfler. The video was also the first to be aired on
MTV
Europe when the network started on 1 August 1987.
10 Aug 1985
Simon Le Bon from
Duran Duran
was air lifted to safety when his boat 'Drum' overturned while racing off the English coast. Le Bon was trapped under the hull with five other crew members for twenty minutes, until being rescued by the Royal Navy.
10 Aug 1976
Elton John
played the first of ten sold out nights at Madison Sq. Gardens in New York City. The $1.25 million generated from the shows broke the record set by The
Rolling Stones
in 1975.
10 Aug 1972
During their Wings Over Europe Tour,
Paul and Linda McCartney
were arrested in Sweden for possession of drugs. McCartney joked the arrest would "make good publicity" for the tour.
10 Aug 1970
Elvis Presley
played the first night of a four-week engagement, playing 2 shows most nights at The International Hotel in Las Vegas, Nevada.
10 Aug 1969
During a North American tour,
Led Zeppelin
appeared at the San Diego Sports Arena. Jethro Tull were the support act.
10 Aug 1968
Tom Jones went to No.1 on the UK album chart with 'Delilah'.
10 Aug 1964
The Beatles
had four singles re-released in the US: 'Do You Want To Know A Secret', 'Please, Please Me', '
Love Me Do
' and 'Twist And Shout.'
10 Aug 1964
Mick Jagger
was fined £32 in Liverpool for driving without insurance and breaking the speed limit. His solicitor explained that Jagger was on 'an errand of mercy', driving to see two fans injured in a car crash.
10 Aug 1963
13 year-old Little
Stevie Wonder
started a three week run at No.1 on the US singles chart with 'Fingertips part II', making him the youngest singer to top the charts.
10 Aug 1963
The 100th edition of 'Thank Your Lucky Stars' was aired on UK TV, with Cliff Richard, The Shadows, The Searchers, Brian Poole and the Tremeloes, Billy J. Kramer and the Dakotas and Alma Cogan.
10 Aug 1963
Acker Bilk, Chris Barber, Ronnie Ross, Cyril Davies, Long John Baldry and The
Rolling Stones
all appeared at the third Richmond Jazz Festival held over two days in Richmond, England. A weekend ticket cost 20 shillings.
10 Aug 1961
Helen Shapiro was at No.1 on the UK singles chart with 'You Don't Know'. Aged 14, Shapiro became the youngest act ever to score a UK No.1.
10 Aug 1959
Four members of The Platters were arrested after a gig in Cincinnati after being found with four 19 year old women, (3 of them white), in various stages of undress. The scandal resulted in radio stations across the US removing Platters records from their playlists.
Born on this day in music
10 Aug 1968
Leigh Marklew, bassist with English rock band Terrorvision who had the 1999 UK No.2 single 'Tequila'. Terrorvision were originally known as The Spoilt Bratz.
10 Aug 1968
American singer, rapper and manager Michael Bivins, from American R&B group New Edition who had the 1983 UK No.1 single 'Candy Girl', and Bell Biv DeVoe who had the 1990 US No.3 single 'Do Me!'.
10 Aug 1962
Julia Fordham, singer, songwriter, one time member of Mari Wilson's Wilsations and backing singer for Kim Wilde, (1988 UK No.27 single 'Happy Ever After').
10 Aug 1961
Jon Farriss drummer, from Australian rock band INXS, who had the 1988 UK No.2 & US No.1 single 'Need You Tonight'. Their 1987 album Kick has sold over 10m copies in the US alone and features four Top 10 singles; 'Need You Tonight,' 'Devil Inside', 'New Sensation,' and 'Never Tear Us Apart.' INXS has sold over 55 million records worldwide.
10 Aug 1959
Mark Price, drummer with All About Eve who had the 1988 UK No.10 single 'Martha's Harbour'. Also worked with
The Cure
and Right Said Fred.
10 Aug 1949
Andy Cresswell-Davis, The Korgis (1980 UK No.5 single 'Everybody's Got To Learn Sometime').
10 Aug 1948
English musician Peter Beckett, best known as the lead singer and guitarist for 1970s soft rock group Player, which scored a US No. 1 hit in 1977 with 'Baby Come Back'.
10 Aug 1948
American R&B, pop and jazz singer Patti Austin who had the 1983 US No.1 & UK No.11 single with James Ingram 'Baby Come To Me'. She and
Michael Jackson
performed a duet on It's the Falling in Love, which appeared on his album Off the Wall,
10 Aug 1947
British musician, singer, songwriter and multi-instrumentalist Ian Anderson, best known for his work as the lead vocalist, flautist and acoustic guitarist of British rock band Jethro Tull. Anderson has also owned several salmon farms in the UK.
10 Aug 1947
American singer Ronnie Spector, who co-founded and fronted the girl group The Ronettes, (1963 US No.2 & UK No.4 single 'Be My Baby'). She married producer Phil Spector in 1968. Ronnie alleged in her 1990 memoir, Be My Baby, that following their marriage, Phil subjected her to years of psychological torment and sabotaged her career. Ronnie died on January 12, 2022 aged 78.
10 Aug 1946
Mick Clarke, from English pop band The Rubettes who had the 1974 UK No.1 single 'Sugar Baby Love'.
10 Aug 1943
American singer, guitarist and songwriter, James Griffin who with Bread had the 1970 US No.1 & UK No.5 single 'Make It With You'. He won an Academy Award for Best Original Song in 1970 as co-writer of 'For All We Know'. He died of complications from cancer on 11 January 2005.
10 Aug 1940
Bobby Hatfield, singer, The
Righteous Brothers
, (1965 UK & US No.1 single 'You've Lost That Lovin' Feelin', 1990 UK No.1 single 'Unchained Melody', first released in 1965). He died on 5th November 2003.
10 Aug 1929
American singer and entertainer Eddie Fisher, singer, who had the 1953 UK No.1 single 'Outside Of Heaven', and 1955 US No.6 single 'Heart'. Fisher divorced his first wife, actress Debbie Reynolds, to marry Reynolds' best friend, actress Elizabeth Taylor.
10 Aug 1928
Jimmy Dean, singer, (1961 US No.1 & UK No.2 single 'Big Bad John'. Went on to present a prime time variety show on US TV.
10 Aug 1909
Clarence Leonidas 'Leo' Fender, inventor and founder of the Fender Electric Instrument Manufacturing Company. The Fender Telecaster (1949) was the first mass-produced electric guitar; the Fender Stratocaster (1954) is among the world's most iconic electric guitars and the Fender Precision Bass (1951) set the standard for electric bass guitars. Fender died on 21st March 1991 having long suffered from Parkinson's disease.