August 11th: The Biggest Music Headlines
Scroll down the page to see all the music headlines, stories and events for August 11 throughout music history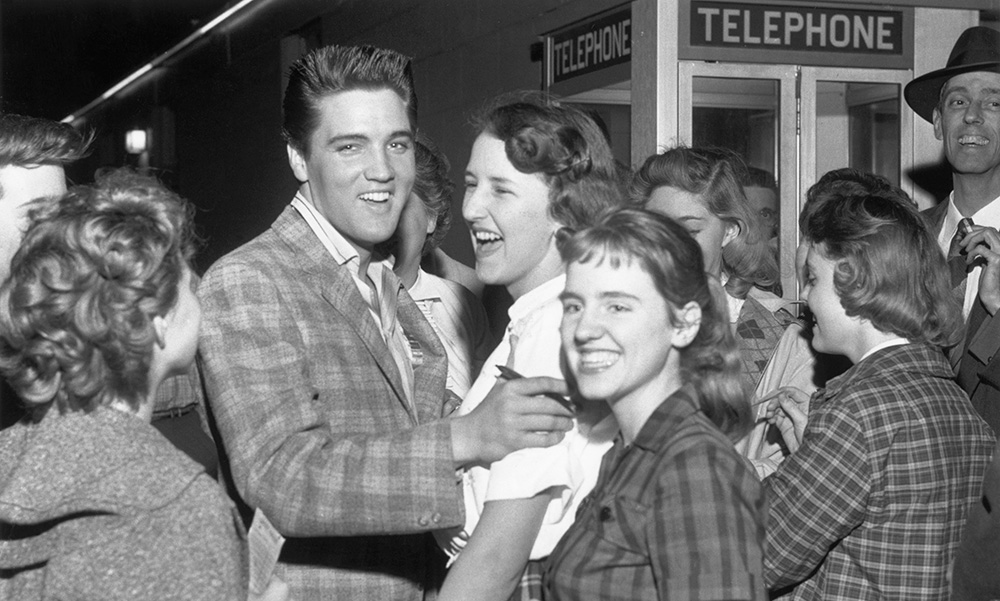 Elvis Releases A Record-Breaking Single
On August 11, 1956, Elvis Presley released his double-sided single, "Don't Be Cruel / Hound Dog." The two songs not only hit No.1, but remained there for a record-breaking 11 weeks. Presley would hold the record until he was surpassed in 1992, by Boyz II Men's "End of the Road."
In 1966, John Lennon spoke at a press conference at Chicago's Astor Towers Hotel, where he apologized for remarks he had made days earlier that The Beatles were "more popular than Jesus." In his apology, Lennon explained that he was merely referring to fans' intense infatuation with the band and not comparing himself or his band mates to Christ. Lennon's original comments sparked outrage, protests, and bans against The Beatles' music – particularly among Christian communities in the US.
In 1967, the Reading Festival (then in its seventh year) kicked off a weekend full of music. Among the performers were the Small Faces, Eric Burdon and the New Animals, Jeff Beck, Peter Green's Fleetwood Mac, Donovan, and Cream.
In 1979, Led Zeppelin unknowingly played their final UK show to approximately 104,000 fans at England's Knebworth House. While the group performed several stripped-down shows in Europe the following summer, they would part ways in December 1980, following the tragic death of drummer John Bonham.
In 1999 all four original members of KISS appeared in Los Angeles to unveil their star on the Hollywood Walk of Fame. Fans can visit it just outside of 7092 Hollywood Blvd.
…And in 2011, The Go-Go's received their star on the Walk of Fame at 6652 Hollywood Blvd, the former location of The Masque – the legendary punk club where the all-female band got their start.
Looking for more things that happened on this day in music?
Keep scrolling for all of the headlines for August 11.
BORN ON AUGUST 11:
1942: Mike Hugg (Manfred Mann)
1943: Kenneth Gamble (songwriter, producer, and co-founder of Philadelphia International Records)
1943: Dennis Payton (Dave Clark Five)
1949: Eric Carmen
1954: Joe Jackson
1976: Ben Gibbard (Death Cab for Cutie)
Looking for more artists born on this day?
Keep scrolling for all of our August 11 birthdays.
---
What to find another day?
---
August 11th
11 Aug 2022
David Bowie
was named Britain's most influential artist of the past 50 years in the Sky Arts list for his ability to transcend music, film and fashion. Other musicians in the list included the Spice Girls,
Sir Elton John
, Stormzy and Boy George.
11 Aug 2022
Scottish singer-songwriter and actor Darius Danesh was found unresponsive in his apartment in Rochester, Minnesota, and he was pronounced dead later that day. He came to prominence after appearing in the first series of UK TV's Popstars contestant in 2001, famous for his rendition of
Britney Spears
'Baby One More Time'. Darius scored the 2002 UK No.1 single 'Colourblind' and later performed the role of Billy Flynn in London's West End production of Chicago and played the lead role of Sky Masterson in Guys and Dolls.
11 Aug 2021
American guitarist, Roy Gaines died a day before his 84th birthday. He was a backing musician in sessions with the Everly Brothers, the
Supremes
, Bobby Darin,
Stevie Wonder
, and Gladys Knight. Gaines co-wrote the song 'No Use Crying', which was recorded by both George Jones and Ray Charles.
11 Aug 2014
5 Seconds of Summer were at No.1 on the US album chart with their debut studio album. The Australian rock band achieved the biggest first-week sales for a debut album by a group since Daughtry's self-titled album in 2006. 5 Seconds of Summer were also the first Australian act to achieve a US No.1 album with their debut album.
11 Aug 2011
American group the Go-Go's received the 2,444th star on the Hollywood Walk Of Fame. It was located where the legendary punk club The Masque used to stand. Go-Go's frequently played the club during their early years. The Go-Go's rose to fame during the early 1980s and were the first, and to date only, all-female band that both wrote their own songs and played their own instruments to top the Billboard album charts.
11 Aug 2008
Karl Wiosna from Graig, near Pontypridd in Wales had his stereo equipment and music collection destroyed after being served with a noise abatement notice, which he later admitted breaching. Environmental health officers were alerted by neighbours who complained about the unacceptable volume Wiosna was playing his Cher and
U2
records. Two tape and record decks, a radio and CDs were seized and destroyed by the council, he was also fined £265.
11 Aug 2008
Don Helms a steel guitarist best known as the steel guitar player of Hank Williams' Drifting Cowboys died aged 81. Helms was a featured musician on over 100 Hank Williams recordings and went on to play on many classic country hits, including Patsy Cline's 'Walking After Midnight,' Stonewall Jackson's 'Waterloo,' the Louvin Brothers' 'Cash on the Barrelhead,' Lefty Frizzell's 'Long Black Veil' and Loretta Lynn's 'Blue Kentucky Girl.'
11 Aug 2002
Bruce Springsteen
started a two week run at No.1 on the US album chart with 'The Rising', the singers fifth US No.1. Also No.1 in the UK.
11 Aug 2000
Madonna
gave birth to a baby boy Rocco Ritchie at The Cedars-Sinai Hospital Beverly Hills.
11 Aug 1999
Kiss
arrived on Hollywood Boulevard to unveil their star on The Walk Of Fame. The band had released over 30 albums and sold over 80 million records world-wide.
11 Aug 1989
Three members of L.L. Cool J crew were arrested and charged with raping a 15 year-old girl. The incident took place after a concert when the girl had won a backstage pass on a radio contest.
11 Aug 1984
Ray Parker JR. started a three week run at No.1 on the US singles chart with the theme from the film 'Ghostbusters'. Parker who had been a session guitarist for
Stevie Wonder
and
Marvin Gaye
was accused of plagiarizing the melody from Huey Lewis and the News song 'I Want a New Drug', resulting in Lewis suing Parker, the pair settled out of court in 1985.
11 Aug 1979
Led Zeppelin
played their last ever UK show when they appeared at Knebworth House, England. The set list included: The Song Remains The Same, Celebration Day, Black Dog, Nobody's Fault But Mine, Over The Hills And Far Away, Misty Mountain Hop, Since I've Been Loving You, No Quarter, Hot Dog, The Rain Song, White Summer/Black Mountainside, Kashmir, Trampled Under Foot, Sick Again, Achilles' Last Stand, In The Evening,
Stairway To Heaven
Rock And Roll, Whole Lotta Love and Communication Breakdown.
11 Aug 1969
350 special guests were invited to see
Motown
Records new signings The Jackson Five play at The Daisy Club in Beverly Hills, California.
11 Aug 1967
Small Faces
, The Move, Marmalade, Paul Jones,
Pink Floyd
, Amen Corner, Donovan, Zoot Money,
Cream
,
Jeff Beck
, John Mayall, Peter Green's
Fleetwood Mac
and The Crazy World Of Arthur Brown all appeared at this years UK Reading festival. An advance 3 day ticket cost £2. Arthur Brown's trademark flaming helmet burnt out of control and organiser Harold Pendleton's father-in-law had to douse the flames with a pint of beer.
11 Aug 1966
At a press conference held at The Astor Towers Hotel in Chicago,
John Lennon
apologised for his remarks that
The Beatles
were 'more popular than Jesus'. Lennon told reporters "Look, I wasn't saying
The Beatles
are better than God or Jesus, I said 'Beatles' because it's easy for me to talk about
The Beatles
. I could have said 'TV' or 'Cinema', 'Motorcars' or anything popular and would have got away with it''.
11 Aug 1964
The Beatles
started recording their fourth album ('Beatles For Sale', not yet titled), at EMI studios in London, England.
11 Aug 1964
The High Numbers, (later to become
The Who
), played at The Railway Hotel in Harrow, England. Just before the band were due on stage, Roger Daltry's father-in law came into the venue and dragged the singer outside and hit him. The band started their set and Daltry appeared back on stage after the fight.
11 Aug 1962
Neil Sedaka started a two week run at No.1 on the US singles chart with 'Breaking Up Is Hard To Do', his first US No.1 as an artist. It reached No.7 on the UK chart.
11 Aug 1956
Elvis Presley
's double sided hit 'Don't Be Cruel / Hound Dog was released. The single went to No.1 on the US chart, where it stayed for 11 weeks - a record that would not be broken until 1992's Boyz II Men hit 'End of the Road'.
Born on this day in music
11 Aug 1981
Sandi Thom, Scottish singer /songwriter, 2006 UK and Australian No.1 single 'I Wish I Was a Punk Rocker (with Flowers in My Hair)'
11 Aug 1978
Chris Kelly, Kris Kross, (1992 US No.1 & UK No.2 single 'Jump'. The duo of Chris Smith and Chris Kelly were 12 and 13 when they recorded the song. Kelly died on 1st May 2013 in an Atlanta hospital at the age of 34.
11 Aug 1976
Ben Gibbard, singer with American band Death Cab for Cutie, 2008 US No.1 album 'Narrow Stairs.'
11 Aug 1970
Andy Bell, guitarist, singer with Ride who had the 1992 UK No.9 single 'Leave Them All Behind'. Also a member of Hurricane No.1. Bell joined
Oasis
in 1999.
11 Aug 1968
American guitarist, singer, and songwriter, Charlie Sexton known for the 1985 hit 'Beat's So Lonely' and for being the guitarist for
Bob Dylan
's backing band from 1999. Sexton has contributed songs to various film soundtracks, including True Romance and Air America, made a cameo fronting a bar band in Thelma & Louise and played the role of Jimmy in the 2014 film Boyhood.
11 Aug 1964
Hamish Seelochan, The Pasadenas, (1992 UK No.4 single 'I'm Doing Fine Now').
11 Aug 1960
Paul Gendler, Modern Romance (1982 UK No.4 single 'Best Years Of Our Lives').
11 Aug 1959
Alan Frew, Glass Tiger, (1986 UK No.29 single 'Don't Forget Me When I'm Gone').
11 Aug 1954
Bryan Bassett, guitar, vocals, from American group Wild Cherry known for their 1976 US No.1 & UK No.7 single 'Play That Funky Music'.
11 Aug 1954
Joe Jackson, UK singer, songwriter, who had the 1980 UK No.5 single 'It's Different For Girls' and 1982 US No.6 and UK No.7 single 'Steppin Out'.
11 Aug 1950
Erik Braunn, guitarist from American rock band
Iron Butterfly
who had the 1968 US No.14 single 'In-A-Gadda-Da-Vida'. The band's seminal 1968 album In-A-Gadda-Da-Vida is among the world's 40 best-selling albums, selling more than 30 million copies. He died on 25th July 2003 aged 52.
11 Aug 1949
Eric Carmen, American singer, songwriter, guitarist and keyboardist, who with the The Raspberries had the 1972 US No.5 single 'Go All The Way' and the 1976 solo US No.2 single, 'All By Myself', plus other hits with 'She Did It', 'Hungry Eyes', and 'Make Me Lose Control.
11 Aug 1948
Bill Hurd, from English pop band The Rubettes who had the 1974 UK No.1 single 'Sugar Baby Love'.
11 Aug 1943
Kenneth Gamble, who as part of the American songwriting and production team with Leon A. Huff is credited for developing the Philadelphia soul music genre (also known as Philly sound) of the 1970s. In addition to forming their own label, Philadelphia International Records, Gamble and Huff have written and produced 175 gold and platinum records.
11 Aug 1943
Denis Payton, sax, from English pop rock band, Dave Clark Five, who scored the 1964 UK No.1 single 'Glad All Over', and the 1965 US No.1 single 'Over And Over' , plus over 15 other UK top 40 singles. Payton died on 17th December 2006.
11 Aug 1943
Jim Kale bassist from Canadian rock band Guess Who who had the 1970 US No.1 & UK No.19 single 'American Woman'.
11 Aug 1942
Mike Hugg, drummer and founding member of the 1960s group Manfred Man who had the 1964 UK & US No.1 single 'Do Wah Diddy Diddy'. He was later a member of Manfred Mann Chapter Three.