August 21st: The Biggest Music Headlines
Scroll down the page to see all the music headlines, stories and events for August 21 throughout music history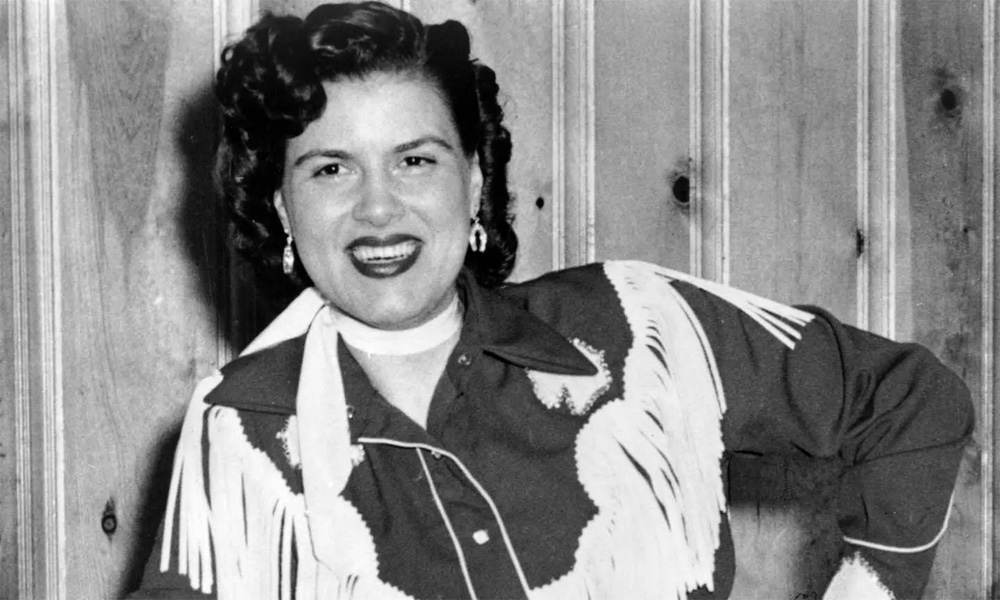 Patsy Cline Records 'Crazy'
On August 21, 1961 – Patsy Cline recorded a cover of Willie Nelson's song, "Crazy." At the time, Cline was recovering from a head-on collision, which had taken place two months earlier, and was struggling to reach some of the high notes, due to broken ribs. Her performance, however, revealed none of this. In fact, "Crazy" went on to become a massive hit, spending 21 weeks on the Billboard charts and becoming one of her signature songs.
In 1961, Tamla Records (a subsidiary of Motown) released the Marvelettes' debut, "Please Mr. Postman." The single not only became the girl group's biggest hit—reaching the top spot on the Billboard Pop and R&B charts and receiving Gold Certification from the RIAA in 2004—but it was Motown Records' first No.1 on the Billboard Hot 100.
In 1967, The Doors began recording their sophomore record, Strange Days, at Sunset Sound Studios in Hollywood. The album was released the following month and included two Top 30 singles, "People Are Strange" and "Love Me Two Times." It peaked at No. 3 on the US album chart and, 34 years later, received a platinum certification from the RIAA.
In 1997, Oasis released their third album, Be Here Now. It quickly became one of the fastest-selling albums ever, moving over 350,000 units on its release day and taking the title as the UK's best-selling album of 1997 with 1.47 million units sold. Be Here Now also marks the last Oasis record to feature founding members Paul "Bonehead" Arthurs and Paul "Guigsy" McGuigan before their departures in 1999.
In 2013, legendary concert promoter Sid Bernstein died at age 95. Famous for booking The Beatles at Carnegie Hall and Shea Stadium, Bernstein was instrumental in bringing The Fab Four and other major UK acts (including The Rolling Stones, Herman's Hermits, The Moody Blues, and The Kinks) to America in the 60s, as well as being the first promoter to organize rock concerts in sports stadiums.
In 2021, Don Everly of The Everly Brothers died at the age of 84. The duo, which also featured Don's brother, Phil, rose to fame in the late 50s, with hits like "Bye Bye Love" and "All I Have To Do Is Dream." The brothers' tight-knit harmonies went on to influence the likes of The Beatles and Simon and Garfunkel.
Looking for more things that happened on this day in music?
Keep scrolling for all of the headlines for August 21.
BORN ON AUGUST 21:
1904: Count Basie
1938: Kenny Rogers
1944: Jackie DeShannon (Singer)
1952: Joe Strummer (The Clash)
1954: Steve Smith (Journey)
1957: Budgie (Siouxsie and the Banshees)
1957: Kim Sledge (Sister Sledge)
1967: Serj Tankian (System of a Down)
1979: Kelis
Looking for more artists born on this day?
Keep scrolling for all of our August 21 birthdays.
---
What to find another day?
---
August 21st
21 Aug 2021
Don Everly, the surviving member of the rock 'n' roll duo The Everly Brothers, died at the age of 84. Everly and his brother, Phil, had worldwidehits in the late 1950s and early 1960s, including 'Bye Bye Love' and 'All I Have To Do Is Dream'. They were known for their close harmonies, and influenced groups like
The Beatles
and
Simon and Garfunkel.
The Beatles
based the vocal arrangement of 'Please Please Me' on The Everly's hit 'Cathy's Clown'.
21 Aug 2015
After the Westboro Baptist Church, famous for their anti-gay demonstrations, staged a protest before a
Foo Fighters
concert in Kansas City, the band responded by driving a truck in front of the demonstrators and Rickrolling them by blasting a version of Rick Astley's hit 'Never Gonna Give You Up.'
21 Aug 2014
Sir
Paul McCartney
topped a list of the richest bassists in the world with estimated wealth of $1.2 billion according to the website www.therichest.com. Coming in at No.2 were Sting and Gene Simmons, both with a net worth of $300 million, followed by
Pink Floyd
's Roger Waters,
U2
's Adam Clayton and Flea from the
Red Hot Chili Peppers
.
21 Aug 2013
Legendary concert promoter Sid Bernstein, best known for booking
The Beatles
at Carnegie Hall and later Shea Stadium, died at the age of 95. Bernstein changed the American music scene in the 1960s by bringing
The Beatles
, The
Rolling Stones
, Herman's Hermits, The Moody Blues, and
The Kinks
to America. He was the first impresario to organise rock concerts at sports stadiums.
21 Aug 2008
Paedophile and ex-pop star Gary Glitter returned to Thailand after being refused entry to Hong Kong. Chinese authorities informed the UK Foreign Office they had barred Glitter from entry. He was earlier deported from Vietnam after spending almost three years in jail for sexually abusing two girls. He flew to Hong Kong from Bangkok after refusing to fly to the UK, and had made a plea for medical treatment after saying he was suffering a heart attack.
21 Aug 2008
Drummer Buddy Harman died of congestive heart failure, aged 79. Worked with
Elvis Presley
('Little Sister'),
Patsy Cline
('Crazy'),
Roy Orbison
('Pretty Woman'),
Johnny Cash
('Ring Of Fire'),
Tammy Wynette
('Stand By Your Man'). Harman was the first house drummer for The Grand Ole Opry and can be heard on over 18,000 recordings.
21 Aug 2006
A man surfing the Internet in America foiled three men who broke into a Liverpool shop in Liverpool, England. The man who had logged onto a site streaming live footage of Mathew Street and a forthcoming Beatles festival saw the men smashing a window of a shop and climb inside. He phoned Merseyside police who arrested the men.
21 Aug 2005
Robert Moog, inventor of the synthesiser died aged 71, four months after being diagnosed with brain cancer. Dr Moog built his first electronic instrument, a theremin - aged 14 and made the MiniMoog, "the first compact, easy-to-use synthesiser" in 1970. He won the Polar prize, Sweden's "music Nobel prize", in 2001. Wendy Carlos' 1968 Grammy award-winning album, Switched-On Bach, brought Dr Moog to prominence.
21 Aug 2002
Atomic Kitten were facing legal action after sacking Andy McCluskey, the songwriter who wrote the bands first No.1 'Whole Again.' The band were about to be dropped by Innocent records when they recorded the song that became a huge hit. The girls then wanted a bigger share of royalties, which McCluskey had turned down. Under the original deal each girl got 4p from the sale of one single.
21 Aug 2000
American recording engineer Chuck Britz died of brain cancer in Paradise, California at the age of 72. He worked with Jan and Dean,
Brian Wilson
and The Beach Boys, P.F. Sloan and The Grass Roots on numerous albums between 1962 and 1967.
21 Aug 2000
Survivor filed a lawsuit against TVT Records after they released a soundtrack to the TV show 'Survivor.' Survivor guitarist Frankie Sullivan said, 'It's unfortunate that after 23 years of building, promoting, and protecting the name of our band, someone can suddenly come along and release a recording that uses our name and takes away everything we have worked for.'
21 Aug 1997
Former Stone Roses drummer Alan Wren was jailed for seven days after being rude to a top Manchester Magistrate. He was before the court due to having no car insurance and lost his temper after being quizzed about his earnings.
21 Aug 1997
Oasis
' third album 'Be Here Now', became one of the fastest selling albums ever, shifting over 350,000 units on the first day of release. The cover image for Be Here Now was shot at Stocks House in Hertfordshire, the former home of Victor Lownes, the head of the Playboy Clubs in the UK.
21 Aug 1983
Ramones
guitarist Johnny Ramone had a four-hour brain surgery operation, after being found unconscious in a New York Street where he had been involved in a fight.
21 Aug 1982
U2
singer Bono married Alison Stewart, his girlfriend from 1975 at All Saints Church, Raheny in Ireland.
U2
bassist Adam Clayton acted as Bono's best man.
21 Aug 1976
The
Rolling Stones
, 10CC, Lynyrd Skynyrd, Todd Rundgren's Utopia and Hot Tuna all appeared at The Knebworth Festival, Hertfordshire, England, tickets £4.50.
21 Aug 1972
Jack Casady of Jefferson Airplane was arrested after a fight broke out on stage during a concert when the police had been called 'pigs'. Grace Slick was 'Mace' and another group member injured at the show in Akron.
21 Aug 1971
Arthur Brown's Kingdom Come, Hawkwind, Duster Bennett, Brewers Droop, Indian Summer, Graphite, (and second from the bottom on the bill)
Queen
all appeared at the Tregye Festival Truro, Cornwall, England.
21 Aug 1968
Tommy James and The Shondells returned to the UK No.1 position for the second time with the single 'Mony Mony'. In a peculiar twist, in 1987 Billy Idol's version of the song replaced another Tommy James hit at No.1 on the Billboard Hot 100 — 'I Think We're Alone Now', covered by Tiffany.
21 Aug 1967
The Doors
started recording their second album at Sunset Sound Studios, Hollywood, California.
21 Aug 1966
On their last ever US tour
The Beatles
performed in two cities due to a cancellation due to rain the previous day. First they performed at Crosley Field in Cincinnati, Ohio. Then they flew to St. Louis, Missouri, for a concert at Busch Stadium, where they performed under a tarpaulin due to heavy rain. It was this gig that convinced
Paul McCartney
that
The Beatles
should stop performing live.
21 Aug 1965
The
Rolling Stones
started a three week run at No.1 on the US album chart with 'Out Of Our Heads' the group's first US No.1 album.
21 Aug 1961
Tamla Records released the
Marvelettes
first single, 'Please Mr. Postman'. The song went on to sell over a million copies and become the group's biggest hit, reaching the top of both the Billboard Pop and R&B charts. The song is notable as the first
Motown
song to reach the No.1 position on the Billboard Hot 100 pop singles chart.
21 Aug 1961
Elvis Presley
started a three-week run at No.1 on the US album chart with 'Something For Everybody' his sixth US No.1 album.
21 Aug 1961
Patsy Cline
recorded the classic Willie Nelson song, 'Crazy'. Cline was still on crutches after going through a car windshield in a head-on collision two months earlier and had difficulty reaching the high notes of the song at first due to her broken ribs. 'Crazy' spent 21 weeks on the chart and eventually became one of her signature tunes.
Born on this day in music
21 Aug 1984
Melissa Schman, Dream, (2001 US No.3 & UK No.17 single 'He Loves You Not').
21 Aug 1979
Kelis Rogers, singer, (2000 UK No.4 single 'Caught Out There'). Was once married to American rapper Nas.
21 Aug 1971
Liam Howlett, Keyboards, with English electronic dance music group The Prodigy who scored the 1996 UK No.1 & US No. 30 single 'Firestarter' and the 1997 UK & US No.1 album 'The Fat Of The Land'.
21 Aug 1968
Dina Carroll, singer, (1993 UK No.3 single 'Don't Be A Stranger').
21 Aug 1967
Serj Tankian, singer with Armenian-American heavy metal band System of a Down who had the 2001 US No.1 album Toxicity and the 2005 US No.1 & UK No.2 album Mezmerize.
21 Aug 1961
David Morales, US DJ, producer, (1998 UK No. 8 single with The Face 'Needin' U').
21 Aug 1957
Budgie, Siouxsie and the Banshees, (1983 UK No.3 single 'Dear Prudence', plus over 15 other UK top 40 singles). The Creatures, (1983 UK No.14 single 'Right Now').
21 Aug 1957
Kim Sledge, Sister Sledge, (1979 US No.2 single 'We Are Family', 1985 UK No.1 with 'Frankie').
21 Aug 1954
Nick Kane from the American band The Mavericks who had the 1998 UK No.4 single 'Dance The Night Away'. The Mavericks won a Grammy Award for the song 'Here Comes the Rain'.
21 Aug 1954
Steve Smith, drums, Journey, (1982 US No.2 single 'Open Arms').
21 Aug 1952
Turkish-born English musician, singer, actor and songwriter
Joe Strummer
who was the co-founder of
The Clash
, who had the 1979 UK No. 11 single 'London Calling' and the 1982 US No. 8 single 'Rock The Casbah. Their 1991 UK No.1 single 'Should I Stay Or Should I Go', was first released 1982. He later formed
Joe Strummer
& The Mescaleros. He died on 22nd December 2002 of an undiagnosed congenital heart defect.
21 Aug 1951
English bassist and singer Glenn Hughes, who was a member of Trapeze and who has also worked with
Deep Purple
,
Black Sabbath
, Gary Moore. He is also a member of Black Country Communion.
21 Aug 1947
Carl Giammarese, guitarist with American Sunshine pop group The Buckinghams who had the 1967 US No.1 single 'Kind Of A Drag' and became one of the top selling US acts of 1967.
21 Aug 1944
Jackie DeShannon singer, (1969 US No.4 single 'Put A Little Love In Your Heart').
21 Aug 1941
American keyboardist and composer Tom Coster best known for playing with
Carlos Santana
. Coster has also worked with Joe Satriani, Boz Scaggs, Zucchero as well as other artists.
21 Aug 1938
Kenny Rogers, singer-songwriter, record producer, actor, and entrepreneur. He has charted more than 120 hit singles across various music genres, topping the country and pop album charts for more than 200 individual weeks in the US alone. He was voted the "Favorite Singer of All-Time" in a 1986 joint poll by readers of both USA Today and People. Rogers died on 20 March 2020 age 81 from natural causes.
21 Aug 1923
British singer Cliff Adams. He led the Cliff Adams Singers known for ballads and novelty songs and formed The Stargazers that had two UK No.1 singles, 'Broken Wings' in 1953 (which was the first recording by a native British act to top the UK Singles Chart) and the 1954 'I See the Moon'. Adams wnet on to write many TV jingles, such as ads for Murray Mints, Fry's Turkish Delight, Milk Tray and Smash instant mashed potato.
21 Aug 1904
Count Basie, bandleader. Worked with
Frank Sinatra
as well as his own Count Basie band. He died on 26th April 1984.