August 25th: The Biggest Music Headlines
Scroll down the page to see all the music headlines, stories and events for August 25 throughout music history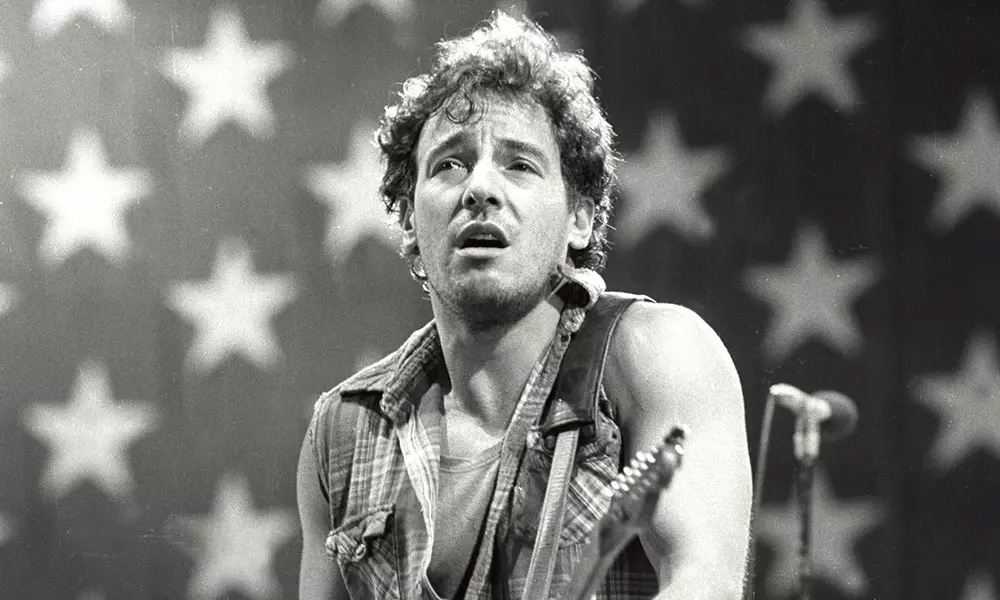 Bruce Springsteen Releases 'Born To Run'
On August 25, 1975, Bruce Springsteen released his third studio album, Born to Run. The now-classic title peaked at No.3 on the Billboard 200 and has since been certified 7x Platinum by the RIAA. Featuring iconic hits like "Born to Run" and "Tenth Avenue Freeze-Out," the record marked the New Jersey rocker's breakthrough album, bringing him mainstream success and broad critical acclaim. Over the decades, the album has ranked on numerous best-of lists (including landing at No.18 Rolling Stones' 500 Greatest Albums of All Time), while in 2015, Born to Run was added to the Library of Congress's National Recording Registry.
In 1970, Elton John played his first American show at The Troubadour. In addition to performing his recent single, "Border Song," the 23-year-old British singer-songwriter's setlist included "Your Song," "Take Me to the Pilot," and a cover of The Rolling Stones' "Honky Tonk Women." The Los Angeles show, which kicked off a 17-date US tour, was attended by the likes of Don Henley, Quincy Jones, and Leon Russell.
In 2001, 22-year-old R&B star and actress Aaliyah died in a plane crash in the Bahamas, while shooting a music video for her single "Rock the Boat." The artist, who rose to fame as a teenager in 1994 with her multi-platinum debut, Age Ain't Nothing but a Number, had recently released her third studio album, Aaliyah. The record would go on to sell more than 13 million copies worldwide, following her tragic death.
In 1957, Paul Anka, who was just shy of his 16th birthday, became the first teenage solo act to reach No. 1 with the single "Diana," written about his brother's babysitter. The Canadian Music Hall of Famer would go on to find major success as a singer and songwriter over the following decades.
In 2000, the Academy Award-winning composer, songwriter, musician, arranger, and producer Jack Nitzsche died of a heart attack at age 63. As a producer, Nitzsche worked with the likes of The Rolling Stones, Neil Young, The Walker Brothers, and Buffalo Springfield, while he scored such films as One Flew Over the Cuckoo's Nest and The Exorcist.
Looking for more things that happened on this day in music?
Keep scrolling for all of the headlines for August 25.
BORN ON AUGUST 25:
1918: Leonard Bernstein
1933: Wayne Shorter
1942: Walter Williams (The O'Jays)
1949: Gene Simmons (KISS)
1951: Rob Halford (Judas Priest)
1954: Elvis Costello
1961: Billy Ray Cyrus
1967: Jeff Tweedy
Looking for more artists born on this day?
Keep scrolling for all of our August 25 birthdays.
---
What to find another day?
---
August 25th
25 Aug 2018
Neil Young and American actress and environmental activist Daryl Hannah married in a secret ceremony in Atascadero, California. It was Young's third marriage and her first.
25 Aug 2014
Led Zeppelin
's 'Whole Lotta Love' was voted the greatest guitar riff of all time by listeners of BBC Radio 2 in the UK. The rock classic came out top from a list of 100 riffs drawn up by a panel of Radio 2 and 6 Music DJs, critics and record producers. 'Sweet Child O' Mine' by Guns 'N' Roses was second in the poll, with Back In Black (
AC/DC
) and 'Smoke On The Water' (
Deep Purple
) the next most popular.
25 Aug 2013
Miley Cyrus released 'Wrecking Ball' which became Cyrus' first No.1 song on the chart after the release of its controversial music video. Nine weeks later, the track returned to number one, and consequently had the largest gap between No.1 sittings in Billboard Hot 100 history within a single chart run. The video for 'Wrecking Ball' features close-up scenes of Cyrus tearfully singing, interspersed with footage of a nude Cyrus swinging on a wrecking ball.
25 Aug 2010
A selection of previously unseen photographs of
The Beatles
went on display in Liverpool at the Victoria Gallery and Museum. The images were taken by Astrid Kirchherr the former girlfriend of original bass player Stuart Sutcliffe, who took pictures of the band's early years after meeting them in Hamburg in 1960. The exhibition included images of the Beatles on holiday in Tenerife and of the making of their film A Hard Day's Night in 1964 in Liverpool.
25 Aug 2009
Bob Dylan
revealed during his weekly radio show broadcast on 6 Music, that he was speaking to a number of car companies about becoming the voice of their satellite navigation systems. The 68 year-old said he thought it be would be good for drivers to hear him saying things such as: "Take a left at the next street. No, a right. You know what, just go straight".
25 Aug 2006
Aerosmith
bassist Tom Hamilton was undergoing treatment for throat cancer causing him to sit out the first half of the band's Route of All Evil Tour, the first time he would miss any shows in the band's history. Longtime band friend David Hull filled in for Hamilton until his return.
25 Aug 2005
Two former members of Guns N' Roses were suing singer Axl Rose for allegedly naming himself sole administrator of the US rock band's copyrights. Slash and Duff - otherwise known as Saul Hudson and Michael McKagan, accused Rose of "arrogance and ego". The legal action claimed the singer "was no longer willing to acknowledge the contributions of his former partners".
25 Aug 2001
American singer, actress Aaliyah was killed in a plane crash in the Bahamas aged 22. The small Cessna plane crashed a few minutes after take off killing everyone on board with exception to four passengers who were pulled from the wreckage but later died. Aaliyah had been filming a video for her latest release 'Rock The Boat' on the island.
25 Aug 2000
Academy Award-winning film score composer and record producer Jack Nitzsche died of a heart attack. He produced The
Rolling Stones
,
Neil Young
, Buffalo Springfield and The Walker Brothers. Musical scores including The Exorcist, One Flew Over the Cuckoo's Nest, co-wrote 'Up Where We Belong' with Buffy Sainte-Marie from 1982 film An Officer and a Gentleman.
25 Aug 1999
Robert Fisher from New Romantic duo Naked Eyes and Climie Fisher died of cancer. With Climie Fisher scored the 1988 UK No.2 single 'Love Changes Everything' and wrote songs for
Rod Stewart
, Milli Vanilli,
Fleetwood Mac
and Jermaine Jackson. Fisher also worked as a producer, working with various acts including
Eric Clapton
.
25 Aug 1997
A deranged man who had escaped from a mental institution near Helsinki Finland was arrested. The man had planned to set fire to the stage that
Michael Jackson
was performing from was arrested before he was able to light the gasoline he had put on the stage.
25 Aug 1995
43-year-old bassist and singer Doug Stegmeyer took his own life. The New York-based artist worked with many artists during his career, including
Billy Joel
,
Hall and Oates
and The
Carpenters
.
25 Aug 1993
Snoop Doggy Dogg was released on $1 million bail after being accused of being involved with the murder of a member of the By Yerself gang during a shooting in Los Angeles. He was acquitted of the charges in 1996.
25 Aug 1990
'Itsy Bitsy Teeny Weeny Yellow Polka Dot Bikini' by Bombalurina was the UK No.1 single. Bombalurina was childrens TV presenter Timmy Mallett with a remake of Brian Hyland's 1960 hit.
25 Aug 1981
R.E.M.
appeared at The Scorpio, Charlotte, North Carolina. This show was billed as "Charlotte's First Gay New Wave Disco and Costume Party", with the $3 tickets benefitting various gay-lesbian charities.
25 Aug 1979
The Knack started a five week run at No.1 on the US singles chart with 'My Sharona', the group's only US chart topper, a No.6 hit in the UK. Lead singer Doug Fieger said he was inspired to write the tune by Sharrona Alperin, a 17 year old senior at Los Angeles' Fairfax High, who later became his girlfriend. Fieger and Alperin eventually got married to other people, but they remained friends. After battling cancer for several years, Fieger died at his home in the Los Angeles on February 14, 2010. He was 57 years old.
25 Aug 1975
Bruce Springsteen
released his third studio album Born to Run. The album peaked at No.3 on the Billboard chart eventually selling six million copies in the United States and has since been considered by critics to be one of the greatest albums in popular music. Two singles were released from the album: 'Born to Run' and 'Tenth Avenue Freeze-Out'; the first helped Springsteen to reach mainstream popularity.
25 Aug 1973
One Hit Wonders
Stories started a two week run at No.1 on the US singles chart with 'Brother Louie'. Hot Chocolate who had a No.7 hit with the song in the UK wrote the song.
25 Aug 1970
Elton John
made his US live debut when he kicked off a 17-date tour at the Troubadour in Los Angeles. In the audience that night were Don Henley, Quincy Jones and Leon Russell. Elton's latest single 'Border Song' had just debuted at number 92 on the US chart.
25 Aug 1967
Brian Wilson
returned to performing live with The Beach Boys in Honolulu after a 2 year hiatus. The group had just released 'Heroes and Villains' in the US.
25 Aug 1967
Bobbie Gentry started a four week run at No.1 on the US singles chart with 'Ode To Billy Joe', a No.13 hit in the UK. The song generated eight Grammy nominations, resulting in three wins for Gentry and one win for arranger Jimmie Haskell.
25 Aug 1966
During their last US tour,
The Beatles
played two shows at the Coliseum in Seattle, Washington. The first show at 3pm was attended by only 8,000 fans (the arena seated 15,000), but the evening show was a sell-out.
25 Aug 1965
Two female Beatles fans hired a helicopter to fly over the house
The Beatles
were renting in Beverly Hills, California and jumped from the helicopter into the swimming pool.
25 Aug 1962
Little Eva went to No.1 on the US singles chart with 'The Loco-motion'. The
Carole King
and Gerry Goffin song was offered to Dee Dee Sharp (Mashed Potatoes), who turned it down. The writers had their babysitter record it who took it to No.1.
25 Aug 1961
After playing a lunchtime gig at The
Cavern Club
Liverpool,
The Beatles
played aboard the Merseyside riverboat M.V.Royal Iris supporting Acker Bilk and his Paramount Jazz Band.
25 Aug 1960
The Shadows were at No.1 on the UK singles chart with 'Apache'. The first of five UK No.1's for Cliff Richard's backing group.
25 Aug 1957
Canadian singer, songwriter Paul Anka was at No.1 on the UK singles chart with 'Diana' (written about his brother's baby-sitter). His only UK No.1 as an artist, Anka was the first teenage solo act to reach No.1.
Born on this day in music
25 Aug 1988
Ray Quinn, English actor and singer, runner-up to Leona Lewis in the third series of ITV talent show The
X Factor
, (2007 UK No.1 album 'Doing It My Way').
25 Aug 1988
Alexandra Burke, R&B singer and winner of the 2008 series of UK television talent show The
X Factor
. 2009 UK No.1 single 'Bad Boys' featuring Flo Rida.
25 Aug 1987
Amy MacDonald, Scottish singer/songwriter. (2008 UK No.1 with her debut album 'This Is the Life').
25 Aug 1985
Diana "Wynter" Gordon, American pop/dance singer-songwriter who had the 2011 word wide hit 'Dirty Talk'.
25 Aug 1969
Luke Scott, from British indie band Babybird, who had the 996 UK No.3 single 'You're Gorgeous', and the 1996 UK No. 9 album Ugly Beautiful.
25 Aug 1967
Jeff Tweedy, American songwriter, musician and leader of the American alternative rock band Wilco who released the albums Yankee Hotel Foxtrot, A Ghost Is Born, Sky Blue Sky and Wilco (The Album).
25 Aug 1966
Norman Rogers, Public Enemy, (1988 UK No.18 single 'Don't Believe The Hype').
25 Aug 1965
Erik Dahlgren, drummer, with alternative Swedish rock band The Wannadies who had the 1996 UK No. 18 single, 'You And Me Song'.
25 Aug 1963
Candida Doyle, from English rock band Pulp, who had the 1995 UK No.2 single 'Common People'. He quit the band in January 1997. Pulp were regarded among the Britpop "big four", along with
Oasis
, Blur and Suede.
25 Aug 1962
Northern Irish singer-songwriter and musician Vivian Campbell, who joined
Def Leppard
in 1992, replacing Steve Clark, who had died the previous year. Campbell had also been a member of Dio and Whitesnake.
25 Aug 1961
Billy Ray Cyrus, US singer who scored the 1992 UK No.3 single 'Achy Breaky Heart', and the No.1 US album Some Gave All. In 2019 after Billboard removed American rapper Lil Nas X's country-rap song 'Old Town Road' from their Country chart, Cyrus was featured in the remix which peaked at No.1 on the Billboard chart for a record-breaking nineteen consecutive weeks.
25 Aug 1956
Matt Aitken, part of the Stock, Aitken and Waterman production team, produced over 10 UK No.1 singles.
25 Aug 1954
Elvis Costello, (Declan McManus), singer, songwriter. Had the 1979 UK No.2 single with The Attractions 'Olivers Army' and his 1979 UK No.2 album Armed Forces spent 28 weeks on the chart. Costello has won multiple awards in his career, including a Grammy Award, and has worked with
Paul McCartney
, Tony Bennett, Lucinda Williams, Kid Rock, and Brian Eno.
25 Aug 1951
James Warren, The Korgis, (1980 UK No.5 single 'Everybody's Got To Learn Sometime').
25 Aug 1951
English singer and songwriter Rob Halford who is best known as the lead vocalist for the Grammy Award-winning heavy metal band Judas Priest. He has been involved with several side projects, including Fight, 2wo and Halford.
25 Aug 1950
Willy DeVille, Mink DeVille, (1977 UK No.20 single 'Spanish Stroll'). Died of pancreatic cancer on 6th Aug 2009.
25 Aug 1949
Gene Simmons bassist and singer with American hard rock band
Kiss
. Their 1976 US No 11 album Rock and Roll Over spent 26 weeks on the chart and they had the 1987 UK No.4 single 'Crazy Crazy Nights'. Also known by his stage persona The Demon.
25 Aug 1948
American drummer and a founding member of The Box Tops, Danny Smythe. With the Box Tops he had major hits on the US chart, such as the 1967 No. 1 hit 'The Letter', and the 1968 No. 2 hit 'Cry Like a Baby'. He died on 6 July 2016 age 67.
25 Aug 1942
Walter Williams, The O'Jays, (1973 US No.1 & UK No.9 single 'Love Train').
25 Aug 1933
American jazz saxophonist and composer Wayne Shorter who has worked with Miles Davis (Miles Davis's Second Great Quintet), and Weather Report who had the 1976 single 'Birdland' and the 1977 album Heavy Weather. Shorter has won 10 Grammy Awards and in 2017, he was awarded the Polar Music Prize. Shorter died in Los Angeles, California, on 2 March 2023, at the age of 89.
25 Aug 1918
American Composer, pianist, conductor, Leonard Bernstein. His best-known work is the Broadway musical West Side Story, and he conducted the New York Philharmonic aged 25. Bernstein was the recipient of many honors, including seven Emmy Awards, two Tony Awards, sixteen Grammy Awards, including the Lifetime Achievement, and the Kennedy Center Honor. He died on 14th October 1990 age 72.