August 27th: The Biggest Music Headlines
Scroll down the page to see all the music headlines, stories and events for August 27th throughout music history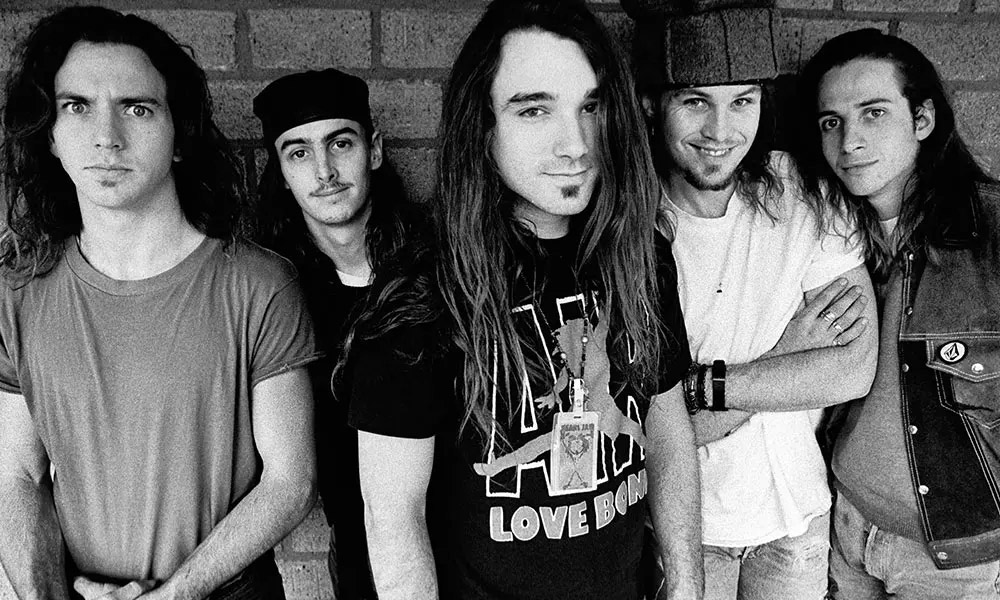 Pearl Jam Unveil Their Debut Album, 'Ten'
On August 27, 1991, Seattle rockers Pearl Jam released their debut album, Ten. A cornerstone in grunge, Ten featured such hits as "Alive," "Even Flow," and "Jeremy"—the latter of which earned the band Grammy nominations for Best Rock Song and Best Hard Rock Performance. The band's most commercially successful album, Ten would be certified 13x Platinum by the RIAA, while it remained on the Billboard 200 for nearly five years, becoming one of the highest-selling rock records ever.
In 1993, Def Jam Records co-founder Rick Rubin laid the term 'def' to rest, feeling that it was becoming overused in pop culture as a synonym for 'cool.' Rubin and Russell Simmons launched the label in 1984 after founding it in Rubin's New York University dorm. To commemorate the event, Rubin held a star-studded funeral in Los Angeles at the Hollywood Forever cemetery, complete with a eulogy by Reverend Al Sharpton and a burial of a casket filled with records.
In 1966, The Beach Boys' "God Only Knows" peaked at No. 2 on the UK singles chart. Along with being one of the first commercial songs to use the word 'God' in its title, the track included the usage of many unorthodox instruments, such as the French horns in the introduction. Paul McCartney cited "God Only Knows" as his favorite song of all time.
In 1967, The Beatles' manager Brian Epstein was found dead in his London home, following a drug overdose. He was just 32 years old. Epstein first met the Fab Four at Liverpool's Cavern Club in December 1961, signing them to a five-year contract a month later. During his career, he managed several artists, including Gerry & The Pacemakers, Billy J. Kramer and the Dakotas, Cilla Black, and The Remo Four.
On this day in 1990, 35-year-old Stevie Ray Vaughan was killed in a helicopter crash, following a Wisconsin show with Robert Cray and Eric Clapton. Considered to be one of the greatest guitarists of all time, the highly respected blues-rocker was posthumously inducted into the Rock and Roll Hall of Fame in 2015.
In 2013, Forbes named Madonna the world's top-earning celebrity of the year. The 55-year-old mogul made an estimated $125 million from her MDNA tour, as well as from her similarly-named clothing and fragrance lines.
In 1992, John Lennon's handwritten lyrics for The Beatles' "A Day In The Life" sold for $100,000 (£56,600) in an auction at Sotheby's London. Nearly two decades later, in 2010, the lyric sheet was auctioned again, and purchased by an anonymous American buyer for $1,200,000.
Looking for more things that happened on this day in music?
Keep scrolling for all of the headlines for August 27.
BORN ON AUGUST 27:
1942: Daryl Dragon (The Captain and Tenille)
1942: Chip Douglas (The Turtles)
1953: Alex Lifeson (Rush)
1956: Glen Matlock (The Rich Kids, Sex Pistols)
1970: Tony Kanal (No Doubt)
1977: Mase
1979: Sarah Neufeld (Arcade Fire)
1999: Rod Wave
Looking for more artists born on this day?
Keep scrolling for all of our August 27 birthdays.
---
What to find another day?
---
August 27th
27 Aug 2021
American singer-songwriter Olivia Rodrigo was at No.1 on both the US and UK album chart with her debut studio album Sour. Originally planned as an EP, Sour was expanded into a full-length album following the viral success of her debut single, 'Drivers License'. At the 64th Annual Grammy Awards, Sour and 'Drivers License' won Best Pop Vocal Album and Pop Solo Performance, respectively; Rodrigo won Best New Artist as well. Upon release, Sour garnered 385 million streams in its first week on global Spotify, the biggest opening week for an album by a female artist on the platform.
27 Aug 2017
The 2017 MTV Video Music Awards were held at The Forum in Inglewood, California. Hosted by Katy Perry, the music video for
Taylor Swift
's song 'Look What You Made Me Do' premiered during the broadcast. Viewership was down to 5.68 million viewers, making it the lowest viewed show since 1994.
27 Aug 2013
Miley Cyrus's risque performance at the
MTV
VMAs drew complaints from a parenting pressure group in the US. The Parents Television Council (PTC) issued a complaint against the channel over the 20-year-old's routine, which saw her dance suggestively in a nude bikini with singer Robin Thicke. It argued the show should not have been rated as suitable for 14 year olds, adding: "Heads should roll at
MTV
."
27 Aug 2013
Madonna
was named the world's top-earning celebrity over the past year. The 55-year-old made an estimated $125m (£80m) thanks to her MDNA tour, clothing and fragrance lines, according to Forbes. The magazine said it was the most money
Madonna
had made in a single year since it began tracking earnings in 1999.
27 Aug 2007
Kevin Federline's lawyers asked
Britney Spears
to pay some of her former husband's legal expenses in their divorce case. His legal team said Federline had "no net income" after various expenses, and that Ms Spears was "clearly the monied party" in the dispute. According to legal documents filed in Los Angeles, the pop star's average monthly income was $737,868 (£365,966). The couple had married in October 2004 and filed for divorce in November 2006.
27 Aug 2004
Winners at this years Kerrang! awards included The Darkness for best British band and best live band, best band on the planet award went to
Metallica
.
Green Day
were inducted into the Kerrang! Hall of Fame, Lostprophets won the best single for 'Last Train Home' and best album went to Muse for 'Absolution'.
27 Aug 2004
Green Day
, The Darkness, The White Stripes, Morrissey, The Libertines, Franz Ferdinand, The Hives, 50 Cent, (50 Cent was booed off stage after being greeted by a rain of bottles thrown at him and his G-Unit crew as they came onstage). The Streets, The Vines, Soulwax, Dogs Die In Hot Cars, The Offspring, Ash, Placebo and Lostprophets all appeared at this years UK Carling Weekend in Reading and Leeds, England.
27 Aug 2003
P Diddy was being sued for $5m (£3.20m) by a woman who claimed she was assaulted by a bouncer outside his New York restaurant. Stephanie Grieso, said she was arguing outside Justin's in August 2002 when a bouncer grabbed her by the neck and pushed her down on the pavement, causing leg injuries.
27 Aug 1999
The Charlatans, Blur,
Red Hot Chili Peppers
, The Offspring, Catatonia, Reef, The Chemical Brothers, The Divine Comedy, Pavement, Silverchair, Jon Spencer Blues Explosion all appeared at The Carling Reading three day festival, England, tickets, £78.
27 Aug 1994
Boyz II Men started a 14 week run at No.1 on the US singles chart with 'I'll Make Love To You', a No.5 hit in the UK. The record- breaking 14 week stay came to an end when they knocked themselves from the top with 'On Bended Knee'.
27 Aug 1993
Producer and Def Jam Records co-founder Rick Rubin officially laid the term 'Def' to rest, after he felt that it had become overused in pop culture as a synonym for 'cool'. Rubin, who started the hip-hop label in 1984 alongside Russell Simmons, even went so far as to hold a burial at Los Angeles' legendary Hollywood Forever cemetery. The ceremony included a eulogy by Rev. Al Sharpton and the burial of a casket filled with records.
27 Aug 1992
John Lennon
's handwritten lyrics to
The Beatles
song 'A Day In The Life' from
Sgt. Pepper
sold in an auction at Sotheby's London for $100,000 (£56,600). The lyrics were put up for sale again in March 2006 by Bonhams in New York. Sealed bids were opened on 7 March 2006 and offers started at about $2 million. The lyric sheet was auctioned again by Sotheby's in June 2010 when it was purchased by an anonymous American buyer who paid $1,200,000 (£810,000).
27 Aug 1991
Pearl Jam
released their debut album Ten. The group's most commercially successful album, which has sold over 13 million copies, produced three hit singles: Alive, Even Flow, and Jeremy.
27 Aug 1990
Stevie Ray Vaughan
was killed when the helicopter he was flying in, hit a man-made ski slope while trying to navigate through dense fog. Vaughan had played a show at Alpine Valley Music Theatre, East Troy, Wisconsin with Robert Cray & His Memphis Horns, and
Eric Clapton
. Vaughan was informed by a member of Clapton's crew that three seats were open on a helicopter returning to Chicago with Clapton's crew, it turned out there was only one seat left; Vaughan requested it from his brother, who obliged. Three members of
Eric Clapton
's entourage were also killed.
27 Aug 1988
27 Aug 1987
A judge declared a mistrial after a hung jury, split 7 to 5 in favor of acquittal in the case against Dead Kennedys frontman Jello Biafra. The criminal charges focused on an illustration by H.R. Giger, titled "Work 219: Landscape XX" (also known as Penis Landscape) which was Included as a poster with the album in the band's 1985 album Frankenchrist - the first time a musician has been prosecuted for album art. The trial was a costly one for the American punk rock band who broke up soon after.
27 Aug 1986
Tina Turner receives a star on the Hollywood Walk of Fame. Turner began her career with Ike Turner's band Kings of Rhythm in 1957, under the name Little Ann. Turner has sold more than 100 million records worldwide, becoming one of the best-selling recording artists of all time.
27 Aug 1977
The Floaters were at No.1 on the UK singles chart with 'Float On'. The only UK hit for the Soul/funk act from Detroit, making them
One Hit Wonders
.
27 Aug 1967
British music entrepreneur and the manager of
The Beatles
, Brian Epstein was found dead, locked in a bedroom at his London home. A coroner's inquest concluded that Epstein died from an overdose of the sleeping pill Carbitrol. He also managed several other artists including Gerry & The Pacemakers, Billy J. Kramer and the Dakotas, Cilla Black and The Remo Four. The first contract between
The Beatles
and Epstein was auctioned in London in 2008, and was sold for £240,000.
27 Aug 1966
The Beach Boys
'God Only Knows'
peaked at No.2 on the UK singles chart. The song broke new ground in many ways. It was one of the first commercial songs to use the word 'God' in its title and
Brian Wilson
used many unorthodox instruments, including the French horns that are heard in the song's famous introduction.
27 Aug 1965
On the last day of a five-day break from their North American tour,
The Beatles
attended a recording session for The Byrds. Later that afternoon,
The Beatles
met
Elvis Presley
at his mansion in Beverly Hills. It was an awkward meeting, leaving
The Beatles
with the impression that Presley's personality was decidedly "unmagnetic".
John Lennon
remarked soon after, 'Where's Elvis' It was like meeting Engelbert Humperdinck.'
Born on this day in music
27 Aug 1999
Rodarius Green, known professionally as Rod Wave, American rapper and singer. He is known for his incorporation of hip hop and R&B, and has been recognized as a trailblazer of soul-trap. His third album, SoulFly (2021), debuted at No. 1 on the Billboard 200.
27 Aug 1992
German singer and songwriter Kim Petras. Petras's collaborative 2022 single 'Unholy' with Sam Smith topped charts internationally, including the UK Singles Chart and the Billboard Hot 100, making her the first openly transgender solo artist to reach No.1 in the United States.
27 Aug 1986
US R&B singer Mario, (born Mario Dewar Barrett), US R&B singer, (2004 US No.1 and 2005 UK No.2 single 'Let Me Love You').
27 Aug 1982
Adam Dyment, better known by his stage name Duke Dumont, British musician, songwriter, DJ and record producer. He is best known for the singles 'Need U (100%)', and 'I Got U', which were both UK No.1 hits.
27 Aug 1979
Sarah Neufeld, violinist the Grammy Award-winning indie rock band Arcade Fire, who had the 2005 album Funeral, and 2017 US No.1 album Everything Now.
27 Aug 1977
Mase, US male rapper (Mason Betha), 1998 UK No. 2 single with Brandy, 'Top Of The World' also worked with Puff Daddy, Blackstreet, Notorious B.I.G.
27 Aug 1970
Tony Kanal, bass, No Doubt, (1997 UK No.1 single 'Don't Speak', 1997 No.1 US album 'Tragic Kingdom').
27 Aug 1956
Glen Matlock, bass, The Rich Kids, (1978 UK No.24 single 'Rich Kids'), and early member of the
Sex Pistols
and the reformed
Sex Pistols
.
27 Aug 1953
Alex Lifeson, guitarist, Rush, (1980 UK No.13 single 'Spirit Of Radio' 1982 US No. 21 single 'New World Man'). Lifeson was made an Officer of the Order of Canada on May 9, 1996. The trio was the first rock band to be so honored, as a group.
27 Aug 1951
Kevin Kavanaugh, from the Jersey Shore group Southside Johnny and the Asbury Jukes who had the 1978 album Hearts Of Stone and have released over ten other albums.
27 Aug 1947
Percussionist David Leon 'Billy' Knight, (the brother of
Gladys Knight
), who played on the 1973 US No.1 single 'Midnight Train To Georgia', and the 1975 UK No.4 single 'The Way We Were' plus 20 other UK Top 40 singles. Knight died on 6th December 2002.
27 Aug 1945
Malcolm Allured from English revival group Showaddywaddy who had the 1976 UK No.1 single with their version of 'Under The Moon Of Love'. Showaddywaddy spent 209 weeks on the UK Singles Chart, and had 10 Top Ten singles.
27 Aug 1944
American musician Tim Bogert, bass guitarist and vocalist with Vanilla Fudge, Cactus and the power trio
Beck
, Bogert & Appice. He died from cancer on January 13, 2021, age 76.
27 Aug 1942
American musician and songwriter Daryl Dragon, from husband-and-wife duo The Captain and Tennille. They scored numerous hits on the US singles charts, the most enduring of which included 'Love Will Keep Us Together', 'Do That to Me One More Time', and 'Muskrat Love'. They hosted their own television variety series on ABC in 1976–77. Dragon also worked on
The Beach Boys'
1972 release Carl and the Passions – 'So Tough'. Dragon died on 2 January 2019 from kidney failure aged 76.
27 Aug 1942
American songwriter, musician Chip Douglas from the American rock The Turtles who had the US 1967 No.1 single 'Happy Together' and the 1967 hit 'She'd Rather Be with Me'. He was the producer of some of the The
Monkees
biggest hits, including 'Daydream Believer' and 'Pleasant Valley Sunday'.
27 Aug 1937
Phil Shulman, Simon Dupree And The Big Sound, (1967 UK No.9 single 'Kites'). Gentle Giant.