August 28th: The Biggest Music Headlines
Scroll down the page to see all the music headlines, stories and events for August 28 throughout music history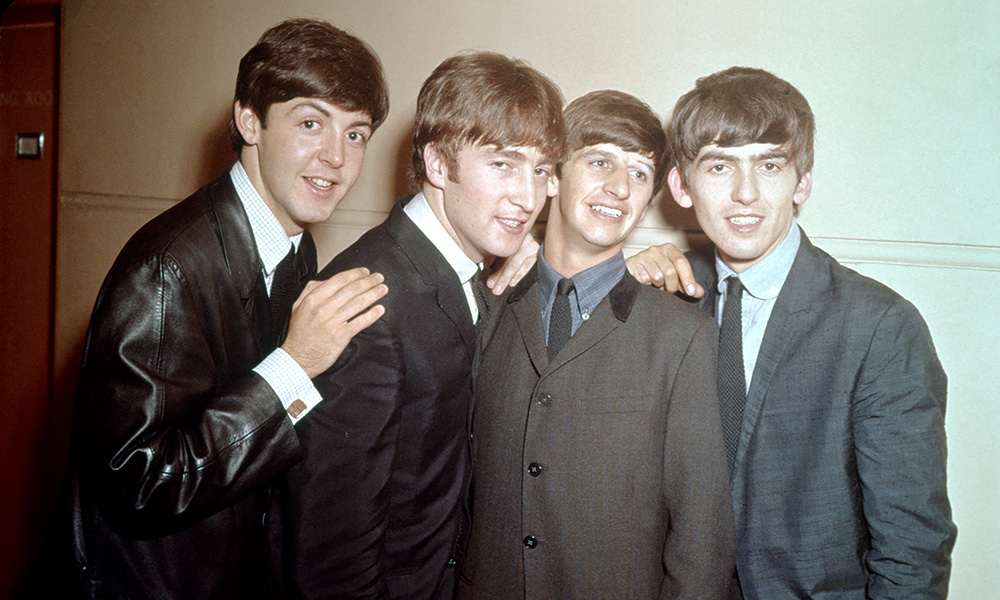 The Beatles Get High With A Little Help from Bob Dylan
On August 28, 1964, The Beatles met Bob Dylan for the first time at The Delmonico Hotel, following their show at New York's Forest Hills Stadium. After being introduced by a mutual friend, writer Al Aronowitz, the band offered their guests drinks, but Dylan and Aronowitz expressed interest in smoking weed instead. This marked the Fab Four's first taste of marijuana – an experience that would prove to be transformative in their career.
In 1968, Tammy Wynette recorded "Stand By Your Man" at Epic Studios. The track, completed in just 15 minutes, became Wynette's signature hit and one of the most covered songs in country music. Co-written with producer Billy Sherrill, the song also served as the title track of Wynette's 1969 album and would be featured over the decades in films like Five Easy Pieces, Four Weddings, The Crying Game, and Sleepless in Seattle.
In 1984, The Jacksons' Victory Tour sold over 1.1 million tickets in two months, surpassing the record for concert ticket sales. The 55-show run was the only tour with all six Jackson brothers, playing to approximately 2 million attendees in 22 locations and grossing approximately $75 million. Paula Abdul choreographed the tour.
In 1988, Kylie Minogue's debut album, Kylie, became the biggest-selling album by a female artist in Britain, setting a new UK record by moving nearly 2 million units. It was the best-selling album of the 80s by a female artist and spent more than a year on the UK Albums Chart.
In 1972, Alice Cooper topped the UK singles chart with "School's Out," the title track of the band's fifth album. Cooper himself noted that he was inspired to write the song about the three greatest minutes of his life: Christmas morning and the last day of school.
In 2009, the British group Oasis disbanded after 18 years, following the departure of Noel Gallagher. The songwriter and guitarist noted that he could no longer work with his brother, Liam. "It's with some sadness and a great relief to tell you that I quit Oasis tonight," Noel expressed on the band's website. The band, who were slated to appear later in the day at the Rock en Seine festival, canceled their performance, while Liam and the remaining band members would go on to perform as Beady Eye until 2014.
In 2016, Mexican pop icon Juan Gabriel died of a heart attack at age 66. Gabriel (also known as "Juanga" and "El Divo de Juárez") was one of Latin America's most prolific and successful artists, selling an estimated 60 million records worldwide. His 1984 record, Recuerdos, Vol. II, sold over eight million copies, making it the best-selling album of all time in Mexico.
Looking for more things that happened on this day in music?
Keep scrolling for all of the headlines for August 28.
BORN ON AUGUST 28:
1942: Sterling Morrison (Velvet Underground)
1948: Danny Seraphine (Chicago)
1949: Hugh Cornwell (The Stranglers)
1965: Shania Twain
1969: Jack Black
1982: LeAnn Rimes
1986: Florence Welch (Florence + The Machine)
Looking for more artists born on this day?
Keep scrolling for all of our August 28 birthdays.
---
What to find another day?
---
August 28th
28 Aug 2021
American singer Billie Eilish was at No.1 on the US chart with her second album Happier Than Ever. It became her second No.1 album in the United States, and topped the album charts in 27 other countries. At the 64th Annual Grammy Awards, the album and its title track received a total of seven nominations, including Album of the Year, Best Pop Vocal Album, Song of the Year and Record of the Year.
28 Aug 2016
Mexican singer, songwriter Juan Gabriel died from a heart attack aged 66. Having sold over 200 millions records worldwide, Gabriel was among Latin America's best selling singer-songwriters. His nineteenth studio album, Recuerdos, Vol. II, is reportedly the best-selling album of all time in Mexico, with over eight million copies sold.
28 Aug 2012
Celebrity Net Worth named
Ringo Starr
as the world's richest drummer, with an estimated fortune of $300 million.
Phil Collins
was ranked second with $250 million, former
Nirvana
drummer Dave Grohl was third with $225 million, the
Eagles
' Don Henley came in forth with $200 million and
Metallica
's Lars Ulrich was fifth with $175 million. Also making the top ten were
U2
's Larry Mullen and The
Rolling Stones
' Charlie Watts.
28 Aug 2009
Noel Gallagher quit
Oasis
saying he could no longer work with his brother Liam. Noel, the group's lead guitarist and chief songwriter, had recently been involved in a series of rows with Liam, and admitted he and his brother rarely spoke, did not travel together and only saw each other on stage. The guitarist said: "It's with some sadness and great relief to tell you that I quit
Oasis
tonight. The band were due to play the Rock en Seine festival in Paris but cancelled at the last minute. When the support band said
Oasis
would not be performing, many fans thought it was a joke.
28 Aug 2005
Rap mogul Marion "Suge" Knight was admitted to hospital after being shot in the leg at a party, held at a club in Miami, Florida, to celebrate this year's
MTV
Video Music Awards.
28 Aug 2005
Art Garfunkel
was charged by police for possession after a marijuana cigarette was allegedly found in the ashtray of his car. Garfunkel had pleaded guilty the previous year to possession of marijuana in upstate New York.
28 Aug 2005
Green Day
cleaned up at this years
MTV
awards held in Miami winning seven awards including, Video of the Year for 'Boulevard of Broken Dreams' and the Viewer's Choice Award. Best Choreography went to Gwen Stefani for 'Hollaback Girl' and Breakthrough Video went to Gorillaz for 'Feel Good Inc.' The awards went ahead despite concerns over Hurricane Katrina, which hit Florida last week, and after a shooting at a pre-awards party.
28 Aug 1998
Geri Halliwell announced that she was selling off her
Spice Girls
clothes in a charity auction. The PVC cat suit she used to wear was up for £5000 knee high boots for £1200 and the Union Jack dress she wore to the Brit Awards for £8000.
28 Aug 1996
Issac Hayes, who co-wrote the Sam and Dave's classic 'Soul Man', sent a protest letter to presidential candidate Bob Dole, requesting Dole to stop using his song, which supporters had changed to 'I'm A Dole Man.'
28 Aug 1993
Billy Joel
started a three-week run at No.1 on the US album chart with 'River Of Dreams.' Joel claimed most of the music came to him in his sleep, hence the title. The singers second wife, one time model Christie Brinkley, painted the album cover which was later voted worst album cover of the year.
28 Aug 1993
German-based multi-national dance act Culture Beat started a four-week run at No.1 in the UK singles chart with 'Mr Vain'. It was the first UK No.1 single not to be available in a 7" version.
28 Aug 1988
Kylie Minogue
set a new UK record when her debut album Kylie became the biggest selling album by a female artist in Britain with sales of almost two million.
28 Aug 1984
The Jacksons' Victory Tour broke the record for concert ticket sales after they surpassed the 1.1 million mark in two months.
28 Aug 1981
Producer Guy Stevens died at the age of 38 years old, having overdosed on prescription drugs he was taking to reduce his alcohol dependency. He worked with
Mott The Hoople
,
Free
and
The Clash
. He was the president of the
Chuck Berry
Appreciation Society and it was Stevens who brought Berry to the UK for his first tour. He gave
Procol Harum
and Mott the Hoople their distinctive names.
28 Aug 1972
Alice Cooper was at No.1 on the UK singles chart with 'School's Out'. Cooper has said he was inspired to write the song when answering the question, "What's the greatest three minutes of your life?". Cooper said: "There's two times during the year. One is Christmas morning, the next one is the last three minutes of the last day of school."
28 Aug 1970
During a four-week engagement at The International Hotel in Las Vegas, a security guard at the hotel received a phone call in which he was told
Elvis Presley
would be shot during his last show. The person demanded $50,000 to reveal the name of the potential killer. Later that day a menu was found in Elvis' mail at the hotel on which Elvis' face was destroyed and a gun had been drawn pointing to his heart. The threats were taken very seriously. Elvis played his last show without any incident.
28 Aug 1968
Working at Trident Studios, London,
The Beatles
started recording a new
John Lennon
song 'Dear Prudence'. They built the song instrument by instrument, utilizing the 8-track equipment at Trident. John and George played guitars, while Paul played drums to compensate for
Ringo Starr
who had quit
The Beatles
on August 22.
28 Aug 1968
Tammy Wynette
recorded 'Stand By Your Man' at Epic studios after an idea that came from producer, Billy Sherrill. Wynette and Sherril completed the song in 15 minutes. It proved to be the most successful record of Wynette's career and is one of the most covered songs in the history of country music. The song has appeared in various films, including: Five Easy Pieces, The Blues Brothers, The Crying Game, Sleepless in Seattle, Four Weddings and a Funeral and Golden Eye.
28 Aug 1968
Simon And Garfunkel
started a five-week run at No.1 on the UK album chart with 'Bookends'. The duo's fourth studio album featured 'America', 'Mrs. Robinson' and 'A Hazy Shade of Winter'.
28 Aug 1968
The Beach Boys
were at No.1 on the UK singles chart with 'Do It Again'. Written by Brian Wilson and Mike Love it became the group's second and final UK No.1.
28 Aug 1966
Nearing the end of their final tour of America,
The Beatles
performed one show at Dodger Stadium, Los Angeles, California, before a crowd of 45,000.
The Beatles
' attempt to escape from the stadium in an armored truck is thwarted when the main gate was found to be locked, and
The Beatles
had to spend two hours in the back of the truck before they could leave the stadium.
28 Aug 1965
The Beach Boys
'California Girls' was at No.3 on the US singles chart, the single peaked at No.26 in the UK. The music for the song came from Brian Wilson's first LSD experience. Wilson recorded the Beach Boys' vocals using Columbia's new 8-track recorder, allowing Mike Love's lead vocals to be triple-tracked and the group's vocals spread over three more. 'California Girls' was the first Beach Boys recording to feature vocals from Bruce Johnston, who had joined the group to substitute for Wilson on concert tours.
28 Aug 1965
The
Rolling Stones
announced that Allen Klein, who they had met three days earlier, would co-manage the group along with Andrew Loog Oldham. At the same time, The Stones signed a five-year recording deal with Decca Records.
28 Aug 1965
Bob Dylan
played the first night of a 40 date North American tour at Forest Hills Tennis Stadium in New York City. Dylan played the first set solo and was backed by a band consisting of Robbie Robertson, Levon Helm, Harvey Brooks and Al Kooper in the second set. This format, one acoustic and one electric set was kept through-out the tour.
28 Aug 1964
After playing a show at Forest Hills Tennis Stadium, New York,
The Beatles
met
Bob Dylan
for the first time at The Delmonico Hotel. Dylan and mutual journalist friend Al Aronowitz introduce the Fab Four to marijuana.
28 Aug 1961
Joe Dowell went to No.1 on the US singles chart with his version of 'Wooden Heart'. The song is best known for its use in the 1960
Elvis Presley
film G.I. Blues, which gave Elvis a No.1 hit in the United Kingdom.
Born on this day in music
28 Aug 1986
English musician, singer and songwriter Florence Welch from Florence and the Machine, who scored the 2009 UK No.1 album Lungs and the 2015 UK and US No.1 album How Big, How Blue, How Beautiful
28 Aug 1982
LeAnn Rimes, US singer, known for her rise to fame as an eight-year-old champion on the original Ed McMahon version of Star Search, followed by the release of the Bill Mack song 'Blue' when she was 13 to become the youngest country music star since Tanya Tucker in 1972. Scored the 1997 US No.3 & 1998 UK No.7 single, 'How Do I Live' which spent 30 weeks on the UK top 40 singles chart (the first record, to do so since 'Relax' by Frankie Goes To Hollywood).
28 Aug 1974
Peter Turner, bass, Elbow, won the Mercury Music Prize for their 2008 album 'The Seldom Seen Kid'.
28 Aug 1969
Jack Black, actor, comedian and musician. One half of the comedy/rock duo Tenacious D with Kyle Gass.
28 Aug 1969
Mary McCartney, a daughter to Paul and Linda McCartney Mary was named after Paul's mother (who he mentioned in the song 'Let It Be').
28 Aug 1965
Shania Twain, Canadian singer, (Eilleen Regina Edwards). Her 1997 album 'Come On Over', became the best-selling album of all time by a female musician in any genre, and the best-selling country album of all time selling more than 40 million copies worldwide. Twain has won 5 Grammy Awards and 27 BMI Songwriter awards and is sometimes referred to as "The
Queen
of Country Pop", she is one of the most commercially successful artists of all time, having sold over 80 million albums.
28 Aug 1961
Kim Appleby, singer, Mel and Kim, (1987 UK No.1 single 'Respectable').
28 Aug 1951
Wayne Osmond, from American family group The
Osmonds
. They had the 1971 US No.1 single 'One Bad Apple', the 1974 hit 'Crazy Horses' and the 1974 UK No.1 single 'Love Me For A Reason'. They had their own 1972–1973 Saturday morning cartoon series, The
Osmonds
, on ABC-TV. The
Osmonds
have sold over 75 million records world wide.
28 Aug 1949
English musician and singer-songwrite Hugh Cornwell from The Stranglers from 1974 to 1990 who had the 1982 UK No.2 single 'Golden Brown', and over 20 other Top 40 hits.
28 Aug 1949
Martin Lamble drums, Fairport Convention, (1969 UK No.21 single 'Si Tu Dois Partir'). Killed on 14th May 1969 when the bands van crashed on the way home from a gig in Birmingham, England.
28 Aug 1948
American musician Danny Seraphine, known as the original drummer and founding member of the rock band Chicago, a tenure which lasted from February 1967 to May 1990. The band formed in 1967 in Chicago, Illinois as The Chicago Transit Authority before shortening the name in 1970. Chicago have had five consecutive No.1 albums on the Billboard chart and 20 top-ten singles on the Billboard Hot 100.
28 Aug 1946
Ken Andrew, drummer from Scottish pop group Middle Of The Road, who had the 1971 UK No.1 single 'Chirpy Chirpy Cheep Cheep', which is one of only a few singles to have sold in excess of 10 million physical copies.
28 Aug 1943
Honey Lantree drummer with English beat, pop group The Honeycombs who scored the Joe Meek produced 1964 UK No.1 single 'Have I The Right'. Lantree who was one of the few female drummers in bands at that time died on 23 December 2018 aged 75.
28 Aug 1943
David Soul, actor, singer (1977 UK & US No.1 single 'Don't Give Up On Us').
28 Aug 1942
American guitarist Sterling Morrison one of the founding members of the rock group Velvet Underground. Their debut album, The Velvet Underground & Nico (with German-born singer and model Nico), was released in 1967 to critical indifference and poor sales but has become critically acclaimed. Morrison died of cancer on 30th August 1995.
28 Aug 1940
American songwriter, record producer and singer, Ivy Jo Hunter. With
Marvin Gaye
and William "Mickey" Stevenson, he co-wrote the Martha and the Vandellas hit 'Dancing in the Street' as well as songs for
The Temptations
, Isley Brothers and The Four Tops. He died on 6 October 2022.
28 Aug 1937
American bass guitar player Joe Osborn, known for his work as a session musician in Los Angeles and Nashville during the 1960s through the 1980s. As a member of The Wrecking Crew his playing can be heard on records by The Mamas & the Papas, The
Carpenters
, The Association and The 5th Dimension. Osborn can be heard on Simon & Garfunkel's
'Bridge Over Trouble Water'
and the 5th Dimension's version of 'Aquarius/Let the Sunshine In'. He died on December 14, 2018 aged 81.