August 4th: The Biggest Music Headlines
Scroll down the page to see all the music headlines, stories and events for August 4 throughout music history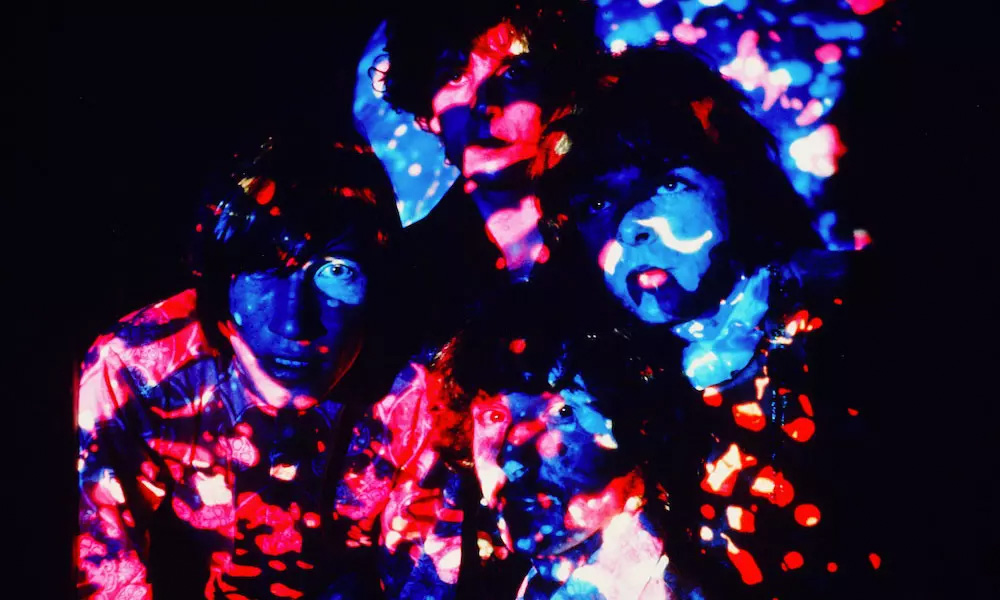 The Beginning Of Pink Floyd
On this day in music – August 4, 1967 – Pink Floyd released their debut album, The Piper At the Gates of Dawn. The record launched Pink Floyd's illustrious career and has been recognized as one of the most influential psychedelic rock albums of the 1960s. Recorded at London's Abbey Road Studios, it was the band's only album to be penned primarily by founding member Syd Barrett.
In 2017, Luis Fonsi and Justin Bieber's "Despacito" surpassed Wiz Khalifa and Charlie Puth's "See You Again" to become the most-watched YouTube video ever. The collaboration amassed nearly 3 billion views within seven months.
On August 4, 1984, Prince's soundtrack to Purple Rain began a 24-week run on the US album charts. Featuring such iconic hits as "When Doves Cry" and "Let's Go Crazy," as well as the title track, the record went on to sell over 20 million copies worldwide. Today, it remains one of the best-selling soundtracks of all time.
In 1958, Billboard introduced its Hot 100 singles chart, with Ricky Nelson's "Poor Little Fool" taking the top spot.
On this day in 2007, singer-songwriter Lee Hazlewood died of cancer in his home near Las Vegas at 78. Hazlewood was perhaps most famous for his prolific work with Nancy Sinatra, including writing and producing her 1965 anthem, "These Boots Are Made for Walkin.'"
And in 1968, the second day of the Newport Pop Festival took place in Costa Mesa, California. Over 100,000 fans attended the star-studded event, as bands like the Grateful Dead, Iron Butterfly, Blue Cheer, Jefferson Airplane, Eric Burdon & The Animals, Quicksilver Messenger Service, and The Byrds took the stage.
Looking for more things that happened on this day in music?
Keep scrolling for all of the headlines for August 4.
BORN ON AUGUST 4:
1901: Louis Armstrong
1936: Elsbeary Hobbs (The Drifters)
1940: Larry Knechtel (The Wrecking Crew)
1947: Klaus Schulze (Tangerine Dream)
1962: Paul Reynolds (A Flock Of Seagulls)
1988: Tom Parker (The Wanted)
Looking for more artists born on this day?
Keep scrolling for all of our August 4 birthdays.
---
What to find another day?
---
August 4th
4 Aug 2022
American soul singer Sam Gooden died from a heart attack at the age of 87. He was a member of The Impressions (along with Curtis Mayfield) who had the 1965 US No.7 hit 'Lilies Of The Field'. The Impressions were a notable influence on Bob Marley and the Wailers. Marley sampled the lyrics of the Impressions song 'People, Get Ready' for his song 'One Love/People Get Ready'.
4 Aug 2021
Forbes reported that
Rihanna
was now the wealthiest female musician in the world and second only to Oprah Winfrey as the richest female entertainer. Forbes estimated the singer was worth $1.7 billion with the bulk of her fortune coming from the value of Fenty Beauty, of which she owns 50%. Much of the rest was her stake in her lingerie company, Savage x Fenty, worth an estimated $270 million, and her earnings from her career as a chart-topping musician and actress.
4 Aug 2017
'Despacito' by Puerto Rican singer Luis Fonsi featuring Justin Bieber became the most-watched YouTube video ever, passing the Wiz Khalifa/Charlie Puth collaboration 'See You Again' with nearly 3 billion views in just seven months.
4 Aug 2015
Influential country producer Billy Sherrill, who worked with artists like George Jones, Charlie Rich, and
Tammy Wynette
and is known for pioneering the "countrypolitan" sound, died after a short illness at the age of 78. Sherrill also co-wrote many hit songs, including 'Stand by Your Man' (written with
Tammy Wynette
).
4 Aug 2010
Don Henley reached an out-of-court settlement with Republican Senatorial candidate Chuck DeVore who used parodies of two
Eagles
' hits for an election campaign without permission. 'All She Wants To Do Is Dance' and 'The Boys of Summer' were used in campaign videos on YouTube as 'All She Wants To Do Is Tax' and 'Hope Of November'.
4 Aug 2007
US singer, songwriter Lee Hazlewood died of cancer, in his home near Las Vegas aged 78. Hazlewood wrote and produced many of Nancy Sinatra's most famous hits, including 'These Boots Were Made For Walkin', 'Jackson' and 'Did You Ever' He also produced Duane Eddy and
Gram Parsons
and 'Something Stupid' - the duet Nancy recorded with her father Frank in 1967.
4 Aug 2005
American blues singer and guitarist Little Milton died. Milton had suffered a brain aneurysm on 25th July 2005 and had lapsed into a coma. He signed to Sun records in 1953 and had the 1965 US No.25 single 'We're Gonna Make It'.
4 Aug 2002
Bruce Springsteen
scored his fifth UK No.1 album with 'The Rising', also No.1 in the US.
4 Aug 2001
Dave Stewart married fashion photographer Anouska Fisz on a private beach on the French Riviera. Guest's included
Elton John
,
Mick Jagger
,
Oasis
brothers Liam and Noel Gallagher and his former Eurythmics partner Annie Lennox.
4 Aug 2001
The News Of The World reported that
Mariah Carey
had hired a private eye to spy on her ex husband, record boss Tommy Mottola. Investigator Jack Palladino told the paper that Mariah believed her ex husband was conducting a smear campaign against the singer.
4 Aug 2000
Craig David scored his second UK No.1 single with '7 Days'. At the age of 19, he became the youngest male artist to score two No.1's since Donny Osmond in 1973.
4 Aug 1996
Oasis
played two sold out nights at Balloch Castle Country Park, Loch Lomand, Scotland to over 80,000 fans.
Oasis
roadie James Hunter was crushed to death between a fork-lift truck and a lorry during the bands two days shows.
4 Aug 1990
During a New Kids On The Block concert in Montreal. Canada, three armed robbers stole souvenir sales proceeds valued at $260.000.
4 Aug 1990
Mariah Carey
's started a four week run at No.1 on the US singles chart with 'Vision Of Love', her debut release. 'Vision Of Love' was nominated for three Grammy Awards at the 33rd annual ceremony, held on February 20, 1991: Record of the Year, Song of the Year and Best Female Pop Vocal Performance, winning the latter.
4 Aug 1984
Prince
started a 24 week run at the top of the US album charts with Purple Rain. His sixth studio album which features the hits 'When Doves Cry' and 'Let's Go Crazy', as well as the title track has sold over 20 million copies worldwide, becoming the seventh best-selling soundtrack album of all time.
4 Aug 1979
A benefit concert was held to raise money for Little Feat guitarist and singer Lowell George featuring members of his band plus Jackson Browne, Emmylou Harris and Bonnie Raitt.
4 Aug 1975
Led Zeppelin
singer Robert Plant and his wife were both badly injured when the hire car he was driving spun off the road and crashed on the Greek island of Rhodes. Plant smashed both his ankle and his elbow, and was not fully fit for the best part of two years. A forthcoming North American tour had to be cancelled.
4 Aug 1968
The second day of the two day Newport Pop Festival took place in Costa Mesa, California with Blue Cheer, Eric Burdon & The Animals,
Grateful Dead
, Illinois Speed Press,
Iron Butterfly
, Jefferson Airplane, Quicksilver Messenger Service and The Byrds. Over 100,000 fans attended the festival.
4 Aug 1967
A female
Monkees
fan stowed away on the bands plane between shows in Minneapolis and St Louis. The girl's father threatened to bring charges for transporting a minor across state lines.
4 Aug 1967
Pink Floyd
released their debut album The Piper At the Gates of Dawn on which most songs were penned by
Syd Barrett
. In subsequent years, the record has been recognised as one of the seminal psychedelic rock albums of the 1960s. When reviewed, by the two main UK music papers in the UK, Record Mirror and NME both gave the album four stars out of five. The album which was recorded at Abbey Road studios, London during the same time that
The Beatles
were recording
Sgt. Pepper
peaked at No.6 on the UK album chart and failed to chart in the US.
4 Aug 1966
The
Troggs
were at No.1 on the UK singles chart with 'With A Girl Like You', the group's only UK No.1 single.
4 Aug 1964
The Kinks
released 'You Really Got Me' on Pye Records in the UK. The influential distortion sound of the guitar was created after guitarist Dave Davies sliced the speaker cone of his guitar amplifier with a razor blade and poked it with a pin. The song became the group's US breakthrough hit reaching No.7 later in the year.
4 Aug 1963
UK music weekly The NME reported that
The Beatles
could score their first US hit with 'From Me To You' as the single was 'bubbling under' on the charts at No.116.
4 Aug 1963
The Beatles
appeared at the Queen's Theatre in Blackpool. So many fans crowded around the theatre, blocking every entrance, that The Beatles had to go through a construction area, up and across some scaffolding to the roof of the theatre, from where they were lowered through a trap door.
4 Aug 1962
The
Rolling Stones
played the first of 22 weekly shows at Ealing Jazz Club in Ealing, London. They were known as The Rollin' Stones during this period.
4 Aug 1958
Billboard introduced 'The Hot 100 Singles Chart', Ricky Nelson was at No.1 with 'Poor Little Fool'.
Born on this day in music
4 Aug 1988
Tom Parker, singer with the Wanted, who became one of the most popular British boybands in a generation. Their debut 2010 single, the anthemic 'All Time Low', reached No 1, as did 'Glad You Came' in 2012. Parker died from brain cancer age 33 on 30 March 2022.
4 Aug 1969
Max Cavalera guitarist, singer from Brazilian heavy metal Sepultura. Formed in 1984 the band was a major force in the thrash metal and groove metal genres during the late 1980s and early 1990s.
4 Aug 1968
Rob Cieka drummer with English alternative rock band The Boo Radleys who had the 1995 UK No.9 single 'Wake Up Boo'.
4 Aug 1966
Andy Henderson, drums, Echobelly, (1995 UK No.13 single 'Great Things').
4 Aug 1962
Paul Reynolds, A Flock Of Seagulls, (1982 UK No.10 single 'Wishing If I Had A Photograph Of You').
4 Aug 1960
Graham Massey keyboards, 808 State, (1989 UK No.10 single 'Pacific State').
4 Aug 1958
Ian Broudie, English singer-songwriter, musician and record producer. Broudie was a member of Big in Japan and later The Lightning Seeds who twice took football anthem 'Three Lions' (with comedians Frank Skinner and David Baddiel) to No.1 in the UK.
4 Aug 1953
Vincent "Vini" Gerard Reilly, English musician and leader of the post-punk group The Durutti Column. Reilly was Tony Wilson's first signing to Manchester's iconic label, Factory Records and played guitar on fellow Manchester artist Morrissey's first post-
Smiths
album Viva Hate in 1988.
4 Aug 1952
Moya Brennan from Irish family band Clannad who had the 1982 UK No.5 single 'Harry's Game'. Clannad have recorded in six different languages, and scored eight UK top-10 albums. They are widely regarded as a band that have brought Irish music and the Irish language to a worldwide audience.
4 Aug 1951
Roy Flowers, from British soul group Sweet Sensation who scored the 1974 UK No.1 and US No.14 single 'Sad Sweet Dreamer'.
4 Aug 1947
German electronic music composer and musician Klaus Schulze, who was a member Tangerine Dream before launching a solo career consisting of more than 60 albums released across five decades.
4 Aug 1947
Paul Layton, singer from The New Seekers who had the 1972 UK No.1 and US No.7 single 'I'd Like To Teach The World To Sing' and hits with 'You Won't Find Another Fool Like Me' and 'Beg, Steal or Borrow'.
4 Aug 1943
David Carr, keyboards, from English harmony beat group The Fortunes, who had the 1965 UK No.2 & US No.7 single 'You've Got Your Troubles' and the hits 'Here It Comes Again and 'Storm in a Teacup'. Carr died on 12 July 2011 from a heart attack.
4 Aug 1940
American rock and roll and rhythm and blues singe Frankie Ford, known for his 1959 hit single 'Sea Cruise'. Ford died in Gretna at the age of 76 on 28 September 2015.
4 Aug 1940
Larry Knechtel, an American keyboard player and bassist, best known as a member of The Wrecking Crew, a collection of Los Angeles-based session musicians who worked with such renowned artists as
Simon And Garfunkel
,
The Beach Boys
, The Mamas & the Papas, The
Monkees
, The Partridge Family,
The Doors
and
Elvis Presley
and as a member of the 1970s band Bread. Knechtel died on Aug 20th 2009.
4 Aug 1936
Elsbeary Hobbs, The Drifters, (1960 US No.1 & UK No.2 single 'Save The Last Dance For Me'). Died on May 31st 1996 at Veterans Hospital in Manhattan. He was 59.
4 Aug 1901
Louis Armstrong, singer, bandleader, trumpet. Had many hits including the 1964 US No.1 'Hello Dolly!', 1968 UK No.1 'What A Wonderful World' plus 'When The Saints Go Marching In', 'Ain't Misbehavin', and 'We Have All the Time in the World.' Died 6th July 1971.