August 6th: The Biggest Music Headlines
Scroll down the page to see all the music headlines, stories and events for August 6 throughout music history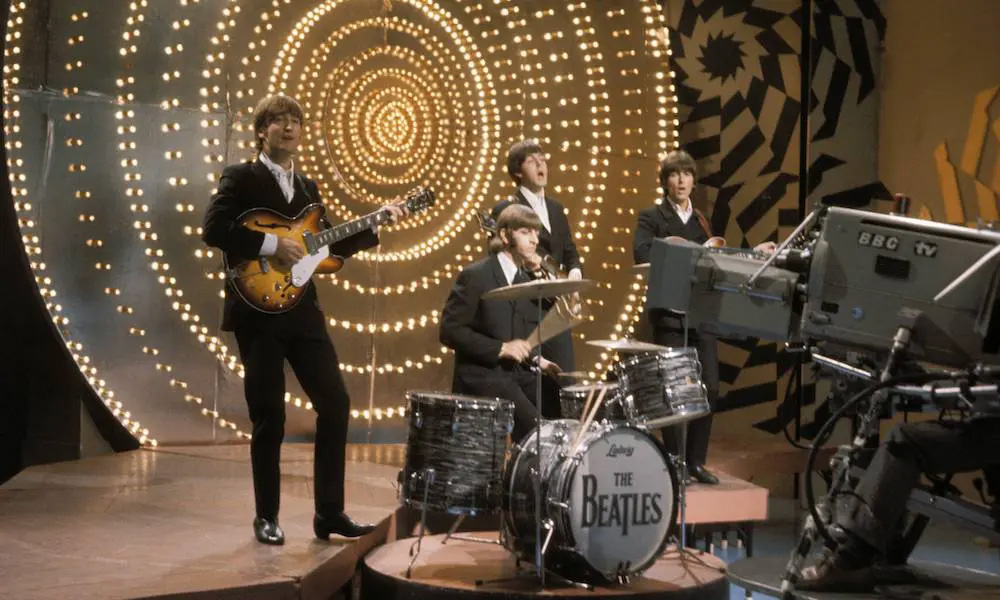 The Beatles Need no 'HELP' To Be No.1
On August 6, 1965, The Beatles released their highly-anticipated fifth album, Help!, which also served as the soundtrack to their film of the same name. Half of the 14 songs on the LP appeared in the movie, including the title track, "Ticket to Ride," and "You're Going to Lose that Girl." Side B, meanwhile, featured the ballad "Yesterday," which became one of the most-covered songs ever in popular music history. Help! went on to top the charts in the US, UK, Australia, and Germany and became the first rock album to earn an Album of the Year nomination at the Grammys.
On this day in 1960, Chubby Checker performed his enduring cover of Hank Ballard and the Midnighters' "The Twist," on American Bandstand. Weeks later, the song went to No.1. The hit would return to the top of the Billboard Hot 100 nearly two years later, in January 1962, making it the first song to reach the position on two separate runs (Mariah Carey would break this record 50 years later with "All I Want for Christmas Is You").
In 1970, the Festival for Peace took place at New York City's Shea Stadium, 25 years after the Hiroshima bombing in Japan. The star-studded concert raised funds for anti-war political candidates and included sets by Paul Simon, Creedence Clearwater Revival, Dionne Warwick, Miles Davis, Steppenwolf, and Janis Joplin.
On August 6, 1981, Stevie Nicks released her solo debut, Bella Donna, while still a member of Fleetwood Mac. The album included such hit songs as "Edge of Seventeen," "Stop Draggin' My Heart Around" with Tom Petty, and "Leather and Lace" with Don Henley.
In 1963, Bob Dylan entered Columbia Recording Studio to begin recording his legendary third album, The Times They Are A-Changin' with producer Tom Wilson. The record would be Dylan's first to be comprised of solely original compositions.
In 1982, Pink Floyd's The Wall opened in New York. Adapted from the band's 1979 album of the same name, the film starred Bob Geldof. While it was only available in one theater, initially, it grossed an astonishing $68,000 in its first weekend. It would later expand to hundreds of cinemas and gross $22 million over the next year.
And in 2004, Rick James was found dead in his Los Angeles home. The 56-year-old singer and songwriter was best-known for such hits as "Super Freak" and "Give It To Me Baby."
Looking for more things that happened on this day in music?
Keep scrolling for all of the headlines for August 6.
BORN ON AUGUST 6:
1929: Andy Warhol
1939: Sonny Sanders (singer, songwriter, arranger, and founder of the first vocal group to sign to Motown Records, the Satintones)
1946: Allan Holdsworth (Guitarist and composer)
1958: Randy DeBarge (DeBarge)
1969: Elliot Smith
Looking for more artists born on this day?
Keep scrolling for all of our August 6 birthdays.
---
What to find another day?
---
August 6th
6 Aug 2020
British music producer and sound engineer Martin Birch died age 71. He became renowned for engineering and producing albums recorded predominantly by British rock bands, including
Deep Purple
, Rainbow,
Fleetwood Mac
, Whitesnake,
Black Sabbath
and Iron Maiden.
6 Aug 2020
Wayne Fontana died from cancer at the age of 74. The English rock and pop singer is best known for the 1965 hit 'The Game of Love' with the Mindbenders. He took his stage name from Elvis Presley's drummer, D. J. Fontana.
6 Aug 2019
Members of Korn, Tool, Judas Priest, Linkin Park and several other bands signed a brief in support of
Led Zeppelin
, whose years-long copyright case over the opening guitar riff of
'Stairway To Heaven'
was set to return to court. In response to the court order, 123 music-makers filed an amicus brief, aiming to "elucidate the effect of the panel's decision… on all songwriters, composers, musicians and producers in the United States and around the world". The lawsuit was originally filed in 2014 by the estate of the late Randy California, the singer/guitarist of Spirit and the composer of 'Taurus'.
6 Aug 2016
Swedish music streaming service Spotify reported that 'The Girl From Ipanema' was streamed more than 40,000 times after it was played while supermodel Gisele Bundchen walked onstage during the opening ceremony of the 2016 Olympics in Rio de Janeiro. The song first became a hit for Astrud Gilberto and Stan Getz in 1964 when it peaked at No.5 on the US chart.
6 Aug 2012
Forbes declared
Beyoncé
and Jay-Z the highest-paid celebrity couple, with earnings of $78 million ($40 million for her, $38 for him).
6 Aug 2009
Willy DeVille died at the age of 58 following a battle with pancreatic cancer. The band he formed, Mink Deville, appeared at the legendary CBGB club in New York in the 1970s and scored the 1977 hit 'Spanish Stroll.' Doctors discovered he had cancer earlier this year as he was preparing to undergo treatment for hepatitis C.
6 Aug 2007
Marilyn Manson was being sued by a former band member who said he was owed $20m (£9.8m) in shared profits. Stephen Bier, who played keyboards under the stage name
Madonna
Wayne Gacy, claimed he was not paid properly over a period of almost two decades. In legal papers filed in Los Angeles, Bier claimed Manson falsely told him the band was not making much money and used band money to buy a $2m (£980,000) home and collect Nazi memorabilia, including coat hangers used by Adolf Hitler.
6 Aug 2004
Rick James was found dead at his Los Angeles home. Known as 'The King of Punk-Funk' James scored the 1981 US No.3 album 'Street Songs' and 1981 US No.16 single 'Super Freak part 1'. In the late 60s James worked as a songwriter and producer for
Motown
, working with
Smokey Robinson
and The Miracles. Addicted to cocaine, he once admitted to spending $7,000 a week on drugs for five years.
6 Aug 2001
Whitney Houston
became one of the highest-paid musicians in the world after signing a new deal with Arista records, said to be worth more than $100m.
6 Aug 1999
Dick Latvala died aged 56 after being in a coma caused by a heart attack. Latvala had worked with the
Grateful Dead
since the early 80s looking after their archives of live performances which became a series of 'Dick's Picks' albums.
6 Aug 1994
Lisa Loeb started a three week run at No.1 on the US singles chart with 'Stay (I Missed You), a No.6 hit in the UK. Actor and friend Ethan Hawke had asked her to provide a song for the upcoming movie Reality Bites and 'Stay' was featured in the film.
6 Aug 1994
Manic Street Preachers guitarist
Richey Edwards
booked into a private clinic to be treated for nervous exhaustion.
6 Aug 1989
Adam Clayton of
U2
was arrested in The Blue Light Inn car park in Dublin for marijuana possession and intent to supply the drug to another person. His conviction was waived in exchange for paying £25,000 to the Dublin Woman's Aid Centre.
6 Aug 1988
Appetite For Destruction
Guns N' Roses debut album went to No.1 in the US, after spending 57 weeks on the chart and selling over 5 million copies. Singles from the album, 'Sweet Child O' Mine,' 'Welcome to the Jungle' and 'Paradise City' were all US top 10 hits. Worldwide sales now stand in excess of 28 million and the album is the best-selling debut album of all-time in the US, beating Boston's debut album Boston, which has gone 17x platinum.
6 Aug 1988
Yazz and the Plastic Population started a five week run at No.1 on the UK singles chart with 'The Only Way Is Up'. The song was originally released as the title track to the 1982 album by soul singer Otis Clay.
6 Aug 1983
Avant-garde musician and former backing singer with
David Bowie
Klaus Nomi died at the age of 39 of Aids in New York City aged 38. Nomi was one of the first celebrities to contract AIDS.
6 Aug 1982
6 Aug 1981
Stevie Nicks
released her first solo album Bella Donna which contained four top 40 US hits. 'Stop Draggin' My Heart Around', (with
Tom Petty
), 'Leather and Lace', (with Don Henley), 'Edge of Seventeen' and 'After the Glitter Fades.'
6 Aug 1977
The Police
appeared at The Red Cow, Hammersmith Road in London, admission was 60p.
6 Aug 1977
This week's UK Top 5 singles: No.5 'Fanfare For The Common Man', ELP. No.4, 'Pretty Vacant', the
Sex Pistols
. No.3, 'Angelo' Brotherhood Of Man'. No.2, 'Ma Baker', Boney M and No.1, 'I Feel Love' Donna Summer.
6 Aug 1974
ABBA
scored their first US top 10 hit when 'Waterloo' went to No.6. 'Waterloo' was written specifically to be entered into the 1974 Eurovision Song Contest, after the group finished third with 'Ring Ring' the previous year in the Swedish pre-selection contest. The original title of the song was 'Honey Pie'.
6 Aug 1973
Stevie Wonder
was seriously injured when the car he was riding in crashed into a truck on I-85 near Winston-Salem, North Carolina leaving him in a coma for four days. The accident also left him without any sense of smell.
6 Aug 1970
Steppenwolf,
Janis Joplin
,
Paul Simon
, Poco and Johnny Winter all appeared at the Concert For Peace at New York's Shea Stadium. The concert date coincided with the 25th anniversary of dropping an atomic bomb on Hiroshima, Japan.
6 Aug 1970
The 10th National Jazz, Blues and Pop four day Festival was held at Plumpton Racecourse in Sussex, England. Featuring, Family, Groundhogs, Cat Stevens,
Deep Purple
, Fat Mattress, Yes, Caravan, The Strawbs,
Black Sabbath
, Wild Angles, Wishbone Ash and Daddy Longlegs.
6 Aug 1965
The Beatles
released their fifth album and soundtrack to their second film
Help!
which included the title track, 'The Night Before', 'You've Got to Hide Your Love Away', 'You're Going to Lose That Girl', 'Ticket to Ride' and '
Yesterday
'.
6 Aug 1965
Decca records released the
Small Faces
debut single 'Whatcha Gonna Do About It' which peaked at No.14 on the UK chart. Years later, their manager Don Arden admitted to spending £12,000 on chart fixing to ensure the band's debut song would be a hit.
6 Aug 1964
Rod Stewart
made his TV debut on the BBC show The Beat Room as a member of The Hoochie Coochie Men. The tapes of all but one of the programmes were later destroyed. The only remaining programme (originally broadcast on 5 October 1964) featured Tom Jones, Julie Rogers,
The Kinks
, John Lee Hooker, and The Syndicats. The show also featured a sextet of female dancers, the Beat Girls formed from an existing group, the Katy-Dids.
6 Aug 1963
In the evening at Studio A of the Columbia Recording Studio, New York City,
Bob Dylan
recorded the first session produced by Tom Wilson for the album
The Times They Are A-Changin'
. Dylan's third studio album was the first collection to feature only original compositions, the title track being one of Dylan's most famous. The album consists mostly of stark, sparsely-arranged story songs concerning issues such as racism, poverty, and social change.
6 Aug 1963
The Beatles
arrived in Jersey in the Channel Islands, where they spent the day go-carting and relaxing by the pool at The Revere Hotel before playing the first of four nights at the Springfield Ballroom. Some fans had found out where they were staying, but they were happy to chat and be photographed with them.
6 Aug 1960
Chubby Checker appeared on US TV show American Bandstand and performed 'The Twist.' The song went to No.1 on the US chart and again 18 months later in 1962. It is the only song to go to the top of the charts on two separate occasions.
Born on this day in music
6 Aug 1972
Geri Halliwell, (Ginger Spice), vocals, the
Spice Girls
who scored the 1996 UK No.1 & 1997 US No.1 single 'Wannabe', plus seven other No.1 singles. She left the group on 7th June 1998 and her first UK solo No.1 single was 1999 'Mi Chico Latino'. Halliwell has scored more UK No.1's than any other female artist.
6 Aug 1969
US singer songwriter Elliot Smith. He had the 1997 album 'Either/Or' and his song 'Miss Misery' saw him nominated for an Academy Award in 1997. Smith committed suicide on 21st October 2003 aged 34.
6 Aug 1963
Jamie Kensit, from English group Eighth Wonder, (the brother of singer, actress Patsy Kensit), who had the 1988 UK No.7 single and European hit 'I'm Not Scared', which was co-produced and written by the Pet Shop Boys.
6 Aug 1958
Randy DeBarge singer from American family group DeBarge who had the 1983 US No.17 single 'All This Love', and the 1985 UK No.4 single 'Rhythm Of The Night'.
6 Aug 1952
American musician and songwriter Pat McDonald from Timbuk 3, who had the 1987 UK No.21 single 'The Future's So Bright I Gotta Wear Shades'). He formed the duo with his wife, Barbara K. MacDonald. He has co-written songs recorded by Aerosmith, Cher, Jools Holland, Billy Ray Cyrus, Zucchero, Keith Urban, Imogen Heap, Stewart Copeland and Peter Frampton.
6 Aug 1948
Allan Holdsworth, British guitarist and composer who was a member of Soft Machine, and played a variety of musical styles in a career spanning more than four decades, but is best known for his work in jazz fusion. Holdsworth died on 15 April 2017 at his home in Vista, California, at the age of 70.
6 Aug 1939
American soul music singer, songwriter, arranger, and record producer Sonny Sanders. He formed the Satintones in Detroit in 1957 becoming the first vocal group signed to
Motown
, and released their first record, 'Going to the Hop' / 'Motor City' in 1960. He later arranged strings on may hits including Jackie Wilson's 'Higher and Higher' and 'I Get the Sweetest Feeling'. He died on October 12, 2016.
6 Aug 1929
Mike Elliott, saxophonist from British soul band The Foundations who scored the 1967 UK No.1 single 'Baby Now That I've Found You' and the 1969 US No.3 single 'Build Me Up A Buttercup'. The group was the first multi-racial group to have a No.1 hit in the UK in the 1960s.
6 Aug 1928
Andy Warhol, pop artist and producer, the founder of the Pop Art movement. Produced and managed The Velvet Underground, designed the 1967 Velvet Underground and Nico, 'peeled banana' album cover and The
Rolling Stones
Sticky Fingers
album cover. Warhol died on 22nd February 1987 after a gall bladder operation.