December 10th: The Biggest Music Headlines
Scroll down the page to see all the music headlines, stories and events for December 10 throughout music history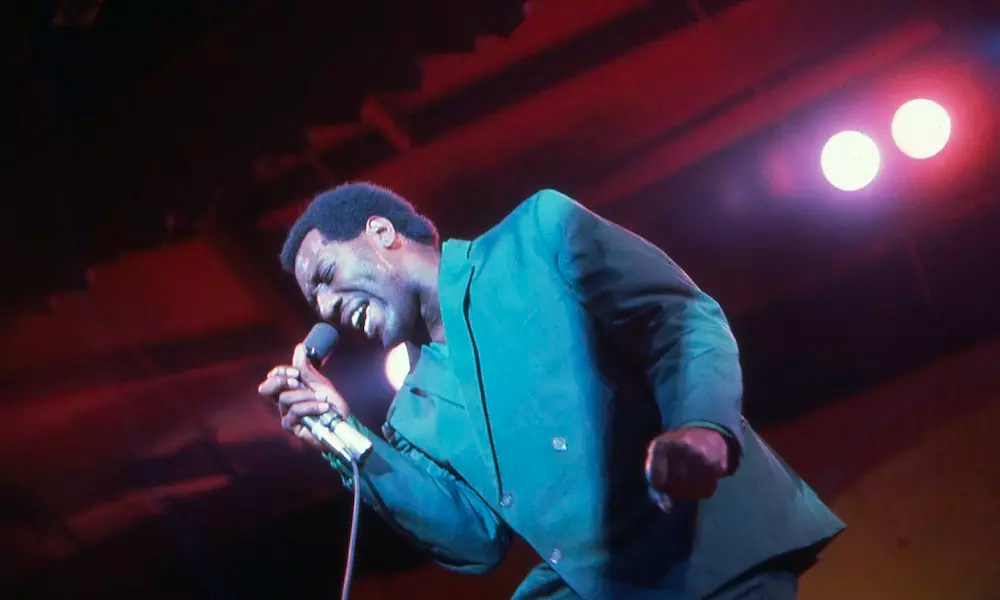 The Tragic Loss of the King of Soul
On this day in music, December 10, 1967, tragedy struck when 26-year-old soul star Otis Redding, and nearly every member of his young backing band, the Bar-Kays, were killed in a plane crash. The musicians had just kicked off a string of midwestern dates and were on their way to play a show in Wisconsin, when Redding's private jet went down. Known as "The King of Soul," the highly-influential artist left behind a mighty legacy, while his Grammy-winning final recording, "(Sittin' On) The Dock of the Bay," went on to become the first posthumous No.1 record on both the Billboard Hot 100 and R&B charts. In the decades following his death, Redding was also honored with a Grammy Lifetime Achievement Award, as well as inductions into the Rock and Roll Hall of Fame, the Black Music & Entertainment Walk of Fame, and the Songwriters Hall of Fame.
In 1966, The Beach Boys scored their third No.1 hit on the Billboard Hot 100 with the innovative "Good Vibrations." Produced by Brian Wilson, the song was recorded in an unorthodox manner, through short, interchangeable musical fragments.
In 2001, Eminem went to No.1 in the UK with "Stan," featuring British singer Dido. The song also topped the charts in 11 countries, including Australia, Germany, and Iceland.
In 1973, the famed music club, CBGB, opened in Manhattan's East Village. The venue would soon become ground zero for the emerging punk and new wave scenes – hosting some of the earliest shows by the Ramones, Television, Patti Smith, Blondie, and the Talking Heads.
In 1949, Fats Domino recorded his first tracks for Imperial Records, including one of his signature hits, "​​The Fat Man."
In 2021, Mike Nesmith of The Monkees died at the age of 78. Outside of his work with the pop group, Nesmith also found success as a songwriter – most notably with the song "Different Drum," which became a hit for Linda Ronstadt and the Stone Ponys in 1967.
In 1965, 18-year-old David Bowie recorded "Can't Help Thinking About Me." It was his first song under the David Bowie moniker, after previously releasing singles as Davy Jones and Davie Jones.
In 1983, Paul McCartney and Michael Jackson began a six-week run at the top of the Billboard Hot 100 with their collaborative hit, "Say Say Say."
In 1975, ABBA released "Fernando." The song quickly became one of the Swedish group's most popular singles, selling more than six-million copies in its first year.
In 2007, Led Zeppelin reunited after 19 years to perform at the Ahmet Ertegun Tribute Concert in London.
Looking for more things that happened on this day in music?
Keep scrolling for all of the headlines for December 10.
BORN ON DECEMBER 10:
1941: Chad Stuart (Chad & Jeremy)
1941: Ralph Tavares (Tavares)
1954: Geoff Deane (Modern Romance)
1955: Garth Smith (Buzzcocks)
1965: J Mascis (Dinosaur Jr.)
1972: Brian Molko (Placebo)
1974: Meg White (The White Stripes)
Looking for more artists born on this day?
Keep scrolling for all of our December 10 birthdays.
---
What to find another day?
---
December 10th
10 Dec 2021
American musician, songwriter, actor, producer, Mike Nesmith died from heart failure at his home in Carmel Valley, California age 78. He was best known as a member of the pop rock band the
Monkees
and co-star of the TV series The Monkees (1966–1968). His song writing credits include 'Different Drum', which became a hit for Linda Ronstadt and the Stone Poneys. After the break-up of the Monkees, Nesmith continued his successful song writing and performing career, first with the seminal country rock group the First National Band, with whom he had a top-40 hit, 'Joanne'.
10 Dec 2019
Gershon Kingsley the German-American composer and a pioneer of electronic music and the Moog synthesizer died age 97. His best known composition, 'Popcorn' has been covered by Jean Michel Jarre, Aphex Twin, Herb Alpert, Muse, Crazy Frog and The Muppets.
10 Dec 2015
Janis Joplin
's psychedelic 1965 Porsche sold for $1.76 million at RM Sotheby's car auction in New York City. The car was originally expected to fetch between $400,000 and $600,000.
10 Dec 2011
A copy of
The Beatles
'
Love Me Do
' 1962 Demonstration Record sold for $17,339.31 during a 10-day eBay auction. According to the seller, this original demo was the 'Holy Grail' of Beatles items.
10 Dec 2010
The original hand-written lyrics to
Bob Dylan
's 'The Times They Are A-Changin' sold at a New York auction for $422,500 (£267,400). Adam Sender, a hedge fund manager and art collector, outbid five others, placing telephone bids. The song, one of Dylan's most politically charged, was the title track of his 1964 album.
10 Dec 2009
In an interview with Q magazine,
Paul McCartney
was asked if his marriage to Heather Mills was the worst mistake of his life. He replied "OK, yeah. I suppose that has to be the prime contender." The divorce settlement had cost McCartney £24m ($38.9m), plus annual payments for his daughter, Beatrice.
10 Dec 2008
The Associated Press reported that the US military used loud music to "create fear, disorient and prolong capture shock" for prisoners at military detention centers at Guantanamo Bay, Cuba. Among the songs blasted 24 hours a day were 'Born In The USA' by
Bruce Springsteen
, 'Hell's Bells' by
AC/DC
, 'White America' by
Eminem
, 'The Theme From Sesame Street' and 'I Love You' from the Barney and Friends children's TV show.
10 Dec 2007
Led Zeppelin
played their first concert in 19 years, at London's 02 Arena as part of the Ahmet Ertegun Tribute Concert.
Jimmy Page
, Robert Plant and John Paul Jones were joined on stage by Jason Bonham, the son of their late drummer
John Bonham
. More than one million people had taken part in a ballot for the 20,000 tickets available for the show with all proceeds going to Ahmet's own charity. Zeppelin performed 16 songs including two encores. A number of celebrities attended the gig including
Dave Grohl
,
Jeff Beck
, Brian May, David Gilmour, The Edge, Peter Gabriel,
Mick Jagger
, Kate Moss, Naomi Campbell, Jerry Hall, Priscilla Presley and Paris Hilton.
10 Dec 2005
Queen
overtook
The Beatles
to become the third most successful act of all time. Sales in 2005 showed that
Queen
had now overtaken
The Beatles
to make it into third place, spending 1,755 weeks on the British singles and album charts.
The Beatles
slipped to fourth place, with 1,749 weeks. Elvis had spent 2,574 weeks on the singles and album charts, making him number one in the Top 100 most successful acts of all time. Sir Cliff Richard remained in second place, clinching 1,982 weeks.
10 Dec 2004
One of three RCA microphones used by radio station KWKH for the historic
Elvis Presley
appearance at the Louisiana Hayride was sold for $37,500. The microphone was one of three used during 50 performances by
Elvis Presley
when he performed for the radio show in Shreveport from 1954 to 1956.
10 Dec 2000
Eminem
went to No.1 on the UK singles chart with 'Stan' featuring British singer Dido. 'Stan' was No.1 in eleven countries. Dido's lyrics are actually a sample of the opening lines from her song 'Thank You'.
10 Dec 1999
Rick Danko died in his sleep at his home near
Woodstock
, New York. The Canadian guitarist and singer joined The Hawks in 1963 who went on to work as
Bob Dylan
's backing band, (with Robbie Robertson, Richard Manuel and Garth Hudson). Renamed The Band who released their 1968 debut Music from Big Pink (featuring the single 'The Weight'). The Band released the 1978 concert film-documentary triple-LP soundtrack 'The Last Waltz.'
10 Dec 1999
A war of words broke out between Cliff Richard and
George Michael
after George branded Cliff Richards hit 'Millennium Prayer' as 'vile'. Cliff hit back by saying that his single was a Christian celebration.
10 Dec 1998
A recording of a 1963 Beatles concert was sold at auction at Christies in London for £25,300, ($41,500). The tape of
The Beatles
' 10-song concert was recorded by the chief technician at the Gaumont Theatre in Bournemouth during one of six consecutive nights which
The Beatles
had played. Also sold for £5,195 ($8,500), was a set of autographs of five Beatles,
John Lennon
,
Paul McCartney
,
George Harrison
, Pete Best, and Stuart Sutcliffe. The autographs had been obtained by a fan in Liverpool in 1961.
10 Dec 1998
Bruce Springsteen
won a £2 million court battle to ban an album of his early songs. The case revolved around a dispute over copyright ownership between Bruce and a former manager.
10 Dec 1995
Hip hop artist Darren Robinson died age 28. He was also known as Buffy, The Human Beat Box, and DJ Doctor Nice and was a member of the 1980s hip hop group The Fat Boys. He, along with Doug E. Fresh and others, were pioneers of beatboxing, a form of vocal percussion used in many rap groups throughout the 1980s and 1990s.
10 Dec 1983
Paul McCartney
and
Michael Jackson
started a six week run at No.1 on the US singles chart with 'Say Say Say'. It was Jackson's 10th No.1 (solo & The Jackson's) and McCartney's 29th, (solo and
The Beatles
).
10 Dec 1983
American singer Gene Bricker died. He was a member of The Marcels who scored the 1961 US and UK No.1 with a doo-wop cover of the ballad 'Blue Moon' that began with the bass singer singing, "bomp-baba-bomp-ba-bomp-ba-bomp-bomp... vedanga-dang-dang-vadinga-dong-ding...". The record sold over one million copies and was awarded a gold disc.
10 Dec 1975
ABBA
released 'Fernando'. The song is one of ABBA's best-selling singles of all time, with six million copies sold in 1976 alone and is one of fewer than forty all-time singles to have sold 10 million (or more) physical copies worldwide. The song was written for group member Anni-Frid Lyngstad and was included on her debut 1975 album Frida ensam.
10 Dec 1973
The CBGB Club (Country, BlueGrass, and Blues), opened in the lower eastside of New York City. Founded by Hilly Kristal, it was originally intended to feature its namesake musical styles, but became a forum for American punk and New Wave bands such as
Blondie
, Television, Patti Smith and the
Ramones
.
10 Dec 1971
Playing the first of two nights at London's Rainbow Theatre, in England,
Frank Zappa
was pushed off stage by Trevor Howell, the jealous boyfriend of an audience member. Zappa fell onto the concrete-floored orchestra pit - the band thought Zappa had been killed. He suffered serious fractures, head trauma and injuries to his back, leg, and neck, as well as a crushed larynx, which ultimately caused his voice to drop a third after healing. This accident resulted in him using a wheelchair for an extended period, forcing him off the road for over half a year.
10 Dec 1967
American soul singer, songwriter
Otis Redding
was killed in a plane crash, aged 26. Redding and his band had made an appearance in Cleveland, Ohio on the local 'Upbeat' television show the previous day. The plane carrying Otis Redding and his band crashed at 3.28.pm into icy waters of Lake Monoma near Madison. Redding was killed in the crash along with members from the The Bar-Kays, Jimmy King, Ron Caldwell, Phalin Jones and Carl Cunningham. Trumpet player Ben Cauley was the only person to survive the crash.
10 Dec 1966
The Beach Boys
went to No.1 on the US singles chart with 'Good Vibrations', the group's third US No.1. As a child, his mother told him that dogs could pick up "vibrations" from people, so that the dog would bark at "bad vibrations" Wilson turned this into the general idea for the song.
10 Dec 1965
18-year-old
David Bowie
recorded 'Can't Help Thinking About Me' at Pye Studios, London, England, which was later released as a single under the name David Bowie with The Lower Third. It became the first David Bowie record to be released in the US as well as the first time the name "Bowie" appeared under the songwriters credit.
10 Dec 1961
The Beatles
appeared at Hambleton Hall, Huyton in Liverpool after returning to Liverpool from their first live performances in south England and London.
10 Dec 1961
James Brown
, The Famous Flames, Sugar Pie DeSanto and The Brownies all appeared at The Evergreen Ballroom, Lacey, Washington.
10 Dec 1959
The four male members of The Platters were acquitted of charges of aiding and abetting prostitution, lewdness and assignation after an incident on August 10th in Cincinnati. Despite the outcome of the trial, the scandal would severely damage the group's career.
10 Dec 1949
Fats Domino recorded his first tracks for Imperial Records. One of those songs was called 'The Fat Man', which later became his nickname.
Born on this day in music
10 Dec 1985
British cellist, percussionist and vocalist Grace Chatto from the electronic music group Clean Bandit. The had the 2017 UK No.1 hit 'Symphony' featuring Zara Larsson.
10 Dec 1974
Meg White, American drummer, The White Stripes. Their 2003 UK No.1 album 'Elephant' spent 46 weeks on the UK chart.
10 Dec 1972
Brian Molko, guitar, vocals, with alternative rock band Placebo who had the 1997 UK No. 6 single 'Nancy Boy'.
10 Dec 1965
Joseph Mascis, guitar, vocals, Dinosaur Jr, (1993 UK No.20 single 'Start Choppin').
10 Dec 1957
Paul Hardcastle, British composer, musician, and multi-instrumentalist who scored the 1985 UK No.1 single 'Nineteen' which became the top-selling single in 13 countries
10 Dec 1955
Garth Smith, bassists of the punk rock band
Buzzcocks
. He took part in the first BBC Peel sessions and recorded the 'Orgasm Addict' single.
10 Dec 1954
Geoff Deane from British pop band Modern Romance who had the 1982 UK No.4 single 'Best Years Of Our Lives' and a string of UK hits.
10 Dec 1952
American actress Susan Dey, known for her television roles as Laurie Partridge on the sitcom The Partridge Family from 1970 to 1974. The Partridge Family had the 1970 US No.1 single 'I Think I Love You', and the 1972 UK No.3 single 'Breaking Up Is Hard To Do'.
10 Dec 1948
Jessica Cleaves, The Friends Of Distinction, (1969 US No.3 single 'Grazing In The Grass').
10 Dec 1946
English bassist, Ace Kefford, with British rock band The Move who had the 1969 UK No.1 single 'Blackberry Way' and hits with 'I Can Hear The Grass Grow', 'Flowers in the Rain' and 'Fire Brigade'. He was the co-founder of The Move in October 1965 with Trevor Burton, after meeting
David Bowie
at Birmingham's Cedar Club, following a performance by Bowie's band Davy Jones and the Lower Third. The duo invited Roy Wood, then Carl Wayne and Bev Bevan to join and complete the classic Move line-up.
10 Dec 1941
British musician Chad Stuart. He was one half of the duo Chad & Jeremy that began working in 1962 and had its first hit song in the UK with 'Yesterday's Gone' followed by a string of successful records in the United States through the mid-60s. He died on 20 Dec 2020 died from pneumonia following a fall.
10 Dec 1941
Northern Indian-born British singer-songwriter and multi-instrumentalist Peter Sarstedt, best known for the single 'Where Do You Go To (My Lovely)?', which topped the UK Singles Chart in 1969 (and 14 other countries), and won an Ivor Novello Award. He died on 8 January 2017 at the age of 75.
10 Dec 1941
Ralph Tavares, from American R&B, funk, and soul group Tavares, who had the 1976 UK No.4 and US No.15 single 'Heaven Must Be Missing An Angel'. He died on 8 December 2021, two days before his 80th birthday.
10 Dec 1926
Eddie "Guitar Slim" Jones, New Orleans blues guitar player from the 1940s and 1950s best known for the million-selling song 'The Things That I Used to Do', a song that is listed in The Rock and Roll Hall of Fame's 500 Songs that Shaped Rock and Roll. He died of pneumonia aged 32 on 7 February 1959.