December 16th: The Biggest Music Headlines
Scroll down the page to see all the music headlines, stories and events for December 16 throughout music history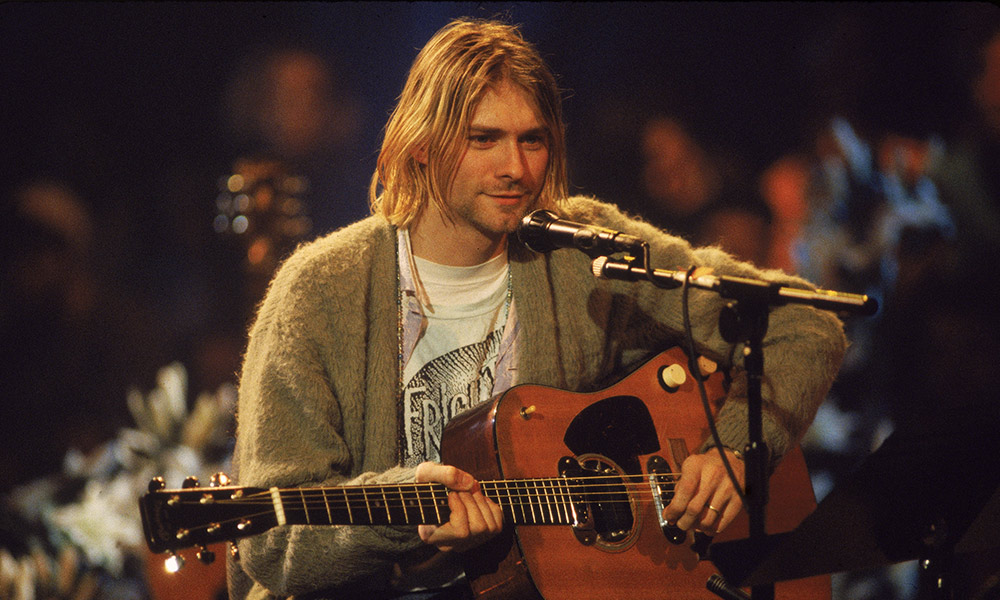 MTV Airs Nirvana's 'Unplugged' Performance
On this day in music, December 16, 1993, MTV aired Nirvana's iconic Unplugged performance. Celebrated for their contrarian take on the popular show's format, the grunge pioneers remained plugged-in, as they played many of their lesser-known songs and covered tracks from underground and unheralded acts, including the Vaselines, Lead Belly, and Meat Puppets. The 14-song set was released the following year as MTV Unplugged in New York, marking the first Nirvana album to hit the market after the death of Kurt Cobain. The Grammy-winning release debuted at the top of the charts and frequently ranks as one of the greatest live albums of all time.
In 1974, guitarist Mick Taylor announced that he was leaving The Rolling Stones. Five years earlier, Taylor had been an integral part of John Mayall's Bluesbreakers when the Stones came calling, looking to replace Brian Jones. After Mayall recommended Taylor for the gig, the guitarist made his live debut with the Stones at a free Hyde Park show in London, performing in front of a staggering 250,000 people.
In 1965, The Beatles released "Day Tripper" and "We Can Work It Out" as a double A-side, which became their ninth UK No.1 and their third Christmas release to consecutively top the chart. The single marked the first time in Britain that both tracks on a band or artist's 45 were promoted jointly as A-sides.
In 1966, "Hey Joe," the first single from The Jimi Hendrix Experience, was released in the UK on Polydor, after being initially rejected by Decca. Three years later, "Hey Joe" would close out Hendrix's Woodstock performance and mark the final song of the three-day festival.
In 1970, five singles and five albums by Creedence Clearwater Revival were certified gold in the US. They included Cosmo's Factory, Green River, and Willy and the Poor Boys, and "Down on the Corner," "Bad Moon Rising," and "Lookin' Out My Back Door."
In 1988, singer, songwriter, HIV/AIDS activist, and queer icon, Sylvester, died at the age of 41. The pioneering soul, R&B, and disco star was beloved for his powerful falsetto vocals, his groundbreaking androgynous style, and his ability to get the dancefloor pumping, thanks to such anthemic hits as "You Make Me Feel (Mighty Real)" and "Dance (Disco Heat)."
In 1989, Billy Joel went to No.1 on the Billboard 200 with his 11th studio album, Storm Front. The album featured one of Joel's three chart-topping singles, "We Didn't Start the Fire."
In 1971, Frank Zappa's 200 Motels film opened at London's Piccadilly Classic Cinema in the UK. Zappa also accompanied the film with a soundtrack.
Looking for more things that happened on this day in music?
Keep scrolling for all of the headlines for December 16.
BORN ON DECEMBER 16:
1937: Jim Glaser (The Glaser Brothers)
1945: Tony Hicks (The Hollies)
1946: Benny Andersson (ABBA)
1949: Bill Gibbons (ZZ Top)
1972: Michael McCary (Boyz II Men)
1997: Zara Larsson
Looking for more artists born on this day?
Keep scrolling for all of our December 16 birthdays.
---
What to find another day?
---
December 16th
16 Dec 2022
American rock and roll and rhythm and blues singer and guitarist Charlie Gracie died aged 86. His biggest hits were 'Butterfly' and 'Fabulous', both in 1957. Gracie became only the second American rock and roller to bring this new art form to the British concert stage. His two extensive tours in 1957 and 1958 were topped off by headlining the Palladium and the Hippodrome in London. In the audiences, among Gracie's fans, were future rock musicians Graham Nash and members of
The Beatles
.
16 Dec 2020
After nearly 178 days, Twenty One Pilots pulled the plug on the livestream for their 'Level Of Concern' video, which refreshed every 3:40 with new footage uploaded by fans. The band had called on fans to submit video for the visuals, with the fan footage being used to form a constant live stream of automatically generated footage.Every time the song restarted, the footage changed - meaning the video could theoretically go on forever. Guinness declared it the longest music video ever made.
16 Dec 2018
After some supporters of the #MeToo movement expressed an interest in banning the song 'Baby, It's Cold Outside,' a Kentucky radio station decided to show its support for the newly controversial song by playing it on repeat for two hours. The song had faced controversy as people began to scrutinize the situation portrayed in the lyrics. Written in 1944, it describes the exchange between a man and a woman, as the woman expresses her desire to get home and the man tries to persuade her to stay. At one point, the woman even asks, "What's in this drink?"
16 Dec 2013
It was reported that Miley Cyrus had insured her infamous tongue for $1 million. A source told Heat magazine: "Miley's totally aware of how her tongue is getting more headlines than she is, and getting it insured is just part of her trademarked image. It's not the first time she's done something like this - when she first cut her hair short, she tried to get her new crop patented. She wanted it to become known as The Miley".
16 Dec 2011
An ultra-rare 'Beatles VI' in-store promotional poster sold at an eBay auction for $6,300. Seventeen bids were placed before the 20 - 28 inch rarity sold. Beatles VI Is Here! was printed in block letters across the top of the black-and-white photo of the Fab Four, with album art of the first five records printed along the bottom edge. Going, Going, Gone
16 Dec 2007
American singer songwriter Dan Fogelberg died at his home in Maine at the age of 56. The US singer, songwriter discovered he had advanced prostate cancer in 2004. Had the 1981 album 'The Innocent Age', which featured the hits 'Leader of the Band,' 'Hard to Say,' and 'Run for the Roses.'
16 Dec 2005
The surviving Beatles and relatives of the band's late members began legal action against EMI to get royalties allegedly worth £30m.
Paul McCartney
,
Ringo Starr
and relations of
George Harrison
and
John Lennon
claimed EMI owed record royalties to their company Apple Corps.
16 Dec 2004
Gold and silver
Black Sabbath
discs were stolen from the Kent home of
Ozzy Osbourne
's former manager Patrick Meehan. Police recovered the discs a week later after they were offered for sale on the internet auction site eBay.
16 Dec 2003
Michael Jackson
was out on police bail of $3m after being arrested following allegations of child abuse. The 45-year-old singer strenuously denied the allegations, calling them a big lie. Following the allegations of child abuse a special information web site was set up by the District Attorney's office because of the level of media interest in the case. Mr Jackson, who was arrested, cited and released after surrendering to police on 20th November, was due to appear in court on 9 January.
16 Dec 2001
Scottish guitarist, vocalist, and songwriter Stuart Adamson, lead singer of Big Country was found dead in Hawaii a month after disappearing from his home. The 43-year musician had fought a long battle against alcoholism. Adamson had been due to face drunk-driving charges in March 2002 and had been ordered to attend Alcoholics Anonymous. Adamson founded Scottish art-punk band Skids in 1977 and in the 1990s he founded alternative country rock act The Raphaels.
16 Dec 2001
Robbie Williams and Nicole Kidman started a three-week run at No.1 on the UK singles chart with their version of the Frank and Nancy Sinatra 1967 No.1 hit 'Somethin' Stupid'. The Christmas No.1 for this year. From William's album Swing When You're Winning.
16 Dec 2000
The estranged father and former manager of LeAnn Rimes made embarrassing allegations during a legal battle involving millions of pounds. One fact told in court was that LeAnn paid her mother £6,700 every time she styled her hair before a show.
16 Dec 1997
American singer songwriter Nicolette Larson died aged 45 of complications arising from cerebral edema. Worked with
Neil Young
, (Comes a Time and Harvest Moon albums), Emmylou Harris, Linda Ronstadt, Michael McDonald, Willie Nelson, Jimmy Buffett,
The Beach Boys
and The Doobie Brothers. Best known for her 1978 cover of
Neil Young
'Lotta Love'.
16 Dec 1993
MTV
aired
Nirvana
's 'Unplugged' session for the first time. The album featured an acoustic performance taped at Sony Music Studios in New York City on November 18, 1993. Unlike many artists who appeared on the show,
Nirvana
filmed its entire performance in a single take with the band's fourteen-song setlist included six cover versions.
16 Dec 1991
Chubby Checker filed a lawsuit against McDonald's in Canada seeking $14million for it's alleged use of an imitation of his voice. The song 'The Twist' had been used on a French fries commercial.
16 Dec 1989
Billy Joel
went to No.1 on the US album chart with his 11th studio release 'Storm Front'. The album featured one of Joel's three No.1 hits, 'We Didn't Start the Fire', a fast-paced song, mentioning some of the major historical events that took place in his time, and 'Leningrad', Joel's take on the end of the Cold War.
16 Dec 1988
American soul and disco singer Sylvester James died of complications from AIDS in San Francisco aged 41. Scored the 1978 US No.36 & UK No.8 single 'You Make Me Feel, Mighty Real'. He sang back-up vocals for
Aretha Franklin
on her 1985 Who's Zoomin' Who' Album.
16 Dec 1984
ZZ Top bassist Dusty Hill accidentally shot himself in the abdomen when his derringer fell from the boot of his car and discharged. Hill drove himself to a local hospital for treatment.
16 Dec 1974
Guitarist Mick Taylor announced he was leaving The
Rolling Stones
saying he felt that now was the time to move on and do something new.
16 Dec 1972
Billy Paul started a three week run at No.1 on the US singles chart with 'Me and Mrs Jones', a No.12 hit in the UK. The song which describes an extramarital affair between a man and his lover, was later recorded by Michael Buble.
16 Dec 1971
Frank Zappa
's '200 Motels' film opened at London's Piccadilly Classic Cinema in the UK. The film which also featured Ringo Star, covers a loose storyline about The Mothers of Invention going crazy in the small town Centerville.
16 Dec 1970
Five singles and five albums by Credence Clearwater Revival were certified gold in the US. The singles were: 'Down on the Corner', 'Lookin out My Back Door', 'Travelin' Band', 'Bad Moon Rising' and 'Up around the Bend'. The LPs were 'Cosmo's Factory', 'Willy and the Poor Boys', 'Green River', 'Bayou Country' and 'Credence Clearwater Revival'.
16 Dec 1967
The
Rolling Stones
announced that Marianne Faithfull was the first signing to their 'Mother Earth' label.
16 Dec 1966
The first
Jimi Hendrix Experience
single 'Hey Joe', was released in the UK on Polydor records, the track had been rejected by the Decca label. It went on to be a No.6 hit in the UK, but failed to chart in America. Chas Chandler, who was now managing Hendrix had seen Folk singer Tim Rose perform the song at the Cafe Wha? in New York City.
16 Dec 1965
Released as a double A side
The Beatles
'Day Tripper / We Can Work It Out', became their ninth UK No.1 and their third Christmas chart topper in a row. The single was a US No.1 in January 1966.
Born on this day in music
16 Dec 1997
Swedish singer and songwriter Zara Larsson. Her debut album, So Good was released in March 2017 and debuted at No.7 on the UK Albums Chart. She had the UK No.1 single 'Symphony with Clean Bandit.
16 Dec 1972
Michael McCary, from American R&B vocal group Boyz II Men, who had the 1992 US & UK No.1 single 'End Of The Road' which set a new record for longevity, staying at No.1 on the Billboard Hot 100 for thirteen weeks, breaking the decades-old record held by
Elvis Presley
.
16 Dec 1959
Steven Irvine, drummer from British pop band Lloyd Cole And The Commotions who had the 1985 UK hit single 'Brand New Friend'. Between 1984 and 1989, the band scored four Top 20 albums and five Top 40 singles in the UK.
16 Dec 1951
Robben Ford, American blues, jazz, and rock guitarist. He was a member of the L.A. Express and has collaborated with Miles Davis,
Joni Mitchell
,
George Harrison
, Larry Carlton and
Kiss
. He was named one of the "100 Greatest Guitarists of the 20th Century" by Musician magazine.
16 Dec 1949
Billy Gibbons, American musician, singer, songwriter, producer, and actor. Moving Sidewalks (who opened for
Jimi Hendrix
on his first US tour). Gibbons formed ZZ Top in late 1969 and released ZZ Top's first album in 1971. He was ranked at number 32 on the 2011 Rolling Stone list of the 100 Greatest Guitarists of All Time.
16 Dec 1946
Benny Andersson, Swedish musician, composer. In October 1964 he joined the Hep Stars as keyboardist and they made a breakthrough in March 1965 with their hit 'Cadillac', eventually becoming the most celebrated of the Swedish 1960s pop bands. With
ABBA
they scored the UK 1974 No.1 single 'Waterloo', followed by 8 other UK No.1 singles and 9 UK No.1 albums and the 1977 US No.1 single 'Dancing
Queen
'. Andersson was co-composer of the musicals Chess, Kristina från Duvemåla, and Mamma Mia!. For the 2008 film version of Mamma Mia!, he worked also as an executive producer. Since 2001, he is active with his own band Benny Anderssons orkester.
16 Dec 1945
Tony Hicks, guitarist with British pop/rock group The Hollies who have scored over 30 top 40 hits, including 'Just One Look', 'Bus Stop', 'Carrie Anne', and later 'He Ain't Heavy, He's My Brother' and 'The Air That I Breathe'.
16 Dec 1937
American country musician Jim Glaser. With The Glaser Brothers they charted nine singles on the Billboard Hot Country Singles charts and became members of the Grand Ole Opry in the 1960s. He died on 6 April 2019 aged 81.
16 Dec 1934
Karl Denver, UK singer, (1962 UK No.4 single 'Wimoweh', 1990 UK No.46 hit 'Lazyitis - One Armed Boxer' with Happy Mondays). Denver died on 21st December 1998.