December 21st: The Biggest Music Headlines
Scroll down the page to see all the music headlines, stories and events for December 21 throughout music history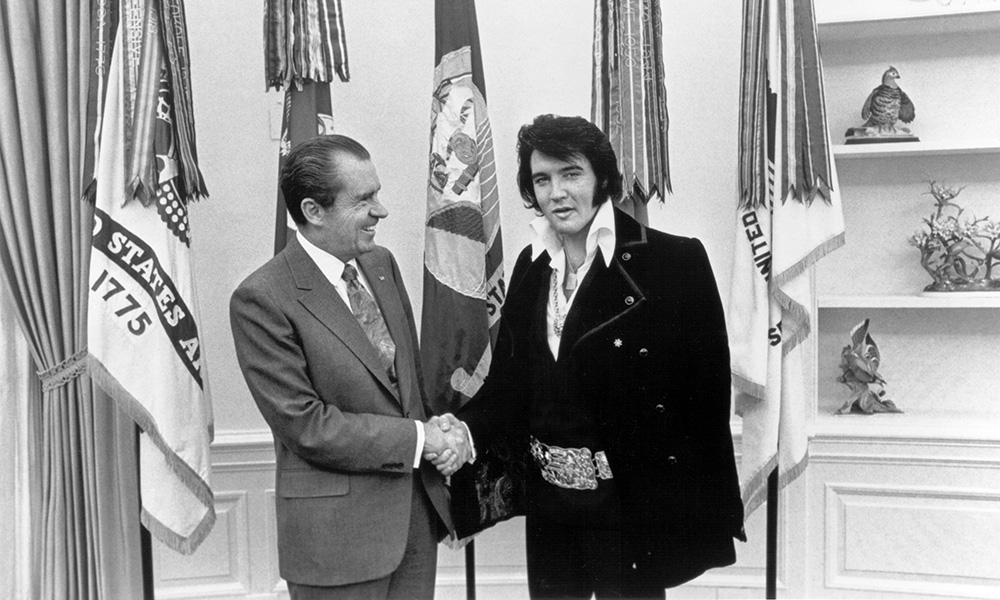 When The King of Rock Met the President
On this day in music, December 21,1970, a stretch limo carrying Elvis Presley pulled up outside of the White House, where a driver handed over a letter from the King of Rock'n'Roll. In his note, Presley asked for a moment of President Nixon's time, in order to discuss how he was the perfect public figure to help fight the war on illegal drugs. While the narcotics bureau had turned down the same request earlier in the day, Nixon relented, inviting the legendary artist (who was dressed in a purple velvet suit, accessorized with a Colt. 45 pistol) into the Oval Office and giving him an honorary badge.
In 2019, Mariah Carey's enduring holiday classic, "All I Want for Christmas Is You," topped the Billboard Hot 100 for the first time, 25 years after its original release. When the joyful pop song first hit the airwaves in October 1994, it topped the charts in 26 countries. In the US, however, it wasn't eligible to rank on the Hot 100, due to the fact that it was never released commercially as a single. While "All I Want for Christmas" continued to be a top performer every December in the ensuing years, it never appeared on the Hot 100 until 2012, when chart rules changed. When the song (penned by Carey and Walter Afanasieff) finally hit No.1 in 2019, it broke several records, including having the longest road to the top spot.
In 2012, "Gangnam Style" by South Korean artist Psy became the first YouTube video to reach a billion views.
In 1985, after 79 weeks, Bruce Springsteen's Born in the USA surpassed Michael Jackson's Thriller as the second longest-lasting album to remain in the Billboard 200's Top 10. At the time, only The Sound of Music lasted longer, at 109 weeks.
In 1968, Glen Campbell topped the Billboard 200 for the first and only time with Wichita Lineman. The LP would remain on the chart for a total of 46 weeks, while the title track took the No.1 spot on the Billboard Hot 100.
In 1969, The Supremes made their final TV appearance with Diana Ross on The Ed Sullivan Show, singing their No.1 hit, "Someday We'll Be Together." Because of its release date, the song became the last No.1 single of the 1960s.
In 1991, Queen's epic 1975 hit, "Bohemian Rhapsody," began a five week run at the top of the UK charts after being re-issued, following frontman Freddie Mercury's death. The groundbreaking song remains the UK's third best-selling single of all time.
Looking for more things that happened on this day in music?
Keep scrolling for all of the headlines for December 21.
BORN ON DECEMBER 21:
1926: Freddie Hart
1940: Frank Zappa
1946: Carl Wilson (The Beach Boys)
1947: Paco de Lucía
1953: Betty Wright
1964: Murph (Dinosaur Jr.)
Looking for more artists born on this day?
Keep scrolling for all of our December 21 birthdays.
---
What to find another day?
---
December 21st
21 Dec 2019
Mariah Carey
topped the US Billboard Hot 100 with 'All I Want for Christmas Is You' for the first time, 25 years after its original release, thereby breaking several records, including the longest trip to number one. With estimated sales of over 16 million copies worldwide, 'All I Want for Christmas Is You' is the best-selling holiday song by a female artist, and one of the best-selling physical singles in music history. The following year, the song also topped the charts in the UK for the first time, spending a record 69 weeks in its top 40 prior to reaching number one.
21 Dec 2016
American singer Richard Marx told of how he had to restrain a fellow passenger on a Korean Air flight after the man, who was drunk allegedly attacked others onboard. The incident happened as Marx and his wife were travelling from Hanoi to Seoul. The man was arrested upon landing in South Korean.
21 Dec 2014
Sir
Elton John
and his partner David Furnish formally converted their civil partnership to a marriage hosting a ceremony at their Windsor estate in Berkshire. David and Victoria Beckham,
Ed Sheeran
, Lulu and actor David Walliams were among the guests.
21 Dec 2012
21 Dec 2012
'Gangnam Style' by South Korean musician Psy became the first YouTube video to reach a billion views. By the end of 2012, the song had topped the music charts of more than 30 countries.
21 Dec 2012
Paul Simon
performed his classic track 'The Sound of Silence' at the funeral of a teacher who died in the school shooting in Connecticut on 14 December of this year. The 1966 song was understood to be a favourite of 27-year-old Victoria Soto, a first-grade teacher at Sandy Hook Elementary School. The singer, a family friend, performed the song in front of some 400 mourners, at Soto's local church on Wednesday. Twenty six people were killed in the mass shooting the previous week.
21 Dec 2010
A concert by Kings of Leon was postponed after a fire broke out on two of their tour buses which were parked at The O2 arena in London. The blaze began on one coach before spreading to another tour bus in the loading bay of the venue in Greenwich. About 60 firefighters were at the scene and ambulance crews treated six people for smoke inhalation. An O2 spokesman said the fire meant there was not enough time to rig the arena for the sell-out concert.
21 Dec 2008
The 2008 X-Factor winner Alexandra Burke started a three week run at No.1 on the UK singles chart with 'Hallelujah'. The song was written by Leonard Cohen, and his version charted at the same time, and
Jeff Buckley
's cover reached No 2, just being held off by Alexandra. Three versions of the same song were in the chart at once, something not seen since the 1950s.
21 Dec 2005
Sir
Elton John
and his partner David Furnish became the first gay celebrities to register their relationship as a civil partnership. The 20 minute ceremony took place at The Guild Hall, Windsor, England, guest's included
Ringo Starr
, Victoria Beckham, Joss Stone, Sting, Elvis Costello, Jamie Cullum,
George Michael
and The Osbournes - Ozzy, Sharon, Jack and Kelly.
21 Dec 2003
Eminem
's ex-wife Kimberley Mathers pleaded guilty to a drug and driving offences. Mathers had been pulled by traffic police in June and was charged with possession of cocaine, two other charges driving with a suspended license and maintaining a drug house in which police discovered marijuana and Ecstasy were dropped. The 28 year-old mother appeared in a Michigan court after turning herself in, having previously failed to attend a November 1 hearing and removed an electronic tagging device used to monitor her movements.
21 Dec 2003
Michael Andrews feat Gary Jules went to No.1 on the UK singles chart with their version of the Tears For Fears song 'Mad World.' The song took just 90 minutes to record in 2001 and was featured in the film Donnie Darko.
21 Dec 2003
Tommy Hubbard from Whitby, aged 14, won the 2003 Riffathon, a nationwide guitar competition in aid of Action For Brazil's Children Trust. The final was held at the University of Surrey and was judged by
Jimmy Page
and Brian May. The ten Riffathon finalists each performed a
Led Zeppelin
classic track with a full live band. Tommy's performance of 'Ramble On' won him the star prize of a 1958 re-issue Gibson Les Paul standard guitar, donated by Gibson Guitars.
21 Dec 1998
Scottish singer Karl Denver died from a brain tumour aged 67. Had the 1962 UK No.4 single 'Wimoweh' and 1990 UK hit 'Lazyitis- One Armed Boxer' with Happy Mondays.
21 Dec 1996
The charity record 'Knockin' on Heaven's Door' went to No.1 on the UK singles chart. With the consent of
Bob Dylan
musician Ted Christopher of Dunblane, Scotland wrote a new verse for the song in memory of the schoolchildren and teacher killed in the Dunblane massacre. The cover version of the song included brothers and sisters of the victims singing the chorus and Mark Knopfler on guitar.
21 Dec 1992
American blues singer and guitarist, Albert King died from a heart attack in Memphis, Tennessee. He recorded dozens of influential songs, such as 'Crosscut Saw' and 'As The Years Go Passing By', and the 1967 album, 'Born Under a Bad Sign.'
21 Dec 1991
'
Bohemian Rhapsody
- 'These Are The Days Of Our Lives' by
Queen
started a five week run at No.1 in the UK, the 1975 word-wide hit had been re-released following the death of
Freddie Mercury
.
21 Dec 1988
Former Cockney Rebel bass player Paul Jeffreys was one of the passengers killed by a terrorist bomb on Pan Am flight 103. The plane crashed over Lockerbie, Scotland.
21 Dec 1985
Bruce Springsteen
's album, Born in the USA passed
Michael Jackson
's
Thriller
to become the second longest-lasting LP on the Billboard US Top 10. It stayed there for 79 weeks. Only The Sound of Music with Julie Andrews lasted longer at 109 weeks.
21 Dec 1974
Mud were at No.1 on the UK singles chart with the Chinn & Chapman song 'Lonely This Christmas'. The group's second No.1 and third chart topper for Chinn & Chapman in 1974.
21 Dec 1970
A stretch limousine carrying
Elvis Presley
pulled up outside the White House in Washington, D.C. The driver handed over a letter from Elvis addressed to President Nixon requesting a meeting to discuss how the King of Rock and Roll could help Nixon fight drugs. The President agreed to give Presley a Narcotics Bureau badge - but only after learning that the chief of the narcotics bureau had turned down the same request earlier that day and told Presley the only person who could overrule his decision was the President. At Elvis' request, the meeting remained secret for more than a year, until the Washington Post broke the story on January 27th, 1972.
21 Dec 1969
The
Supremes
made their last TV appearance together with Diana Ross on 'The Ed Sullivan show', singing their last No.1 'Someday We'll Be Together'.
21 Dec 1968
Glen Campbell
topped the US album chart with 'Wichita Lineman'. Although the LP would stay on the chart for 46 weeks, it would be Campbell's only No.1 album. The title track which was written by American songwriter Jimmy Webb reached No 3 on the US singles chart.
21 Dec 1967
The Beatles
held a party at the Royal Lancaster Hotel in London to preview their new movie 'Magical Mystery Tour'.
21 Dec 1967
Pink Floyd
appeared at the Speakeasy Club, London, England. Situated at 48 Margaret Street in the centre of London, the Speakeasy was a late-night haunt for the music industry from 1966 right up to to the late 1970s. It was managed by Laurie O'Leary (a lifelong friend of the Kray twins) from 1968 to 1977 and Roy Flynn, who was also the first manager of Yes
Born on this day in music
21 Dec 1974
Erika María Ender Simoes, more commonly known by her stage name Erika Ender, a Panamanian singer, songwriter and actress. Along with Luis Fonsi and Daddy Yankee, she is the co-author of the 2017 worldwide hit 'Despacito'.
21 Dec 1966
Gabrielle Glaser, US singer, Luscious Jackson, (1997 UK No.25 single 'Naked Eye').
21 Dec 1964
Emmett Murphy, Dinosaur Jr, (1993 UK No.20 single 'Start Choppin').
21 Dec 1964
Patrick Murphy, from American alternative rock band The Lemonheads. A cover of
Simon And Garfunkel
's 'Mrs. Robinson', became one of the band's most successful single in the early 90s.
21 Dec 1953
Betty Wright, US singer, (1971 US No. 6 single 'Clean Up Woman', 1975 UK No. 27 single 'Shoorah! Shoorah!).
21 Dec 1951
Nick Gilder, singer, Sweeney Todd, solo, (1978 US No.1 single 'Hot Child In The City').
21 Dec 1947
Paco de Lucía, Spanish virtuoso flamenco guitarist, composer and producer. His collaborations with guitarists John McLaughlin, Al Di Meola and Larry Coryell in the late 1970s saw him gain wider popularity outside his native Spain and collaborated with jazz pianist Chick Corea on their 1990 album, Zyryab. Lucía died on 25th Feb 2014.
21 Dec 1946
Carl Wilson, American musician, singer, songwriter, and record producer who co-founded the
Beach Boys
. He performed lead vocals on several of their hits, including 'God Only Knows' (1966) and 'Good Vibrations' (1966). Wilson died on 6th February 1998 after a long battle with lung cancer.
21 Dec 1943
Albert Lee, UK country guitarist. Worked with Emmylou Harris Hot Band,
Eric Clapton
, Jackson Browne, Joe Cocker. One time member of Heads Hands And Feet.
21 Dec 1940
Frank Zappa
multi instrumentalist, producer and composer. Recorded with The Mothers Of Invention and solo, 1969 album 'Hot Rats', 1974 album 'Apostrophe', featuring 'Don't Eat The Yellow Snow'. First band was The Blackouts, recorded one of the first concept albums 'Freak Out'. Zappa died of prostate cancer on 4th December 1993.
21 Dec 1940
Ray Hilderbrand, from American pop singing duo Paul and Paula, who had the 1963 US No.1 & UK No.8 single, 'Hey Paula'.
21 Dec 1929
American rhythm and blues singer Singin' Sammy Ward who recorded for
Motown
Records and had a R&B chart hit with 'Who's The Fool', written by Smokey Robinson in 1961. He was rediscovered by British Northern soul fans, and by record producer Ian Levine, who recorded several sessions with him, starting in 1989, for his Motorcity label. He died on November 20, 1996.
21 Dec 1926
Freddie Hart, country musician and songwriter best-known for his No.1 hit 'Easy Loving,' which won the Country Music Association Song of the Year award in 1971 and 1972.