December 23rd: The Biggest Music Headlines
Scroll down the page to see all the music headlines, stories and events for December 23 throughout music history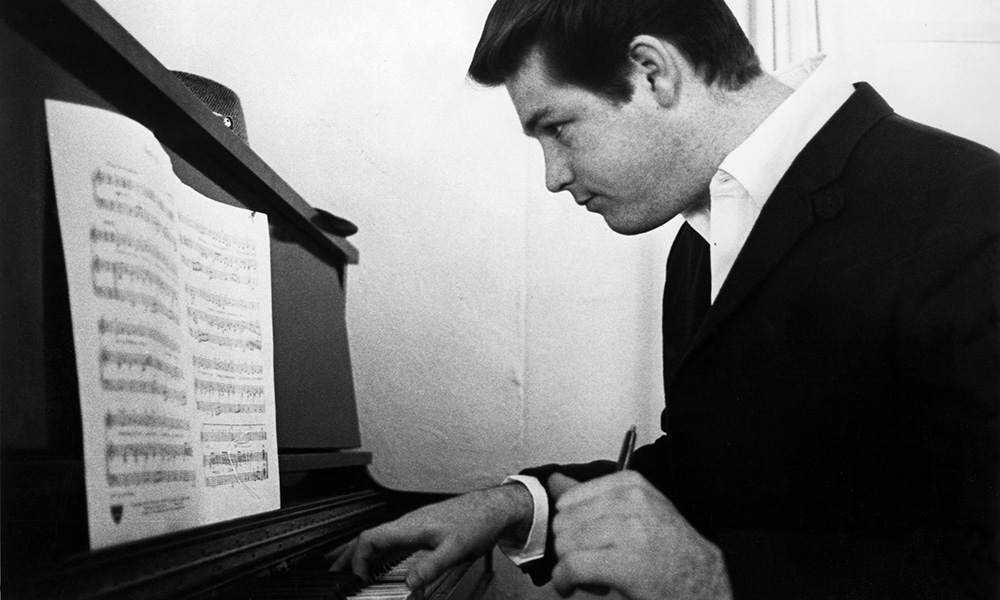 Brian Wilson Steps Away from The Beach Boys
On this day in music, December 23, 1964, after several years of mounting pressure, Brian Wilson suffered a panic attack while on tour with The Beach Boys. The event was a life-changing one for Wilson, who made the difficult decision to step away from performing live with his band. While he was replaced temporarily by Glen Campbell, Wilson would remain a vital part of the group's songwriting and production (leading to such revolutionary albums as The Beach Boys Today!, Sumer Days (And Summer Nights!!), and Pet Sounds.
In 2007, The Police were named the highest-earning touring group of the past year. The run of dates was particularly special – not only celebrating 30 years since the band's inception, but also marking the reunited trio's first tour in 24 years. At the time, the 151-date global run became the third highest-grossing tour of all time, with profits reaching over $360 million.
In 2002, Sir Paul McCartney was granted his own coat of arms by the College of Arms, the English heraldic body formed in 1484. The motto on McCartney's coat reads, "Ecce Cor Meum," Latin for "Behold My Heart," which served as the title of his 2006 classical album.
In 1962, during his first visit to the UK, Bob Dylan gave an impromptu performance at the King and Queen pub in London's West End. While attending a folk night at the pub's upstairs room, Dylan was recognized by several audience members, who insisted that he perform a few songs.
In 1966, the final episode of the popular UK TV show Ready Steady Go! aired, featuring a star-studded line-up of special guests, including Mick Jagger, The Who, Eric Burdon, and The Spencer Davis Group, among several others.
Looking for more things that happened on this day in music?
Keep scrolling for all of the headlines for December 23.
BORN ON DECEMBER 23:
1935: Esther Phillips
1941: Tim Hardin
1949: Adrian Belew
1949: Ariel Bender (Mott the Hoople)
1958: Dave Murray (Iron Maiden)
1964: Eddie Vedder (Pearl Jam)
1974: Montsho Eshe (Arrested Development)
Looking for more artists born on this day?
Keep scrolling for all of our December 23 birthdays.
---
What to find another day?
---
December 23rd
23 Dec 2019
Mariah Carey
was being sued by a former nanny who was seeking compensation for "emotional distress" after working for the singer. Maria Burgues filed the lawsuit claiming that she was fired after complaining about her working conditions. Burgues alleged that she was paid $25 (£19) an hour to look after Carey's children and had to travel with them when the singer went on tour – but wasn't paid for the extra work. She also claimed that the bodyguard of Carey's children, Marcio Moto, used to make her feel threatened by shouting at her.
23 Dec 2018
Honey Lantree drummer with English beat, pop group The Honeycombs died aged 75. The Honeycombs scored the Joe Meek produced 1964 UK No.1 single 'Have I The Right', which featured Lantree who was one of the few female drummers in bands at that time. The song's beat was enhanced by having the members of the group stamp their feet on the wooden stairs to the studio to add to the drum sound.
23 Dec 2013
The Mail On Sunday reported that documents they obtained from the Cabinet Office via the Freedom Of Information Act showed that
George Harrison
, who passed away in 2001, turned down the chance to be included in the New Year's Honours List in 2000. The OBE was recommended by the Department for Culture, Media and Sport who said that Harrison should be recognised for his contribution to the music industry. The citation read: "He was a member of a band that many people would say is the best thing that Britain has ever produced, and possibly the best in the world,
The Beatles
".
23 Dec 2008
A spokesman for
Michael Jackson
denied reports the singer was suffering from a rare respiratory disease and was in need of a lung transplant. Dr Tohme Tohme said in a statement issued to Reuters that stories claiming the singer was unwell were not true. He added that author Ian Halperin had made the claims to promote his unauthorised biography of the 50-year-old singer.
23 Dec 2008
Clint Ballard Jr. died. He wrote 'Game Of Love' a hit for Wayne Fontana And The Mindbenders', and Linda Ronstadt's, 'You're No Good'. His songs have been recorded by The Hollies, Frankie Avalon, Ricky Nelson, The Zombies and Jan And Dean.
23 Dec 2007
The Police
were named as the highest earning touring group for the past year, bringing in nearly £66.5m, ($132m). The band's 54 date North American tour had generated almost double the total of the second-placed act, Country star Kenny Chesney.
23 Dec 2005
Geezer Butler, the bass player with
Black Sabbath
offered £5,000 for any information leading to the safe return of Toga, the three-month-old penguin that had been stolen from a zoo on the
Isle of Wight
a few days earlier.
23 Dec 2002
Sir
Paul McCartney
was granted his own coat of arms by the College of Arms, the English heraldic body formed in 1484. The crest featured a bird that appeared to be holding a guitar in its claw. The motto is "Ecce Cor Meum", Latin for 'Behold My Heart', which is the title of an oratorio he composed.
23 Dec 2000
Simply Red singer Mick Hucknall was given a police caution for possessing cocaine and cannabis. Police found the Class A and Class B drugs at his Surrey home after a woman falsely accused him of rape in November.
23 Dec 1999
George Harrison
's home in Maui in the Hawaiian Islands was broken into by Cristin Keleher, who cooked a frozen pizza, drank beer from the fridge, started some laundry and phoned her mother in New Jersey. Keleher was later arrested and charged with burglary and theft.
23 Dec 1996
Motley Crue bassist Nikki Sixx married TV's 'Baywatch' star and former Playboy Playmate of the Month, Donna Deruico.
23 Dec 1989
Phil Collins
started a four week run at No.1 on the US singles chart with 'Another Day In Paradise', his 7th US solo No.1. Taken from his No.1 album ...But Seriously 'Another Day in Paradise' was written to bring attention to the problem of homelessness.
23 Dec 1985
Judas Priest fans Raymond Belknap and James Vance shot themselves after listening to the Judas Priest album 'Stained Class.' The two had drunk beer, smoked marijuana and then listened to hours of the album. Afterwards they took a shotgun to a nearby school playground where Belknap shot and killed himself. Vance suffered serious injuries, but lived for more than three years before dying of effects of the shooting.
23 Dec 1972
Former Grand Funk Railroad manager Terry Knight arrived during a concert by the band with a court order to seize $1m in money or assets. Police inform the ex manager that he couldn't take anything until after the show.
23 Dec 1966
ITV (Redifusion) broadcast Ready, Steady Go! for the last time, after the Musicians Union enforced a ban on miming. The special guests for the farewell show were
Mick Jagger
,
The Who
, Eric Burdon, The Spencer Davis Group, Donovan and Dave Dee, Dozy, Beaky, Mick and Tich.
23 Dec 1964
During a US tour Beach Boy
Brian Wilson
had a nervous breakdown during a flight from Los Angeles to Houston. Wilson left the band to concentrate on writing and producing.
Glen Campbell
replaced Wilson for the bands live shows before Bruce Johnston replaced him.
23 Dec 1962
During his first visit to the UK
Bob Dylan
performed at the King and Queen pub in London's West End, the singer songwriter's third UK gig.
23 Dec 1959
Chuck Berry
was arrested after taking 14 year old Janice Norine (who unbeknown to Berry was working as a prostitute), across a state line. He was sentenced to 5 years jail but after racist comments by the judge Berry was freed.
Born on this day in music
23 Dec 1985
Harry Judd, drummer, McFly, (2004 UK No.1 single 'Colours In Her Hair', 2004 UK No.1 album 'Room On The 3rd Floor').
23 Dec 1975
Katie Underwood, Australian singer from Bardot, winners of the Australian Popstars reality show, who had the 2000 Australian No.1 single 'Poison', and 2000 Australian No.1 self-titled album.
23 Dec 1974
Montsho Eshe, from American hip hop group, Arrested Development, who scored the 1992 UK No.2 and US No. 8 single 'People Everyday'. The group won two Grammy Awards in 1993 for Best New Artist and Best Rap Performance and were also named Band of the Year by Rolling Stone magazine.
23 Dec 1964
Eddie Vedder, singer, songwriter and multi-instrumentalist with
Pearl Jam
, (1992 UK No.15 single 'Jeremy', 1993 US No.1 & UK No.2 album 'Vs', 1994 US No.1 & UK No.4 album Vitalogy' and 1996 US No.1 & UK No.3 album 'No Code'). In 2007, Vedder released his first solo album as a soundtrack for the film Into the Wild.
23 Dec 1962
Sonny Emory American singer, songwriter, drummer and percussionist. Emory is a former member of Earth, Wind & Fire and has also worked with artists such as Bruce Hornsby, Steely Dan,
Eric Clapton
and the B-52's.
23 Dec 1960
Wil Sinnott, The Shamen, (1991 UK No.4 single 'Move Any Mountain'). Drowned on May 22nd 1991 while swimming off the coast of La Gomera when he was pulled under by strong currents. The Shamen were in Tenerife filming a video for their new single 'Move Any Mountain.'
23 Dec 1958
Dave Murray, guitarist with English heavy metal band
Iron Maiden
, who had the 1982 UK No.1 album The Number Of The Beast, and the 1991 UK No.1 single 'Bring Your Daughter ...To The Slaughter'.
Iron Maiden
have sold over 100 million copies of their albums worldwide.
23 Dec 1951
American musician, Doug Stegmeyer who worked with many artists including
Billy Joel
,
Hall and Oates
and The
Carpenters
. On August 25, 1995, Stegmeyer died from a self-inflicted gunshot wound in his Long Island home.
23 Dec 1949
Ariel Bender, guitarist with
Mott The Hoople
, who had the 1972 UK No.3 & US No.37 single 'All The Young Dudes' which was written for them by
David Bowie
. Other hits include, 'All the Way from Memphis' and 'Roll Away the Stone'.
23 Dec 1949
Adrian Belew, American guitarist and singer, who worked with King Crimson and
David Bowie
.
23 Dec 1946
Duster Bennett, singer, guitarist, harmonica player. Worked with Alexis Korner, John Mayall's Bluesbreakers,
Fleetwood Mac
and B.B. King. He was killed in a car crash on 26th March 1976 when he apparently fell asleep at the wheel.
23 Dec 1946
Ray Tabano who was a founding member of
Aerosmith
. Tabano was a childhood friend of
Aerosmith
lead singer Steven Tyler and was in Steven's first band, The Strangeurs. Tabano was replaced by Brad Whitford in
Aerosmith
in 1971.
23 Dec 1943
Derek Smalls, bass, Spinal Tap, (1984 rock film 'This Is Spinal Tap').
23 Dec 1941
American drummer Ron Bushy,
Iron Butterfly
that had the 1968 US No.14 single 'In-A-Gadda-Da-Vida'. He died following a battle with cancer on 29 August 2021 at the age of 79.
23 Dec 1941
Tim Hardin, US singer, songwriter, (1967 UK No.50 single 'Hang On To A Dream'). Wrote 'Reason To Believe' and 'If I Were A Carpenter.' Died of a heroin overdose on 29th December 1980.
23 Dec 1940
Eugene Record, vocals, The Chi-lites, (1972 US No.1 single 'Oh Girl', 1972 UK No.3 single 'Have You Seen Her'). He died of cancer on 22nd July 2005.
23 Dec 1940
Jorma Kaukonen, American blues, folk, and rock guitarist, best known for his work with Jefferson Airplane and Hot Tuna.
23 Dec 1939
English singer-songwriter Johnny Kidd, who with Johnny Kidd & The Pirates had the 1960 UK No.1 single 'Shakin' All Over'. He was killed in a motor car collision on 7 October 1966 near Radcliffe, Lancashire England when the car in which he was travelling as a passenger had a head-on collision.
23 Dec 1935
Esther Phillips, US soul singer, (1975 US No. 20 & UK No.6 single 'What A Difference A Day Makes'). She died on 7th August 1984.