February 2nd: The Biggest Music Headlines
Scroll down the page to see all the music headlines, stories, and events for February 2 throughout music history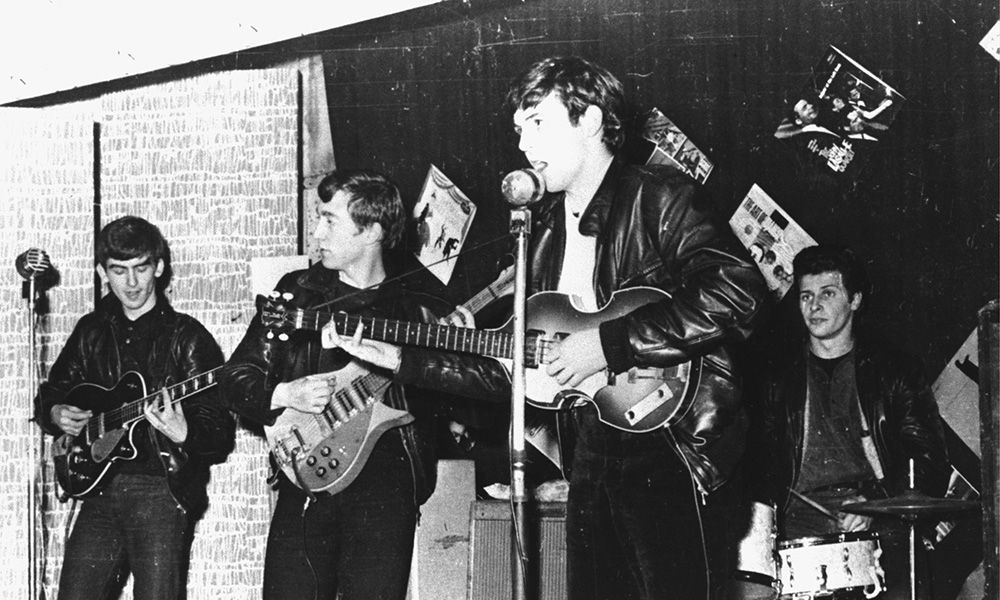 The Beatles Play First Show At The Oasis Club
On this day in music, February 2, 1962, The Beatles (featuring drummer Pete Best) played their first professionally-organized gig outside of Liverpool at the Oasis Club in Manchester. Kicking off their set with "The Hippy Hippy Shake," they played a total of 21 songs, including the live debut of "Like Dreamers Do" and several Chuck Berry covers. The show had around 300 attendees and local newspapers called the band "Polydor's great recording stars" in advertisements. The band would return three more times to the club.
In 1979, Sex Pistols bassist Sid Vicious died of an overdose. The 21-year-old musician, who had just been bailed out of jail, was pending trial for the murder of his girlfriend, Nancy Spungen. Born John Simon Ritchie, Vicious earned his nickname after being bitten by Sid, the hamster of his future bandmate, John Lydon. He played his first show with the Sex Pistols in April 1977 at The Screen On The Green and was known around the world for embodying the punk subculture.
In 1959, Buddy Holly, Richard Valens, and The Big Bopper played their final show, appearing at the Surf Ballroom in Clear Lake, Iowa. The gig was part of their Winter Dance Party Tour and included nine covers within the 11-song set. The following day, all three artists died in a plane crash en route to the next tour stop. Holly was just 22 at the time of the crash.
In 1976, Genesis released A Trick Of The Tail, their seventh studio album and their first to feature drummer Phil Collins as the lead vocalist. After failing to find an acceptable replacement for former frontman Peter Gabriel, Collins recorded "Squeak" in the studio, a performance that led the band to offer him the lead role. Recorded in London's Trident Studios, the album earned a Gold certification from the RIAA in 1990.
In 2003, Russian duo t.A.T.u. began a four-week run at the top of the UK singles chart with "All the Things She Said." In addition to becoming the first Russian act to score a No.1 hit in the UK, the duo's controversial music video became the first by a Russian band to receive a Vevo Certified Award for reaching 100 million views.
In 1980, The Specials' "Too Much Too Young," which clocked in at 2:04, became the shortest song of the decade to top the UK singles chart. The song was also the first live recording to reach the No.1 spot since Chuck Berry's "My Ding-a-Ling," while its namesake EP marked the second of its format to ever top the chart.
Looking for more things that happened on this day in music?
Keep scrolling for all of the headlines for February 2.
BORN ON FEBRUARY 2:
1942: Graham Nash
1948: Alan Mckay (Earth, Wind & Fire)
1949: Ross Valory (Journey)
1963: Eva Cassidy
1969: John Spence (No Doubt)
1971: Ben Mize (Counting Crows)
1977: Shakira
Looking for more artists born on this day?
Keep scrolling for all of our February 2 birthdays.
---
What to find another day?
---
February 2nd
2 Feb 2021
Marilyn Manson was dropped by his record label following claims by actress Evan Rachel Wood that she was "horrifically abused" by the musician. Loma Vista Recordings said it would no longer be working with Manson and would cease promoting his latest album "effective immediately". Manson denied the allegations, saying they are "horrible distortions of reality".
2 Feb 2020
Czech-born American musician, filmmaker, record producer and singer-songwriter Ivan Král died age 71. He played bass with
Blondie
, Patti Smith and Iggy Pop. His songs have been recorded by such artists as
U2
,
Pearl Jam
,
David Bowie
,
Simple Minds
and John Waite, among others.
2 Feb 2014
Skinny Puppy sent the US government an invoice after finding out their music was used as torture device in Guantanamo Bay. Despite the band's aggressive sound, they said they had never envisioned their music being used in such a way. Asked how they felt about their songs allegedly being used in the detention camp, singer cEvin Key replied: "Not too good. We never supported those types of scenarios. … Because we make unsettling music, we can see it being used in a weird way. But it doesn't sit right with us."
2 Feb 2013
A 1960's Beatles Record Player, produced for fans as a commercial Beatles memorabilia item, fetched $12,100 in an online auction. The Record Player, which was highly-sought by Beatles collectors worldwide, was manufactured in a limited quantity. Because of this, some believed there was still a strong possibility a few remaining players to be discovered.
2 Feb 2008
The
Spice Girls
cut short their reunion world tour, blaming "family and personal commitments". The band said they would end their tour in Toronto on 26 February, with planned shows in Beijing, Sydney, Cape Town and Buenos Aires being axed. A spokesman for the group said: "Sadly, the tour needs to come to an end by the end of February due to family and personal commitments."
2 Feb 2007
American singer Billy Henderson, one of the founders of US soul group The Spinners, died aged 67 after complications from diabetes. They had several hits in the 1970s, including 'I'll Be Around' (1972) and 'Could It Be I'm Falling in Love', 'Then Came You' (with Dionne Warwick), and "It's a Shame". The Spinners also scored the the 1980 UK No.1 & US No.2 single 'Working My Way Back To You.'
2 Feb 2007
US keyboardist Joe Hunter, a veteran session musician as one of the Funk Brothers who helped craft the distinctive
Motown
sound, died in Detroit, Michigan, at the age of 79. Hunter performed with such legendary
Motown
acts as
Marvin Gaye
,
Smokey Robinson
and Martha and the Vandellas.
2 Feb 2004
TV network CBS apologised for its broadcast of the American Super Bowl after
Janet Jackson
was left exposed when Justin Timberlake ripped her top. The pair had been performing a raunchy half-time duet when one of Jackson's breasts was exposed as Timberlake pulled at her top. CBS quickly cut away from the scene but was still flooded with calls from angry viewers about the half-time entertainment, produced by
MTV
. Timberlake insisted it had been an accident saying "I am sorry that anyone was offended by the wardrobe malfunction during the half-time performance of the Super Bowl."
2 Feb 2003
Russian girl duo Tatu started a four-week run at No.1 on the UK singles chart with 'All The Things She Said'. The song had been a hit on the Russian charts three years earlier. Tatu were the first Russian act to score a UK No 1.
2 Feb 2002
The Phonographic Performance Ltd launched performersmoney.com for artists to check if they were owed any of the £10 million ($17 million) in unclaimed money. It showed that
Michael Jackson
was owed over £100,000 ($170,000) for 'Say, Say, Say',
Stevie Wonder
had money owing for 'Ebony And Ivory' and Ray Davies of
The Kinks
was owed a six-figure fee for 'You Really Got Me'. Director Dominic McGonigal said "If anyone has seen Rick Astley please let him know, he is still earning money for his hits."
2 Feb 2001
Bad Manners singer Buster Bloodvessel was told he was 'too fat' to survive an urgently needed operation. Buster collapsed on stage during a show in Italy but Doctors felt that his huge 30 stone frame might not make it through surgery.
2 Feb 1993
Willie Nelson agreed to pay $9 million of the $16.7 million he owed the Internal Revenue Service. His accountants, Price Waterhouse, had not been paying Nelson's taxes for years and in addition to the unpaid taxes, Nelson's situation was worsened by the weak investments he had made during the early 1980s.
2 Feb 1989
George Michael
received undisclosed damages in excess of £100,000 ($170,000) from The Sun newspaper over articles printed that stated Michael had gatecrashed a party given by Andrew Lloyd Weber and was drunk and abusive.
2 Feb 1980
The Specials were at No.1 on the UK singles chart with 'The Special A.K.A. Live E.P'. The lead track 'Too Much Too Young' was the shortest song to reach No.1 on the UK singles chart in the 1980s at 2'04".
2 Feb 1979
Sex Pistols
bassist Sid Vicious died of a heroin overdose in New York City. There had been a party to celebrate Vicious' release on $50,000 (£29,412) bail pending his trial for the murder of his former girlfriend, Nancy Spungen, the previous October. Party guests, said that Vicious had taken heroin at midnight. An autopsy confirmed that Vicious died from an accumulation of fluid in the lungs that was consistent with heroin overdose. A syringe, spoon and heroin residue were discovered near the body.
2 Feb 1976
Genesis
released 'A Trick Of The Tail', their seventh studio album and the first to feature drummer
Phil Collins
as full-time lead vocalist following the departure of original vocalist Peter Gabriel. After auditioning over 400 vocalists, which saw Collins teaching the potential lead singers the songs, the band decided that Collins should be the new vocalist.
2 Feb 1974
The
Carpenters
started a four week run at No.1 on the UK album chart with 'The Singles 1969-73', featuring 12 hits and the US No.1 'Top Of The World' it went back to the top of the charts on three other occasions.
2 Feb 1973
Keith Emerson of Emerson Lake and Palmer injured his hands when his piano rigged to explode as a stunt, detonated prematurely during a concert in San Francisco.
2 Feb 1969
Yoko Ono divorced her husband Tony Cox, Yoko was granted custody of their daughter Kyoko.
John Lennon
married Yoko the following month on 30th March.
2 Feb 1967
The
Jimi Hendrix Experience
appeared at the Blue Pad Club in Darlington, England which was part of the Imperial Hotel Complex on Grange Road. The show was advertised as "Don't miss this man who is Dylan, Clapton, and
James Brown
all in one". After the show, as the roadies were loading up a van, one of Hendrix's Fender guitars was stolen.
2 Feb 1962
The Beatles
played their first professionally organised gig outside of Liverpool at The Oasis Club, Manchester. The groups set started with their version of 'Hippy Hippy Shake'.
2 Feb 1959
Buddy Holly
, Richard Valens and The Big Bopper all appeared at the Surf Ballroom, Clear Lake, Iowa. This was all three acts last ever gig before being killed in a plane crash the following day.
Born on this day in music
2 Feb 1977
Shakira, (Shakira Isabel Mebarak Ripoll), singer who had the 2002 UK No.2 single 'Whenever Wherever' and the 2006 world-wide No.1 single 'Hips Don't Lie'. She is the highest selling Colombian artist of all time, having sold over forty million albums.
2 Feb 1971
Ben Mize, drummer from American rock band Counting Crows, who had the 1994 UK hit single 'Mr Jones', and the 1996 US No.1 album Recovering The Satellites. They received a 2004 Academy Award nomination for their song 'Accidentally in Love', which was included in the film Shrek 2.
2 Feb 1969
John Spence, singer, and original member of No Doubt in the late 1980s. Committed suicide on December 21st 1987 by shooting himself.
2 Feb 1966
Robert DeLeo, American bassist with Stone Temple Pilots, Talk Show and Army of Anyone. His elder brother, guitarist Dean DeLeo, was also a member of the band.
2 Feb 1966
Steve Firth, bassist from English alternative rock band Embrace, who had the 2006 UK No. 2 single 'Natures Law', the 2006 UK No.1 album This New Day and two other UK No.1 albums.
2 Feb 1964
Charlie Heather, drummer with English folk rock band The Levellers who had the 1995 UK No.12 single 'Just The One'.
2 Feb 1963
Eva Cassidy, US singer. She is the only artist to score three posthumous UK No.1 albums: 2001's 'Songbird'; 2002's '
Imagine
' and 2003's 'American Tune'. In 2001 she also had a UK No.42 single with 'Over The Rainbow' and the 2007 UK No.1 single 'What a Wonderful World' with Katie Melua. Eva died of skin cancer on November 2nd 1996, aged 33.
2 Feb 1952
Rick Dufay American guitarist who played in
Aerosmith
in the period after Brad Whitford left the band in 1980 up to his return in 1984.
2 Feb 1951
American jazz bassist Alphonso Johnson who was a member of the influential jazz fusion group Weather Report from 1973 to 1975, and has performed and recorded with numerous high-profile rock and jazz acts including
Santana
,
Phil Collins
, Bob Weir of the
Grateful Dead
, and Chet Baker.
2 Feb 1949
American musician Ross Valory, best known as the bass player for the rock band Journey. He also played with Frumious Bandersnatch followed by the Steve Miller Band appearing on Rock Love. Valory was inducted into the Rock and Roll Hall of Fame as a member of Journey in 2017.
2 Feb 1948
Alan Mckay, guitarist with Earth, Wind & Fire, who had the 1975 US No.1 single 'Shining Star', and the 1981 UK No.3 single 'Let's Groove'. The band has received 20 Grammy nominations and were the first African-American act to sell out Madison Square Garden.
2 Feb 1946
Howard Bellamy from the Bellamy Brothers who had the 1976 US No.1 single 'Let Your Love Flow', and the 1979 UK No.3 single 'If I Said You Had A Beautiful Body Would You Hold It Against Me'.
2 Feb 1945
Edna Wright, American singer, best known as the lead singer of Honey Cone, the girl group that went to No. 1 on the US chart with the song 'Want Ads' in 1971. She was the younger sister of singer Darlene Love. Wright sang backup for various artists, including the Righteous Brothers, Ray Charles, and Cher. She died on 12 September 2020.
2 Feb 1945
Ronnie Goodson, from John Fred and His Playboy Band who had the 1968 US No.1 & UK No.3 single 'Judy in Disguise (With Glasses)' which was a parodic play on the title of
The Beatles
' song 'Lucy in the Sky with Diamonds'.
2 Feb 1943
Peter Macbeth from The Foundations who had the 1967 UK No.1 single 'Baby Now That I've Found You' and the 1969 US No.3 single 'Build Me Up A Buttercup'.
2 Feb 1942
British-American singer-songwriter
Graham Nash
, known for his light tenor voice and for his songwriting contributions as a member of The Hollies and supergroup Crosby, Stills & Nash. Nash initially met both David Crosby and Stephen Stills in 1966 during a Hollies US tour. CSN's scored the hit singles 'Marrakesh Express' (which had been rejected by the Hollies), 'Our House', 'Teach Your Children'.
2 Feb 1940
Alan Caddy, guitarist with The Tornadoes, who had a 1962 UK & US No.1 single with 'Telstar'. This was the first major hit from a UK act on the American chart. Caddy died on August 16th 2000.
2 Feb 1925
British vocalist David Whitfield. He became the first British artist to have a UK No.1 single in the UK and in the United States with 'Cara Mia', featuring Mantovani and his orchestra. He died from a brain haemorrhage in Sydney, Australia, on 15 January 1980 while on tour at the age of 54.