February 22nd: The Biggest Music Headlines
Scroll down the page to see all the music headlines, stories, and events for February 22 throughout music history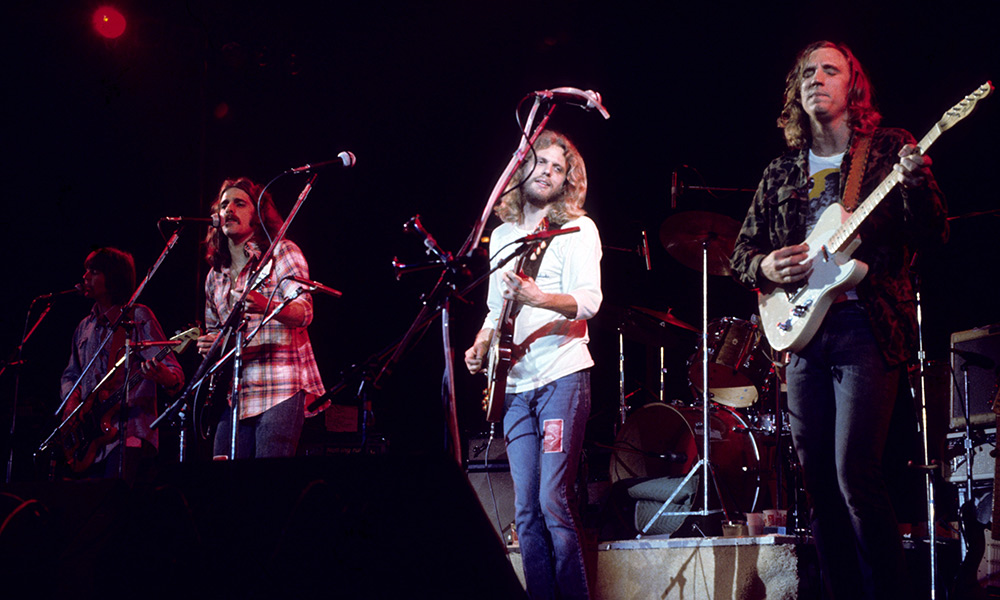 The Eagles Release "Hotel California"
On this day in music, February 22, 1977, the Eagles released "Hotel California," the iconic title track from their fifth studio album. Described by the band as their "interpretation of the high life in Los Angeles," the six-and-a-half-minute-long song was written by Don Felder, Don Henley, and Glenn Frey. After entering the Billboard Hot 100 on February 26, the single became their fourth to reach No.1 on that chart. "Hotel California" later earned them a Grammy for Record of the Year, while the song endures as the band's signature hit
In 1987, visual artist Andy Warhol died at age 58. Intertwined with film, music, and celebrity culture, Warhol founded the Pop Art movement and hosted countless multi-media parties at his New York City studio, The Factory. In addition to serving as a manager and producer to The Velvet Underground, the Pittsburgh native designed several iconic LP covers, including The Velvet Underground & Nico "peeled banana" jacket and The Rolling Stones' Sticky Fingers.
In 2012, singer, songwriter, and guitarist Billy Strange died at age 81 in Tennessee. Known best as a session musician and arranger with the legendary Wrecking Crew, Strange had an important hand in crafting songs for Elvis Presley, Nancy Sinatra, and Duane Eddy, among others. Strange was also an accomplished composer of film and TV music, while his guitar work can be heard on countless midcentury recordings, including those by The Beach Boys, The Everly Brothers, and Willie Nelson.
In 1970, David Bowie and his short-lived band, Hype, had their first performance together at The Roundhouse Spring Festival in Camden, London. A precursor to the Spiders from Mars, the group members (including Tony Visconti and Mick Ronson) all had on-stage personas and eye-catching costumes. Performing under "The David Bowie Band" for this initial show, the band was poorly received by the audience.
In 2022, singer-songwriter Mark Lanegan died at the age of 57. After rising to fame as the frontman for Screaming Trees, Lanegan soon became a fixture in the alt-rock scene, playing with bands like Queens of the Stone Age and The Gutter Twins, and releasing 12 solo albums.
In 1989, the 31st annual Grammy Awards featured a new "Heavy Metal" category, due to the popularity of the genre. While Metallica performed at the ceremony, Jethro Tull won the first award for Best Metal Performance.
Looking for more things that happened on this day in music?
Keep scrolling for all of the headlines for February 22.
BORN ON FEBRUARY 22:
1938: Bobby Hendricks (The Drifters)
1950: Genesis P-Orridge
1973: Scott Phillips (Creed)
1974: James Blunt
1979: Tom Higgenson (Plain White T's)
Looking for more artists born on this day?
Keep scrolling for all of our February 22 birthdays.
---
What to find another day?
---
February 22nd
22 Feb 2022
American alternative rock musician and singer-songwriter Mark Lanegan died age 57. Lanegan was a co-founder of Screaming Trees and was also a member of Queens of the Stone Age and The Gutter Twins. In March 2021, Lanegan was hospitalised with severe COVID-19, the disease had led to him going temporarily deaf, being unable to walk, and slipping in and out of a coma for several months.
22 Feb 2017
David Bowie
dominated the 2017 Brit awards. The star was awarded best British male and best British album, for his mournful swansong, Blackstar. Rag'n'Bone Man was the other big winner of the night taking home two awards - the critics choice award and best British breakthrough act. As well as honouring Bowie, the Brits paid tribute to
George Michael
, who died on Christmas day 2016.
22 Feb 2016
American country music singer and songwriter Sonny James, best known for his 1957 hit, 'Young Love' died in Nashville, Tennessee, at the age of 87. Dubbed the Southern Gentleman, James had 72 country and pop chart hits from 1953 to 1983, including 23 No.1 Country hits.
22 Feb 2016
Adele
won four prizes including best British female solo artist and best album at this years Brit Awards,
Coldplay
won Best British group, making them the most successful band in the ceremony's history. The show also featured an emotional tribute to
David Bowie
, led by Annie Lennox and his friend Gary Oldman.
22 Feb 2012
American jazz pianist, composer, and arranger Mike Melvoin died in Burbank, California of cancer, aged 74. He worked as a prolific studio musician, recording with
Frank Sinatra
,
John Lennon
, Tom Waits, Barbra Streisand, The
Jackson 5
, Natalie Cole, and The Beach Boys on
Pet Sounds
. He worked in the early 1970s as a music director on The Partridge Family recordings and also composed for film and television including contributing scores to Fame.
22 Feb 2012
American singer, songwriter, guitarist Billy Strange died aged 81. As a session musician with the famed Wrecking Crew, he appeared on hit songs for
Elvis Presley
, including 'A Little Less Conversation', Nancy and
Frank Sinatra
's 'Somethin' Stupid', played guitar on numerous Beach Boys hits, including 'Sloop John B' and the
Pet Sounds
album and worked with The Ventures, Willie Nelson, The Everly Brothers, Wanda Jackson, Randy Newman, and Nat King Cole, among others.
22 Feb 2010
Johnny Marr was said to be "ecstatic" after getting back one of his guitars which had been stolen in 2000 after a gig at the Scala nightclub in Kings Cross, London.
Smiths
fan Stephen White told a London court he was "disgusted" with himself for taking the £30,000 cherry red 1964 Gibson SG when he went backstage after the gig at The Scala.
22 Feb 2004
Norah Jones started a six week run at No.1 on the US album chart with 'Feels Like Home', the singers second US No.1. Usher feat Lil Jon and Ludacris were at No.1 on the US singles chart with 'Yeah.'
22 Feb 2004
The
Sex Pistols
'Anarchy in the UK' was named the most influential record of the 1970s in poll compiled by Q magazine.
Queen
's '
Bohemian Rhapsody
' was voted into second place and Donna Summer's 'I Feel Love' was third,
T Rex
'Get It On' was fourth and Special AKA's 'Gangsters' came fifth.
22 Feb 2003
Sir
Paul McCartney
played a private show in San Diego for the 50th birthday of Wendy Whitworth, the executive producer of CNN's Larry King Show. Sir Paul donated his $1 million (£0.6 million) fee to the Adopt-a-Minefield charity.
22 Feb 2002
Drummer Ronnie Verrell died aged 76. He worked with The Ted Heath Orchestra and The Syd Lawrence Orchestra and provided the drum licks for Animal in The Muppet Show. When American drummer Buddy Rich, (one of Verrell's heroes), guested on the show, Verrell (as Animal) had a drumming duel with Rich, and won after Animal smashed a snare drum over Rich's head.
22 Feb 2002
Two middle-aged women spent the first of eight nights sleeping in a car outside Bournemouth International Centre to make sure they were first in the queue for when tickets to Cliff Richard's forthcoming concert went on sale.
22 Feb 2001
Winners at the 43rd Grammy Awards included
U2
, record of the year and song of the year with 'Beautiful Day', Steely Dan won album of the year for 'Two Against Nature', Macy Gray won Female pop vocal for 'I Try', Sting won Male pop vocal for 'She Walks This Earth',
Eminem
won Best Rap album from 'The Marshall Mathers LP',
Johnny Cash
won Best Male country performance for 'Solitary Man', and Shelby Lynne won best new artist award.
22 Feb 2000
The engagement ring Sex Pistol Sid Vicious gave to his girlfriend Nancy Spungen went on sale for auction at £1,500 ($2,550). Sid bought the ring from Camden market in 1977. Also on sale was a pair of
John Lennon
's jeans for £2,250 ($3,825).
22 Feb 1997
No Doubt went to No.1 on the UK singles chart with 'Don't Speak.' The third single from the band's second album Tragic Kingdom was written by Eric Stefani and his sister Gwen Stefani.
22 Feb 1992
UK music paper the NME printed their writers all time best debut albums; at No.1, Patti Smith, 'Horses', No.2,
Joy Division
, 'Unknown Pleasures', No.3, MC5, 'Kick Out
The Jam
s, No.4, The Jesus and Mary Chain, 'Psychocandy' and No.5, Television, 'Marquee Moon'.
22 Feb 1992
Shakespears Sister started an eight-week run at No.1 on the UK singles chart with 'Stay'. The duo was made up of ex Bananarama member Siobhan Fahey and singer Marcella Detroit (who co-wrote 'Lay Down Sally' with
Eric Clapton
). One of the longest running UK No.1's in chart history and the longest by an all-female act.
22 Feb 1989
A category for Heavy Metal was included at the Grammy Awards for the first time.
Metallica
performed on stage, but the award went to Jethro Tull. Many audience members booed. Meanwhile, Bobby McFerrin won Record Of The Year and Song Of The Year for 'Don't Worry, Be Happy', Tracy Chapman is named Best New Artist and Tina Turner won Best Female Rock Vocal Performance for 'Tina Live in Europe'.
22 Feb 1987
Andy Warhol, pop artist and producer died after a gall bladder operation. The founder of the Pop Art movement, produced and managed the Velvet Underground, designed the 1967 Velvet Underground And Nico 'peeled banana' album cover and The
Rolling Stones
Sticky Fingers
album cover.
22 Feb 1986
MTV
dedicated a full 22 hours broadcast to The
Monkees
, showing all 45 episodes of the original The
Monkees
TV series.
22 Feb 1981
One Hit Wonder Joe Dolce was at No.1 on the UK singles chart with 'Shaddap You Face,' famously keeping the legendary Ultravox song, Vienna, off the UK No.1 slot. 'Shaddap You Face' was Number 1 in 11 countries with over 35 different foreign language cover versions, selling over 4 million copies.
22 Feb 1978
The Police
appeared in a Wrigley's Chewing Gum commercial for US TV, the band dyed their hair blonde for the appearance.
22 Feb 1977
The Eagles
released 'Hotel California' the title track from the Eagles' album of the same name. Written by Don Felder, Don Henley, and Glenn Frey its long guitar coda was voted the best guitar solo of all time by readers of Guitarist in 1998. The song was awarded the Grammy Award for Record of the Year in 1978.
22 Feb 1976
Florence Ballard of The
Supremes
died of cardiac arrest, aged 32. Ballard had left the group in 1967, lost an $8 million (£4.7 million) lawsuit against
Motown
records and was living on welfare when she died.
22 Feb 1975
Scottish group The Average White Band went to No.1 on the US singles chart with 'Pick Up The Pieces', the bands album AWB also went to No.1 on the US chart.
22 Feb 1975
Steve Harley and Cockney Rebel had their only UK No.1 single with 'Make Me Smile (Come Up And See Me). Singer Steve Harley said the lyrics were vindictively directed at the former band members, whom he felt had abandoned him.
22 Feb 1970
Appearing at The Roundhouse Spring Festival in Camden, London,
David Bowie
and the Hype, (their first live performance of the new band), along with Bachdenkel, Groundhog and Caravan.
22 Feb 1967
Pink Floyd
continued working on their debut album The Piper At The Gates Of Dawn at Abbey Road Studios, London.
The Beatles
were also working at Abbey Road, recording the giant piano chord for the end of 'A Day In The Life' for their
Sgt. Pepper
's album.
22 Feb 1962
Elvis Presley
was at No.1 o the UK singles chart with 'Rock-A- Hula Baby / Can't Help Falling In Love.' The tracks were from his latest film 'Blue Hawaii' and became the singers tenth UK No.1
Born on this day in music
22 Feb 1979
American musician Tom Higgenson from Plain White T's who had a No.1 hit with 'Hey There Delilah', which achieved platinum status in 2007 and earned two Grammy nominations.
22 Feb 1974
English singer, songwriter James Blunt. The former Army captain had the 2005 UK No.1 single 'You're Beautiful' and the 2005 UK No.1 album Back To Bedlam. He became the first British artist to top the American singles chart in nearly a decade when 'You're Beautiful' reached No.1 in 2006. The last British artist to do so was
Elton John
in 1997 with 'Candle in the Wind'.
22 Feb 1973
Scott Phillips, drummer and co-founder from American rock band Creed who had the 2001 US No.1 & UK No.13 single 'With Arms Wide Open' and the 2002 US No.1 album Weathered.
22 Feb 1962
Michael Wilton with American progressive heavy metal band Queensryche. Their 1994 album Promised Land went top 3 in the US.
22 Feb 1953
English actor Nigel Planer, (who played Neil in the BBC comedy The Young Ones) and had the 1984 UK No.2 single with his version of the 1967 hit for Traffic, 'Hole In My Shoe'.
22 Feb 1953
John Sparks, bassist with British rock band Dr.Feelgood who had the 1979 UK No.9 single 'Milk And Alcohol' and the hits 'She Does It Right', 'Roxette', and 'Back in the Night'.
22 Feb 1950
English singer-songwriter, musician, poet, and performance artist Genesis P-Orridge. A founding member of the cult experimental bands Throbbing Gristle and Psychic TV, the group played an abrasive brand of industrial rock, often combined with sexually-explicit live shows. He died on 14 March 2020 age 70 after battling leukaemia for two-and-a-half years.
22 Feb 1943
American singer Louise Lopez, from Odyssey, who had the 1980 UK No.1 single 'Use It Up And Wear It Out'.
22 Feb 1943
English rock and roll guitarist Mick Green, with Johnny Kidd & The Pirates from 1962-4 who had the 1963 UK No.4 singles 'I'll Never Get Over You' and later with The Pirates. Green also worked with Billy J. Kramer and the Dakotas, Cliff Bennett and the Rebel Rousers and appeared on the
Paul McCartney
1999 album Run Devil Run. He died of heart failure on 11 January 2010 age 65.
22 Feb 1938
American R&B singer Bobby Hendricks from The Drifters who had the 1960 US No.1 & UK No.2 single 'Save The Last Dance For Me'.
22 Feb 1936
American rhythm-and-blues singer Ernie K-Doe, who had a 1961 US No.1 single with 'Mother-in-Law', which was written by Allen Toussaint. K-Doe died from kidney and liver failure from years of alcoholismon on 5 July 2001 age 68.