February 28th: The Biggest Music Headlines
Scroll down the page to see all the music headlines, stories, and events for February 28 throughout music history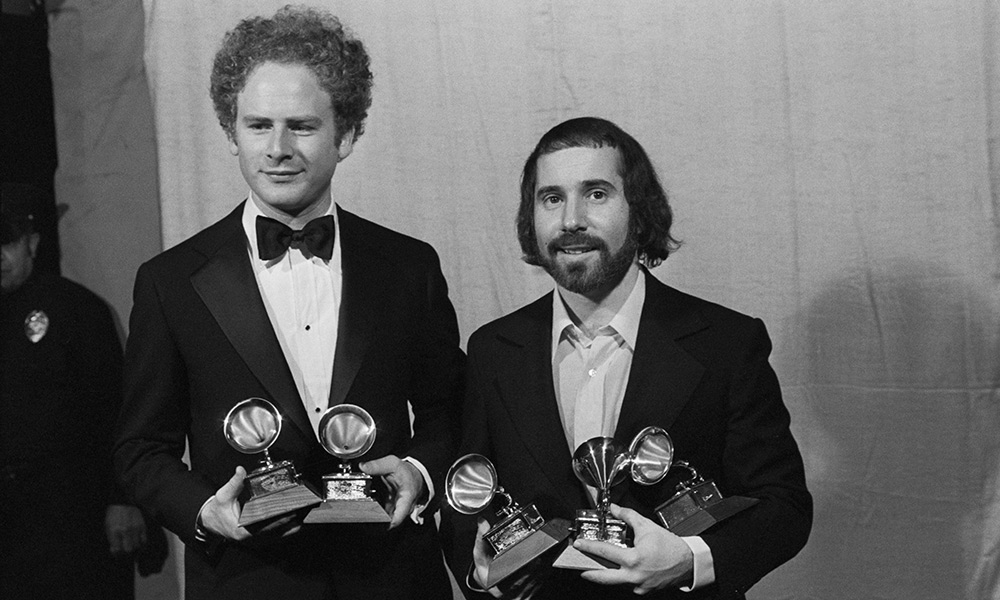 Simon & Garfunkel Score a No.1 Hit with 'Bridge Over Troubled Water'
On this day in music, February 28, 1970, Simon & Garfunkel began a six-week run at the top of the Billboard Hot 100 with "Bridge Over Troubled Water." The ballad, which also served as the title track of the folk duo's fifth and final studio album, featured Art Garfunkel on lead vocals, while The Wrecking Crew provided "Wall of Sound" style instrumentation. "Bridge Over Troubled Water" became the act's signature hit, winning the duo five Grammys (including Record and Song of the Year). It would eventually become one of the most performed songs of the 20th century, with notable recordings by Elvis Presley, Johnny Cash, and Aretha Franklin, among others.
In 1963, Patsy Cline made her final television appearance on The Glenn Reeves Show, where she performed her hits "San Antonio Rose" and "I Fall To Pieces." Just five days later, the 30-year-old country star was killed in a plane crash.
In 1986, George Michael and Andrew Ridgeley announced that Wham! would split in the summer. The British duo was one of the most successful pop acts of the 1980s. Before their disbandment, they released a final single, "The Edge of Heaven," as well as a greatest hits album. Their farewell show was held at London's Wembley Stadium on June 28, 1986, with 72,000 fans in attendance.
In 1984, Michael Jackson took home a record-breaking eight awards at the 26th Annual Grammys. Out of his 12 nominations, Jackson earned Record of the Year for "Beat It" and Album of the Year for Thriller, while "Billie Jean" won Best Pop Vocal Performance, Best R&B Performance, and Best R&B song.
In 1983, U2 released their third studio album, War. Produced by Steve Lillywhite, it became the Irish band's first No.1 album in the UK, pushing Michael Jackson's Thriller from the top position. Across the Atlantic, War was U2's first Gold-certified album in the US.
In 2019, the celebrated pianist, composer, and conductor, André Previn, died at age 89 in his Manhattan home. In addition to accomplishments in the jazz and classical world, Previn composed or arranged more than 50 Hollywood film scores. During his seven-decade-long career, Previn earned four Academy Awards and ten Grammys, among other honors.
Looking for more things that happened on this day in music?
Keep scrolling for all of the headlines for February 28.
BORN ON FEBRUARY 28:
1942: Brian Jones (Rolling Stones)
1943: Donnie Iris (Wild Cherry)
1948: Geoff Nicholls (Black Sabbath)
1957: Ian Stanley (Tears For Fears)
1957: Cindy Wilson (B-52's)
1971: Nigel Godrich (Producer)
1977: Jason Aldean
1994: Jake Bugg
Looking for more artists born on this day?
Keep scrolling for all of our February 28 birthdays.
---
What to find another day?
---
February 28th
28 Feb 2019
German-American pianist, composer, arranger, and conductor André Previn died at home in Manhattan at the age of 89. He is best known for arranging and composing Hollywood film scores for over 50 films over his entire career. He won four Academy Awards for his film work and ten Grammy Awards for his recordings.
28 Feb 2016
Adele
was at No.1 on the UK and US album chart with her third studio album 25. The album was a massive commercial success, debuting at No.1 in more than 25 markets. 25 received the BRIT Award for British Album of the Year and also won the 2017 Grammy Awards for Album of the Year, and Best Pop Vocal Album.
28 Feb 2010
Tom "Bone" Wolk, who played bass for nearly 30 years with
Daryl Hall
and John Oates died of an apparent heart attack at the age of 58. He had also recorded with Carly Simon, Jellyfish, Squeeze, Elvis Costello, Shawn Colvin and
Billy Joel
over the course of his career.
28 Feb 2008
Boy George pleaded not guilty to falsely imprisoning a male escort by chaining him to a wall. The singer and DJ was also accused of assaulting Audun Carlsen during the alleged incident on 28 April 2007. He was released on bail until a trial at Snaresbrook Crown Court in November.
28 Feb 2008
Arctic Monkeys won three prizes, including best British band at this year's NME Awards held at the O2 in London. The band's single 'Fluorescent Adolescent' won them best track and they won best video for 'Teddy Picker'. Best album went to Klaxons for Myths of the Near Future while Kate Nash won best solo artist. Muse were presented with the best live band award and US group The Killers took best international act. The Manic Street Preachers, who performed at the ceremony, were awarded the NME's Godlike Genius honour and Babyshambles frontman Pete Doherty was voted hero of the year.
Britney Spears
's Blackout was voted worst album and The Hoosiers were named worst band.
28 Feb 2008
Drummer Buddy Miles, who played with
Jimi Hendrix
in his last regular group, Band of Gypsys, died aged 60 at his home in Austin, Texas after struggling with a long-term illness. Born George Allen Miles in Omaha, Nebraska, Buddy's nickname was a tribute to his idol, jazz drummer Buddy Rich. Rich also played with The Delfonics, The Ink Spots, Wilson Pickett, Electric Flag,
Stevie Wonder
,
David Bowie
, Muddy Waters and Barry White. In the 1980s, he achieved a certain amount of notoriety in the US as the vocalist on the celebrated claymation California Raisins commercials.
28 Feb 2005
Chris Curtis, drummer with The Searchers died aged 63 after a long illness. The searchers scored the 1964 UK No.1 single 'Needles And Pins', and the 1964 US No.3 single 'Love Potion Number Nine'.
28 Feb 1997
Death Row Records boss Marion 'Suge' Knight was sentenced to nine years in prison for violating his probation for a 1995 assault conviction. Under US law, Knight would not be allowed to run Death Row Records while in prison.
28 Feb 1996
Grammy award winners included
Alanis Morissette
who won album of the year for Jagged Little Pill, best female rock vocal & best song for 'You Oughta Know',
Nirvana
's 'Unplugged won best alternative album and Coolio best rap performance with 'Gangsta's Paradise.'
28 Feb 1994
Eric Clapton
played his 100th performance at London's Royal Albert Hall, in aid of the 'Children In Crisis', charity.
28 Feb 1989
Bob Dylan
recorded the first sessions for the Oh Mercy album at The Studio, New Orleans, Louisiana. What became Dylan's 26th studio album, released by Columbia Records in September 1989 was produced by Daniel Lanois.
28 Feb 1986
George Michael
announced that Wham! would officially split during the summer. Wham became one of the most successful pop acts of the 1980s, selling more than 30 million records worldwide from 1982 to 1986. The singles 'Wake Me Up Before You Go-Go', 'Everything She Wants' and 'Careless Whisper', all topped the Billboard Hot 100 chart in the US.
28 Feb 1985
David Byron, singer with Uriah Heep died from an epileptic fit and liver disease aged 38. Byron was the original singer of the English band between 1969 and 1976 and gained a reputation with his operatic vocals and harmonies as one of the best rock vocalists and frontmen in the world.
28 Feb 1984
Michael Jackson
won a record eight Grammy awards including: Album of the year for
Thriller
; Record of the year and Best rock vocal performance for 'Beat It'; Best pop vocal performance, Best R&B performance and Best R&B song for 'Billie Jean', and Best Recording For Children for E.T The Extra Terrestrial.
28 Feb 1983
U2
released their third studio album War. Produced by Steve Lillywhite, the album has come to be regarded as
U2
's first overtly political album, in part because of songs like 'Sunday Bloody Sunday' and 'New Year's Day.' War became the band's first No.1 album in the UK (knocking
Michael Jackson
's
Thriller
from the top of the charts). The boy on the cover of the album is Peter Rowen (the brother of Bono's friend, Guggi from The Virgin Prunes).
28 Feb 1981
Country music star Eddie Rabbitt crossed over to the Pop chart to score a US No.1 hit with 'I Love a Rainy Night'. He had earlier written the
Elvis Presley
smash 'Kentucky Rain' before having a No.5 hit with 'Drivin' My Life Away'. Although it sounds like he made up a stage name, his real name is Edward Thomas Rabbitt.
28 Feb 1977
Ray Charles was attacked onstage by a man who tried to strangle him with a microphone cord. The man was a member of a group called Project Heavy, a community program for disadvantaged youths. They promised that the matter would be handled within the organization and no charges were laid.
28 Feb 1976
Paul Simon
's 'Still Crazy After All These Years' was named Best Pop Vocal Performance and Album Of The Year at the 18th annual Grammy Awards. In his acceptance speech, Simon told the audience "I'd like to thank
Stevie Wonder
for not releasing an album this year."
28 Feb 1974
Singer songwriter Bobby Bloom shot himself dead in the head at his Hollywood apartment aged 28. Bloom had the 1970 US No.8 & UK No.3 single 'Montego Bay'.
28 Feb 1970
Billed as
David Bowie
's New Electric Band (so new they haven't got a name yet), played at the Basildon Arts Lab experimental music club at the Basildon Arts Centre in Essex, England. Also on the bill were High Tide, Overson and
Iron Butterfly
.
28 Feb 1970
In an interview with the New Musical Express,
Fleetwood Mac
's Peter Green talked about his plans to give all his money away. The following year Green confronted his accountant with a gun after he sent him an unwanted royalty check. The guitarist went to jail briefly before being transferred to an asylum and was committed to a mental hospital in 1973. He re- launched his career in the 90s.
28 Feb 1970
Led Zeppelin
played a gig in Copenhagen as The Nobs after Eva Von Zeppelin a relative of the airship designer threatened to sue if the family name was used in Denmark.
28 Feb 1970
Simon and Garfunkel started a six week run at the top of the US singles chart with '
Bridge Over Troubled Water
', also No.1 in the UK in March the same year. It became one of the most performed songs of the twentieth century, with over 50 artists, among them
Elvis Presley
and
Aretha Franklin
, covering the song.
28 Feb 1966
Police were called after over a 100 music fans barricaded themselves inside Liverpool's
Cavern Club
to protest at the clubs closure. The club had run up debts of over £10,000.
The Beatles
made a total of 292 appearances at The
Cavern Club
, their final performance at the club was on 3 August 1963.
28 Feb 1963
Patsy Cline
made the final television appearance of her career when she appeared on The Glenn Reeves Show singing "San Antonio Rose" and "I Fall To Pieces". She died tragically in a plane crash just five days later at the age of 30.
Born on this day in music
28 Feb 1994
English singer and songwriter Jake Bugg, (born Jake Edwin Kennedy). His self-titled debut album, largely co-written with songwriters Iain Archer, Matt Prime and Crispin Hunt, was released in late 2012 and reached No.1 on the UK Albums Chart.
28 Feb 1986
Alex Tanas, musician, drummer, singer and songwriter from Canadian reggae fusion band Magic! who had the 2014 US and UK No.1 hit single 'Rude', from their 2014 US Top 10 album Don't Kill the Magic.
28 Feb 1977
Jason Aldean, American country music singer, who has scored six No.1 singles on the country charts including the duet 'Don't You Wanna Stay' with Kelly Clarkson, and the 2011 US County No.1 single 'Dirt Road Anthem'.
28 Feb 1971
English record producer, recording engineer and musician Nigel Godrich, best known for his work with
Radiohead
. He is a member of Atoms for Peace (with Thom Yorke) and Ultraísta. Other acts Godrich has worked with include Beck,
Paul McCartney
,
U2
,
R.E.M.
, Pavement and
Roger Waters.
28 Feb 1967
Marcus Lillington, guitars, keyboards with British group Breathe, who scored the 1997 US No. 2 single 'Hands To Heaven', (kept from the summit by 'Roll with It' by Steve Winwood). The song became a UK top 5 hit the following year.
28 Feb 1957
Cindy Wilson, singer and founding member with American new wave rock band The B-52's who had the 1990 UK No.2 & US No.3 single 'Love Shack'. She sang with the
Ramones
in the early 1980s on the song 'Chop Suey', with Kate Pierson and Debbie Harry.
28 Feb 1957
English musician, songwriter and record producer Ian Stanley. With Tears For Fears he had the 1985 US No.1 & UK No.2 single 'Everybody Wants To Rule The World' and played a key role in the making of their multi-platinum selling second album Songs from the Big Chair.
28 Feb 1957
British drummer, songwriter and singer Phil Gould from Level 42, who had the 1986 UK No.3 & US No.12 single 'Lessons In Love' & 19 other UK Top 40 hits.
28 Feb 1952
Eddie Manion, American saxophonist from the Jersey Shore group Southside Johnny and the Asbury Jukes. As a session musician, he has recorded and toured, with, among others,
Bruce Springsteen
and the E Street Band, Diana Ross, Gary U.S. Bonds,
Bon Jovi
, Willy DeVille, Dave Edmunds, Little Steven,
Bob Dylan
,
Keith Richards
,
The Allman Brothers Band
and Graham Parker.
28 Feb 1948
British musician and keyboardist, Geoff Nicholls, longtime member of
Black Sabbath.
He died on 28 January 2017 aged 68. Until his death, Nicholls played keyboards with former Sabbath singer Tony Martin, in his band Tony Martin's Headless Cross.
28 Feb 1946
Don Ciccone, American singer, songwriter and musician. He was a member of both the Four Seasons and Tommy James and the Shondells. He died of a heart attack on 8 October 2016.
28 Feb 1945
Ronnie Rosman, from American rock band, Tommy James & The Shondells who had the 1966 US No.1 single 'Hanky Panky', the 1968 UK No.1 single 'Mony Mony' and the hit 'I Think We're Alone Now'.
28 Feb 1943
American rock musician Donnie Iris, guitarist. He wrote the No.2 Billboard hit, 'The Rapper', with the Jaggerz in 1970 and was a member of Wild Cherry who had the 1976 US No.1 & UK No.7 single 'Play That Funky Music'. He also achieved fame as a solo artist in the early 1980s with the hit 'Ah! Leah!'
28 Feb 1942
English musician and composer
Brian Jones
, best known as the founder and original leader of The
Rolling Stones
. Jones placed an advertisement in Jazz News of 2 May 1962 inviting musicians to audition for a new R&B group. Jones came up with the name the Rollin' Stones while on the phone with a venue owner, who asked 'What are you called?' Jones saw a copy of The Best Of Muddy Waters lying on the floor - and track one was Rollin' Stone Blues. When Jones developed alcohol and drug problems, and he became increasingly unreliable, the Stones dismissed him in June 1969. Jones died on 3 July 1969, after drowning in his swimming pool.
28 Feb 1942
Joe South, American singer, songwriter who had the 1969 US No.12 & UK No.6 single 'Games People Play'. South started his career in July 1958 with the novelty hit 'The Purple People Eater Meets the Witch Doctor'. He wrote 'Rose Garden', which was first released by Billy Joe Royal in 1967 and later became a 1970 hit for country music singer Lynn Anderson. South worked with
Bob Dylan
, (Blonde on Blonde),
Simon And Garfunkel
, (Sounds of Silence) and
Aretha Franklin
, ('Chain of Fools'). He died of heart failure on 5 Sept 2012 aged 72.
28 Feb 1941
American guitarist and singer Marty Sanders from Jay and the Americans, who had the 1962 hit with 'She Cried' and the 1969 US No.6 single 'This Magic Moment'.
28 Feb 1927
Don Helms, American steel guitarist best known as the steel guitar player in
Hank Williams
' Drifting Cowboys. Helms was a featured musician on over 100
Hank Williams
recordings and went on to play on many classic country hits, including
Patsy Cline
's 'Walking After Midnight,' and Loretta Lynn's 'Blue Kentucky Girl.' He died on 11 August 2008 age 81.