February 4th: The Biggest Music Headlines
Scroll down the page to see all the music headlines, stories, and events for February 4 throughout music history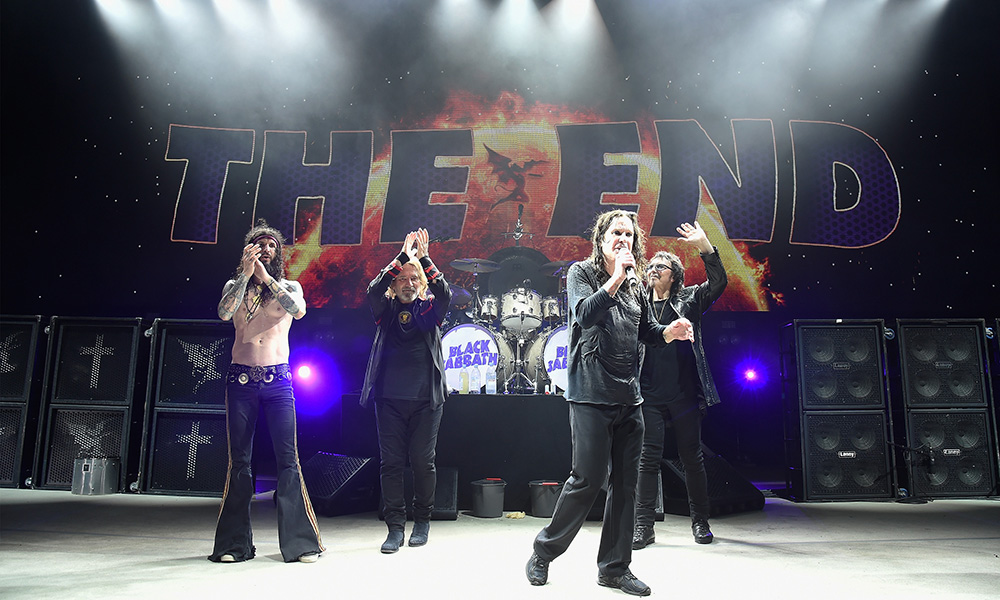 Black Sabbath Close-Out Farewell Tour In Birmingham
On this day in music, February 4, 2017, Black Sabbath played the final date of their farewell tour in their home city of Birmingham, UK. Credited with inventing heavy metal music, the band played a two-hour set of 15 songs, culminating with their first hit, 1970's "Paranoid." Aptly dubbed "The End Tour," the global run was comprised of 81 shows, while this particular date was documented as a film, Black Sabbath: The End of the End, and streamed live on Black Sabbath's Facebook page.
In 1983, singer, drummer, and one-half of Carpenters, Karen Carpenter, died at the age of 32. After signing with A&M Records in 1969, the duo (which also featured Karen's brother, Richard) quickly rose to become one of the biggest pop acts of the 70s. Along the way, Karen became the breakout star, thanks to her stunning three-octave range. Tragically, Carpenter also struggled with anorexia nervosa, which ultimately took her life. Following her passing, the condition received more attention, while the Karen A. Carpenter Memorial Foundation was established to fund research on anorexia and other eating disorders.
In 1977, Fleetwood Mac released their 11th album, Rumours. Their first album to top the charts on both sides of the Atlantic, Rumours sold over 10 million copies worldwide in its first month of release. In addition to earning Album of the Year at the Grammys, it was later inducted into the Grammy Hall of Fame and selected for preservation in the National Recording Registry by the Library of Congress.
In 1972, David Bowie recorded the final songs for his iconic fifth album, The Rise and Fall of Ziggy Stardust and the Spiders from Mars, including "Rock 'n' Roll Suicide," "Starman," and "Suffragette City." The record, which follows Bowie's fictional alter ego, Ziggy Stardust, was released that June. Today, it is not only considered to be one of the groundbreaking artist's greatest works, but also one of the best albums of all time.
In 1978, The Bee Gees kicked off a four-week run at the top of the Billboard Hot 100 with "Stayin' Alive," the era-defining second single off the Saturday Night Fever soundtrack.
In 2016, singer, songwriter, and producer, Maurice White, died at 74. White was best known as the founder and bandleader of Earth, Wind & Fire, as well as the co-lead singer, alongside Philip Bailey. During his five-decade-long career, the Songwriter Hall of Famer was nominated for 22 Grammy awards (winning seven) and inducted into the Rock and Roll Hall of Fame and Vocal Group Hall of Fame with his bandmates. White was also a sought-after songwriter and producer, who worked with the likes of Barbra Streisand, The Emotions, and Neil Diamond.
Looking for more things that happened on this day in music?
Keep scrolling for all of the headlines for February 4.
BORN ON FEBRUARY 4:
1948: Alice Cooper
1951: Phil Ehart (Kansas)
1960: Tim Booth (James)
1962: Clint Black
1963: Wasserman (The Offspring)
1975: Natalie Imbruglia
Looking for more artists born on this day?
Keep scrolling for all of our February 4 birthdays.
---
What to find another day?
---
February 4th
4 Feb 2021
American R&B singer and songwriter Nolan Porter died age 71. He recorded two albums and six singles in the early 1970s. His best known song is "Keep On Keeping On", which became popular on the northern soul scene. In 1978
Joy Division
used the guitar riff from Porter's song for their song "Interzone" on their debut album Unknown Pleasures.
4 Feb 2021
American soul singer Gil Saunders died. He came to fame as lead singer with Harold Melvin & the Blue Notes and sang lead on the international 1984 dance music hit "Today's Your Lucky Day".
4 Feb 2021
Sir
Elton John
said he had "very positive" talks with British Culture Secretary Oliver Dowden about EU travel for UK musicians, but said visa-free touring was not currently "on the cards". John was one of many stars that had signed a letter demanding action to cut red tape and fees for musicians after Brexit saying that the matter was "swept under the carpet" before the UK left the EU.
4 Feb 2020
Beach Boys
co-founder
Brian Wilson
asked fans to boycott the band he helped start because of a forthcoming performance at a hunting event in Nevada. In a tweet Wilson said there was nothing he could do to stop the concert at Safari Club International's annual convention in Reno, Nevada, which would feature the touring group led by co-founder Mike Love. The convention would also include a keynote speech by Donald Trump Jr. Animal rights activists described the annual convention as one of the world's largest gatherings for trophy hunters and a celebration of the "senseless killing" of hundreds of animals.
4 Feb 2017
Black Sabbath
the band credited with inventing heavy metal music, played their last concert. The two-hour gig at the NEC Arena in their home city of Birmingham saw the rock veterans play 15 songs ending with their first hit, '
Paranoid
'. Ticker tape and balloons fell as singer
Ozzy Osbourne
, 68, thanked fans for nearly five decades of support. Sabbath's The End Tour began in the US in January last year and took in 81 dates across the world.
4 Feb 2016
American singer-songwriter, musician, record producer, arranger and bandleader Maurice White died. With Earth, Wind & Fire, he had the 1975 US No.1 single 'Shining Star', and the 1981 UK No.3 single 'Let's Groove'. White won seven Grammys,and was nominated for a total of twenty Grammys and also worked with Deniece Williams, The Emotions, Barbra Streisand and
Neil Diamond
.
4 Feb 2016
Van Morrison described becoming a Sir as "amazing" and "exhilarating" after receiving a knighthood from the Prince of Wales at Buckingham Palace. He received his knighthood for services to the music industry and tourism in Northern Ireland.
4 Feb 2013
Reg Presley lead singer with the Sixties rock and roll band The
Troggs
, died aged 71. Hit singles, included 'Wild Thing', 'I Can't Control Myself' and the UK No.1 'With a Girl Like You'. He also wrote the song 'Love Is All Around', which featured in the film Four Weddings and a Funeral and was a No.1 hit for Wet Wet Wet in 1994. Presley used his royalties from that cover to fund research subjects such as alien spacecraft, lost civilisations, alchemy, and crop circles, and outlined his findings in the book Wild Things They Don't Tell Us, published in October 2002.
4 Feb 2009
Lux Interior, (Erick Lee Purkhiser) singer and founding member of The Cramps died aged 62. He met his wife (better known as Poison Ivy, a.k.a. Ivy Rorschach), in Sacramento in 1972, when he and a friend picked her up when she was hitchhiking. The couple later founded The Cramps.
4 Feb 2009
Robert Plant said he felt
Led Zeppelin
couldn't reunite for a full tour because the band feels incomplete without drummer
John Bonham
. In an interview on Absolute Radio Plant stated, 'The reason that it stopped was because we were incomplete, and we've been incomplete now for 29 years,' he said. He admitted: 'I think the thing about it is really, is that to visit old ground, it's a very incredibly delicate thing to do, and the disappointment that could be there once you commit to that and the comparisons to something that was basically fired by youth and a different kind of exuberance to now, it's very hard to go back and meet that head on and do it justice'.
4 Feb 2007
A Razorlight's gig in Lyon was halted mid-set because of an altercation between singer Johnny Borrell and bassist Carl Dalemo. The pair exchanged insults before they came to blows onstage. Borrell then stormed off leaving the French crowd amazed and unsure about what was going on.
4 Feb 2004
Police questioned Noel Gallagher after a photograph of him trespassing on a railway line appeared in a newspaper. The
Oasis
guitarist was in a studio in Cornwall recording the bands new album when he took a walk along the railway line. British Transport Police said 'he was setting a bad example.'
4 Feb 2003
Courtney Love was arrested at Heathrow airport for 'endangering an aircraft' on a transatlantic flight. The singer was said to have hurled abuse at the cabin crew on the flight from Los Angeles to London after her nurse who was in an economy seat was barred access to sit with Love in the upper class cabin.
4 Feb 2000
Bjorn Ulvaeus confirmed that the members of
ABBA
had turned down a $1 billion (£0.58 billion) offer by American and British consortium to reform the group. "It is a hell of a lot of money to say no to, but we decided it wasn't for us," band member Benny Andersson told the Swedish newspaper Aftonbladet.
4 Feb 1996
Former Milli-Vanilli member Rob Pilatus was hospitalised after a man hit him over the head with a baseball bat in Hollywood, California. Pilatus was attempting to steal the man's car at the time of the attack.
4 Feb 1995
Celine Dion
started a seven-week run at No.1 on the UK singles chart with 'Think Twice'. The song peaked at No.95 on the US chart. 'Think Twice' received an Ivor Novello Award for the Song of the Year in 1995.
4 Feb 1984
Culture Club started a three-week run at No.1 on the US singles chart with 'Karma Chameleon' the group's 5th US Top 10 hit, also a No.1 in the UK.
4 Feb 1983
The Smiths
appeared at The Hacienda, Manchester, England. The group were set to release their debut single 'Hand in Glove' in two months time.
4 Feb 1983
Karen Carpenter
died aged 32 of a cardiac arrest at her parent's house in Downey, California; the coroner's report gave the cause of death of imbalances associated with anorexia nervosa. The
Carpenters
1970 album Close to You, featured two hit singles: '(They Long to Be) Close to You' and 'We've Only Just Begun.' They peaked at No.1 and No.2, on the US chart. In 1975 - in Playboy's annual opinion poll; its readers voted
Karen Carpenter
the Best Rock Drummer of the year.
4 Feb 1982
Scottish singer Alex Harvey died of a heart attack while waiting to take a ferry back to shore after performing a concert with his new band, the Electric Cowboys. In an ambulance on the way to the hospital, he suffered a second heart attack, this one fatal. It occurred on the day before his 47th birthday, in Zeebrugen, Belgium. Formed Alex Harvey Big Soul Band in 1959 and then mid 1960s band Tear Gas. Had the 1975 UK No.7 single with Sensational Alex Harvey Band 'Delilah' and 1973 album 'Next'.
4 Feb 1978
The
Bee Gees
started a four week run at No.1 on the US singles chart with 'Staying Alive'. From the film soundtrack Saturday Night Fever, it gave the brothers their fifth US No.1, also No.1 in the UK.
4 Feb 1978
'Up Town Ranking' by Althia and Donna was at No.1 on the UK singles chart. It was the Jamaican duo's only hit, making the teenagers
One Hit Wonders
.
4 Feb 1977
Fleetwood Mac
released
Rumours
. The songs 'Go Your Own Way', 'Don't Stop', 'Dreams', and 'You Make Loving Fun' were released as singles. Rumours is Fleetwood Mac's most successful release; along with winning the Grammy Award for Album of the Year in 1978, the record has sold over 45 million copies worldwide, making it one of the best-selling albums of all time.
4 Feb 1976
Fleetwood Mac
released the Stevie Nicks penned 'Rhiannon', from their eponymous album released in 1975. Nicks discovered the Rhiannon character through a novel called Triad by Mary Bartlet Leader. The novel is about a woman named Branwen who is possessed by another woman named Rhiannon.
4 Feb 1975
American jazz, blues, songwriter and saxophonist Louis Jordon died aged 66. Known as "The King of the Jukebox", between 1942-1950 he scored eighteen No.1 singles and fifty-four Top Ten hits on the US R&B chart.
4 Feb 1972
During sessions at Trident Studios, London, England,
David Bowie
recorded 'Rock 'n' Roll Suicide', 'Starman' and 'Suffragette City', the last songs recorded for the The Rise And Fall Of
Ziggy Stardust
And The Spiders From Mars album.
4 Feb 1968
Working at Abbey Road studios, London,
The Beatles
recorded 'Across The Universe'. John and Paul decided the song needed some falsetto harmonies so they invited two girl fans into the studio to sing on the song. The two were Lizzie Bravo, a 16-year-old Brazilian living near Abbey Road and 17-year-old Londoner Gayleen Pease.
4 Feb 1967
The
Monkees
self-titled debut album started a seven-week run at No.1 on the UK chart.
4 Feb 1966
Bob Dylan
and The Band played at the Convention Center in Louisville, Kentucky. This was the first date on a world tour which would become noted as Dylan's first that used electric instruments, after he had 'gone electric' at the 1965 Newport Folk Festival.
4 Feb 1966
The
Rolling Stones
released '19th Nervous Breakdown' it reached No.2 on both the US and UK charts, while topping the NME charts and was the fifth best-selling single of 1966 in the UK.
4 Feb 1965
The
Righteous Brothers
were at No.1 on the UK singles chart with the Phil Spector song 'You've Lost That Lovin' Feelin'. Also a US No.1 at the same time. In 1999 the PRS announced that it was the most played song of the 20th Century.
Born on this day in music
4 Feb 1982
Kimberly Wyatt, American singer-songwriter, dancer, model, actress and choreographer. She is best known as a former member of the Pussycat Dolls who she joined in 2003. In 2010, she announced her departure from the group, continuing with her new band Her Majesty & The Wolves.
4 Feb 1975
Natalie Imbruglia, actress, singer, who had the 1997 UK No.2 single 'Torn', from the 1997 UK No.5 album 'Left Of The Middle'. Imbruglia was known to audiences as Beth Brennan in the popular Australian soap Neighbours.
4 Feb 1968
Steve Queralt, from British indie group Ride who had the 1992 UK No.9 single 'Leave Them All Behind'.
4 Feb 1966
English singer-songwriter Jonathan Gray, known professionally as Spike, or Spike Gray, founding member of the British rock band the Quireboys, for whom he performed as lead singer and released 12 studio albums.
4 Feb 1963
Wasserman, guitarist from American punk rock band The Offspring, who had the 1999 UK No.1 single 'Pretty Fly, (For A White Guy)', and the 1999 US No.6 & UK No.10 album Americana.
4 Feb 1962
Clint Black, country music singer-songwriter, record producer, multi-instrumentalist and actor. Black made his debut with his Killin' Time album, which produced four No.1 singles on the US Billboard Hot Country Singles charts. He has amassed more than 30 singles on the US country charts (of which 13 have reached No.1).
4 Feb 1960
Tim Booth, vocals, with English group James who had the 1991 UK No.2 single 'Sit Down'. Booth has also released solo projects.
4 Feb 1952
Jerry Shirley, drummer with Humble Pie who had the 1969 UK No.4 single 'Natural Born Bugie'.
4 Feb 1951
Phil Ehart, from American rock band Kansas, who scored the 1978 US No.3 single 'Dust In The Wind', and the 1978 hit single 'Carry On Wayward Son'. which was the second-most-played track on US classic rock radio in 1995 and No.1 in 1997.
4 Feb 1950
James Dunn, singer with the Philadelphia soul group The Stylistics who had the 1974 US No.2 single 'You Make Me Feel Brand New', and the 1975 UK No.1 single 'Can't Give You Anything But My Love' and twelve consecutive US R&B top ten hits.
4 Feb 1948
American singer, songwriter Alice Cooper, (Vincent Furnier), who formed the Earwigs, and then the Alice Cooper Band, who had the 1972 UK No.1 & US No.7 single 'School's Out', the 1972 hit 'Elected' and the 1973 US & UK No.1 album Billion Dollar Babies. Cooper's live shows featured guillotines, electric chairs, fake blood, deadly snakes, baby dolls, and dueling swords. Cooper is now also a radio presenter.
4 Feb 1947
Margie and Mary Ann Ganser, vocalists for The Shangri-Las, who had a 1964 US No.1 & UK No.11 single with 'Leader Of The Pack'. Mary Ann died in New York on March 15, 1970, aged 22, of a drug overdose. Margie died of breast cancer on July 28th 1996 age 48.
4 Feb 1944
Florence Larue, from The 5th Dimension who had the 1969 US No.1 & UK No.11 single 'Aquarius'.
4 Feb 1943
Barry Beckett, keyboardist, session musician in the Muscle Shoals Rhythm Section at the Muscle Shoals studio in Sheffield, Alabama. He worked with many artists including
Paul Simon
and Traffic.
4 Feb 1943
Jimmy Johnson, American guitarist best known as part of the studio backing band known as the Muscle Shoals Rhythm Section of Alabama. He played on many hits and countless sessions including, Percy Sledge,
Aretha Franklin
, Clarence Carter, Arthur Conley, Wilson Pickett, Joe Cocker,
Paul Simon
, Rod Stewart. He also engineered The
Rolling Stones
album,
Sticky Fingers
. Johnston died of a suspected heart attack on 11 September 2019 at his home in Waller, Texas, at the age of 58.
4 Feb 1941
John Steel, drummer with The Animals who had the 1964 UK & US No.1 single 'House Of The Rising Sun'.
4 Feb 1941
American rock and jazz guitarist Mike Deasy. He worked as a member of The Wrecking Crew on sessions for Phil Spector, and contributed guitar parts to
The Beach Boys
album
Pet Sounds
. In the 1960s and later years he also worked on records by the
Monkees
, the Association, Scott McKenzie, Randy Newman, Spanky & Our Gang, Tommy Roe, Fats Domino, The Byrds,
Michael Jackson
, Helen Reddy,
Frank Zappa
, and others.
4 Feb 1929
Paul Burlison, American pioneer rockabilly guitarist and a founding member of The Rock and Roll Trio. Burlison worked with Johnny and Dorsey Burnette. He died on Sept 27th 2003.