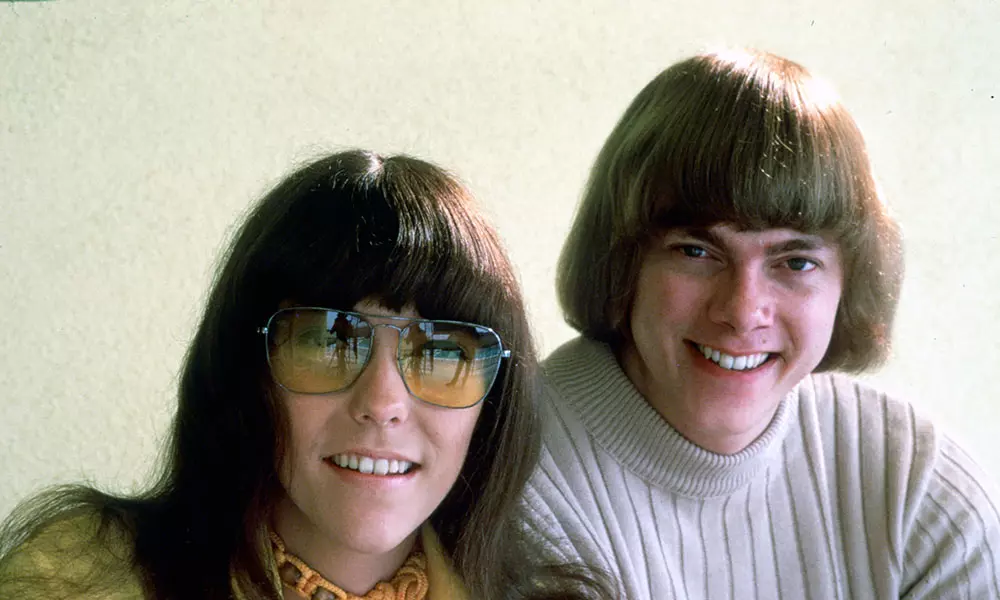 During their 14-year career, the Carpenters recorded 11 albums, 31 singles, five television specials, and a short-lived television series. Their career ended in 1983 after Karen's death from heart failure brought on by complications of anorexia.
Between 1970 and 1984 brother and sister Richard and Karen Carpenter had 17 top 20 hits, including "Goodbye to Love", "Yesterday Once More", "We've Only Just Begun," "(They Long to Be) Close to You" and "Rainy Days and Mondays".
They were one of the biggest-selling group's of the 70s. No fewer than ten of their singles went on to become million-sellers, and by 2005 combined worldwide sales of albums and singles well exceeded 100 million.
Not only did Karen Carpenter have the voice of an angel, she played drums, electric bass and guitar, (in 1975 Playboy magazine's annual opinion poll voted her the Best Rock Drummer of the year).
Born on March 2, 1950, Karen was barely into her teens when in 1963 the whole family moved to the Los Angeles suburb of Downey. By late 1964 Karen's musical talent was awakening, as a first-year student at Downey High School playing glockenspiel in the marching band, she was inspired by the drumming ability of band mate Frankie Chavez. She went home and started adding her own rhythm accompaniments to some of her records, using a pair of chopsticks and a set of bar stools as her drum kit. When her parents responded by buying her a proper drum set, she was able to play it instantly.
Richard Carpenter had shown an interest in music from a very early age. Born in New Haven, Connecticut, on October 15, 1946, he developed an eclectic taste in music. His first instrument was the accordion, and then piano. By the time he was 15, he was studying piano at Yale and was part of a trio, playing gigs in and around New Haven.
In 1965, Karen, her brother Richard, and his college friend Wes Jacobs, a bassist and tuba player, formed The Richard Carpenter Trio who appeared on the TV talent show Your All-American College Show. Karen and Richard later also performed as an ensemble known as Spectrum who focused more on a harmonious vocal sound.
A&M Records signed the Carpenters in 1969 and released their first album, Offering (later retitled Ticket to Ride). A cover of The Beatles "Ticket to Ride" became their first single, which peaked at No. 54 on the Billboard chart. Their next album, 1970's Close to You, featured two massive hit singles: "(They Long to Be) Close to You" and "We've Only Just Begun", which peaked at No.1 and No.2, respectively.
More chart-topping albums followed, Carpenters in 1971, A Song for You, Now & Then and Horizon. They covered great American Songbook classics, golden oldies, torch songs, and even a novelty or two, like "Calling Occupants of Interplanetary Craft."
The duo's brand of melodic pop produced a record-breaking run of hits not just in the US and UK, but they also became the best-selling international music act in the Japanese market, (now only beaten by Mariah Carey and The Beatles).
In 1979, Karen recorded a solo album with legendary producer Phil Ramone, consisting of adult-oriented and disco, up-tempo material with more sexual lyrics and the use of Karen's higher vocal register. Brother Richard and the executives at A&M didn't like the results and shelved the album, (which was finally released in 1996).
Karen dated a number of well-known men, including Mike Curb, Steve Martin and Alan Osmond. She then met and married real estate developer Thomas James Burris on August 31, 1980, who, it turned out, was mostly interested in her money. Burris concealed from Karen, who desperately wanted children, the fact that he had undergone a vasectomy. Their marriage ended after 14 months.
Karen's quest to be thin seems to have begun innocently enough just after high school graduation when she started the Stillman water diet. When she slimmed down from 145 to 120 lbs., her friends and family praised her weight loss. It was only after her weight continued to plummet, dropping to a skeletal 90 lbs. in the mid-1970s, that they realized her health was in jeopardy. By the autumn of 1975, Karen's failing health could no longer be ignored. In addition to her skeletal appearance, she was mentally and physically exhausted.
On December 17, 1982, Karen gave her last singing performance in the multi-purpose room of the Buckley School in Sherman Oaks, California, singing Christmas carols for her godchildren, their classmates and other friends.
On February 4, 1983, Karen intended to sign papers making her divorce with Tom Burris official. Shortly after waking up, she collapsed in her bedroom at her parents' home in Downey, California. Paramedics called to the scene by Karen's mother found her heart beating once every 10 seconds. She was taken to nearby Downey Community Hospital for treatment, whereby then in full cardiac arrest – she was pronounced dead 20 minutes later.
Karen's death raised awareness of the dangers of eating disorders, which had until then been little publicized or understood. Her family started the Karen A. Carpenter Memorial Foundation, which raised money for research on anorexia nervosa and eating disorders. Today the name of the organization has been changed to the Carpenter Family Foundation. In addition to eating disorders, the foundation now funds the arts, entertainment and education.
Important Dates In The Life Of Carpenters:
13 Mar 2023
American drummer
Jim Gordon
, died in prison at the age of 77. He was one of the most requested session drummers in the late 1960s and 1970s. Gordon co-wrote Layla with
Eric Clapton
, worked with The Everly Brothers, The
Monkees
,
The Beach Boys
, (
George Harrison
, (
All Things Must Pass
),
John Lennon
(
Imagine
), The
Carpenters
, Traffic,
Glen Campbell
, (Wichita Lineman), Steely Dan, Jackson Browne,
Frank Zappa
and many others. A diagnosed schizophrenic, Gordon murdered his mother on June 3, 1983, by pounding her head with a hammer. He was sentenced to sixteen years-to-life in prison in 1984.
10 Jan 2023
American jazz and rock guitarist Dennis Budimir died at the age of 84. He was a member of The Wrecking Crew and worked with many artists including Joni Mitchell, The Carpenters, Brian Wilson, Barbra Streisand, Frank Zappa, Linda Ronstadt an Dusty Springfield. He also played on more than 900 movie soundtracks from the early 1960s until the 2000s.
15 Dec 2021
American singer Wanda Young died at the age of 78. She was a member and after 1965, the lead singer of the
Motown
all-female singing group the Marvelettes. They gave Motown their first No.1 Pop single in late 1961 with 'Please Mr. Postman'.
The Beatles
later recorded 'Please Mr. Postman' on their second studio album With the Beatles and in 1975, the
Carpenters
' remake of 'Please Mr. Postman' was a No.1 hit around the world.
14 Dec 2018
American bass guitar player Joe Osborn died aged 81. He was known for his work as a session musician in Los Angeles and Nashville during the 1960s through the 1980s. As a member of The Wrecking Crew his playing can be heard on records by; The Mamas & the Papas, The
Carpenters
, The Association and The 5th Dimension. Osborn can be heard on Simon & Garfunkel's
'Bridge Over Trouble Water'
and the 5th Dimension's version of 'Aquarius/Let the Sunshine In'.
12 Jan 2017
Richard Carpenter said he was owed at least $2m (£1.6m) in royalties for the hits he recorded in The
Carpenters
. He claimed Universal Music had only paid the band a "minuscule fraction" of the money they were owed from downloads on sites like iTunes and Amazon. The musician was suing for compensation, according to legal documents filed in Los Angeles.
13 Nov 2016
Leon Russell died in Nashville, he was 74. He led Joe Cocker's band Mad Dogs & Englishmen, and appeared at
George Harrison
's 1971 Concert for Bangladesh. Many of his songs became hits for others, among them 'Superstar' (written with Bonnie Bramlett) for the
Carpenters
, 'Delta Lady' for Joe Cocker and 'This Masquerade' for George Benson. More than 100 acts have recorded 'A Song for You,' which Russell said he wrote in 10 minutes.
18 Feb 2008
Carpenters
fans were objecting to plans to have pop duo's former family home in Downey, south of Los Angeles knocked down. The current owners of the house, said they objected to fans looking in the windows and leaving floral tributes. The five-bedroom house was immortalised when it featured on the cover of The
Carpenters
' 1973 hit album Now & Then.
25 Aug 1995
43-year-old bassist and singer Doug Stegmeyer took his own life. The New York-based artist worked with many artists during his career, including
Billy Joel
,
Hall and Oates
and The
Carpenters
.
18 Jun 1993
A&M Records chairman Jerry Moss and vice-chairman Herb Alpert announced they were leaving the company they founded more than 30 years earlier. They had sold A&M in 1990 to Polygram for $500 million. Moss and Alpert started the label in the garage of Alpert's Los Angeles home in 1962. The label was the home to such acts as
The Police
,
Bryan Adams
, Joan Baez, Flying Burrito Brothers, The
Carpenters
, Joe Cocker, Supertramp and Herb Alpert & the Tijuana Brass.
4 Feb 1983
Karen Carpenter
died aged 32 of a cardiac arrest at her parent's house in Downey, California; the coroner's report gave the cause of death of imbalances associated with anorexia nervosa. The
Carpenters
1970 album Close to You, featured two hit singles: '(They Long to Be) Close to You' and 'We've Only Just Begun.' They peaked at No.1 and No.2, on the US chart. In 1975 - in Playboy's annual opinion poll; its readers voted
Karen Carpenter
the Best Rock Drummer of the year.
17 Dec 1982
Karen Carpenter
made her last live appearance with The
Carpenters
when she delivered an intimate performance at The Buckley School in Sherman Oaks, California. Carpenter suffered from anorexia nervosa, the eating disorder which was a little-known illness at the time. She died at the age of 32 from heart failure, on February 4, 1983 caused by complications related to her illness.
25 Jan 1975
The
Carpenters
went to No.1 on the US singles chart with their version of The Marveletts 1961 hit 'Please Mr. Postman'. The song is notable as the first
Motown
song to reach the No.1 position on the Billboard singles chart late 1961.
2 Feb 1974
The
Carpenters
started a four week run at No.1 on the UK album chart with 'The Singles 1969-73', featuring 12 hits and the US No.1 'Top Of The World' it went back to the top of the charts on three other occasions.
1 Dec 1973
The
Carpenters
went to No.1 on the US singles chart with 'Top Of The World', becoming the duo's second of three No.1 singles, following '(They Long to Be) Close to You' and preceding 'Please Mr. Postman.' Country singer Lynn Anderson covered the song and her version became her first hit when it reached No.2 on the US country singles charts in mid-1973.
20 Jul 1971
The
Carpenters
show Make Your Own Kind Of Music started a six week run on NBC-TV. A key concept of the series involved the alphabet. In the first week, Herb Alpert introduced the show, standing next to a big letter "A." During each week's show, the cast would work its way through the alphabet, ending the program with the letter "Z." Guest stars that appeared during the eight-episode series included Herb Alpert, Jose Feliciano, Dusty Springfield, and Helen Reddy.
16 Mar 1971
Winners at this years Grammy Awards included, Simon and Garfunkel who won Record of the year, Song of the year and Album of the year for
Bridge Over Troubled Water
. The
Carpenters
won Best new act and Best vocal performance for 'Close To You'.
10 Oct 1970
The
Carpenters
were at No.2 on the US singles chart with 'We've Only Just Begun.' The song was originally recorded by Smokey Roberds, under the name "Freddie Allen", and was used in a wedding-themed television commercial for Crocker National Bank in California in 1970.
25 Jul 1970
The
Carpenters
started a four week run at No.1 on the US singles chart with '(They Long To Be) Close To You'. The first of three US No.1's and 17 other Top 40 hits. The song was written in 1963 by Hal David and Burt Bacharach and was first offered to Herb Alpert, who said he didn't feel comfortable singing the line 'so they sprinkled moon dust in your hair'.
15 Nov 1969
The
Carpenters
released their debut album, Offering, (later re-named as Ticket To Ride) on A&M Records. It was a commercial failure and produced only one minor hit single, a ballad version of
The Beatles
song 'Ticket to Ride'.
11 Dec 1961
The
Marvelettes
went to No.1 on the US singles chart with 'Please Mr Postman'. The session musicians on the track included 22 year old
Marvin Gaye
on drums. The song gave The
Carpenters
a US No.1 and UK No.2 single in 1975.