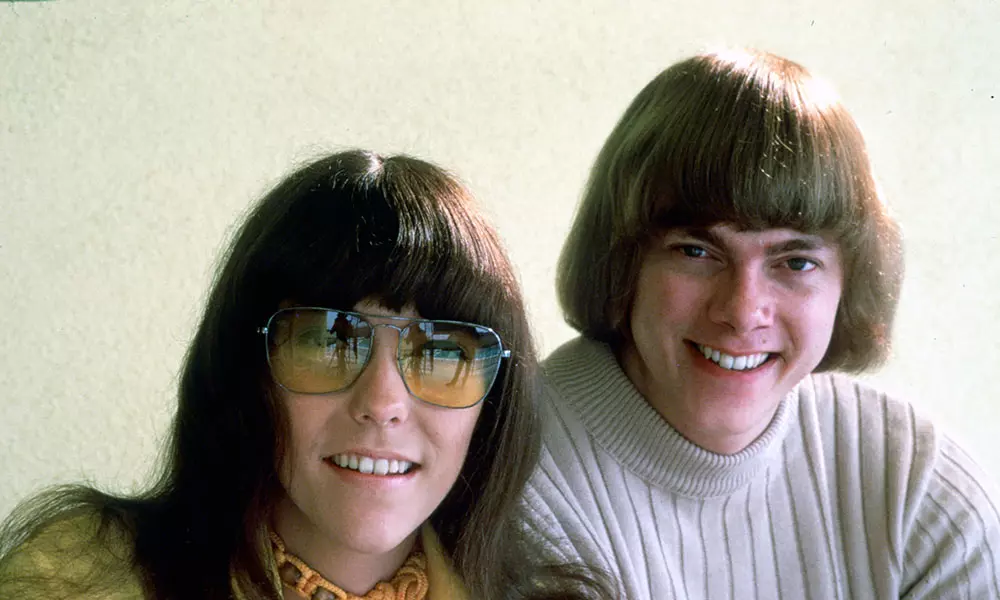 During their 14-year career, the Carpenters recorded 11 albums, 31 singles, five television specials, and a short-lived television series. Their career ended in 1983 after Karen's death from heart failure brought on by complications of anorexia.
Between 1970 and 1984 brother and sister Richard and Karen Carpenter had 17 top 20 hits, including "Goodbye to Love", "Yesterday Once More", "We've Only Just Begun," "(They Long to Be) Close to You" and "Rainy Days and Mondays".
They were one of the biggest-selling group's of the 70s. No fewer than ten of their singles went on to become million-sellers, and by 2005 combined worldwide sales of albums and singles well exceeded 100 million.
Not only did Karen Carpenter have the voice of an angel, she played drums, electric bass and guitar, (in 1975 Playboy magazine's annual opinion poll voted her the Best Rock Drummer of the year).
Born on March 2, 1950, Karen was barely into her teens when in 1963 the whole family moved to the Los Angeles suburb of Downey. By late 1964 Karen's musical talent was awakening, as a first-year student at Downey High School playing glockenspiel in the marching band, she was inspired by the drumming ability of band mate Frankie Chavez. She went home and started adding her own rhythm accompaniments to some of her records, using a pair of chopsticks and a set of bar stools as her drum kit. When her parents responded by buying her a proper drum set, she was able to play it instantly.
Richard Carpenter had shown an interest in music from a very early age. Born in New Haven, Connecticut, on October 15, 1946, he developed an eclectic taste in music. His first instrument was the accordion, and then piano. By the time he was 15, he was studying piano at Yale and was part of a trio, playing gigs in and around New Haven.
In 1965, Karen, her brother Richard, and his college friend Wes Jacobs, a bassist and tuba player, formed The Richard Carpenter Trio who appeared on the TV talent show Your All-American College Show. Karen and Richard later also performed as an ensemble known as Spectrum who focused more on a harmonious vocal sound.
A&M Records signed the Carpenters in 1969 and released their first album, Offering (later retitled Ticket to Ride). A cover of The Beatles "Ticket to Ride" became their first single, which peaked at No. 54 on the Billboard chart. Their next album, 1970's Close to You, featured two massive hit singles: "(They Long to Be) Close to You" and "We've Only Just Begun", which peaked at No.1 and No.2, respectively.
More chart-topping albums followed, Carpenters in 1971, A Song for You, Now & Then and Horizon. They covered great American Songbook classics, golden oldies, torch songs, and even a novelty or two, like "Calling Occupants of Interplanetary Craft."
The duo's brand of melodic pop produced a record-breaking run of hits not just in the US and UK, but they also became the best-selling international music act in the Japanese market, (now only beaten by Mariah Carey and The Beatles).
In 1979, Karen recorded a solo album with legendary producer Phil Ramone, consisting of adult-oriented and disco, up-tempo material with more sexual lyrics and the use of Karen's higher vocal register. Brother Richard and the executives at A&M didn't like the results and shelved the album, (which was finally released in 1996).
Karen dated a number of well-known men, including Mike Curb, Steve Martin and Alan Osmond. She then met and married real estate developer Thomas James Burris on August 31, 1980, who, it turned out, was mostly interested in her money. Burris concealed from Karen, who desperately wanted children, the fact that he had undergone a vasectomy. Their marriage ended after 14 months.
Karen's quest to be thin seems to have begun innocently enough just after high school graduation when she started the Stillman water diet. When she slimmed down from 145 to 120 lbs., her friends and family praised her weight loss. It was only after her weight continued to plummet, dropping to a skeletal 90 lbs. in the mid-1970s, that they realized her health was in jeopardy. By the autumn of 1975, Karen's failing health could no longer be ignored. In addition to her skeletal appearance, she was mentally and physically exhausted.
On December 17, 1982, Karen gave her last singing performance in the multi-purpose room of the Buckley School in Sherman Oaks, California, singing Christmas carols for her godchildren, their classmates and other friends.
On February 4, 1983, Karen intended to sign papers making her divorce with Tom Burris official. Shortly after waking up, she collapsed in her bedroom at her parents' home in Downey, California. Paramedics called to the scene by Karen's mother found her heart beating once every 10 seconds. She was taken to nearby Downey Community Hospital for treatment, whereby then in full cardiac arrest – she was pronounced dead 20 minutes later.
Karen's death raised awareness of the dangers of eating disorders, which had until then been little publicized or understood. Her family started the Karen A. Carpenter Memorial Foundation, which raised money for research on anorexia nervosa and eating disorders. Today the name of the organization has been changed to the Carpenter Family Foundation. In addition to eating disorders, the foundation now funds the arts, entertainment and education.