January 29th: The Biggest Music Headlines
Scroll down the page to see all the music headlines, stories and events for January 29 throughout music history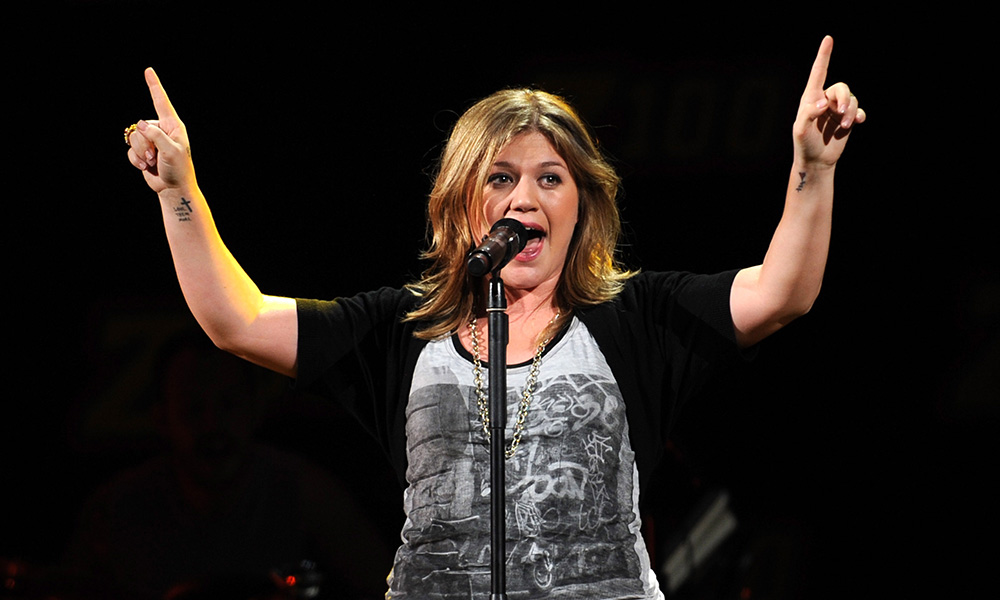 Kelly Clarkson Jumps 96 Chart Positions to No.1.
On this day in music, January 29, 2009, Kelly Clarkson broke US chart records with her single "My Life Would Suck Without You." During its first second week of release, the song jumped a staggering 96 positions on the Billboard Hot 100 – from No.97 to No.1. Clarkson, who rose to fame after winning the inaugural season of American Idol, previously topped the chart with 2002's "A Moment Like This," while six of her previous singles (including "Since U Been Gone" and "Because of You") landed in the US Top Ten.
In 1965, The Who made their UK TV debut on Ready Steady Go!. Per the band's request, the hand-picked audience only included teens dressed in the current Mod fashion.
In 1972, Concert for Bangladesh went to No.1 in the UK. The live triple album, which captured the first major benefit concert, featured performances by Bob Dylan, Ravi Shankar, Billy Preston, Eric Clapton, Ringo Starr, members of Badfinger, and George Harrison, who organized the event.
In 1992, Rock and Roll Hall of Famer Willie Dixon died at the age of 76. The highly-influential blues singer, songwriter, and guitarist wrote such standards as "I Can't Quit You Baby," "Hoochie Coochie Man," "I Just Want to Make Love to You," and "You Can't Judge a Book by the Cover," and served as an inspiration to bands like the Rolling Stones and Led Zeppelin.
In 1983, Australian new wave heroes Men At Work had simultaneous No.1s in the UK and US on both the singles and album charts with "Down Under" and Business As Usual, respectively. The last artist to achieve this feat was Rod Stewart in 1971.
In 1969, Fleetwood Mac scored their sole UK No.1 hit with the instrumental "Albatross," from the Peter Green-era of the band.
In 1967, it was an all-star lineup when Jimi Hendrix and The Who appeared at London's Saville Theater. Among many others, 20-year-old future guitar hero Brian May was in the audience.
In 1964, The Beatles spent the day recording German language versions of several of their hits at Paris' Pathé Marconi Studios. The event marked the band's only EMI session held outside of the UK.
Looking for more things that happened on this day in music?
Keep scrolling for all of the headlines for January 29.
BORN ON JANUARY 29:
1943: Tony Blackburn (DJ)
1944: Andrew Loog Oldham (manager, producer)
1947: David Byron (Uriah Heep)
1950: Max Carl (Grand Funk Railroad)
1952: Tommy Ramone (Ramones)
1954: Rob Manzoli (Right Said Fred)
Looking for more artists born on this day?
Keep scrolling for all of our January 29 birthdays.
---
What to find another day?
---
January 29th
29 Jan 2021
American electric blues, Texas blues and jazz blues tenor saxophonist, Grady Gaines died age 86. He performed and recorded with
Little Richard
in the 1950s and later worked with Little Willie John,
Sam Cooke
, Jackie Wilson and Joe Tex.
29 Jan 2021
Ed Sheeran
had paid £28.2 million in tax in the past year according to The Sunday Times Tax List 2021, which features the UK's 50 biggest taxpayers. The singer had earned a total of £70 million through his various companies in 2020.
29 Jan 2021
Hilton Valentine, original guitarist and founding member of The Animals, died at the age of 77. In 1963 he was recruited to join The Animals alongside Chas Chandler, Alan Price and John Steel. He went on to play on classics like 'Baby Let Me Take You Home', 'Don't Let Me Be Misunderstood', 'We Gotta Get Out of This Place', 'It's My Life' and 'Don't Bring Me Down', and on the band's landmark, trans-Atlantic number one cover of the traditional folk song 'The House of the Rising Sun'.
29 Jan 2021
Grammy-winning English pianist, orchestrator, music producer and songwriter Jeremy Lubbock died aged 89. He moved to Los Angeles with his family in 1977, and worked on
Joni Mitchell
's album Mingus, and Minnie Riperton's final album Minnie. In following years, he worked with David Foster, Quincy Jones, Chicago, and many others. He won Grammy Awards for his arrangements on Chicago's 'Hard Habit to Break' in 1984, and for
Celine Dion
's 'When I Fall in Love'.
29 Jan 2019
American singer, songwriter James Ingram died after a long battle with brain cancer age 66. He was a two-time Grammy Award-winner and charted eight Top 40 hits on the US Billboard Hot 100. He had two No.1 singles, the first, a duet with fellow R&B artist Patti Austin, 1982's 'Baby, Come to Me' and 'I Don't Have the Heart', which became his second No.1 in 1990. He also recorded the song 'Somewhere Out There' with Linda Ronstadt for the animated film An American Tail.
29 Jan 2016
Three weeks after his death,
David Bowie
lodged 12 albums in the UK top 40, equalling a record set by
Elvis Presley
in 1977. His last album Blackstar, spent a third week at No.1 with Best of Bowie, Hunky Dory and
Ziggy Stardust
all in the Top 10. Bowie's other albums in the top 40 include: Nothing Has Changed (5), Heroes (28), Diamond Dogs (30), Station to Station (32) and Scary Monsters (36).
29 Jan 2015
American poet, singer-songwriter, and actor Rod McKuen died aged 81. McKuen's translations and adaptations of the songs of Jacques Brel were instrumental in bringing the Belgian songwriter to prominence in the English-speaking world. McKuen's songs sold over 100 million recordings worldwide. His songs have been performed by such diverse artists as Barbra Streisand, Perry Como, Petula Clark, Waylon Jennings,
Johnny Cash
, Andy Williams, Dusty Springfield, Johnny Mathis and
Frank Sinatra
.
29 Jan 2015
Taylor Swift
was seeking to trademark phrases including "this sick beat" and "we never go out of style", in the United States. If granted, the trademark would stop others from using her lyrics on items such as t-shirts, stickers and bags. Other phrases she wants to protect included "nice to meet you, where you been" and "party like it's 1989".
29 Jan 2014
More than 100,000 people signed a petition to deport Canadian citizen Justin Bieber out of America. The campaign followed his arrest earlier this month for drunk driving and driving without a valid license. According to US Government protocol, once a petition has over 100,000 signatures, it must be reviewed by White House staff, who will have to respond to it.
29 Jan 2010
Sly Stone filed a $50m (£30.9m) legal claim against his former manager, alleging fraud and 20 years of stolen royalties. The 66-year-old funk musician of the 1970s group Sly and the Family Stone, claimed in the Los Angeles Superior Court that Jerry Goldstein diverted millions in royalties to fund a lavish lifestyle.
29 Jan 2009
Singer-songwriter John Martyn died in hospital in Ireland at the age of 60. The folk, blues and funk artist was widely regarded as one of the most soulful and innovative singer-songwriters of his generation and had been cited as an influence by artists as varied as
U2
, Portishead and
Eric Clapton
.
29 Jan 2009
Former American Idol winner Kelly Clarkson made the largest ever leap to number one in US chart history, rising 96 places. Her single, My Life Would Suck Without You, rose from 97 to the top of the Billboard chart after selling 280,000 downloads in its first week of release. A clip from the video for the single was premiered in the commercial break of that week's episode of American Idol.
29 Jan 2006
Arctic Monkeys went to No.1 on the UK album chart with their debut album 'Whatever People Say I Am That's What I'm Not'. The Sheffield-based bands album became the fastest-selling debut in chart history after shifting more than 360,000 copies in its first week of release. The album's title was taken from a line from the novel Saturday Night and Sunday Morning written by Alan Sillitoe.
29 Jan 2001
A New York based data company issued a chart listing sales of posthumous albums. The idea came about after radio stations wanted to distinguish between proper recordings when the artists were alive and CD's released after they died. Mike Shalett founder of SoundScan said there was only one problem. What to call the chart. The Top 5 chart had
The Doors
at No.5, Eva Cassidy at 4,
Jimi Hendrix
at 3,
Bob Marley
at 2 and 2Pac at No.1.
29 Jan 1996
George Michael
had the UK No.1 single with 'Jesus To A Child', the singers sixth UK No.1 as a solo artist and the first single from his come-back album 'Older', (after lengthy litigation with his record company).
29 Jan 1992
American blues singer and guitarist Willie Dixon died of heart failure. He wrote the classic songs 'You Shook Me', 'I Can't Quit You Baby', 'Hoochie Coochie Man', 'I Just Want to Make Love to You' and 'Little Red Rooster'. Dixon was a major influence on The
Rolling Stones
,
Cream
, The Yardbirds and
Led Zeppelin
.
29 Jan 1989
Marc Almond started a four-week run at No.1 on the UK singles chart with 'Something's Gotten Hold Of My Heart' with guest vocals from Gene Pitney, (who also had a hit with the song in 1967).
29 Jan 1983
Australian group Men At Work went to No.1 on the British and American singles and album charts simultaneously with 'Down Under' and 'Business As Usual'. The last artist to achieve this was
Rod Stewart
in 1971.
29 Jan 1979
16-year-old Brenda Spencer killed two people and wounded nine others when she fired from her house across the street onto the entrance of San Diego's Grover Cleveland Elementary School. Spencer fired the shot's from a .22-caliber rifle her father had given her for Christmas. When asked why she did it, she answered 'I don't like Mondays.' The Boomtown Rats went on to write and recorded a song based on the event.
29 Jan 1972
29 Jan 1969
Fleetwood Mac
had their only UK No.1 single with the instrumental 'Albatross' which was composed by guitarist Peter Green. 'Albatross' is the only
Fleetwood Mac
composition with the distinction of having inspired a Beatles song, 'Sun King' from 1969's
Abbey Road
.
29 Jan 1968
The Doors
appeared at The Pussy Cat A Go Go, Las Vegas. After the show singer
Jim Morrison
taunts a security guard in the parking lot by pretending to smoke a joint, resulting in a fight. The police arrive who arrest Morrison and charge him with vagrancy, public drunkenness, and failure to possess sufficient identification.
29 Jan 1967
Jimi Hendrix
and
The Who
appeared at The Saville Theatre, London, England. 20 year-old future
Queen
guitarist Brian May was in the audience.
29 Jan 1965
The Who
made their first appearance on UK TV show Ready Steady Go! To project the desired image, the hand-picked audience consisted only of teens dressed in the current Mod fashion.
29 Jan 1964
The Beatles
spent the day at Pathe Marconi Studios in Paris, France,
The Beatles
' only studio recording session for EMI held outside the UK. They recorded new vocals for 'She Loves You', 'I Want to Hold Your Hand' and 'Can't Buy Me Love', after EMI's West German branch persuaded Brian Epstein that they would be unable to sell large quantities of records in Germany unless they were recorded in the German language. A translator coached John, Paul, and George, although their familiarity with the German language from their Hamburg days made things much easier.
29 Jan 1961
Bob Dylan
achieved his dream of meeting his idol Woody Guthrie when Guthrie was on weekend release from hospital where he was being treated for Huntington's Chorea. Dylan told him; 'I was a Woody Guthrie jukebox'. Guthrie gave Dylan a card which said: 'I ain't dead yet'.
Born on this day in music
29 Jan 1985
English singer-songwriter Rag'n'Bone Man. His first hit single, 'Human', was released in 2016, and his debut album of the same name was released in February 2017 and peaked at number one on the UK chart. At the 2017 Brit Awards, he was named British Breakthrough Act and received the Critics' Choice Award.
29 Jan 1964
Roddy Frame, guitarist, singer, songwriter with British group Aztec Camera, who had the 1988 UK No.3 single 'Somewhere In My Heart'.
29 Jan 1962
Marcus Verne from British group Living In A Box, who had the 1987 UK No.5 single 'Living In A Box'.
29 Jan 1961
Dave Baynton-Power, drummer from English rock band James who scored the 1991 UK No.2 single 'Sit Down' and the hits 'Laid' and 'Come Home'.
29 Jan 1961
Eddie Jackson bassist with American progressive heavy metal band
Queen
sryche. Their 1994 album 'Promised Land' went top 3 in the US,
29 Jan 1961
Pauline Henry, singer. who had the 1993 UK solo No.12 single with the Bad Company song 'Feel Like Making Love', and the 1990 UK No.6 single with The Chimes, 'I Still Haven't Found What I'm Looking For'.
29 Jan 1954
Rob Manzoli singer from Right Said Fred who had the 1991 US No.1 & UK No.2 single 'I'm Too Sexy', 1993 UK No.1 album 'Up'.
29 Jan 1953
Louie Perez, American songwriter, percussionist and guitarist with from Los Lobos (Spanish for "the Wolves"), who had the 1987 UK & US No.1 single with their cover version of 'La Bamba', which was a 1958 hit for Ritchie Valens and one of early rock and roll's best-known songs.
29 Jan 1953
Peter Baumann who formed the core line-up of the pioneering German electronic group Tangerine Dream with Edgar Froese and Christopher Franke in 1971.
29 Jan 1952
Thomas Erdelyi, (Tommy Ramone), Hungarian drummer with the
Ramones
who had the 1977 UK No.22 single 'Sheena Is A Punk Rocker'. Erdelyi also worked as a record producer and was an assistant engineer for the production of the
Jimi Hendrix
album Band of Gypsys. He died on July 11, 2014 following unsuccessful treatment for bile duct cancer.
29 Jan 1950
Max Carl, American rock singer, keyboardist, guitarist and songwriter. He is the co-lead singer of the classic rock band Grand Funk Railroad and spent several years as the keyboardist and lead singer for the southern rock band 38 Special.
29 Jan 1947
David Byron, singer, from English rock band Uriah Heep who had the 1975 UK No.7 album Return To Fantasy. They have sold over 40 million albums worldwide. Byron died on 28th February 1985.
29 Jan 1944
29 Jan 1943
Tony Blackburn, DJ on Radio Caroline and the first D.J. on BBC
Radio 1
(The first song played was 'Flowers In The Rain by The Move'). Blackburn was crowned 'King of the jungle' in 2003 after winning on the UK TV show 'I'm A Celebrity... Get Me Out Of Here' set in the Australian outback.
29 Jan 1938
29 Jan 1933
French singer and guitarist Sacha Distel who had the 1970 UK No.10 single 'Raindrops Keep Falling On My Head.' Distel died after a long battle with deteriorating health on 22nd July 2004.
29 Jan 1920
American R&B pianist, songwriter, producer, Paul Gayten. He played piano on the
Chuck Berry
hit 'Carol'. In 1956 he the biggest hits of his own career with 'The Music Goes Round and Round'. He worked for Chess Records as a talent scout, producer, promotion man, songwriter and recording artist. He died age 71 on March 26, 1991.