January 5th: The Biggest Music Headlines
Scroll down the page to see all the music headlines, stories and events for January 5 throughout music history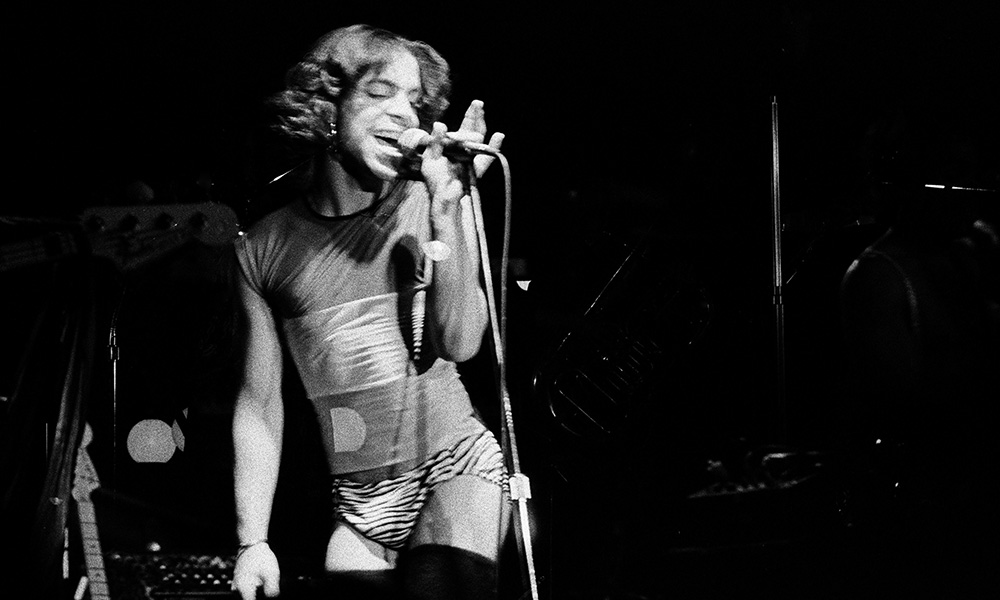 Prince Makes His Live Debut
On this day in music, January 5, 1979, 20-year-old Prince played his first public show at Minneapolis' Capri Theater, for what was sure to have been a lucky audience. While the artist had already signed a three-album deal with Warner Bros. Records and released his debut, 1978's For You, he still had yet to take to the stage. Ahead of the concert, Prince assembled a band featuring bassist André Cymone, guitarist Dez Dickerson, drummer Bobby Z, and keyboardists Gayle Chapman and Doctor Fink – several of whom would be part of The Revolution. Although Prince would soon be known for his live performances, Warner Bros. executives who attended the hometown show weren't convinced and felt that the young artist needed continued development.
In 1973, Bruce Springsteen released his debut, Greetings from Asbury Park, N.J. Although the album didn't make a splash on the charts, its artistry was recognized by critics. Today, it is ranked by several outlets as one of the greatest debuts of all time, while it produced the fan favorite, "Blinded By the Light" (Manfred Mann's cover topped the US charts several years later).
In 1965, The Supremes kicked off the new year with a three-day session at Hitsville U.S.A., where they recorded "Stop! In the Name of Love." Upon its release the following month, the song went straight to the top of the US pop chart.
In 1979, double bassist, pianist, composer, and bandleader, Charles Mingus, died at the age of 56. A major innovator in the jazz idiom, Mingus produced undisputed masterpieces like 1963's Black Saint and the Sinner Lady.
In 1998, tragedy struck when Sonny Bono died in a skiing accident. The singer, songwriter, and TV show host wore many hats, even becoming a U.S. congressman in the mid-'90s. Bono rose to fame as one half of the husband-and-wife duo, Sonny & Cher. In 1965, they scored a No.1 hit in the US and UK with "I Got You Babe."
In 1991, heavy metal icons Iron Maiden topped the UK singles chart with "Bring Your Daughter To The Slaughter." The song was a late-period hit for the enduring band and proved their relevance in an era of changing tastes.
Looking for more things that happened on this day in music?
Keep scrolling for all of the headlines for January 5.
BORN ON JANUARY 5:
1923: Sam Phillips (Producer, Record Executive)
1934: Phil Ramone (Producer)
1949: George Brown (Kool & The Gang)
1950: Chris Stein (Blondie)
1966: Kate Schellenbach (Luscious Jackson)
Looking for more artists born on this day?
Keep scrolling for all of our January 5 birthdays.
---
What to find another day?
---
January 5th
5 Jan 2019
British musician Eric Haydock died age 75. He is best known as the original bass guitarist of The Hollies from December 1962 until July 1966. He was one of the first British musicians to play a Fender Bass VI, a six-string bass.
5 Jan 2016
Donald Fagen, lead singer and founder of Steely Dan, was arrested by New York police and charged with assaulting his wife at their home. Fagen, was accused of pushing Libby Titus into a marble window frame, knocking her to the ground, at their Manhattan apartment.
5 Jan 2010
American trumpeter, bandleader and producer Willie Mitchell died from a cardiac arrest age 81. He was best known for his Hi Records label of the 1970s, which released albums by a large stable of popular Memphis soul artists, including Mitchell himself, Al Green, O. V. Wright, Syl Johnson and Ann Peebles.
5 Jan 2004
Kinks singer Ray Davies was shot in the leg while on holiday in New Orleans. The 59-year-old singer-songwriter was shot when running after two men who stole his girlfriend's purse at gunpoint. Davies was admitted to the Medical Centre of Louisiana but his injuries were not considered serious. New Orleans police said one person had been arrested, and police were still searching for the second.
5 Jan 2003
Green Day
's lead singer Billie Joe Armstrong was arrested on suspicion of drink driving after being stopped in California speeding in a black BMW convertible. He failed a breath test and was taken to Berkeley county jail and was later released on $1,053 (£657) bail.
5 Jan 2001
Kirsty MacColl was laid to rest at a private funeral ceremony, ahead of a public memorial to pay tribute to her life. The singer songwriter was killed in a boating accident on 18th Dec 2000.
5 Jan 1998
American singer, producer, and politician Sonny Bono was killed in a skiing accident at a resort near Lake Tahoe, aged 62. Bono who was one half on Sonny and Cher scored the 1965 UK & US No.1 single 'I Got You Babe' and had become a US Congressman. The United States Sonny Bono Copyright Term Extension Act of 1998, which extended the term of copyright by 20 years, was named in honor of Bono when it was passed by Congress nine months after his death.
5 Jan 1998
Ken Forssi bassist with Love died of brain cancer aged 55. In 1965 he met Arthur Lee, who then had a band called Grass Roots and was greatly impressed. Lee hired Forssi as bassist, and soon officially formed
Love
. Love scored the 1966 US No.33 single '7 And 7 Is', 1968 UK No.24 album Forever Changes.
5 Jan 1991
Iron Maiden
went to No.1 on the UK singles chart with 'Bring Your Daughter To The Slaughter.' The second single from their album No Prayer for the Dying, became the lowest selling No.1 since 1960, with just over 42,000 copies sold in its first week. The song was originally recorded and released by Bruce Dickinson for the soundtrack to A Nightmare on Elm Street 5: The Dream Child, but
Iron Maiden
bassist Steve Harris liked it so
Iron Maiden
re-recorded it.
5 Jan 1989
Winners in music weekly Melody Makers Readers Poll results, The Mission won best band, best live act, best single and best album. Morrissey won best male singer, Julianne Regan from All About Eve best female singer, worst LP went to Bros with 'Push' and best new band was won by House Of Love.
5 Jan 1980
David Bowie
appeared on Saturday Night Live Live from New York City performing 'The Man Who Sold the World', 'TVC 15' and 'Boys Keep Swinging' with a specially prepared backing group, including
Blondie
's Jimmy Destri (keyboards) and Klaus Nomi and Joey Arias (backing vocals).
5 Jan 1979
Prince
made his live debut at the Capri Theatre, Minneapolis. Warner Bros. executives attended the show but decided that
Prince
and the band needed more time to develop his music.
5 Jan 1979
American jazz double bassist, pianist, composer and bandleader Charles Mingus died aged 56. His compositions retained the hot and soulful feel of hard bop, drawing heavily from black gospel music and blues. His final project was 'Mingus' a collaboration with
Joni Mitchell
.
5 Jan 1976
Former
The Beatles
roadie Mal Evans was shot dead by police at his Los Angeles apartment. His girlfriend called police when she found Evans upset with a rifle in his hand; he pointed the gun at the police who opened fire. Friends later said that Evans was depressed about his separation from his wife Lil Evans — who had asked for a divorce before Christmas.
5 Jan 1973
Bruce Springsteen
released his debut album 'Greetings from Asbury Park, N.J.' Recorded in a single week the album only sold about 25,000 copies in the first year of its release. Both 'Blinded By The Light' and 'Spirit In The Night' were released as singles but neither made a dent in the charts. Manfred Mann's Earth Band later released a version of 'Blinded By The Light' on their album 'The Roaring Silence,' which reached No.1 on the US charts in 1977.
5 Jan 1969
During the band's first North American tour,
Led Zeppelin
played the last of four nights at the Whisky A Go-Go, Los Angeles, with Alice Cooper as the opening act. Zeppelin were billed as 'Led Zeppelin featuring
Jimmy Page
, formerly of the Yardbirds'.
5 Jan 1968
Jimi Hendrix
was jailed for one day in Stockholm, Sweden on drink charges after going berserk and destroying everything in his room at the Goteberg Hotel.
5 Jan 1967
Pink Floyd
and Eyes of Blue appeared at The
Marquee Club
London, England. Queen magazine said: "The two guitarists looked moody, the drummer thrashed wildly about and the lights kept flashing. After about twenty minutes it became very boring and after half an hour I left."
5 Jan 1965
The
Supremes
spent the first of three sessions at Hitsville U.S.A. (Studio A) recording 'Stop! In the Name of Love'. Written and produced by
Motown
's main production team Holland–Dozier–Holland, the song topped the US singles chart when it was released the following month.
5 Jan 1964
The
Rolling Stones
performed at the Ricky Tick club at the Olympia Ballroom in Reading, England. During the 1960s, the club was host to many important acts such as
The Who
,
Jimi Hendrix
,
Pink Floyd
and
Cream
. The Yardbirds were filmed performing in a recreation of the club built at MGM Studios in Borehamwood for Michelangelo Antonioni's 1966 film Blow-Up.
5 Jan 1961
The Beatles
played at Litherland Town Hall, Liverpool. In the audience are two members from Rory Storm & the Hurricanes: Johnny Guitar and
Ringo Starr
who have just returned from Hamburg, Germany.
Born on this day in music
5 Jan 1976
Matthew Walter Wachter, bassist Angels & Airwaves, 30 Seconds to Mars who had the 2018 album America peak at No.2 on the US chart and No.4 in the UK.
5 Jan 1970
Troy Van Leeuwen, American guitarist, Queens of the Stone Age and A Perfect Circle, (their debut album Mer De Noms became the highest ever debut for a rock band, with 188,000 copies sold in its first week). Leeuwen is also a member of the supergroup Gone Is Gone and has fronted his own projects, Enemy and Sweethead.
5 Jan 1970
Jeffrey Jey, singer, Italian group Eiffel 65, (1999 UK No.1 single 'Blue (Da Ba Dee'). The single was also No.1 in Norway, Austria, Finland, Germany and Denmark.
5 Jan 1969
Brian Warner, (Marilyn Manson), with American rock band Marilyn Manson who had the 1998 US No.1 album, Mechanical Animals. His stage name was formed from juxtaposing the names of two 1960s American cultural icons, Marilyn Monroe and convicted multiple murder Charles Manson.
5 Jan 1966
Kate Schellenbach, singer, Luscious Jackson, (1997 UK No.25 single 'Naked Eye').
5 Jan 1963
Grant Young, drummer with American alternative rock band Soul Asylum, who had the 1993 US No.5 and UK No.7 single 'Runaway Train' from their album Grave Dancers Union.
5 Jan 1960
Phil Thornalley, songwriter, vocals, guitar, from British band Johnny Hates Jazz who had the 1987 UK No.5 single and international success with 'Shattered Dreams'. Thornalley was also a member of
The Cure
. He was also the co-writer of Natalie Imbruglia 1997 word-wide hit 'Torn'.
5 Jan 1957
Maartin Allcock, English multi-instrumentalist musician and record producer who was a member of British folk rock band Fairport Convention and then Jethro Tull. Allcock died 16 September 2018 aged 61.
5 Jan 1950
Chris Stein co-founder and guitarist of the new wave band
Blondie
. They scored five UK No.1 singles including the 1979 UK & US No.1 single 'Heart Of Glass' and the 1978 world-wide No.1 album Parallel Lines. Stein is also an accomplished photographer.
5 Jan 1949
Joe Herndon, American R&B and soul singer, former bass singer of a version of doo-wop group The Spaniels and former bass singer for The Temptations (2003–15).
5 Jan 1949
George Brown, singer, Kool & The Gang, (1981 US No.1 & UK No.7 single 'Celebration', plus over 15 other UK Top 40 hits).
5 Jan 1941
Grady Thomas, a former member of the bands Parliament and Funkadelic. Thomas started out in the late 1950s as one of The Parliaments, a doo wop barbershop quintet led by George Clinton.
5 Jan 1940
Athol Guy, singer, from Australian folk-influenced pop quartet The Seekers who scored the 1965 UK No.1 single 'I'll Never Find Another You'. They were the first Australian group to achieve major chart and sales success in the UK and the US.
5 Jan 1934
US music producer and pioneer of digital recording, Phil Ramone, Ramone. He was regarded as one of the most successful producers in history, winning 14 Grammy awards and working with stars such as Ray Charles,
Bob Dylan
,
Elton John
and
Paul McCartney
. He produced the first major commercial release on CD,
Billy Joel
's 1982 album 52nd Street. Ramone died on 30 March 2013 aged 79.
5 Jan 1923
Sam Phillips, founder of Sun Records, the first label of
Elvis Presley
's recordings. Recorded Carl Perkins, Ike Turner, B.B. King, Jerry Lee Lewis. Phillips died on 30th July 2003.