July 16th: The Biggest Music Headlines
Scroll down the page to see all the music headlines, stories and events for July 16 throughout music history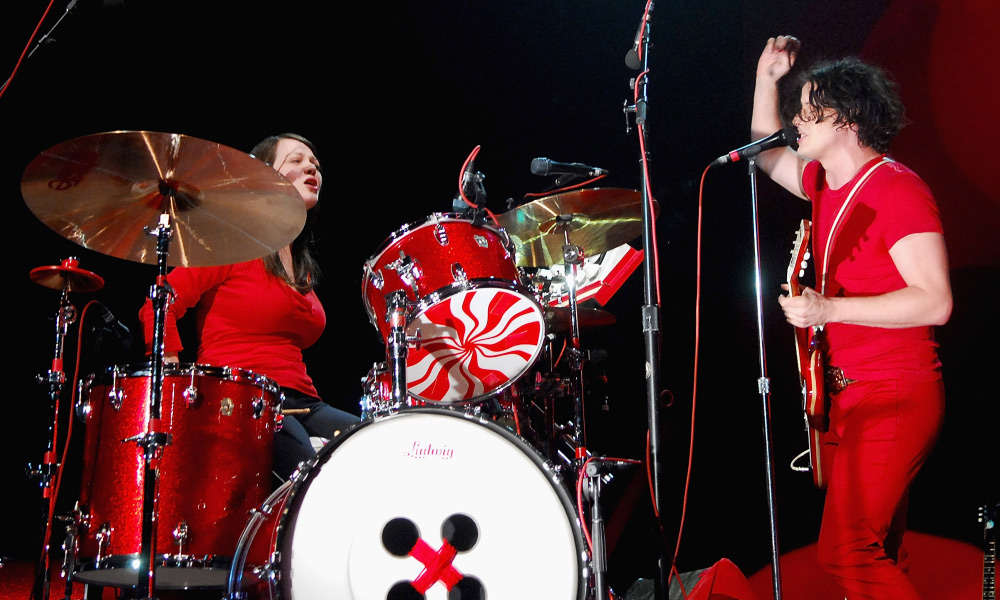 White Stripes Play World's Shortest-Ever Gig
On this day in music, July 16, 2007, Detroit alt-rock duo The White Stripes entered the record books by playing the shortest-ever live gig when they appeared at a Newfoundland venue called George Street during a Canadian tour. They played just a single note with a cymbal crash before exiting the stage. The "concert" was recognized by the Guinness Book Of Records in 2009 but the book's compilers dropped the category a year later after being swamped by applications for similar record-breaking attempts.
In 1966, British blues-rock supergroup Cream was formed. The influential power trio, which consisted of guitarist Eric Clapton, singer, and bassist Jack Bruce, and drummer Ginger Baker, only stayed together for two years and four months, but in that time they racked up one gold and two platinum albums.
In 2000, Coldplay scored their first chart-topping album in the UK with Parachutes. The British band's debut featured the hits "Yellow," "Trouble," and "Don't Panic," and later earned them a Grammy for Best Alternative Music Album.
In 2016, singer and visual artist Alan Vega died aged 78. Born Boruch Alan Bermowitz in New York City, Vega is best remembered for his role alongside partner Martin Rev in the pioneering electronic proto-punk duo, Suicide, whose 1977 self-titled debut album appeared in Rolling Stone's 500 Greatest Albums of All Time list in 2020.
In 1962, The Beach Boys signed a seven-year contract with Capitol Records after being rejected by the Dot and Liberty labels. Their first hit for the company was "Surfin' Safari," which peaked at No.14 on the Billboard Hot 100. It was recorded a few months before they joined Capitol during their second-ever trip to the recording studio.
In 1955, 19-year-old Elvis Presley entered the US charts for the first time when his distinctive take on bluesman Arthur Gunter's "Baby, Let's Play House" landed at the No.15 spot in Cash Box magazine's country chart. Presley's version, recorded for Sun Records, marked the first time he featured his much-imitated hiccup-like vocal style.
In 2014, the revered American blues guitarist Johnny Winter died aged 70. The Texas-born musician (and elder brother of keyboard wizard Edgar Winter) picked up a trio of Grammy awards for three albums he produced for blues icon Muddy Waters between 1977 and 1981.
Looking for more things that happened on this day in music?
Keep scrolling for all of the headlines for July 16.
BORN ON JULY 16:
1939: Denise LaSalle
1941: Desmond Dekker
1952: Mark McEntee (Divinyls)
1952: Stewart Copeland (The Police)
1964 Polly Hancock (Popinjays).
1971: Edward Joel Kowalczyk (Live)
1978: TJ (3T)
1990: Wizkid
1996: Luke Hemmings (5 Seconds of Summer)
1996: Kevin Abstract (Brockhampton)
Looking for more artists born on this day?
Keep scrolling for all of our July 16 birthdays.
---
What to find another day?
---
July 16th
16 Jul 2020
Drummer Jamie Oldaker, whose career included stints alongside
Eric Clapton
and Peter Frampton, died of cancer at the age of 68. In 1974, Oldaker played on Clapton's 461 Ocean Boulevard, the first of 11 Clapton albums to feature Oldaker on drums. Oldaker also played alongside Leon Russell and Bob Seger, with Ace Frehley and Peter Frampton, and appeared on recordings with artists as diverse as the Bee Gees, Stephen Stills and the Bellamy Brothers.
16 Jul 2019
Metallica
brought their WorldWired tour to Finland drawing almost one per cent of the country's population in a record-breaking concert. The show at Kantola Event Park in the city of Hämeenlinna was attended by over 55,000 people. That's about one per cent of Finland's entire population of more than 5.5 million people.
16 Jul 2017
DMX was charged with tax fraud in the US after allegedly hiding millions of dollars in earnings. The rapper, whose real name is Earl Simmons, was arrested in New York. Law enforcement officers claimed he owed millions of dollars in taxes from songs and said he "went out of his way" to break the law. He faced up to 44 years in prison if he was found guilty on all 14 counts.
16 Jul 2016
American vocalist, punk icon and visual artist Alan Vega died aged 78. Primarily known for his work with the electronic protopunk duo Suicide. The duo released their influential self-titled debut in 1977, one of Rolling Stone's 500 Greatest Albums of All Time.
16 Jul 2015
A sports car belonging to US hip-hop pioneer Grandmaster Flash which contained valuable vintage records was mistakenly given away by a parking attendant. The incident happened in a Manhattan garage where the musician returned to pick up the vehicle after nearly two hours, the attendant said he had given it to someone else thinking he was the owner.
16 Jul 2014
Blues guitarist Johnny Winter died at the age of 70 in Zurich, just days after playing at the Lovely Days Festival in Austria. Winter, who was instantly recognisable by his long white hair, worked with some of the greatest bluesmen, producing several albums for his childhood hero Muddy Waters - with whom he won a number of Grammys.
16 Jul 2012
Jon Lord
, the former keyboard player with
Deep Purple
, died aged 71. Lord was a co-founder of
Deep Purple
in 1968 and co-wrote many of the group's songs including Smoke On The Water. He also played with bands including Whitesnake. He had been receiving treatment for pancreatic cancer since last August.
16 Jul 2012
Hungarian-American bassist, Bob Babbitt died aged 74, from brain cancer. He is most famous for his work as a member of
Motown
Records' studio band, the Funk Brothers, from 1966 to 1972. Babbitt's most notable bass performances include 'Signed, Sealed, Delivered I'm Yours' by
Stevie Wonder
, 'War' by Edwin Starr, 'The Tears of a Clown' by
Smokey Robinson
& the Miracles, 'Mercy Mercy Me (The Ecology)' and 'Inner City Blues' by
Marvin Gaye
, 'Band Of Gold' by Freda Payne, 'Ball of Confusion (That's What the World Is Today)', and 'Just My Imagination (Running Away With Me)' by The
Temptations
.
16 Jul 2012
American country music singer Kitty Wells died in Madison, Tennessee, from complications of a stroke. She was 92. Her 1952 hit 'It Wasn't God Who Made Honky Tonk Angels', made her the first female country singer to top the US country charts, and turned her into the first female country star. Her Top 10 hits continued until the mid-1960s, inspiring a long list of female country singers who came to prominence in the 1960s.
16 Jul 2012
16 Jul 2009
A stage being built in France for a concert by
Madonna
collapsed, killing two workers and injuring six others. Technicians had been setting up the stage at the Velodrome stadium in Marseille when the partially-built roof fell in, bringing down a crane.
Madonna
was performing on her Sticky and Sweet tour in Udine, Italy, when she received news of the incident and was said to be "devastated" by the news.
16 Jul 2007
The White Stripes played their 'shortest live show ever' at George Street, St. John's, Newfoundland, Canada. Jack White played a single C# note accompanied by a bass drum/crash cymbal hit from Meg. At the end of the show, Jack announced, "We have now officially played in every province and territory in Canada." They then left the stage and performed a full show later that night in St John's.
16 Jul 2007
Three masked men, carrying sledgehammers and crowbars, broke into the home of former Atomic Kitten singer Kerry Katona and escaped with goods including the singers BMW M5 sports car, two laptops, two gaming machines and two televisions. The robbers held a knife to the neck of the former pop star during the raid on her home in Wilmslow, Cheshire.
16 Jul 2001
Robbie Williams started a two week run at No.1 on the UK singles chart with 'Eternity / The Road To Mandalay.' The 4th No.1 for the former
Take That
singer.
16 Jul 2000
Coldplay
went to No.1 on the UK album chart with their debut release Parachutes. The release spawned the hit singles 'Shiver', 'Yellow', 'Trouble', and 'Don't Panic' and won the Grammy Award for Best Alternative Music Album in 2002.
16 Jul 2000
Matchbox Twenty went to No.1 on the US singles chart with 'Bent.' The single was taken from their second album Mad Season.
16 Jul 2000
The Corrs presented a petition to the European Commission demanding legislation to end piracy on the Internet. The Manic Street Preachers and The
Spice Girls
also added their names to the petition.
16 Jul 1995
Rap singer Queen Latifah was the victim of a car-jacking attempt that went wrong, leaving her bodyguard shot and wounded.
16 Jul 1995
Wayne Osmond from The
Osmonds
underwent a brain tumour operation at Duke University Medical Centre, North Carolina.
16 Jul 1993
The first of the three day Phoenix festival in England started, featuring Sonic Youth, Faith No More, The Black Crowes, Julian Cope, Pop Will Eat Itself,
Radiohead
, Living Colour, Manic Street Preachers, Pulp, tickets £49.
16 Jul 1981
US singer-songwriter Harry Chapin, who had success in the 70s with 'Taxi', 'W-O-L-D' and a No. 1 'Cat's In The Cradle', was killed aged 38 suffering a cardiac arrest while driving on a New York expressway. His car was hit from behind by a tractor-trailer, causing the gas tank to explode.
16 Jul 1977
Shaun Cassidy went to No.1 on the US singles chart with 'Da Doo Ron Ron', his only US No.1. Shaun is the half brother of David Cassidy.
16 Jul 1970
Pink Floyd
recorded a show at the BBC Paris Cinema, in London, England for broadcast on the
John Peel
Sunday Concert, on BBC
Radio 1
(broadcast 19 July of this year.)
16 Jul 1969
During recordings for their
Abbey Road
album,
The Beatles
worked on two new
George Harrison
songs, 'Here Comes The Sun' and 'Something.' Harrison was inspired to write 'Here Comes The Sun' when taking a day off from Apple business and spending the day walking around the garden at
Eric Clapton
's house.
16 Jul 1967
Joni Mitchell
, Leonard Cohen, Judy Collins, Janis Ian, David Blue, Mike Settle, Tom Paxton and Eric Andersen all appeared at the Newport Folk Festival in Newport, Rhode Island.
16 Jul 1966
Jack Bruce
,
Ginger Baker
and
Eric Clapton
formed
Cream
. The three piece group only lasted two years, leaving behind some classic recordings including 'Sunshine of Your Love,' 'Badge,' 'Strange Brew,' and 'White Room.'
16 Jul 1962
The Beach Boys
signed to Capitol Records in the US, their first hit was in September this year with 'Surfin' Safari.' Written by Brian Wilson and Mike Love, The Beach Boys first recorded the song at World Pacific Studios on February 8, 1962 in what was the band's second ever recording session.
16 Jul 1955
Elvis Presley
made his first appearance on the national charts when 'Baby, Let's Play House' entered the Cash Box country charts at No.15. Written by Arthur Gunter and recorded by him in 1954, Presley's version differs greatly from the original: Elvis started the song with the chorus, where Gunter began with the first verse, and he replaced Gunter's line "You may get religion" with the words "You may have a Pink Cadillac", referring to his custom-painted 1955 Cadillac that had been serving as the band's transportation at the time.
Born on this day in music
16 Jul 1996
American rapper, singer-songwriter Clifford Ian Simpson well known by his stage name Kevin Abstract, and a founding member of Brockhampton who had the 2018 US No.1 album Iridescence.
16 Jul 1996
Luke Hemmings, guitarist and lead vocalist for the Australian rock band 5 Seconds of Summer. The Australian rock band achieved the biggest first-week sales for a debut album by a group since Daughtry's self-titled album in 2006. 5 Seconds of Summer were also the first Australian act to achieve a US No.1 album with their debut album.
16 Jul 1990
Nigerian songwriter and performer Wizkid who started his musical career at age 11, releasing a collaborative album with Glorious Five. His work and contribution to the Nigerian Music Industry has earned him several achievements, including a BET Award, a MOBO Award.
16 Jul 1978
TJ, vocals, 3T, (1996 UK No.2 single 'Anything').
16 Jul 1971
Edward Joel Kowalczyk, singer, from American rock band Live who achieved worldwide success with their 1994 album Throwing Copper, which sold eight million copies in the US.
16 Jul 1964
Polly Hancock, guitar, vocals, Popinjays, (1990 UK album 'Bang Up To Date With The Popinjays').
16 Jul 1952
American musician, multi-instrumentalist and composer Stewart Copeland best known as the drummer for
The Police
and for his film music soundtracks. He was also a member of Curved Air who had 1971 UK No.4 single 'Back Street Luv'. The Police scored the 1983 UK & US No.1 single 'Every Breath You Take' plus four other UK No.1 singles.
16 Jul 1952
Mark McEntee, Australian musician and former guitarist for the Australian rock band, Divinyls who had the 1991 US No.4 & UK No.10 single, 'I Touch Myself'. McEntee also worked with Australian band Air Supply.
16 Jul 1947
Thomas Boggs, drums, The Box Tops, (1967 US No.1 & UK No.5 single 'The Letter').
16 Jul 1941
Desmond Dekker, Jamaican singer, (with The Aces, 1969 UK No.1 & US No.9 single 'Israelites'). Died May 25, 2006.
16 Jul 1940
Tony Jackson, bass, vocals, The Searchers, (1964 UK No.1 & US No.13 single 'Needles And Pins'). Jackson on died 18th August 2003.
16 Jul 1939
Blues/R&B singer Denise LaSalle. Her first hit 'Trapped By A Thing Called Love,' topped the R&B chart and peaked at No.13 on the Hot 100 in 1971. She died January 8, 2018 age 83.
16 Jul 1927
Joe Guercio, American musical director and conductor of Elvis Presley's band from 1970 until the legend's death in 1977. He conducted the majority of Elvis concerts, and also worked with Diana Ross, Patti Page and many others. Guercio died on 4 January 2015.