July 2nd: The Biggest Music Headlines
Scroll down the page to see all the music headlines, stories and events for July 2 throughout music history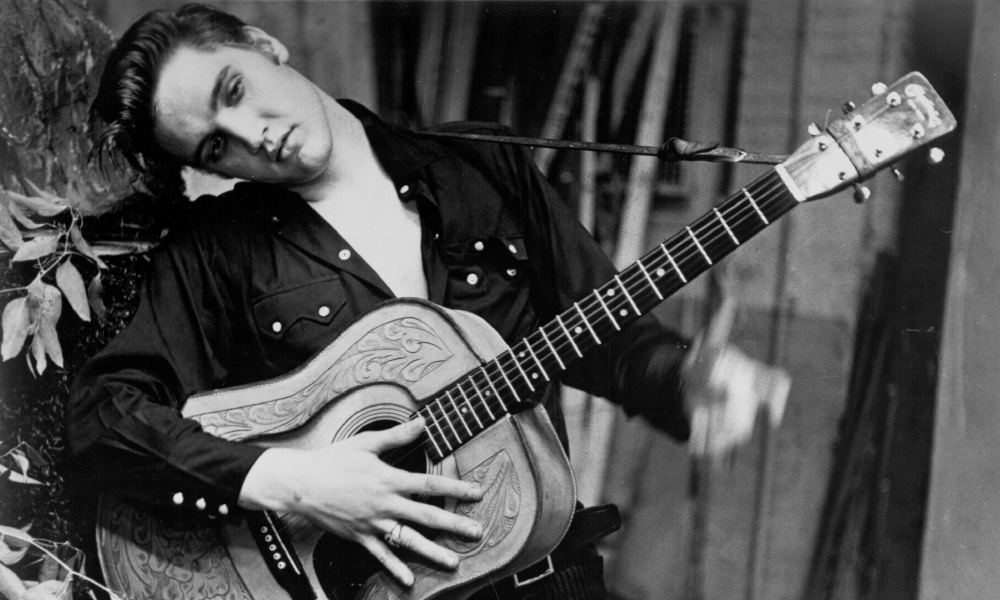 Elvis Records 'Hound Dog'
In 1956, Elvis Presley recorded one of his signature hits, "Hound Dog," at New York's RCA Studios. Written by Leiber and Stoller, the song was first released in 1953 by blues star Big Mama Thornton. Two years later, Las Vegas lounge act Freddie Bell and the Bell Boys recorded their own rendition, performing it in front of a young Elvis when he made his first trip to Sin City. The rising star was immediately taken with the song and began adding it to his set list – including two notorious performances on live TV. Released less than two weeks later, the track became his best-selling single, spending 11 weeks atop the Billboard Hot 100 – a record-breaking streak at the time. The song also topped the country and R&B charts.
In 1971, Freddie Mercury, Brian May, Roger Taylor, and John Deacon played their first show together as Queen. The gig, at England's Surrey College, would launch their legendary 20-year career.
In 1969, after nearly three years together, Mitch Mitchell, Noel Redding, and Jimi Hendrix went their separate ways, effectively ending the reign of the Jimi Hendrix Experience. The split came just days after the band performed their final show together at the Denver Pop Festival. Hendrix would go on to establish the Band of Gypsys before his untimely death in September 1970.
In 1988, with the success of "Dirty Diana," Michael Jackson set a new US chart record – becoming the first artist to have five No.1 singles from one album. His seventh studio LP, Bad, also produced such hits as "The Way You Make Me Feel," "Man in the Mirror," "I Just Can't Stop Loving You," and the title track.
In 2001, Liverpool's Speke Airport was renamed John Lennon Airport, after the late Beatles co-founder and famous Liverpudlian.
Looking for more things that happened on this day in music?
Keep scrolling for all of the headlines for July 2.
BORN ON JULY 2:
1936: Tom Springfield (The Springfields)
1937: Dee Palmer (Jethro Tull)
1939: Paul Williams (The Temptations)
1949: Roy "The Professor" Bittan (E Street Band)
1952: Gene Taylor
1991: Burna Boy
Looking for more artists born on this day?
Keep scrolling for all of our July 2 birthdays.
---
What to find another day?
---
July 2nd
2 Jul 2018
Alan Longmuir from Scottish pop band Bay City Rollers died aged 70 after contracting an illness while on holiday in Mexico. The Rollers had the 1975 UK No.1 single 'Bye Bye Baby', plus 11 other UK Top 20 singles', and the 1976 US No.1 single 'Saturday Night'.
2 Jul 2015
Buddy Holly
's widow, Maria Elena Holly, announced that she had entrusted the publishing rights to her late husband's influential catalog to the artist's performance rights group, BMG. The company was now authorised to administer royalties worldwide of nearly all of
Buddy Holly
's recordings.
2 Jul 2008
The gravestone of former
Joy Division
frontman
Ian Curtis
was stolen. Cheshire Police said his memorial stone was taken from where he is buried in Macclesfield Cemetery. Officers were appealing for anyone with information on its whereabouts, detectives said the stone, had the inscription '
Ian Curtis
18 - 5 - 80' and the words 'Love Will Tear Us Apart'.
2 Jul 2007
Lyricist Hy Zaret, who wrote the words for the song 'Unchained Melody' died at his home in Westport, Connecticut, aged 99. The song (which does not feature the word "unchained"), has been recorded over 300 times. Zaret co-wrote the song with film composer Alex North for the 1955 prison film Unchained. The
Righteous Brothers
' 1965 version was produced by Phil Spector.
2 Jul 2005
The world's biggest music stars united in concerts around the world to put pressure on political leaders ahead of the G8 summit to tackle poverty in Africa. Concerts in 10 cities, including London, Philadelphia, Paris, Berlin, Johannesburg, Rome and Moscow played to hundreds of thousands of people. A TV audience of several hundred million watched the gigs. In London
Pink Floyd
,
The Who
,
Madonna
,
U2
,
Coldplay
, Sting, The Scissor Sisters, Keane, and
Paul McCartney
performed. Philadelphia saw, Destiny's Child, Jay-Z and
Bon Jovi
, Canada,
Bryan Adams
and
Neil Young
headlined, Bjork headlined in Tokyo and
Green Day
played in Berlin.
2 Jul 2001
Liverpool Airport at Speke was renamed
John Lennon
Airport. Yoko Ono was present to unveil a new logo that included the late Beatle's famous self- portrait and the words, 'Above Us Only Sky' taken from his '
Imagine
' album.
2 Jul 1991
Axl Rose caused a riot to break out during a Guns N' Roses gig after leaping into the crowd to remove a camera from a fan at the Riverpoint Amphitheatre, Maryland Heights. Over 50 people were injured and 15 fans were arrested.
2 Jul 1988
Michael Jackson
became the first artist to have five number one singles from one album when 'Dirty Diana' went to the top of the US charts. The other four chart-toppers from the LP 'Bad' were the title track, 'I Just Can't Stop Loving You', 'The Way You Make Me Feel' and 'Man in the Mirror'.
2 Jul 1988
Tracy Chapman started a three-week run at No.1 on the UK album chart with her self-titled debut LP. Helped by her performance at the 'Nelson Mandela's 70th Birthday Tribute Concert' at Wembley Stadium, also No.1 in the US.
2 Jul 1983
Rod Stewart
started a three week run at No.1 on the UK singles chart with 'Baby Jane', his sixth UK No.1.
2 Jul 1982
Nicky Headon of
The Clash
was remanded on bail, charged with stealing a bus stop worth £30 from London's' Fulham Road.
2 Jul 1980
Bob Weir and Mickey Hart from the
Grateful Dead
were arrested on suspicion of starting a riot at the San Diego Sports Arena after they tried to interfere in a drugs bust.
2 Jul 1971
Queen
appeared at Surrey College, England. This was the group's first gig with the line-up of
Freddie Mercury
, Brian May, Roger Taylor and John Deacon.
2 Jul 1969
Bassist Noel Redding and drummer Mitch Mitchell quit The
Jimi Hendrix Experience
after completing the three-day Denver Pop Festival. Hendrix and drummer Mitch Mitchell would later team with bassist Billy Cox to form the short-lived Gypsy Sun and Rainbows, who played at the
Woodstock
Festival.
2 Jul 1969
Working on tracks for the
Abbey Road
album,
Paul McCartney
recorded 'Her Majesty'. Then Paul, George, and Ringo record 15 takes of 'Golden Slumbers/Carry That Weight'.
John Lennon
was absent, in hospital in Golspie, Scotland, following a car accident the previous day.
2 Jul 1969
Thunderclap Newman started a three week run at No.1 on the UK singles chart with the Pete Townshend produced track 'Something In The Air.' Featured on the soundtrack for the movie, 'The Magic Christian'. The band featured guitarist Jimmy McCulloch who went on to work with Wings.
2 Jul 1966
David Bowie
and The Lower Third appeared at The Lion Hotel in Warrington, England, (they were paid £30 for the gig). Also appearing was The Powerhouse which featured
Eric Clapton
, Jack Bruce, Steve Winwood and Paul Jones.
2 Jul 1966
Frank Sinatra
went to No.1 on the US singles chart with 'Strangers In The Night'. The song was taken from the film 'A Man Could Get Killed'.
2 Jul 1962
Jimi Hendrix
was honourably discharged from the 101st Airborne Paratroopers, after breaking his ankle during his 26th and final parachute jump.
2 Jul 1956
Elvis Presley
recorded 'Hound Dog' at RCA Studios, New York. Take 31 being the version they released. This was the first time The Jordanaires worked with Presley. The single sold over 10 million copies globally, became his best-selling song and topped the pop chart for 11 weeks, a record that stood for 36 years.
Born on this day in music
2 Jul 1991
Nigerian singer and rapper Burna Boy. His fourth studio album African Giant was released in July 2019 and won Album of the Year at the 2019 All Africa Music Awards and was nominated for a Best World Music Album at the 62nd Annual Grammy Awards. He appeared on the 2020 UK No.1 hit 'Own It' by Stormzy.
2 Jul 1989
American singer, songwriter, rapper Devin Tailes better known as Dev. Her 2010 song 'Booty Bounce' was sampled in Far East Movement's hit single 'Like a G6' which reached No.1 in the US.
2 Jul 1985
Ashley Michelle Tisdale, actress and singer from High School Musical, as part of the cast had the 2006 US No.1 'High School Musical' album and 2007, US No.1 'High School Musical 2' album. Over 17 million viewers in the United States watched the TV premier of High School Musical; making it the highest rated basic cable broadcast in U.S. history. Released her debut album 'Headstrong' in 2007.
2 Jul 1974
Rocky Gray, drummer, Ewith American rock band Evanescence who had the 2003 UK No.1 & US No.5 single 'Bring Me To Life', and the 2003 UK No.1 & US No.3 album Fallen. Also a member of Living Sacrifice and Soul Embraced.
2 Jul 1970
Monie Love, UK female rapper, (1990 UK No. 12 single 'It's A Shame', plus eight other UK Top 40 singles).
2 Jul 1966
Dave Parsons, bassist with English group Transvision Vamp who had the 1989 UK No.3 single 'Baby I Don't Care'. He later worked with Bush who had the 1997 UK No.7 single 'Swallowed'.
2 Jul 1964
Roy Boulter, drummer of Liverpool-based group The Farm who had the 1990 UK No.4 single 'All Together Now'.
2 Jul 1961
Annie Ruddock, vocals, Amazulu, (1986 UK No.5 single 'Too Good To Be Forgotten').
2 Jul 1957
Mike Anger from British new wave group The Blow Monkeys who had the 1986 hit 'Digging Your Scene' and the 1987 UK No.5 single 'It Doesn't Have To Be This Way'.
2 Jul 1956
Jeffrey Cooper singer from American group Midnight Star who had the 1986 UK No.8 single 'Midas Touch' and a string of hits in the 1980s.
2 Jul 1955
Jerry Hall, US model, actress. She married Rolling Stone
Mick Jagger
in 1990. Hall started dating musician Bryan Ferry in 1975, leaving him for Mick Jagger in 1977. Jagger and Hall held a marriage ceremony on November 21, 1990, in Bali, Indonesia but the putative marriage was later declared null. The couple have four children together.
2 Jul 1954
Pete Briquette, bass, vocals, The Boomtown Rats, (1979 UK No.1 single 'I Don't Like Mondays', plus 10 other UK Top 40 singles).
2 Jul 1952
American pianist Gene Taylor best known for his boogie-woogie style and worked with Big Joe Turner and T-Bone Walker, was briefly part of Canned Heat, toured with The Blasters, and later with The Fabulous Thunderbirds. He died on 20 February 2021 age 68 after being found dead at his home in his bed in Austin, Texas. The cause of death is believed to have been related to the house having been without heat in the dead of winter due to the state-wide power outages caused by the 2021 Texas power crisis.
2 Jul 1952
Johnny Colla, guitar, sax, from Huey Lewis and the News who had the 1985 UK No.11 & US No.1 single 'The Power Of Love'. Their third, and best-selling, album was the 1983 Sports, and they contributed to the soundtrack of the 1985 feature film Back to the Future.
2 Jul 1950
Duncan Mackay, keyboards, with English group Cockney Rebel who scored the 1975 UK No.1 single 'Make Me Smile, Come Up And See Me'.
2 Jul 1949
2 Jul 1945
Peter Cruickshank, bass, The Groundhogs, (1971 UK No.5 album 'Split').
2 Jul 1939
American singer Paul Williams, who with The
Temptations
had the 1971 US No.1 & UK No.8 single 'Just My Imagination' and the re-issued 'My Girl' which was a UK No.2 hit in 1992. He died on 17 August 1973 after shooting himself. Williams was found dead in an alley in a car having just left the new house of his then-girlfriend after an argument.
2 Jul 1939
Leapy Lee, UK singer, (Lee Graham), who scored the 1968 UK No.2 single 'Little Arrows' which was also a Top 40 country and pop hit in the United States.
2 Jul 1937
Dee Palmer, the keyboard player for Jethro Tull between 1969 and 1980. She played on all the Tull classics (then credited as David Palmer) including 'Thick As A Brick' and 'Aqualung.'
2 Jul 1936
Tom Springfield, from the British pop-folk vocal trio The Springfields who had the 1962 US No. 20 single 'Silver Threads And Golden Needles', and the 1963 UK No.5 single 'Island Of Dreams'. The Springfields included singer Dusty Springfield and her brother Tom Springfield.
2 Jul 1926
Lee Allen, saxophonist, who worked with Fats Domino,
Little Richard
and Shirley & Lee. Allen died on 18 October 1994.
2 Jul 1925
American country and rockabilly singer and songwriter Marvin Rainwater, who had the 1957 US No.18 single 'Gonna Find Me A Bluebird', and the 1958 UK No.1 single 'Whole Lotta Woman.' He was known for wearing Native American-themed outfits on stage and claimed to have quarter-blood Cherokee ancestry. Rainwater died on October 18, 1994.