July 4th: The Biggest Music Headlines
Scroll down the page to see all the music headlines, stories and events for July 4 throughout music history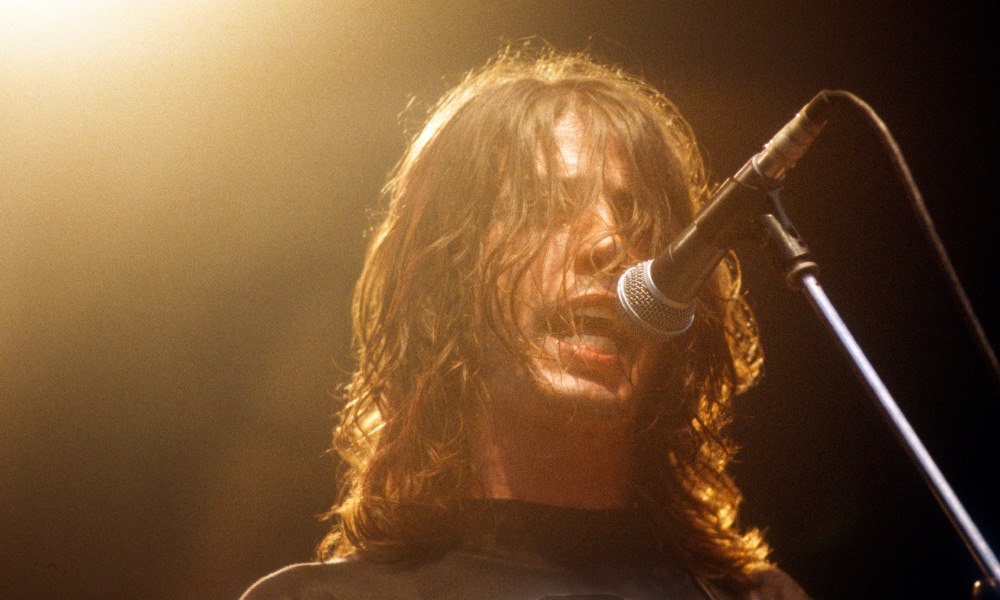 Foo Fighters Release Their Self-Titled Debut
On this day in music, July 4, 1995, Foo Fighters released their self-titled debut. At the time, it was simply a solo project of Dave Grohl's, written and recorded entirely by the former Nirvana drummer. While Grohl never had grand plans for the recordings (they were a cathartic practice for the musician, following the death of Nirvana frontman, Kurt Cobain), the demos reached A&R execs at Capitol Records. Foo Fighters was released to broad critical acclaim and commercial success, leading Grohl to assemble a band and embark on a new path as a frontman.
In 2003, Barry White – who possessed one of the most recognizable voices in soul, funk, and disco – died at 58. The five-time Grammy winner, known for his sultry bass vocals, began his career as a producer, A&R man, and songwriter, working with the likes of Felice Taylor, The Bobby Fuller Four, and Love Unlimited (who soon became his backing singers). In the early 70s, White embarked on a solo career, forming The Love Unlimited Orchestra, and finding international fame with such hits as 1974's "Can't Get Enough of Your Love, Babe" (US No.1, UK No.8) and "You're the First, the Last, My Everything" (UK No.1, US No.2).
In 1976, The Clash played their first public show, supporting The Sex Pistols at the Black Swan in Sheffield, England.
In 1974, Steely Dan played one final show in Santa Monica, California, before retiring from the road. While Walter Becker and Donald Fagen were enjoying major success on the Billboard charts, they chose to remain a studio-only project, with a revolving cast of studio musicians. After disbanding in 1981, the duo reunited in 1993 and embarked on their first tour in nearly two decades.
In 1964, The Beach Boys scored their first chart-topping hit on the Billboard Hot 100 with "I Get Around." The song is particularly notable for having an unusual structure – opening and closing with a chorus, with two short verses in between.
In 1999, British power couple Victoria "Posh" Adams (of The Spice Girls) and football star David Beckham married in Ireland's Luttrellstown Castle.
Looking for more things that happened on this day in music?
Keep scrolling for all of the headlines for July 4.
BORN ON JULY 4:
1938: Bill Withers
1943: Alan Wilson (Canned Heat)
1948: Jeremy Spencer (Fleetwood Mac)
1958: Kirk Pengilly (INXS)
1963: Matt Malley (Counting Crows)
1963: Michael Sweet (Stryper, Boston)
1971: Andy Creeggan (Barenaked Ladies)
1972: William Goldsmith (Sunny Day Real Estate, Foo Fighters)
1977: Orri Páll Dýrason (Sigur Rós)
1995: Post Malone
Looking for more artists born on this day?
Keep scrolling for all of our July 4 birthdays.
---
What to find another day?
---
July 4th
4 Jul 2021
American country-rockabilly singer and guitarist Sanford Clark died age 85. He is best known for his 1956 hit 'The Fool' written by Lee Hazlewood.
4 Jul 2021
Irish musician, photographer, teacher, and author Rick Laird died of lung cancer age 80. He is best known as the bassist and founding member of the jazz fusion band Mahavishnu Orchestra, led by English guitarist John McLaughlin with which he performed from 1971 to 1973.
4 Jul 2015
Blur's Damon Albarn was removed from stage at the Roskilde festival in Denmark after a mammoth five-hour set. The singer who was headlining the event with his Africa Express project encouraged the crowd to protest at the plug being pulled. The stage manager emerged, put the singer's jacket over his shoulders and lifted him off stage.
4 Jul 2012
Bonhams of London announced that
Freddie Mercury
's black and white harlequin stage costume had sold for £22,500 at their Entertainment Memorabilia sale. The harlequin costume was one of Freddie's most recognisable stage designs, which he wore at a number of high-profile concerts in the 1970s. Also a pair of Freddie's ballet pumps exceeded the pre-sale estimate of £1,500 - 2,000, selling for £4,000 to an overseas internet bidder. Freddie had worn the white leather ballet shoes during
Queen
's legendary Hyde Park performance in 1976.
4 Jul 2010
George Michael
was arrested after he crashed his car into the front of a Snappy Snaps store in Hampstead, North London. The singer was returning home from a Gay Pride parade when the incident was spotted on CCTV. He was arrested on suspicion of being unfit to drive and charged with possession of cannabis and with driving while unfit through drink or drugs.
4 Jul 2010
Invited by US President Barack Obama, The Killers played on the White House South Lawn for the second annual "Salute to the Military" United Service Organizations concert as part of Independence Day celebrations.
4 Jul 2009
77-year-old Allen Klein, the former manager of The
Rolling Stones
and later
The Beatles
, died after a battle with Alzheimer's disease. The assets of his company, ABKCO Music & Records, include recordings by The
Rolling Stones
, The Animals, Herman's Hermits, Bobby Womack,
The Kinks
, Chubby Checker, Bobby Rydell and many others.
4 Jul 2007
Former laboratory worker Devon Townsend admitted to a court in Albuquerque, New Mexico of stalking
Chester Bennington
lead singer with
Linkin Park. Townsend used US government computers to obtain his personal information, accessing Bennington's e-mail account and mobile phone voicemail. The court was told how she travelled to Arizona solely for the purpose of trying to see the singer and monitored Chester Bennington's voicemails as a means of trying to locate where he might be eating.
4 Jul 2005
U2
won their court fight for the return of items of memorabilia, including a Stetson hat which they accused a former stylist of stealing. Judge Matthew Deery at Dublin's Circuit Court ordered Lola Cashman to return the items, which also include earrings, within seven days. Ms Cashman, had worked as
U2
's stylist during the 1980s and wrote an unauthorised book called 'Inside the Zoo'. Judge Deery said he found Ms Cashman's version of how she had been given the items at the end of a US tour doubtful, particularly her description of Bono running around in his underpants backstage.
4 Jul 2004
Ja Rule was arrested for driving while his licence was suspended and being in possession of marijuana. Rule, 28, was stopped by police after changing lanes without signalling, he later pleaded guilty to driving with a suspended licence but the possession charge was dropped.
4 Jul 2003
American record producer and singer-songwriter and five-time Grammy Award-winner Barry White died from Kidney failure aged 58. Produced hits for girl group Love Unlimited and other chart hits include 1974 hit 'You're The First, The Last, My Everything', 1974 US No.1 'Can't Get Enough Of Your Love, Babe'. Bubblegum act The Banana Splits recorded his songs and he arranged the 1963 hit 'Harlem Shuffle' for Bob & Earl.
4 Jul 2002
George Michael
took part in a live phone interview on US news channel CNN, defending his new single 'Shoot The Dog'. Americans were upset by the controversial video, which had President Bush in bed with Tony Blair.
4 Jul 2000
A man fell 80 feet to his death during a
Metallica
concert at Raven Stadium, Baltimore.
4 Jul 1999
Victoria 'Posh Spice' Adams married footballer David Beckham at Luttrellstown Castle, Ireland. The couple had signed a deal worth £1million for OK magazine to have the exclusive picture rights.
4 Jul 1995
The debut album by
Foo Fighters
was released. Dave Grohl wrote and recorded the entire album himself, with the assistance of producer Barrett Jones at Robert Lang Studios in Seattle, Washington. Grohl later said he recorded the album just for fun, describing it as a cathartic experience to recover from the suicide of
Nirvana
bandmate
Kurt Cobain
. He chose the name "Foo Fighters" for the project to hide his identity.
4 Jul 1990
Paul Stanley from
Kiss
sustained neck and back injuries when he was involved in a car crash in New Jersey.
4 Jul 1986
The second Farm Aid benefit concert took place at Manor Downs Racetrack, Manor, Texas. Held to raise money for family farmers in the US, the concerts were organized by Willie Nelson, John Mellencamp and
Neil Young
. Artists who appeared included: Alabama,
The Beach Boys
,
Bob Dylan
, Steve Earle, The Fabulous Thunderbirds, Emmylou Harris, Jason & the Scorchers, Waylon Jennings, George Jones,
Bon Jovi
, John Mellencamp,
Tom Petty
, Vince Neil and Willie Nelson.
4 Jul 1976
4 Jul 1974
Despite the fact that they have the No.4 song in the US with 'Rikki Don't Lose That Number' and a current Platinum album with Pretzel Logic, Steely Dan's Walter Becker and Donald Fagan play their final gig together in Santa Monica, California. They would not tour again for the next eighteen years.
4 Jul 1973
Slade drummer Don Powell was badly injured in a car crash in which his girlfriend was killed.
4 Jul 1971
Donald McPherson lead singer of US soul group Main Ingredient died of leukaemia aged 30. Had the 1972 hit song, 'Everybody Plays the Fool'.
4 Jul 1969
Janis Joplin
,
Led Zeppelin
, Johnny Winter, Delaney and Bonnie,
Creedence Clearwater Revival
, Canned Heat, Joe Cocker, Blood Sweat & Tears,
Chuck Berry
, Spirit, Chicago and Paul Butterfield all appeared at the two-day Atlanta Pop Festival, Byron, Georgia.
4 Jul 1966
The Beatles
played two shows at Rizal Memorial Football Stadium, Manila, in the Philippines to over 80,000 fans. The Beatles failed to appear at a palace reception hosted by President Marcos' family, who were not informed that the Beatles had declined their invitation. The Philippine media misrepresent this as a deliberate snub and when Brian Epstein tries to make a televised statement, his comments are disrupted by static. The next day, as The Beatles make their way to the airport they were greeted by angry mobs, the Philippine government had retaliated by refusing police protection for The Beatles.
4 Jul 1964
The Beach Boys
started a two week run at No.1 on the US singles chart with 'I Get Around', the group's first No.1, which was a No.7 hit in the UK. It is noteworthy for its back-to-front structure—it starts with a chorus and has two short verses.
4 Jul 1958
The Everly Brothers held the UK No.1 position with 'All I Have To Do Is Dream.' The Duo's first No.1 single was recorded in just two takes and features Chet Atkins on guitar. The song was written by the husband and wife songwriting team Felice and Boudleaux Bryant.
Born on this day in music
4 Jul 1995
Post Malone, is an American rapper, singer, songwriter, and record producer. His 2018 US No.1 album Beerbongs & Bentleys broke several streaming records upon release, while his debut album Stoney broke
Michael Jackson
's 34-year-old record for most weeks on Billboard's Top R&B and Hip-Hop Albums chart after reaching its 77th week compared to the 76 weeks that
Thriller
spent on the chart.
4 Jul 1978
Stephen McNally, from English pop group BBMak who scored the 2001 UK No.5 single 'Back Here' which was also a No.1 hit in Japan.
4 Jul 1977
Orri Páll Dýrason, drummer for Icelandic band Sigur Rós.
4 Jul 1972
American drummer William Goldsmith best known as a member of Sunny Day Real Estate and former member of
Foo Fighters
, (1994–1997).
4 Jul 1971
Andy Creeggan, piano, with Canadian rock band Barenaked Ladies who scored the 1998 US No.1 & UK No.5 single 'One Week'. He is also a member of the trio The Brothers Creeggan, and a solo artist.
4 Jul 1970
Andy McClure, drummer from English Britpop band Sleeper, who scored the 1996 UK No.10 single 'Sale Of The Century'.
4 Jul 1963
Michael Sweet the co-founder, writer, lead guitarist, lead singer and front man of the Christian metal band Stryper. He was also singer and guitarist for Boston from 2007 to 2011.
4 Jul 1963
Matt Malley, bassist from American rock band Counting Crows, who had the 1994 UK hit single 'Mr Jones', and the 1996 US No.1 album Recovering The Satellites. They received a 2004 Academy Award nomination for their song 'Accidentally in Love', which was included in the film Shrek 2.
4 Jul 1958
Kirk Pengilly, guitarist from Australian rock band
INXS
, who had the 1988 UK No.2 & US No.1 single 'Need You Tonight'. Their 1987 album Kick has sold over 10m copies in the US alone and features four Top 10 singles; 'Need You Tonight,' 'Devil Inside', 'New Sensation,' and 'Never Tear Us Apart.' INXS has sold over 55 million records worldwide.
4 Jul 1956
American musician and singer Deon Estus. He is best known as the bass player of Wham! and as the bassist on
George Michael
's first two solo projects. Estus' single 'Heaven Help Me', with additional vocals by George Michael, reached No.5 on the Billboard Hot 100 chart in 1989. He died on 11 October 2021 at the age of 65.
4 Jul 1952
English musician John Waite who was the singer in Bad English and The Babys who had two hits on the US chart, 'Isn't It Time' (1977) and 'Everytime I Think of You' (1979). Waite had the 1984 solo US No.1 & UK No.9 single 'Missing You'.
4 Jul 1951
Ralph Johnson, drummer, with Earth, Wind & Fire, who had the 1975 US No.1 single 'Shining Star', and the 1981 UK No.3 single 'Let's Groove'. The band has received 20 Grammy nominations and were the first African-American act to sell out Madison Square Garden.
4 Jul 1948
Jeremy Spencer, guitar,
Fleetwood Mac
, who had the 1969 UK No.1 single 'Albatross'. Left the band during a 1971 US tour saying he was going out to buy a newspaper. He was found two days later in LA at the Children of God headquarters with his hair shaved off.
4 Jul 1947
French music producer and songwriter Jacques Morali. He was the creator of acts like The Ritchie Family and Village People. Morali was infected by HIV in the mid-1980s and died of AIDS on 15 November 1991.
4 Jul 1944
American session bassist Harvey Brooks. He played bass on
Bob Dylan
's 1965 album Highway 61 Revisited as well as recording with
The Doors
, Miles Davis, Cass Elliot, John Martyn, Seals & Crofts, Fontella Bass, John Sebastian, Loudon Wainwright III, John Cale and many other acts.
4 Jul 1943
Alan Wilson, guitar, harmonica, vocals, Canned Heat. Two of their songs 'Going Up the Country' and 'On the Road Again' became international hits. Wilson died on 3rd September 1970.
4 Jul 1940
Dave Rowberry, English pianist and organist with The Animals who had the 1964 UK & US No.1 single 'House Of The Rising Sun'. He also later worked with
The Kinks
. Rowberry died on 6th June 2003.
4 Jul 1938
Bill Withers, American singer-songwriter who had the 1972 US No.1 single 'Lean On Me', 1988 UK No.4 single 'Lovely Day', which was first released in 1978. Toward the end of the song, Withers holds a note for 18 seconds. This is believed to be the second-longest note in UK chart history. Morten Harket of A-ha's 20-second note in "Summer Moved On" is the longest. Withers died from heart complications in Los Angeles on March 30, 2020 age 81.
4 Jul 1911
Mitch Miller, conductor, arranger, (1955 US No.1 & UK No.2 single 'The Yellow Rose Of Texas').