July 7th: The Biggest Music Headlines
Scroll down the page to see all the music headlines, stories and events for July 7 throughout music history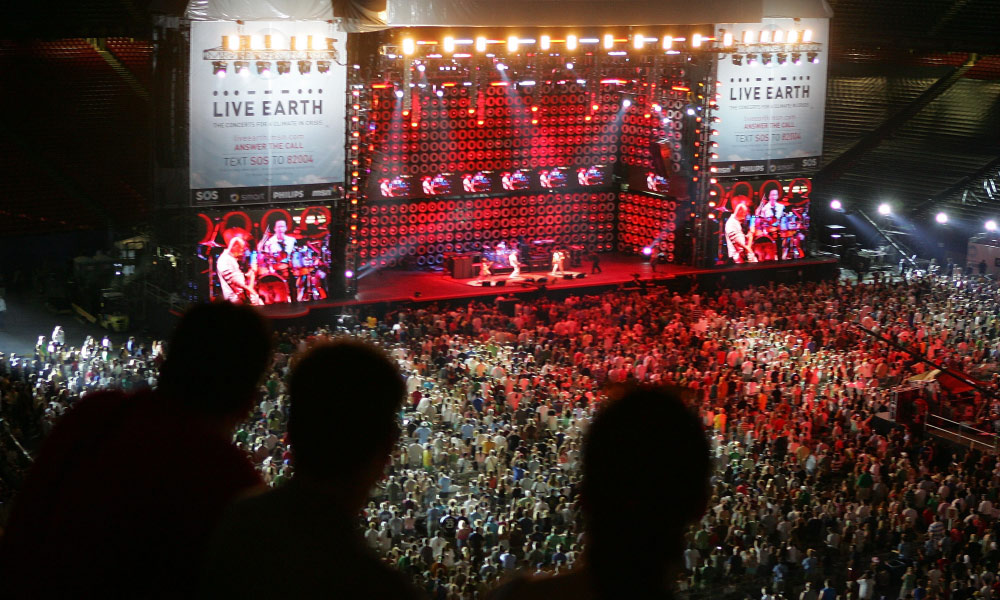 Music Stars Unite For Global 'Live Earth' Concert
On this day in music, July 7, 2007, the 24-hour Live Earth concert took place across the world. Organized by former Vice President Al Gore, Live Earth: The Concerts for a Climate in Crisis brought together 150 musical acts in 12 countries to raise awareness of global warming. With the help of over 500 media partners, performances from Wembly Stadium, Brazil's Copacabana Beach, Japan's Makuhari Messe, and Antarctica's Rothera Research Station, among others, were broadcast to more than 130 countries while a live stream of the event boasted more than 8 million viewers (a record at the time). Among the performers were the Red Hot Chili Peppers, Kelly Clarkson, Snoop Dogg, Yellow Magic Orchestra, Jorge Ben Jor, and Lenny Kravitz.
In 1984, Bruce Springsteen's legendary seventh studio album, Born in the U.S.A., began a seven-week run at the top of the Billboard 200. The album, which would also hit No.1 in the UK, Australia, and Canada, among many other territories, would go on to become Springsteen's most successful release and one of the world's best-selling LPs of all time. Bolstering the album's success (and its 143-week stay on the Billboard charts) were its seven Top Ten singles, including "Dancing in the Dark," "I'm on Fire," and the title track.
In 1984, Prince scored his first No.1 hit on the Billboard Hot 100 with "When Doves Cry." The song, which was taken from the soundtrack to Purple Rain, held the top spot for five weeks.
In 1980, Led Zeppelin played their final show with drummer John Bonham, as they concluded a European tour at West Berlin's Eissporthalle. The show, which closed out with an epic, 17-minute-long version of "Whole Lotta Love," would also be the band's last show for five years. Bonham died on September 25 of that year, leading Led Zeppelin's remaining members to announce their breakup that December.
In 2009, a star-studded public memorial service was held for late pop star Michael Jackson at Los Angeles' Staples Center. The event, which was broadcast live to more than 2.5 billion viewers around the globe, featured performances by a variety of artists, including Stevie Wonder, Lionel Richie, Mariah Carey, and Jennifer Hudson. Motown founder Berry Gordy gave a eulogy, as did Smokey Robinson. Jackson died at the age of 50 on June 25.
In 1957, Elvis Presley scored his first No.1 hit in the UK with "All Shook Up." The song, which marked Presley's tenth single in Britain, remained at the top spot for seven weeks.
In 1963, The Rolling Stones made their British TV debut with an appearance on Thank Your Lucky Stars. The band, who would appear on the show 12 more times during their early career, were joined by Mickie Most, Helen Shapiro, The Cadets, and Gordon Mills.
Looking for more things that happened on this day in music?
Keep scrolling for all of the headlines for July 7.
BORN ON JULY 7:
1928: Mary Ford (Les Paul and Mary Ford)
1940: Ringo Starr
1944: Linda Jansen (The Angels)
1941: Jim Rodford (Argent, The Kinks)
1950: David Hodo (The Village People)
1962: Mark White (Spin Doctors)
1981: Synyster Gates (Avenged Sevenfold)
1994: Ashton Irwin (5 Seconds of Summer)
Looking for more artists born on this day?
Keep scrolling for all of our July 7 birthdays.
---
What to find another day?
---
July 7th
7 Jul 2022
A one-of-a-kind re-recording of
Bob Dylan
singing his 1963 classic 'Blowin' In The Wind' sold at auction for £1.48million ($1.78million). The re-recording marked the first time in 60 years that Dylan had re-recorded the song that was released as part of the 1963 album The Freewheelin' Bob Dylan. The Ionic Original format used for the Dylan track was "lacquer painted onto an aluminum disc, with a spiral etched into it by music. This painting, however, had the additional quality of containing that music, which could be heard by putting a stylus into the spiral and spinning it".
7 Jul 2017
The Official Charts Company overhauled the way it compiles the UK Top 40 in an effort to stop A-list artists elbowing newer acts out of the way. The move was prompted by
Ed Sheeran
, whose new album ÷ [Divide] proved so popular that it propelled 16 tracks into the top 20 in March.
7 Jul 2015
Climate scientists from five leading universities found that 163 of
Bob Dylan
's 542 songs reference the climate – almost a third – making him the musician most likely to mention the weather in his lyrics.
The Beatles
came in at number two, mentioning the weather in 48 of the 308 songs they wrote.
7 Jul 2010
Paul McCartney
joined
Ringo Starr
onstage at a concert at New York's Radio City Music Hall to help celebrate the former Beatle drummer's 70th birthday. With Ringo's All Starr Band joined by Yoko Ono, Joe Walsh, Angus Young and Steven Van Zandt, Paul belted out "Birthday" and Ringo delivered "With A Little Help From My Friends".
7 Jul 2009
Michael Jackson
's family and fans said farewell to the pop superstar at an emotional memorial service. The singer's coffin was placed in front of the stage during the event at the Staples Center in Los Angeles after an earlier private funeral. Jackson's daughter Paris, 11, fought back tears to describe him as "the best father you could ever imagine".
Stevie Wonder
, Lionel Richie and
Mariah Carey
paid tribute before the family joined a sombre finale on stage.
Motown
boss
Berry Gordy
, who signed the Jackson Five, ended his tribute with the words: "Michael, thank you for the joy, thank you for the love. You will live in my heart forever."
7 Jul 2007
Ozzy Osbourne
became the first artist to be honoured on Birmingham's own Hollywood-style Walk of Fame. The singer, from Aston, told more than 1,000 fans on Broad Street that the brass paving star meant more to him that than any Hollywood accolade. Organisers named other local pop stars who could be joining Ozzy for the walk included
Duran Duran
, Jamelia, Robert Plant and UB40.
7 Jul 2007
Snow Patrol Keyboard player Tom Simpson was arrested in connection with a failed court appearance in Glasgow. He was later released and the band went on to headline the T in the Park festival in Scotland.
Amy Winehouse
pulled out of her slot from the event suffering from "exhaustion".
7 Jul 2007
The Live Earth concerts took place around the world with
The Police
closing the days events in New Jersey. The concerts were organised by former US Vice-President Al Gore, as part of his campaign to "heal the planet". Rock stars from around the world performed to hundreds of thousands of fans to highlight climate change. Concerts were held in Washington, Rio de Janeiro, Johannesburg, London, Hamburg, Tokyo, Shanghai and Sydney.
Madonna
brought London's Live Earth concert to a close, playing a song she had written for the event. Other major acts who appeared included; Snow Patrol,
Red Hot Chili Peppers
,
Genesis
, The Beastie Boys, James Blunt,
Foo Fighters
,
Duran Duran
, UB40, Snoop Dogg, Enrique Iglesias, Crowded House & Joss Stone.
7 Jul 2006
Syd Barrett
died from complications arising from diabetes aged 60. The singer, songwriter, guitarist was one of the founding members of
Pink Floyd
, active as a rock musician for only about seven years before he went into seclusion. He joined
Pink Floyd
in 1965 but left three years later after one album. Barrett released two solo albums before going into self-imposed seclusion lasting more than thirty years, with his mental deterioration blamed on drugs.
7 Jul 2005
Members of The Hollies asked a High Court judge to jail one of their founder members claiming bass player Eric Haydock had flouted a court order made in 1998 not to play under their name. Haydock formed the group in Manchester, England in the early 1960's with Allan Clarke and Graham Nash (who left in 1966). Haydock was working in a group calling itself Eric Haydock's Hollies.
7 Jul 2003
It was reported that
Britney Spears
had made $500,000 profit after selling her 5 bedroom home in Los Angeles. The singer had paid £1.8m for the house 2 years ago and sold for £2.3m.
7 Jul 2003
Darkness released their debut studio album Permission To Land which topped the UK chart for four weeks. Five singles were released from the album including 'I Believe in a Thing Called Love', the most successful, reaching No.2 on the UK Singles Chart. The band won three BRIT Awards in 2004 in response to the album, Best Group, Best Rock Group and Best Album. They also won two Kerrang! awards in 2004 for Best Live Act and Best British Band.
7 Jul 2000
Eminem
's wife, Kimberly Mathers, was hospitalised after she slit her wrists following her husband's show as part of the Up in Smoke Tour at Joe Louis Arena in Detroit. Also on this day,
Eminem
scored his first UK No. single with 'The Real Slim Shady', taken from his second album The Marshall Mathers LP the song was a No.4 hit in the US.
7 Jul 1999
It was reported that to attract young people to their mobile vans UK ice cream sellers would start to play pop hits as music instead of the traditional chimes.
Spice Girls
and
Oasis
hits would be the first to be played.
7 Jul 1989
It was announced that for the first time compact discs were out selling vinyl albums.
7 Jul 1984
Bruce Springsteen
went to No.1 on the US album chart with 'Born In The USA'. The album went on to spend a total of 139 weeks on the US chart. Its also one of three albums (
Michael Jackson
's
Thriller
and
Janet Jackson
's Rhythm Nation 1814) to produce seven Top-ten US singles.
7 Jul 1984
Prince
started a five week run at No.1 on the US singles chart with 'When Doves Cry', his first US No.1 which went on to sell over 2 million copies, it made No. 4 in the UK.
7 Jul 1980
Led Zeppelin
played their last-ever concert with drummer
John Bonham
when they appeared at Eissporthalle, West Berlin at the end of a European tour. The set included: 'Black Dog', 'The Rain Song', 'Hot Dog', 'All My Love', 'Trampled Under Foot', 'Since I've Been Loving You', 'Kashmir', '
Stairway To Heaven
' and 'Rock And Roll'. They finished the show with a 17-minute version of 'Whole Lotta Love'.
7 Jul 1978
Talking Heads released their second studio album More Songs About Buildings And Food. The first of three Talking Heads LPs produced by collaborator Brian Eno, featured the group's first Top 30 single, a cover of Al Green's 'Take Me to the River.'
7 Jul 1973
Billy Preston started a two week run at No.1 on the US singles chart with 'Will It Go Round In Circles', his first of two US chart toppers.
7 Jul 1971
26-year-old pop star Bjorn Ulvaeus and 21-year-old Agnetha Faltskog married in Verum, Sweden. 3000
ABBA
fans arrived and in the chaos a police horse stepped on the brides foot, causing her slight injury.
7 Jul 1969
7 Jul 1966
The Kinks
were at No.1 on the UK singles chart with 'Sunny Afternoon', the group's third and last UK No.1. Like its contemporary 'Taxman' by
The Beatles
, the song references the high levels of tax taken by the British Labour government of Harold Wilson. In America, the track peaked at No. 14 on the Billboard Hot 100 pop singles chart early autumn 1966.
7 Jul 1963
The
Rolling Stones
made their UK TV debut when they appeared on 'Thank Your Lucky Stars.' Also appearing on the show was, Mickie Most, The Cadets, Helen Shapiro and Gordon Mills. The group made a total of 13 appearances on the show between 1963 and 1966.
7 Jul 1962
The Beatles
played at Hulme Hall, Port Sunlight, in Birkenhead. The show was a dance for the local golf club, the capacity of the hall was 450, but 500 people squeezed in to hear and see
The Beatles
.
7 Jul 1957
Elvis Presley
scored his first UK No.1 with 'All Shook Up', (his tenth UK single release). It stayed at No.1 for seven weeks.
Born on this day in music
7 Jul 1994
Ashton Irwin, drummer with 5 Seconds Of Summer who had a No.1 UK hit with 'She Looks So Perfect', their debut album was a US No.1 and UK No.2. 5 Seconds of Summer were also the first Australian act to achieve a US No.1 album with their debut album.
7 Jul 1988
Ilan Rubin, drummer, from Welsh rock band Lostprophets, who scored the 2006 UK No.1 album Liberation Transmission.
7 Jul 1981
Synyster Gates (Brian Elwin Haner, Jr.), American guitarist, songwriter of Avenged Sevenfold, who had the 2010 US No.1 album Nightmare and the 2013 US No.1 album Hail to the King.
7 Jul 1962
English singer Clive Jackson who with Doctor And The Medics had the 1986 UK No.1 single with their version of the Norman Greenbaum 1969 hit 'Spirit In The Sky'.
7 Jul 1962
Mark White, bassist with American rock band The Spin Doctors who had the 1993 UK No.3 & US No.7 single 'Two Princess' and the hit 'Little Miss Can't Be Wrong'.
7 Jul 1950
David Hodo, from American disco group The Village People. They had the hit singles 'Macho Man', 'In the Navy', 'Go West and the 1978 US No.2 hit 'YMCA'. The group were originally conceived by Jacques Morali and Henri Belolo to target disco's gay audience.
7 Jul 1948
American rock guitarist Larry Reinhardt who played with
Iron Butterfly
and Captain Beyond. At one time Reinhardt was known by the nicknames "El Rhino" and "Ryno". Reinhardt died aged 63 of cirrhosis of the liver.
7 Jul 1947
English rock and blues drummer Rob Townsend who with Family, had the 1971 UK No.4 single 'In My Own Time'), and later became a member of The Blues Band.
7 Jul 1945
English musician Jim Rodford. He was a founding member of Argent who had the 1972 UK No.5 single 'Hold Your Head Up'. He was the bass guitarist for
The Kinks
from 1978 until they disbanded in 1996 and in 2004, he joined the reunited Zombies and was also a member of The Swinging Blue Jeans. Rodford died after a fall on 20 January 2018, aged 76.
7 Jul 1944
American singer-songwriter Linda Jansen. She is best known for her 1963 US No.1 hit 'My Boyfriend's Back' with The Angels. She died 19 February 2019.
7 Jul 1944
Warren Entner, who with Grass Roots had the 1968 US No.5 single 'Midnight Confessions', plus 13 other US Top 40 singles.
7 Jul 1940
Richard Starkey, (
Ringo Starr
, ) drums, vocals, Rory Storm,
The Beatles
. He sang lead vocals on one track on most Beatles albums, The Beatles scored 21 US No.1 & 17 UK No.1 singles. Starr had the solo 1974 US No.1 & UK No.4 single 'You're Sixteen' plus 9 other US Top 40 hits. Ringo Starr and his All-Starr Band have made many tours and has featured; Joe Walsh, Howard Jones, Ian Hunter, Peter Frampton, Todd Rundgren, Edgar Winter Greg Lake along with other guests.
7 Jul 1933
J.J. Barrie, US singer, One Hit Wonder with 1976 UK No.1 single 'No Charge'.
7 Jul 1932
Joe Zawinul, pianist, Miles Davis band and American jazz fusion band of the 1970s and early 1980s Weather Report who had the 1976 single 'Birdland' and the 1977 album Heavy Weather. He died on September 11th 2007.
7 Jul 1928
American singer Mary Ford who with half of the husband-and-wife musical team Les Paul and Mary Ford had the 1953 US No.1 single 'Vaya Con Dios' and 16 top-ten hits. Ford died from cancer on 30th September 1977.