June 18th: The Biggest Music Headlines
Scroll down the page to see all the music headlines, stories and events for June 18 throughout music history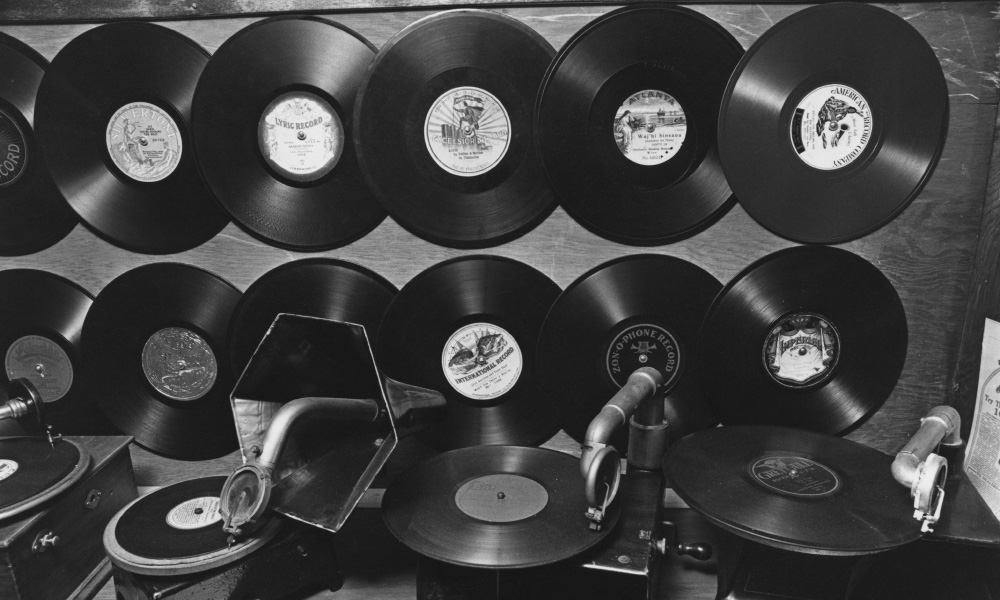 The Vinyl LP Transforms the Record Industry
In 1948, Columbia Records revolutionized the music industry by introducing the 33 ⅓ RPM vinyl LP. Their first release on the new format was Felix Mendelsson's Violin Concerto in e minor, conducted by Bruno Walter and performed by the Philharmonic Symphony Orchestra of New York. Prior to this, music was only available on 78 RPM shellac records, which allowed for just one song per side. With the mass production of vinyl LPs, music fans could conveniently enjoy an entire album on one disc. This remained the standard format for albums until the late 70s, when the cassette tape took over as a much more convenient (and portable) way to enjoy music.
In 1977, Fleetwood Mac scored their sole No.1 hit on the Billboard Hot 100 with "Dreams." The song, which appeared on the band's 11th album, Rumours, would re-enter global charts 43 years later, thanks to its use in a viral video.
In 1976, ABBA took part in a special celebration for Sweden's King Carl XVI Gustaf and his soon-to-be wife, Silvia Sommerlath. The star-studded event, dubbed "Sweden's Royal Variety Performance," found the group delivering one of the first performances of their hit "Dancing Queen."
In 1993, Herb Alpert and Jerry Moss, who co-founded A&M Records, stepped down as the heads of the legendary label after more than 30 years, following a sale to PolyGram. The storied label released albums by Cat Stevens, Janet Jackson, Carpenters, The Police, and Yellow Magic Orchestra, among many others.
In 1964, 17 lucky female fans celebrated Paul McCartney's 22nd birthday with The Beatles during an after-show party in Sydney, Australia. Attendees were selected through a competition in the Daily Mirror.
Looking for more things that happened on this day in music?
Keep scrolling for all of the headlines for June 18.
BORN ON JUNE 18:
1925: Johnny Pearson (Band Leader)
1942: Richard Perry (Producer)
1942: Paul McCartney
1971: Nathan Morris (Boyz II Men)
1976: Busbee (Songwriter)
1976: Blake Shelton
1988: John Dun (Twenty One Pilots)
1994: Takeoff (Migos)
Looking for more artists born on this day?
Keep scrolling for all of our June 18 birthdays.
---
What to find another day?
---
June 18th
18 Jun 2020
Jamaican guitarist Hux Brown died in Oakland, California, aged 75. He featured on many successful rocksteady and reggae records in the 60s and 70s, and was later a member of Toots and the Maytals.
18 Jun 2020
English singer, songwriter and entertainer Vera Lynn died at her home in East Sussex aged 103. She was popular during the Second World War and was widely referred to as the "Forces' Sweetheart" giving outdoor concerts for the British troops overseas. The songs most associated with her are 'We'll Meet Again', and '(There'll Be Bluebirds Over) The White Cliffs of Dover'. On their 1979 album The Wall,
Pink Floyd
released a song titled "Vera", referencing Vera Lynn and the song 'We'll Meet Again'.
18 Jun 2016
Adele
was named songwriter of the year at the prestigious Ivor Novello Awards, which recognise achievement in songwriting. The singer was honoured for her multi-million selling album, 25, which emerged last year after a long struggle with writer's block.
18 Jun 2015
Van Morrison, Cyndi Lauper and Toby Keith were among the inductees into the Song Writers Hall Of Fame at a star-studded gala in New York City. The
Grateful Dead
's
Jerry Garcia
was also inducted posthumously alongside the band's lyricist Robert Hunter.
18 Jun 2010
John Lennon
's handwritten lyrics to
The Beatles
song 'A Day In The Life' sold for $1.2m (£810,000) at an auction at Sotheby's in New York. The double-sided sheet of paper with notes written in felt marker and blue ink also contained some corrections and other notes penned in red ink.
18 Jun 2008
A Lost Angeles hotel filed a lawsuit against Phil Spector for failing to pay more than $100,000 (£61,000), in outstanding bills for lawyers and expert witnesses in his murder trial. The Westin Bonaventure Hotel claimed that by the time Spector's trial ended with a hung jury, the defendants owed the hotel more than $104,000 (£63,400).
18 Jun 2007
American singer and record producer Hank Medress died of lung cancer at 68. He was the vocalist on The Tokens 1961 US No.1 hit 'The Lion Sleeps Tonight', Medress was also in the vocal quartet The Linc-Tones with Neil Sedaka and produced the hit single 'He's So Fine' by The Chiffons, as well as Tony Orlando's 'Knock Three Times'.
18 Jun 2003
Pop Idol creator Simon Fuller became the first British music manager since
The Beatles
Brian Epstein to hold the top three positions in the US singles chart. Fuller, who steered the
Spice Girls
and S Club 7 to success, was in charge of bestselling artists Clay Aiken and Ruben Studdard, together with the American Idol 2 Final 10. During 2003 Fuller sold more than ten million records around the world and has had 96 No.1 singles and 79 top-placed albums in both the US and UK during his career. He was named in the latest Sunday Times Rich List as the 359th wealthiest person in the UK with assets of £90 million ($153 million).
18 Jun 2002
U2
lost a bid to prevent the demolition of Hanover Quay studio in Dublin.'Over 8,000 fans signed an online petition to preserve the studio, where the group recorded 'All That You Can't Leave Behind' and some of their 'Pop' album.
18 Jun 2002
The ex-husband of
Spice Girl
Mel B appeared in court on a charge of assaulting a three year-old boy. Dancer Jimmy Guizar denied assaulting the child in a play area at London Zoo.
18 Jun 1993
A&M Records chairman Jerry Moss and vice-chairman Herb Alpert announced they were leaving the company they founded more than 30 years earlier. They had sold A&M in 1990 to Polygram for $500 million. Moss and Alpert started the label in the garage of Alpert's Los Angeles home in 1962. The label was the home to such acts as
The Police
,
Bryan Adams
, Joan Baez, Flying Burrito Brothers, The
Carpenters
, Joe Cocker, Supertramp and Herb Alpert & the Tijuana Brass.
18 Jun 1988
'Doctorin' The Tardis' by The Timelords was at No.1 on the UK singles chart. The Timelords were Scottish duo Bill Drummond and Jimmy Cauty, who formed KLF. The song was a mash-up of the Doctor Who theme music, Gary Glitter's 'Rock and Roll (Part Two)' with sections from 'Blockbuster!' by Sweet.
18 Jun 1983
Swiss band Yello released the first three- dimensional picture disc, complete with 3-D glasses.
18 Jun 1977
Fleetwood Mac
went to No.1 on the US singles chart with 'Dreams', the group's first and only US No.1, was also a No.24 in the UK. Stevie Nicks has stated she wrote the song at the Record Plant studio in Sausalito, California, in about 10 minutes.
18 Jun 1977
Johnny Rotten and Paul Cook of the
Sex Pistols
were stabbed and beaten when they were attacked in a car park outside a London pub. They objected to the Pistols' anti-monarchist song 'God Save the Queen'. The next day, members of the Pistols were beaten by a gang armed with iron pipes.
18 Jun 1976
ABBA
gave a special live performance in Stockholm for Sweden's King Carl XVI Gustaf and Silvia Sommerlath on the eve of their wedding.
18 Jun 1964
Touring Australia
The Beatles
played at Sydney Stadium in Sydney. This was
Paul McCartney
22nd birthday and after the show his guests included 17 girls who were winners of the Daily Mirrors 'Why I would like to be a guest at a Beatles birthday party' competition.
18 Jun 1955
Jimmy Young was at No.1 on the UK singles chart with his version of 'Unchained Melody', (a theme for the obscure prison film Unchained and a hit for the
Righteous Brothers
in 1965). Young scored another ten Top 40 hit singles and went on to become one of UK's favourite radio DJ's
18 Jun 1948
Columbia Records started the first mass production of the 33-RPM long player. The new format could contain a maximum of 23 minutes of music per side versus the three minutes that could be squeezed on to a 78 RPM disc.
Born on this day in music
18 Jun 1994
American rapper Kirshnik Khari Ball, known professionally as Takeoff, best known as a member of the southern hip hop group Migos. Their second album, Culture, released in January 2017 debuted atop the Billboard 200 chart.
18 Jun 1988
Josh Dun American drummer for the musical duo Twenty One Pilots. Their second album the 2015 Blurryface peaked at No.1 on the US chart.
18 Jun 1976
Blake Shelton, American country music singer and television personality. Blake Shelton has charted over 20 country singles, including 11 No.1's. He was the husband of country singer Miranda Lambert.
18 Jun 1976
Michael James Ryan Busbee known professionally as busbee, was an American songwriter, record producer, publisher, record label executive, and multi-instrumentalist. Busbee has written for and cowritten with a broad range of artists including Gwen Stefani, P!nk, Shakira, Keith Urban, Florida Georgia Line, and Lady Antebellum. He died from a form of brain cancer on 29 September 2019 age 43.
18 Jun 1973
Gary Stringer, vocals, with English band Reef who had the 1996 UK No. 6 single 'Place Your Hands' and the 1997 UK No.1 album 'Glow'.
18 Jun 1971
Nathan Morris, from American R&B vocal group Boyz II Men, who had the 1992 US & UK No.1 single 'End Of The Road' which set a new record for longevity, staying at No.1 on the Billboard Hot 100 for thirteen weeks, breaking the decades-old record held by
Elvis Presley
.
18 Jun 1969
Simon Rowbottom, guitarist with English alternative rock band The Boo Radleys who had the 1995 UK No.9 single 'Wake Up Boo'.
18 Jun 1963
American musician Dizzy Reed, best known as the keyboardist for Guns N' Roses. with whom he has played, toured, and recorded since 1990.
18 Jun 1961
English singer, songwriter Alison Moyet, who with Yazoo had the 1982 UK No.2 single 'Only You' and solo hits in 1985 with the UK No.2 single 'That Ole Devil Called Love'.
18 Jun 1953
Jerome Smith, guitarist, with American disco and funk group KC and the Sunshine Band who had the 1975 US No.1 single 'That's The Way, I Like It', and the 1983 UK No.1 single 'Give It Up'. He died on August 2nd 2000 after being crushed by a bulldozer he was operating.
18 Jun 1952
Ricky Gazda, from the Jersey Shore group Southside Johnny and the Asbury Jukes who had the 1978 album Hearts Of Stone and have released over ten other albums.
18 Jun 1942
Paul McCartney
,
The Beatles
Wings, solo. The most successful rock composer of all time. McCartney first met
John Lennon
on July 6th 1957, who was impressed that Paul could tune a guitar. With
The Beatles
he scored 21 US No.1 & 17 UK No.1 singles plus McCartney has scored over 30 US & UK solo Top 40 hit singles. He has written and co-written 188 charted records, of which 91 reached the Top 10 and 33 made it to No.1 totalling 1,662 weeks on the chart.
18 Jun 1942
Carl Radle, bassist with Derek and the Dominoes, who had the 1972 UK No.7 single 'Layla'. He died of kidney failure June 30th 1980, aged 38. Also worked with
George Harrison
and Delaney And Bonnie.
18 Jun 1942
Richard Perry, US producer. Member of The Legends during the 60s. Worked with Carly Simon, Barbra Streisand,
Ringo Starr
, Captain Beefheart, Leo Sayer, Diana Ross, The Pointer Sisters.
18 Jun 1925
Johnny Pearson, British composer, orchestra leader and pianist. He led the
Top Of The Pops
orchestra for sixteen years and took part in helping launch the career of Cilla Black. Pearson also worked on TV shows for Dusty Springfield and
The Carpenters
. He died on 20 March 2011.